Ready to Start Your Project?
You'll be redirected to Trex.com, our composite decking website.
Best Outdoor Patio Umbrellas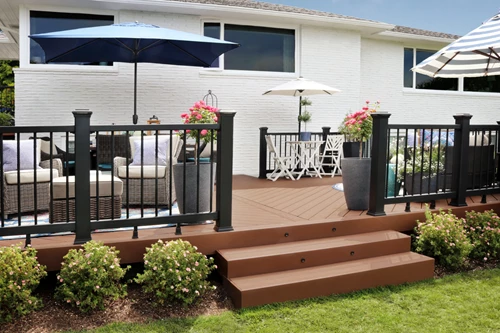 Everyone needs a place to grab shade on their deck or patio in the Summer and a great patio umbrella is the ultimate solution. Deciding which patio umbrella is best for your space truly depends on your distinct needs. 
Apart from aesthetic considerations, you'll want to consider factors like:
Canopy size
Ease of operation
Wind resistance
Here are some of our picks for the best patio umbrellas, taking a variety of needs into consideration. 
The Top 5 Best Patio Umbrellas
Height: 40"
Weight: 19.6lbs
Available in sizes between 7.5 ft. and 10 ft., and in more than a dozen colors, the SERWALL Patio Umbrella offers essentially everything the average person might want out of an outdoor umbrella. The 1.5" diameter pole can be used either in conjunction with a patio table or independently, which makes this one of the more adaptable patio table umbrellas you'll find.
This style of tilt-hinge is vulnerable to wind damage, which might not work best in areas with high winds. However, outside of those areas, the iron frame and crank-lift design are sturdy and reliable, especially relative to similar products in this price range. 
Height: 110"
Weight: 55 lbs
The Purple Leaf Windproof Outdoor Cantilever Umbrella has many distinct strengths, though some are easier to appreciate than others. For instance, their price reflects an equally high quality of construction. The central pole is made from powder-coated aluminum with eight steel ribs comprising its sturdy frame. It also boasts a UV-resistant canopy, made from water-repellent, fade-resistant 240/gsm polyester. It has a double top design that offers excellent ventilation. 
Available in both warm and cool colors, the Purple Leaf cantilever umbrella has no shortage of style. But like many cantilever patio umbrellas, you'll want to use this with the support of around 220 lbs of sand poured into its base to keep it in place. If you can manage the installation, you'll find the crank function allows for an almost effortless and almost unlimited range of adjustment along the height of the pole. 
Height: Adjustable
Weight: 68.9lbs
Dealing with the wind isn't only about good ventilation, you also want thicker fabrics that are less prone to tearing. In addition to having those qualities in abundance, the Purple Leaf patio umbrella uses a double-top design that makes it particularly good at handling gusts. It also manages to provide strong water repellency, extra UV protection, and anti-oxidation across its core components to ensure that the rest of its components are just as strong.
You'll need to anchor this outdoor umbrella to the ground, and a base anchor isn't included. Once everything is set up, you'll find that the crank responsible for raising or lowering the umbrella provides a flawless 360-degree rotation for the canopy. 
Although it's not available in as many sizes as some of its competitors, the Best Choice Products' patio umbrella has an otherwise remarkable 10 ft. canopy. Three solar-powered lights extend across each of the ribs on the inside of the canopy, totaling 24 lights for a gentle glow. Setting up the umbrella's solar panels is as easy as plugging in a cable, and the stem hides away a small switch to turn the lights on and off. 
There are many style options available in nearly a dozen colors ranging from sky blue to orange rust, but it's important to remember many of these bright colors can be vulnerable to fading in the sun. The Tilt adjustment is somewhat limited, but if you plan on keeping the umbrella in a fixed position, then you won't have any issues. 
Height: 8.16ft
Weight: 13 lbs.
Balancing quality and cost can be challenging. With the Blissun Outdoor Aluminum Patio Umbrella, you end up with essentially the same protective 9 ft. canopy of a far more expensive umbrella. As it was intended to be used as a patio table umbrella, the aluminum pole has a standardized 1.5" diameter. This patio umbrella is also available in a variety of colors, from sedate neutrals to more vibrant shades like lime or orange, as well as eye-catching stripe patterns. 
The hand crank is simple, with a push button tilt feature to change its angle. You'll also find far fewer color options than other brands, but for the price, this patio umbrella provides shade from multiple angles and has a sturdy construction at a great value. 
How to Choose the Best Patio Umbrella
Finding the best patio umbrella involves juggling a few factors. First and foremost, you'll need to determine the size and shape most appropriate for the area you want to cover. For instance, an 11 ft. umbrella shades an area that's adequate for six to eight chairs, while a smaller 7 ft. umbrella is suitable for only one or two. 
Angle or Straight?
The addition of an adaptable hinge will invariably add cost to the product, as well as raise different concerns about wind resistance. Along with that factor comes considerations about the frame material. Aluminum is inexpensive and light, but it's not as strong or as resistant to corrosion as steel. 
Fabric choice
Polyester is inexpensive but does not always offer a higher degree of UV protection unless it's been treated with special chemicals. Similarly, olefin is highly UV- and water-resistant but tends to cost more. Acrylic is another popular option, as it can provide excellent protection against UV rays, although it's not as fade-resistant as olefin.  
Style
Depending on your taste, you can choose from the classic round design, a cantilever umbrella, a half umbrella, or something in-between. 
Weight and Stability
Heavier umbrellas tend to provide more stability, and larger umbrellas tend to use heavier bases. Stone, iron, concrete, sand, and similar materials can be used to weigh down the base. 
Find More Deck Decor Inspiration with Decks.com
It's easier to imagine ways to improve your patio when you've got the right inspiration. Get more style types and ideas for deck features to incorporate into your design.
---
Explore Articles by Topic
Explore Articles by Topic