Ready to Start Your Project?
You'll be redirected to Trex.com, our composite decking website.
From Swim to Sun: 5 Tips for Building a Deck Around Your In-Ground Pool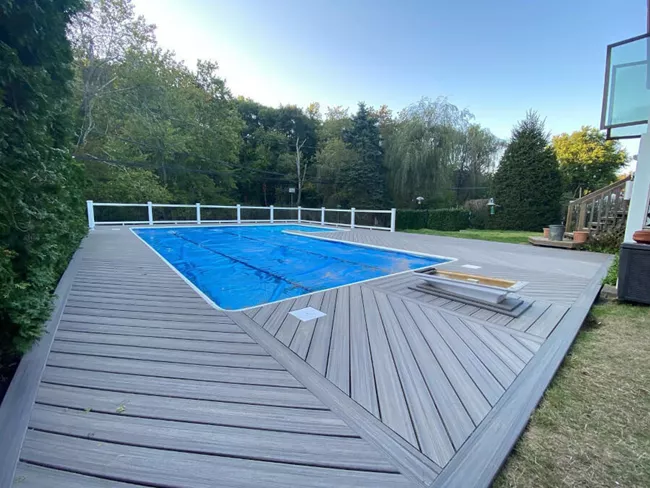 No matter how big or small, most homeowners want their backyard to be a one-stop shop for hanging out, hosting good times, and decompressing in the outdoors from the comfort of their homes.
For some, that can mean building out decorative water elements, curated gardens, and ornate fire pits. But for others, two backyard staples come to mind to make their outdoor space the pinnacle of entertainment and relaxation: a deck and an in-ground pool.
For those with no pool to speak of (yet), an above-ground pool and accompanying pool deck are usually the more budget-friendly (and quicker) options when building from scratch. But if you're one of those lucky enough to already have an in-ground pool in your backyard, all you're missing is a deck to keep it company.
Is It Hard to Build a Deck Around a Pool?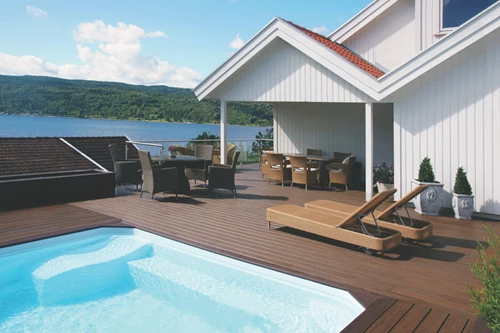 Depending on the end goal of your outdoor design vision and the size of your space, the difficulty of building your deck-pool combo can vary. Key contributing factors will also include the types of materials you use on your deck, whether you choose a DIY or contractor approach and additional fixtures and features you might want to include.
Follow along with these expert tips on building a deck around an in-ground pool, including considerations for your deck's spacing, design, safety, and construction. With these resources in your toolbelt, your backyard will soon have a deck-pool combo for you and your family to enjoy for years to come.
5 Tips for Building Your Deck Around an In-Ground Pool
Building a deck around an in-ground pool might seem daunting now, but with the right process and a few great ideas, you can set yourself up for success in creating your ideal outdoor space. Let's look at some key tips for building a poolside deck and how your aquatic vision can come to life.
1. Planning out the fun parts
The future of your deck-pool combo starts by identifying the overarching theme you want to focus on — whether you're the go-to host for your neighborhood's outdoor summer barbecues, or looking to balance a relaxing float in the pool with a zen deck space for outdoor yoga.
Functionality is important, but with something as synonymous with fun as a deck around an in-ground pool, you may want to up the "wow" factor with some extra eye-catching elements. Maybe you want your pool to cool you off on those hot summer days but need a little heat for more wintry nights — in which case a hot tub in an adjacent corner of your deck might be right for you.
Not all your accents have to be water fixtures, though. From cozy lounge areas to chic pergolas fit for any weather, tying your deck and pool together in one stylish swoop can come in all shapes, sizes, and budgets. Once you've given thought to the exact layout you're looking for — bells and whistles included — the in-depth planning and building can commence.
2. Measuring out the perfect space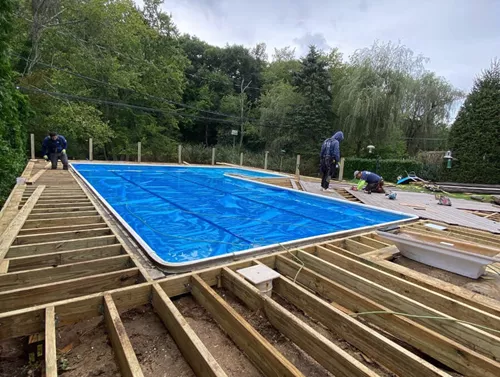 Though pool styles aren't quite as infinitely unique as snowflakes, they're not too far off. From unique shapes to custom patterns and designs to hyper-specific sizing within your yard, you need to be sure all your pool measurements in your deck-building plans allow for the optimal construction and easiest assimilation of your deck features.
The goal here is to maximize your deck space for the most opportunity to develop and fill out a living area for you and your family. This means providing as much room on your adjacent deck for lounging around the pool, drying off, and all the activities you plan to host and engage in.
Keep your spacing possibilities in mind as you consider subsequent factors like connecting your deck and pool, adding in extra features, and planning the kinds of hangouts you want people to enjoy at your home.
How Much Does It Cost to Build a Deck Around a Pool?
The costs of your deck will depend on the materials you use, the size and dimensions of your deck based on how you plan the design, the materials you choose, and the costs of labor associated with construction. Also consider how certain materials like composite decking might cost more upfront, but save you in the long run in terms of durability and sustainability. Curious about the costs? Head to our deck calculators and start doing the math to estimate your costs.
3. Make the pool-deck connection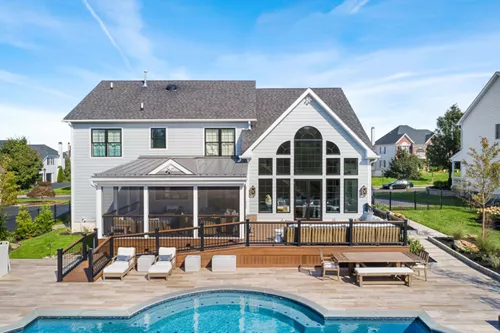 Simple as it may seem, how you get in and out of your pool — and go from swim to sun — is a major functional and style decision for your outdoor space. To keep things simple, you can build stairs, railings, and other traditional fixtures leading to your pool to help your outdoor space flow naturally.
If, however, you're looking to buck tradition with some more out-of-the-box elements, consider fun ideas like a water slide leading from the deck to the pool. Or, take traditional ideas like staircases and embellish them — like adding a cascading stone steeple over a basic pool entryway. Or, take the party up a notch with an attached bar on your pool or deck area for direct access to a refreshing lounge cocktail. Just make sure whatever you do build is up to code.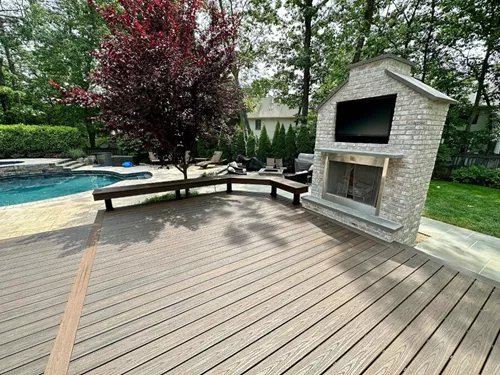 4. Pick your ideal stylish decking material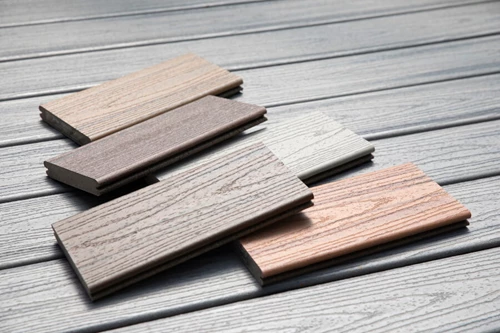 Whether choosing composite or wood decking materials, go with a look that complements both the stone and tiling layout around your pool as well as the landscaping you've already established in your yard — like existing or forthcoming patio space.
Maybe you want a Cape Cod classic feel — combining light, beachier wood or composite decking with stone pool construction in a more subdued hue. If that's not your cup of tea, try going for a Hollywood hideaway that brings together chic, Italian-inspired tiling paired with darker wood grains that emphasize a modern feel.
In addition to design, the best decking material options help you build a sustainable, water-resistant deck that will be essential to your outdoor space's aesthetic. Don't forget — when comparing all potential materials, be sure to consider the most cost-effective option that fits your budget long term. Think beyond upfront costs and consider future repairs and maintenance costs (but more on that later).
5. Seal, stain, and maintain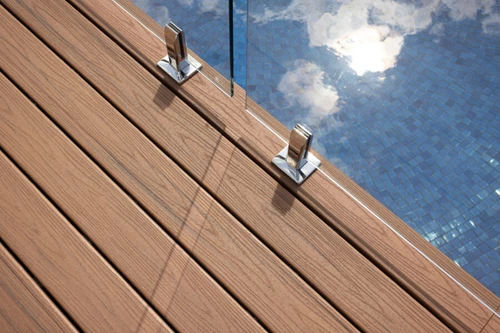 Waterproof materials can come by way of durable composite decking designed to resist water and prevent long-term damage. Other options include natural woods that can be sealed and stained with specialty products to achieve ideal colors and grains that endure against the splash zone of your pool.
The other demand of wood outside of sealing and staining is all the maintenance costs, from resealing, repainting, adding upgrades like heat resistance, and much more. Protecting the structural integrity of your deck can start by investing in more durable, water-resistant composite materials that avoid degradation. That way, you can focus your time and money on regular pool safety inspections, periodic upgrades, and fun design features (as opposed to time-consuming deck maintenance) so your pool and deck can coexist peacefully.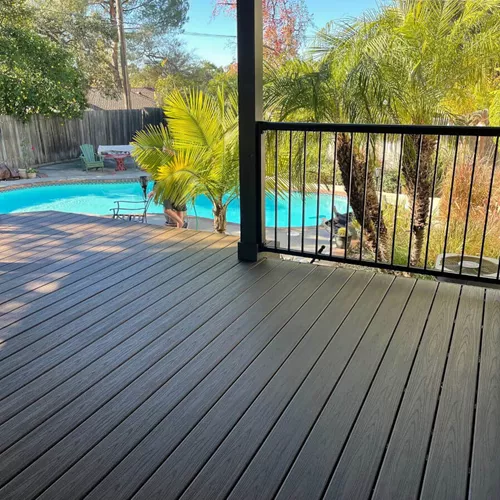 Build a pool-deck combo worthy of a staycation
The swim-and-sun masterpiece you've always dreamed of is just a few steps away. Bring your vision of building a deck around an in-ground pool to life, starting with these resources on where you can buy decking materials or even find a builder to start the process.
---
Explore Articles by Topic
Explore Articles by Topic