Ready to Start Your Project?
You'll be redirected to Trex.com, our composite decking website.
12 Backyard Gazebo Ideas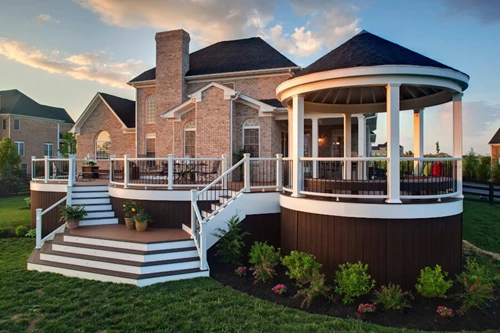 A backyard gazebo can be cozy, inviting, elegant, peaceful, or romantic, depending on how you decide to use the space. The possibilities are only limited by your imagination, but if you're looking for some backyard gazebo ideas, you've come to the right place. Here's some inspiration to get your creative juices flowing.
1. Create a Comfy Pool Hangout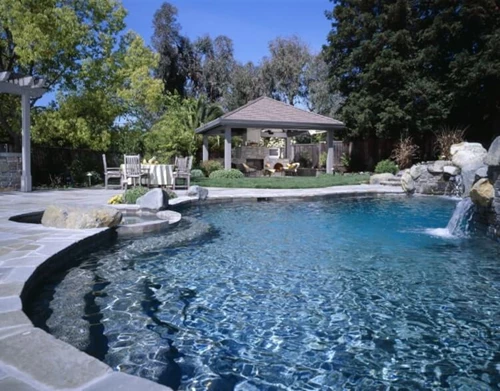 If you have a pool in your yard or are thinking about building one, a gazebo is a great place to relax if you need to get out of the water and sun, but don't want to head inside just yet. It's a perfect spot to stash pool toys and other necessities like towels and drinks for when you're ready to take a break from swimming.
2. Shelter Your Hot Tub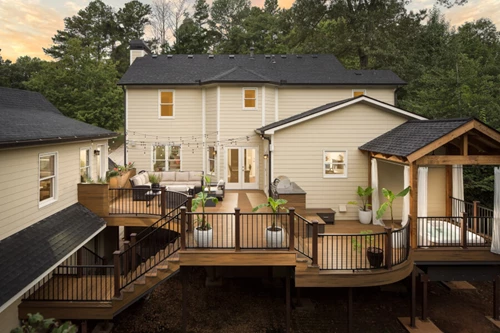 If you plan to use your hot tub year-round, you'll need to make sure it's sheltered from rain and other inclement weather. A gazebo can provide a roof over your hot tub, and you can even fully enclose the entire structure for added protection from wind, storms, or snow, giving you the option to use your hot tub no matter what the forecast says. 
3. Design an Outdoor Office Space
With remote work on the rise, more and more people are looking for in-home office space. If we're being honest, though, sitting indoors at a desk all day long can get old. But you can easily convert your gazebo into a quiet workspace. Just add in some comfy seating and a place to put your laptop, and watch your productivity rise while you enjoy the sun and fresh air.  
4. Install a Built-In Grill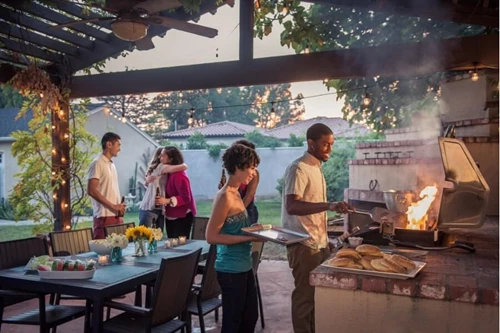 Awesome summer memories always start with some hot dogs or hamburgers on the grill. Cook up all your warm-weather favorites on a grill built directly into your gazebo. It's important to keep in mind, though, that grilling always carries a small risk of fire. If you intend to build a gazebo that will be used for grilling, make sure that it's made from fire-resistant materials and has plenty of ventilation. 
5. Build a Bar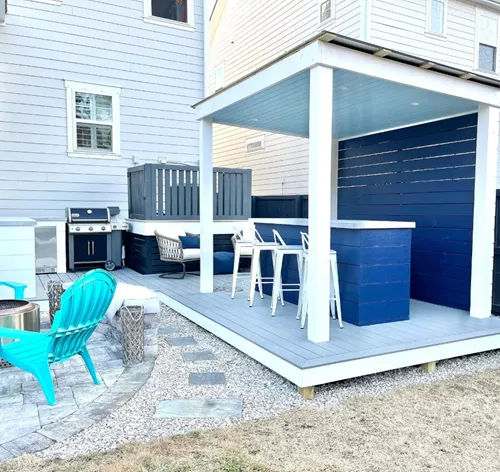 Many styles of gazebos naturally lend themselves to housing a bar. When installing your gazebo, think about building a bar top on one side where you and your guests can sit and enjoy a drink. You can keep all your bar essentials on the inside of the gazebo and put a few bar stools outside, and add an extra awning or overhang on the roof to create a more sheltered area.
6. Add a Cozy Firepit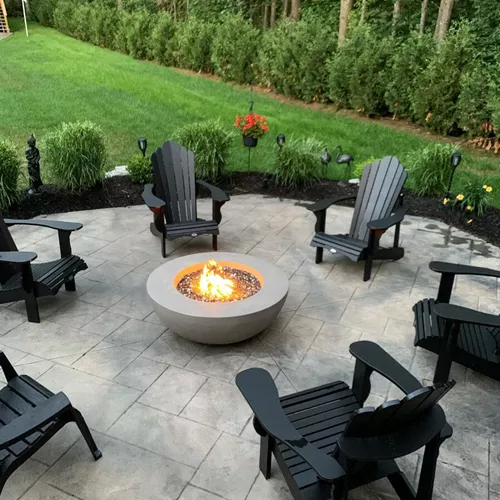 A fire pit or fireplace can add warmth to any outdoor area, including a gazebo. Stay warm on chilly nights or enjoy a campfire vibe during the summer months and enjoy the unique mood that a fire creates. Keep in mind, though, that gazebos are typically wooden structures, which can create a fire risk. Opt for an electric fire pit or fireplace to help avoid sparks, smoke, and embers. In addition, make sure your gazebo is well ventilated and that you have a fire extinguisher on hand for emergencies.
7. Protect Your Plants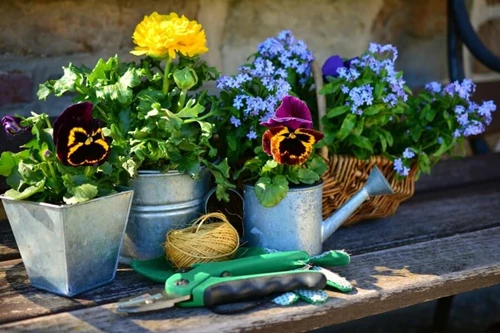 If you have a green thumb, you're bound to be eager to get planting once the first signs of spring hit. However, in many spots around the country, you can't start planting your favorites until the risk of frost is gone. Luckily, you can use your gazebo as a temporary greenhouse, which can extend your growing season and help you get started earlier in the spring. You can cover any open areas of your gazebo with thermal plastic sheeting, creating a protected spot for seedlings to grow. 
8. Construct a Clubhouse for Kids
Kids love having an outdoor space that's all their own, and your gazebo can be used for just that. Add some design elements like colored lights, comfy pillows, and storage for toys or art supplies, and allow them to add their own decorative touches. If boredom hits during summer vacation, send the kids out to their very own clubhouse!
9. Dine outdoors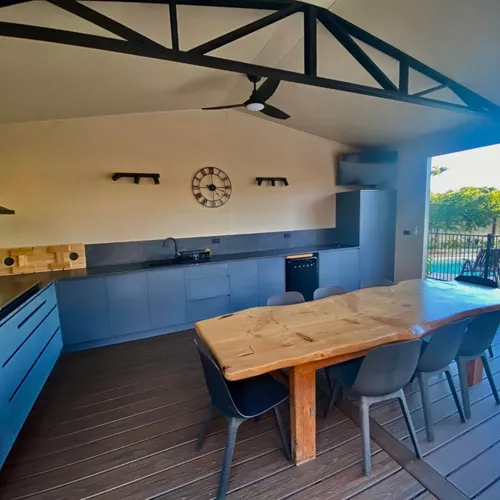 A stunning outdoor dining space will make you the envy of your friends and neighbors. Set up a table and chairs in your gazebo, add some intimate lighting, and throw in some decorative elements that match your desired aesthetic. Whether you want a fun space to entertain guests or a romantic spot for you and your partner to enjoy a home-cooked meal, your gazebo can be your go-to for outdoor dining.
10. Savor the Solitude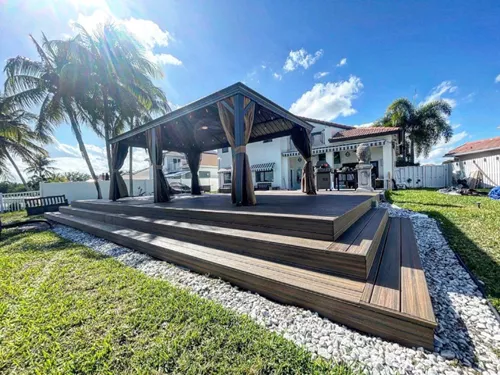 If you enjoy yoga or meditation, head out to your gazebo to find your Zen. Connecting with nature can increase the benefits of your mindfulness practices. Watch the sunrise from your own comfortable spot or use it as a retreat after a long day at work. Set up some candles or mood lighting or install some curtains for added ambiance.
11. Hang a Hammock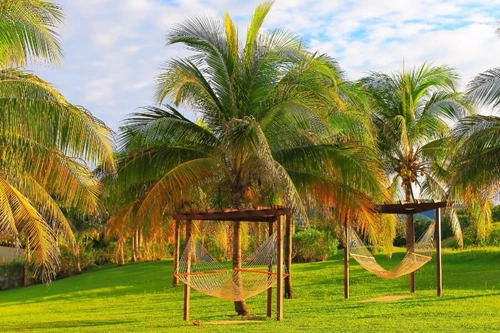 If you haven't had the joy of napping outdoors in a hammock on a sunny day, you're missing out. One of the challenges of a hammock, though, is finding the perfect place to hang it. Luckily, a gazebo can be just what you're looking for. And because your gazebo is sheltered, it means you can be protected from the hot summer sun or an unexpected downpour.
12. Make a Space for Arts and Crafts
Every artist knows that a studio can be an invaluable place to find inspiration and create your masterpiece. Set up your drafting table or easel in your gazebo to help spark your imagination and bring ideas to life. If your gazebo is well-sheltered, it can be a great place to tuck away your art supplies when they aren't in use.
Is it Cheaper to Build or Buy a Gazebo?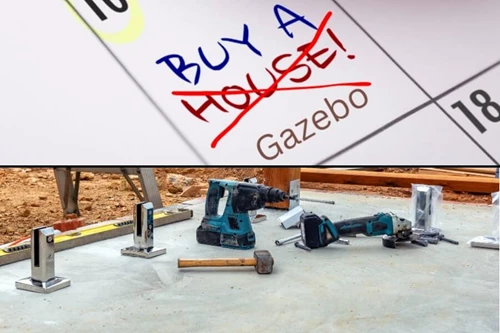 If you're ready to dive in and add a gazebo to your backyard or patio, you may be wondering what the most cost-effective solution is. Building a gazebo on your own can save you cash and can be a fun DIY project to take on. You should be able to find some gazebo kits that have everything you need, or you can build and design one from scratch, which can help you save even more.
Of course, not everyone likes to take the DIY route. There are plenty of choices for professional gazebo installation, so shop around for different options to find one that best fits your budget.
Which is Better, a Gazebo or a Pergola?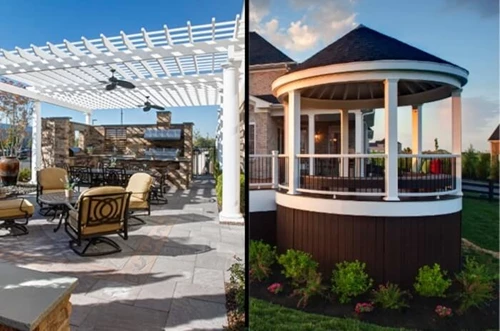 If you've already started looking at gazebo options, you may have come across pergola ideas, as well. What's the difference between a gazebo and a pergola? The main difference is the style of the roof. A pergola usually has a flat, slatted roof to allow more sunlight in, while a gazebo is more covered and shaded, offering additional shelter from the sun. Which one you choose to build will depend on your own needs. 
Get More Backyard & Deck Ideas & Inspiration
---
Explore Articles by Topic
Explore Articles by Topic