Ready to Start Your Project?
You'll be redirected to Trex.com, our composite decking website.
Covered Deck Costs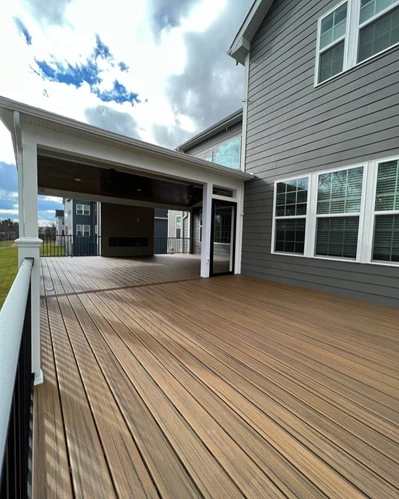 A deck is an ideal addition to your home, as it lets you enjoy the outdoors without leaving your ideal comforts too far behind. Covering your deck not only helps to shield you and your guests from the sun, rain, and other elements, but it can also increase the lifespan of your exterior piece of paradise. In fact, installing a cover can help keep your deck from experiencing wear and tear over time.
How Much Does It Cost to Cover a Deck?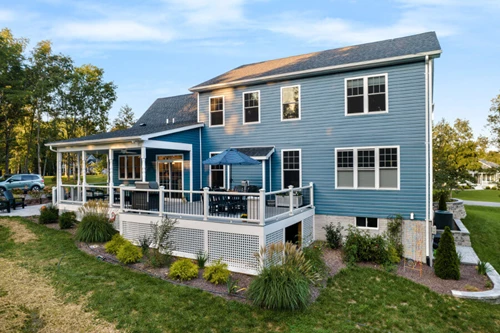 The average cost to cover a deck varies from city to city, but it usually lands somewhere between $2,000 and $20,000. First, you must decide how much of your deck you want to cover. For example, do you want to cover just the dining area or the entire deck? Your answer will determine the amount of materials you need to purchase. And hiring a contractor instead of choosing a DIY option will increase the cost to build your covered deck — the total expense depends on the cost of living in your area (i.e., installing a deck cover typically costs more in L.A. than it does in Wichita).
Other considerations for your deck cover costs include the materials, type of cover, and any add-ons. You might plan to cover your deck now, but in six months, your budget could change due to supply and demand, inflation, and the time of year. Think about installing your deck cover during winter when contractors aren't as busy. Enclosing a deck can make it a four-season feature for your home.
Cost to Cover a Deck by Type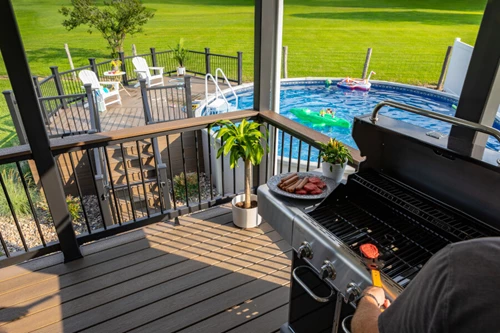 By now, you've probably already got some fantastic design ideas in your head and getting excited about your deck design plans. Before doing much more research, make sure to check out the different types and designs of deck coverings to help narrow down your deck covering costs.
Awnings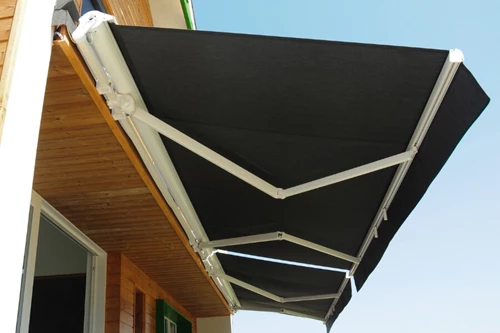 Installing an awning is one of the most inexpensive ways to add a cover to your deck. These tops come in various colors, so you can create a look cohesive with your home or form a contrast for a stand-out appearance. Retractable awnings let you enjoy the sun or stars at whim, while permanent fixtures stay put. Expect an awning for your deck to cost between $1,000 and $4,000, depending on size, materials, and other factors. A DIY installation could save you $1,000 on labor.
Pergolas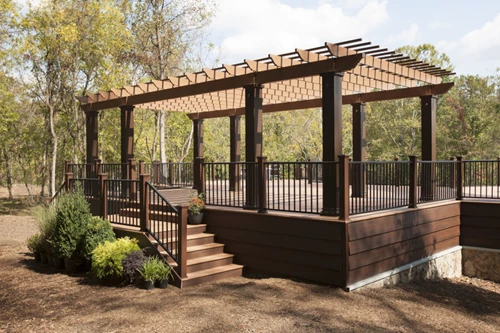 Pergolas offer a sturdy, permanent addition to your deck. They comprise a beamed roof, which you can cover or leave open, as well as thick columns to support the structure. You'll also need to pour concrete to anchor the columns in the ground. As you might assume, the materials needed for a deck pergola are more expensive than an awning. Expect to pay around $20,000 or more for a pergola.
Permanent Veranda Roofs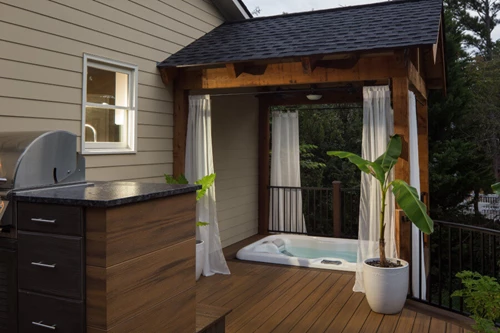 Constructing a permanent veranda roof is more involved than installing an awning and a bit more complicated than building a pergola. This covering attaches directly to your home's structure and extends over your deck. You can match your current roof with the same shingles for a streamlined look. Depending on the complexity, a permanent veranda roof may cost between $3,000 and $12,000 for the materials, including a top-notch Trex® RainEscape® drainage system. You might need to spend additional money on extra permits for this project.
Shade Sails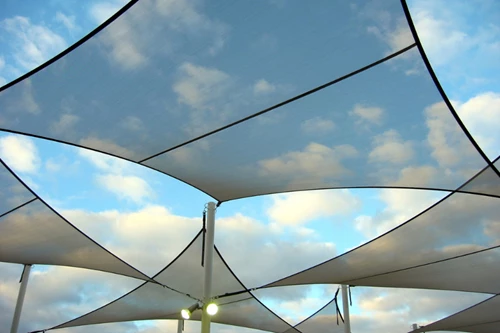 A shade sail is a versatile piece of cloth, usually made of the same material as sails on a ship, that covers your deck at an angle to maximize shade. Even better, it is relatively easy to install eeand comes in many colors, shapes, and sizes while remaining a low-cost option. Make sure to anchor your shade sail properly because high winds can pull anchors out of the ground or throw poles across your yard. You might spend a few hundred to a few thousand dollars for one — your overall expense will vary based on the size and material of your chosen shade sail. (We dare you to say "shade sail" five times fast!)
Covered Deck Costs: Additional Considerations
Think about these additional options that could add to the cost of covering your deck. If you're handy and have friends who will help, you can purchase a DIY deck roof kit to keep your costs between $2,000 and $4,000 for the entire project. A solid roof over your deck can run about $3,000, while a lattice style (with holes in strategic places) may come to around $1,500.
Other design choices can help determine the overall cost of covering a deck. Insulation for your deck will increase the costs. You'll need plywood and crossbeams (typically 2x4s) to add structure, followed by the type of insulation you want to install (batts, foam boards, spray foam, etc.) Another cost consideration will be any electricity for heating costs during the winter and fans for the summer.
How Much Does It Cost to Cover a 14' x 20' Deck?
Covering a deck of this size can cost anywhere from $2,200 to close to $20,000, depending on materials. Your actual costs will also rely on other factors, such as labor costs and where you live.
Is a Deck Cover Worth It?
Yes, because the cover can save wear and tear on the deck itself, making it last longer and reducing any repair or replacement costs a few decades into the future. The cover can also make the deck usable year-round, giving you more enjoyment. It will protect you, your family, and friends from the elements.
Covered Deck Planning Resources
---
Explore Articles by Topic
Explore Articles by Topic