Ready to Start Your Project?
You'll be redirected to Trex.com, our composite decking website.
Cable Railing Ideas & Alternatives For Decks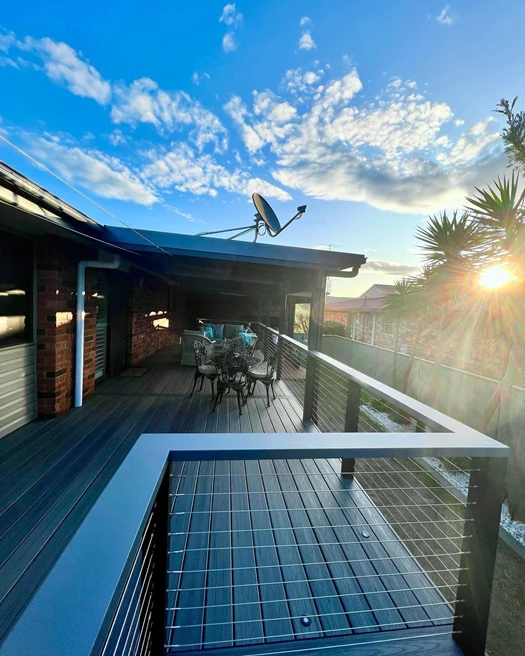 If you're looking for a sleek, modern railing system for your deck, cable deck railing may be the perfect option for you. Cable railings have an industrial look that began in city restaurants, stadiums, larger venues etc. and has become a desired residential aesthetic.
But what are the advantages and disadvantages of cable railing systems for decks? Are they safe? What are some cable railing ideas? What are the alternatives to cable deck railings? Read on to find out!
What is a Cable Deck Railing?
A cable deck railing is a type of railing system that uses stainless steel cables in place of traditional balusters or pickets.The cables are commonly strung horizontally between the posts and are tensioned. However, they can also be run vertically. Cable railing is a hybrid of materials, as the cables are installed in frames of wood, aluminum or composite. Generally, long cables can run straight through intermediate posts. There are also panelized systems that are meant to be fastened to each post rather than going through them, as well as a vertical cable option.
A cable railing for decks is an alternative to conventional wood, aluminum, or composite railings. It can be constructed using conventional supporting posts made of various materials with cable railings attached.
How To Install DIY Cable Deck Railings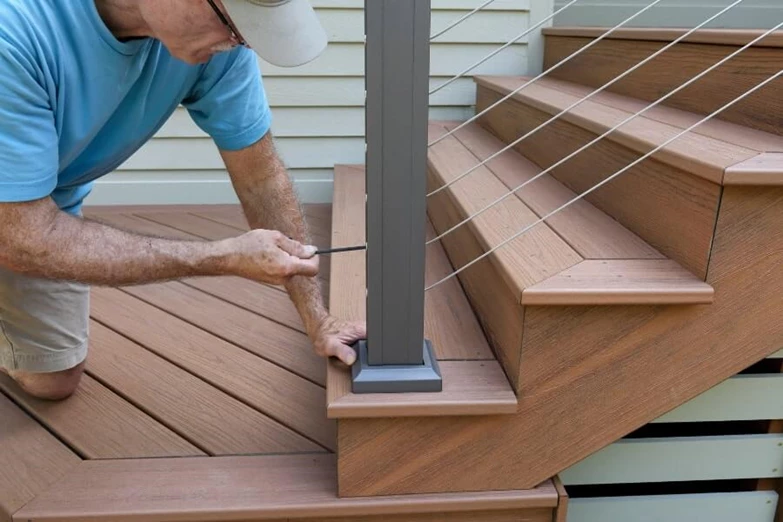 There are various methods and products for constructing cable railing, from complete guard systems to simple cable and turnbuckle products. These manufactured products must be installed according to the manufacturer's requirements. Adhering to the installation instructions will give you as close of an installation as possible to that which was originally tested. Guards at the edge of elevated decks have an important job in resisting the force of people leaning or falling into them. Manufacturers must either engineer or test their products to prove that they will support building code design loads.
Advantages & Disadvantages of Cable Deck Railing Systems
Cable deck railing systems offer many advantages to homeowners. However, they also have some disadvantages. Let's look at both sides of a cable deck rail system. 
The benefits of cable deck railings include:
Low maintenance cost: Your cable railings for decks will survive for years because they're corrosion-resistant. Cleaning requires only a moist cloth. You won't have to repaint or replace railings, and the wooden posts require little maintenance, thus saving you money.
Unobstructed views: Deck rail cable systems with the thinner profile cable makes the view less obstructed compared to standard balusters and other options.
Design: Cable systems are sleek and elegant. The minimalist design allows your deck's natural beauty to shine through.
The disadvantages of deck cable railing systems are:
Cost: A cable system for deck railing can be more expensive than wood or composite railings due to the hardware.
Cables often lose their tension over time. There are code requirements that demand minimal "flex" between the cables. As these cable runs lose tension, that requirement is not met.
Permits: Cable railing is not allowed in some municipalities.
Homeowners' associations: Homeowners' associations can be tricky to get projects approved. Before deciding on any railing system, check with your HOA. Some may prefer a given rail type and you should be conversant with such positions.
Are Cable Deck Railings Safe?
Cable deck railings are safe when installed properly. The key to a safe installation is to follow the manufacturer's guidelines and local building codes. 
In addition, experts recommend stainless steel cables and hardware for cable railing installation to ensure your railings are corrosion-resistant and can withstand the elements. When installed correctly, a deck rail cable system is a safe and attractive addition to your home.
Stainless steel, the common material for cable railings, is relatively soft steel that will stretch over time. Expect to periodically tighten the turnbuckles as the cable stretches to its general limit. Be sure to leave threads available during installation in anticipation of this future maintenance. Building codes require guards to have spacing that does not allow a 4-inch sphere to pass through, so it's recommended to space the cables no greater than 3.5 inches. This will provide a little safety cushion in case loose cables in the future are not promptly corrected.
Cable Deck Railing Ideas
When looking for deck railing,wire porch railing,or cable porch railing ideas, there are a few things to consider. First, you'll have to decide on the material. There are a few options when it comes to deck railing wire, including aluminum and stainless steel. You'll also want to consider the wire gauge, as this will affect both the strength and the price of the railing.
Once you've decided on the perfect deck railing wire, it's time to start thinking about the design. There are a few different options when it comes to cable deck railing ideas, including horizontal and vertical cables.
Horizontal Cable Deck Railings
Horizontal cable deck railings are a popular choice for many homeowners. If you're looking for an alternative to traditional wood or metal railings, horizontal cable railing for decks is a great option.
Horizontal cable deck railings offer many benefits.
They provide a clear view. The slim profile cable does not obstruct your view, and the cables are barely visible. This is ideal if you have a beautiful view you want to enjoy.
Horizontal cable railings are strong and durable. The cables are made of stainless steel, so they're resistant to rust and corrosion and less likely to warp or break.
They require little maintenance. There's no need to sand or paint them, and they're easy to clean. Just wipe them down with a damp cloth, and they'll look like new.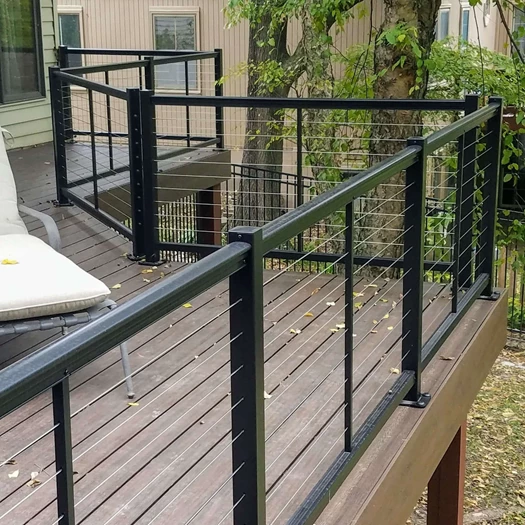 Vertical Cable Deck Railings
If you're looking for cable railing ideas, you might want to consider a vertical cable deck railing system. Vertical cable railing for the deck can give your deck a modern look. 
Why Choose vertical cable deck railings?
Low maintenance. They require little to no upkeep. Simply wipe them down from time to time to keep them looking new.
They're durable. Vertical cable deck railings are made from stainless steel, so they're built to last.
They're safe. They're a great option if you have young children or pets since the vertical cables create a barrier that can help prevent accidental falls.
Alternatives to Cable Deck Railings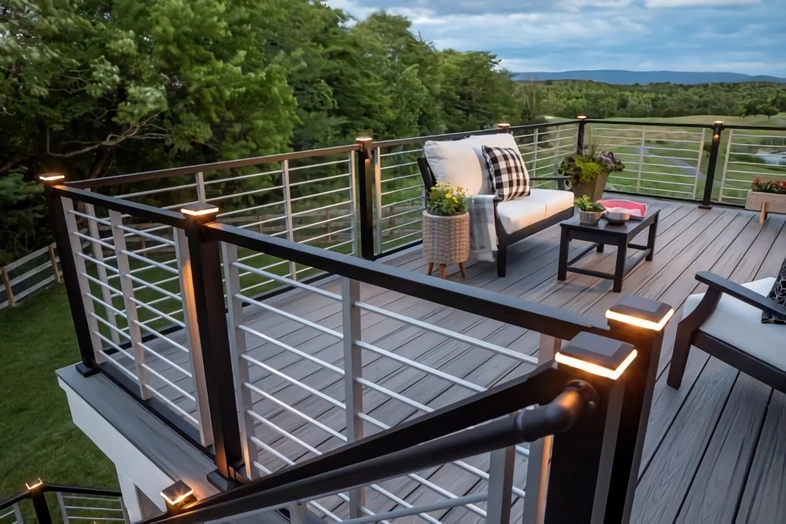 Several alternatives can give your deck a similar look as cable railings without the disadvantages.
Rod railings are one option. Rod railings are made of metal rods attached to the deck railing with brackets, and they can be custom-made to fit your deck. Trex developed a rod rail, called Trex Signature® Railing, to give a unique look that could compete with cable railing. Unlike most cable systems, rods cannot lose tension over time and they maintain their form and strength with zero revisiting to tension or adjust the system.
Glass railings are another option that can give your deck a pleasant look. Glass railings are attached to the posts with brackets. They provide a clear view from your deck, and they're easy to keep clean.
Another cable deck railing alternative is mesh railings. Mesh railings are made of metal mesh attached to the posts with brackets. They also provide an unobstructed view.
Now that you know the advantages and disadvantages of a deck railing systems cable, you can make an informed decision about the type of railing that's right for your home. If you decide to go for a cable system, be sure to use quality materials and hire a reputable contractor.
Ready to get started with your DIY cable deck railing project? Find a contractor or shop for decking materials near you. 
---
Explore Articles by Topic
Explore Articles by Topic