Ready to Start Your Project?
You'll be redirected to Trex.com, our composite decking website.
Best Aluminum Deck Railings: Reviews & Benefits
There is no single material that is the right choice for every kind of railing project. Choosing the right deck railing material involves striking a balance between several factors. While aluminum may not be the first option that comes to mind when compared to more popular options like wood and composite, there are many instances where aluminum is the best choice. As always, it's important to investigate each material to find the right one for your project. Further exploring the pros and cons of aluminum railing can help you narrow down your selection.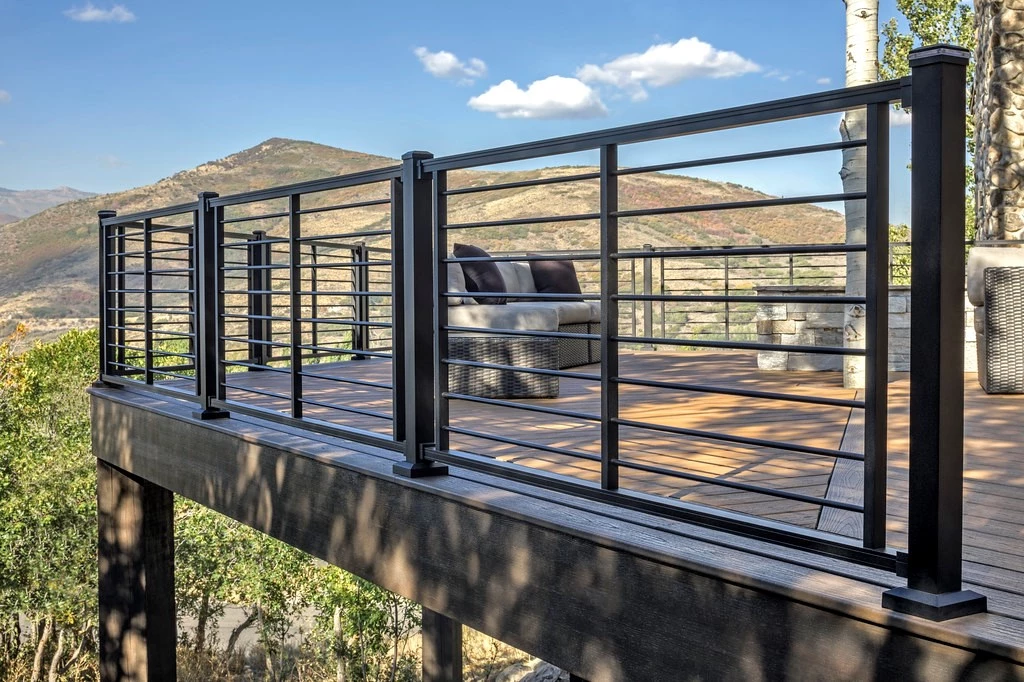 How Much Does Aluminum Deck Railing Cost?
Aluminum railing is a premium railing material from both a performance and price standpoint. The ultimate cost of aluminum deck railing will depend on whether you're installing it yourself if you opt to have a professional installation done for you. Looking solely at material cost, aluminum railing is sold at an average cost of $30-45 per linear foot. Installation costs per linear foot for can vary greatly based on where you live and who you hire to complete the installation.
Benefits of Aluminum Railings
Aluminum is both strong and lightweight. That makes it a great choice for projects where safety can't be compromised. It's easy to work with, enjoys excellent lasting power, and maintenance is minimal. Aluminum railing can also provide a fairly wide range of aesthetic customization options.
Strength and Durability
The versatility of aluminum means it can be flimsy enough to tear with your hands or sturdy enough to create buildings. Extruded aluminum is usually coated, adding a critical layer of environmental resistance. Powder-coated aluminum isn't prone to rusting like steel, it won't rot like wood, and it isn't as vulnerable to fluctuations in temperature as vinyl. That makes aluminum railings both long-lasting and ideal for safety.
Low Maintenance
Wood needs to be painted, sanded, and resealed. Aluminum doesn't require that level of upkeep, because aluminum railing is typically powder coated. Powder coating is an electrostatic painting process where the finish is baked on at a high temperature. It's durable, resistant to the elements and can provide texture to the finished railing. However, it's still a good idea to intermittently spray down your rails to help keep them looking their best. You should also make sure you touch up any areas where your railing gets scratched or scuffed. Most manufacturers offer touch up kits for this purpose.
Style & Customization
Aluminum railings are available in a range of colors, the most common of which are black, white, and shades of brown. You can also find a variety of infills for aluminum railing, such as stainless steel cable, mesh, aluminum balusters, or even glass. This allows for greater design flexibility, combining classic and modern styles for a more striking appearance -- aluminum railing can truly set your project apart.
Aluminum Railings are Eco-Friendly
Aluminum is a fully recyclable material. That said, railings are often created from at least some recycled material. Wood railing requires regular reapplications of chemical coatings to help slow down their inevitable destruction. By contrast, aluminum railings can generally be kept clean with just soap and water.
Aluminum Railing Material Comparison
There is no clear winner in a head-to-head comparison of aluminum and low-maintenance composite deck railing options. The same is true when comparing aluminum to most other materials. The answer depends on factors like style, budget, how much maintenance you're willing to endure, and even the regional circumstances where the material is being used. But there are some strengths and weaknesses you should be aware of.
Aluminum vs Vinyl Railing
Vinyl is a durable material, but when comparing aluminum vs vinyl railing, it's not nearly as durable as aluminum. The greater hardness of aluminum makes it more scratch- and dent-resistant. Vinyl also can react unfavorably to UV. It's not uncommon to see some vinyl railing products yellow and chalk a few years after installation. While style differences are, ultimately, a matter of taste, you often have to settle for white or light tan when selecting vinyl railing colors.
With respect to maintenance requirements and upfront cost, the two are quite similar. However, vinyl is subject to fluctuations in size in heat or cold, which can accelerate the aging of the material. By contrast, aluminum doesn't move when the temperature changes.
Aluminum vs. Wood Railing
Wood is subject to environmental damage that leads to rot, warping, and deterioration of the material due to temperature fluctuations and moisture. You can only hope to slow down the damage to wood railings with paint, sealants and treatments, each requiring sanding and refinishing. Although wood has a lower upfront cost, it's also high maintenance in terms of upkeep.
Aluminum vs. Steel Railing
Steel and aluminum share many of the same strengths. Technically speaking, steel is even stronger than aluminum. However, steel has one major downside -- rust. Steel has iron in it and oxygen, moisture, and iron are the elements needed to create rust. With the developments in modern coating techniques, this process can be delayed. However, most steel railing manufacturers offer 10 to 15 year warranties while most aluminum offerings carry 25 to lifetime guarantees.
Aluminum Railing Reviews
Aluminum deck railing reviews generally focus on a few central qualities. However, you have to weigh a variety of different concerns to find the right solution, from style considerations to cost. Fortunately, there are a handful of reliable brands that are emblematic of the key attributes you're looking for in terms of a quality aluminum railing.
1. Trex Signature Deck Railing
Trex Signature railing is widely customizable, allowing you to select between an unusually wide range of different styles. From classic to modern, or from round balusters to square ones, you have plenty of options. Trex railing components have all the strength of top quality aluminum and they're fairly simple to assemble. Trex offers many unique designs such as rod rail which is designed to mimic cable railing. Mesh rail is another option, which has a very unique, almost industrial design featuring stainless steel 4" x 4" mesh. Trex also recently announced a glass rail option for the Signature Aluminum Railing product line.
2. Westbury Railing
Westbury is an industry leader in aluminum railing products. Most of their popular products are focused around just three colors: white, bronze, and black, but they do offer several custom color options. They mostly have minimal installation requirements, with balusters smoothly sliding into pre-slotted spaces. Westbury has a fairly deep product line with mid-rails, various price points, and several post sizes to customize your look.
3. Deckorators ALX Aluminum Railing
Deckorators Aluminum Railing is constructed from heavy-gauge aluminum and designed to withstand the elements. ALX has two product configurations: the AL classic is a bit of a traditional "breadloaf" shape more often found in wood and composite product lines, while the Pro line has a beefy 2x4 look to it.
Choosing an aluminum railing for your deck is a process that requires investigating your options, brands, maintenance, and the look you want to achieve with your railings. As always, careful consideration and weighing of various factors can help you choose railings that will work well with your deck and give you years of enjoyment.
---
Explore Articles by Topic
Explore Articles by Topic