Ready to Start Your Project?
You'll be redirected to Trex.com, our composite decking website.
Deck Replacement & Repair Costs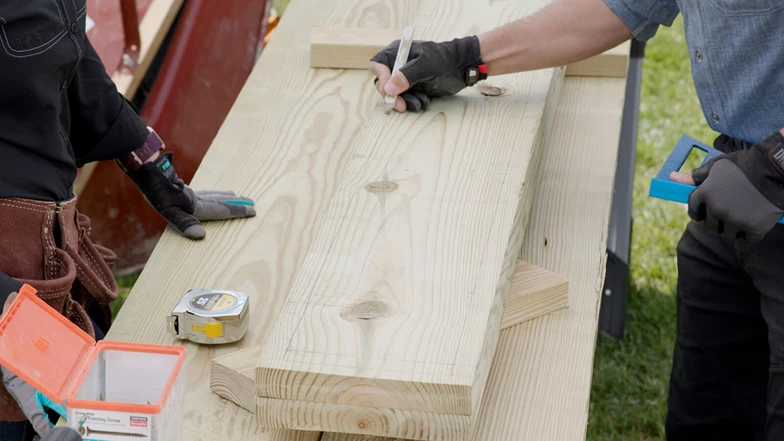 Choosing to build or replace a deck is an investment for your home and backyard. A well-made deck adds resale value to your home and gives you and your loved ones a place to make years of memories. However, even the most well-constructed deck requires maintenance to retain its beauty and remain safe. In some instances, you can easily repair or replace the deck yourself, but in others, you'll want to hire a professional to make the necessary improvements. 
There are various costs and factors associated with deck replacement and repair, including
Average Deck Replacement Cost
Average Cost to Replace Deck Railing
Cost to Replace Deck Boards
Average Deck Repair Costs
Wood Rot Repair Cost
Termite and Pest Control Costs
Should I Repair or Replace My Deck?
Water Damage
How much does it cost to replace a deck?
The cost to replace a deck depends on which materials you use, the size of the deck, and who does the work.
Today, the average cost of replacing a deck on average will generally cost between $25-$43 per square for natural wood and $30-$60 for composite decking. For a 400 sq ft deck, it would cost $10,000 to $17,000. Using composite deck boards instead would cost between $12,000 and $24,000. While that is a noticeable difference in upfront costs, a better comparison would factor in the long service life and lower maintenance costs of composite decking.
For a more detailed estimate of how much it costs for your decking materials for this project, enter your deck's dimensions into this calculator. The estimate accounts for the decking materials only, not the labor. Materials are typically about one-third of the cost of the project if you hire a professional to replace your deck and 100% of the cost if you're doing it yourself.
Average Cost to Replace Deck Railing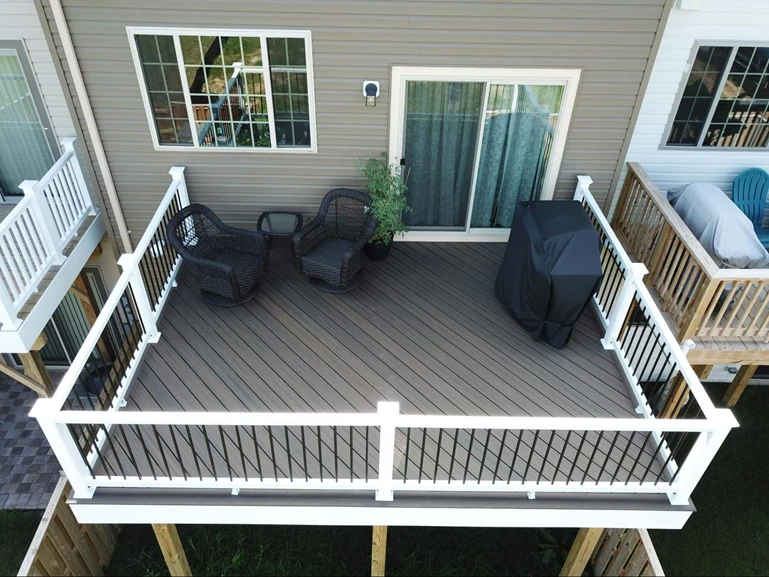 The average cost to replace wood deck railing is between $12 and $20 per linear foot for the materials only. Low-maintenance materials, like composite railing, are more expensive up front, ranging from $25 to $50 per foot.
It's important to factor in that non-wood railings have a longer life span and lower maintenance requirements, be they composite, aluminum, or a combination. The actual cost to replace your railings will also depend on how many of them need replacing and how complex they are.
Labor costs will add about $20 per linear foot. If you plan to replace the railings yourself, use the Deck Railing Calculator to help you order the correct number of balusters.
Cost to Replace Deck Boards
How much does it cost to replace deck boards that are rotting or unstable?
It's difficult to estimate this cost because if the deck boards are in bad enough shape to be replaced, you can bet the structure, or framing, will also need to be fixed or replaced. This can be a safety issue, and if you aren't sure how to assess the framing, ask a qualified professional to inspect the structure before you replace any deck boards. You can also ask them for an estimate to replace and/or repair the deck. 
While hiring a licensed contractor to repair a few damaged planks can be expensive, they have the knowledge to assess how the deck is constructed, what materials were used, and how far off the ground the deck is as well as other information due to their professional background.
Average Deck Repair Costs
The cost of repairing a deck depends on what's damaged and how badly. Nonstructural damage is the least expensive to repair, as discussed above. But if the damage stems from age, rot, or the impact of a large tree limb, estimates are more difficult because the entire deck may need replacement. Fixing damaged railing is usually easier because railings are built in sections between posts. You can even buy ready-to-install railing modules in 6- and 8-foot lengths. As always, the material type, construction complexity, and who does the work—you or a professional—will determine the cost per linear foot.
Wood Rot Repair Cost
Wood decks are susceptible to rot, and the cost to repair rotted wood depends on the extent of the rot and its location. For example, deck boards are generally cheaper to replace than joists, which is one of many reasons why it's worth knowing how to avoid, prevent, and repair joist rot.
If the damage isn't widespread, having a contractor fix rotted areas can cost either $300 or several thousand dollars. But many times the repairs are minor and easy to do yourself for much less. Many contractors favor big jobs, so it can be difficult to hire out small repairs. Be sure there are no structural issues.
Termite and Pest Control Cost
It's also a good idea to check your deck for pests, mainly termites. Some pest control companies offer inspections or will apply the inspection fee to any work you have done. Budget between $100 and $200 to hire a licensed pest control specialist.
If there are termites, replace the infested boards and apply an anti-termite coating to the entire deck. The average cost of a professional termite treatment is about $600, though enormous infestations that require tenting and fumigation can cost $2,000 or more. Those larger costs can be avoided by learning How to Bug Proof your Deck and Floorboards.
Should I Repair or Replace My Deck?
Whether you repair or replace the deck usually comes down to the severity of the rot or other damage. Repairing an existing structure is almost always cheaper than rebuilding it from scratch, especially if you pay someone to remove and rebuild a deck. 
If you're unsure which is the better option, consult a professional to examine the deck before deciding. An experienced contractor may be able to provide insight into your circumstances and help you save some of your deck and thus save you some money. Use our find a contractor tool to locate a contractor in your area.
---
Explore Articles by Topic
Explore Articles by Topic