Ready to Start Your Project?
You'll be redirected to Trex.com, our composite decking website.
15 Pergola Ideas to Create a Backyard Oasis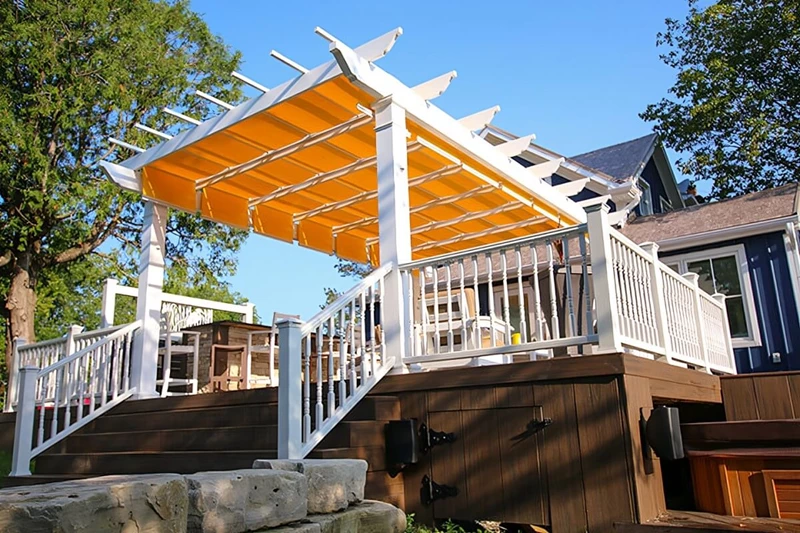 Developing your own outdoor space can be a fun challenge – and owing to their numerous adaptive benefits, pergolas can be a great place to start. Much like crafting a scene in a film, it's the details that bring your creation to life. Whether you want it to stand as a dramatic lead or a supporting character, there are myriad ways to incorporate one into your backyard.
A pergola can liven up your backyard and serve as a compliment that harmonizes many of the other elements of your outdoor living space. Seeking some inspiration? Here are a few of our favorite pergola ideas to consider!
What is the purpose of having a pergola?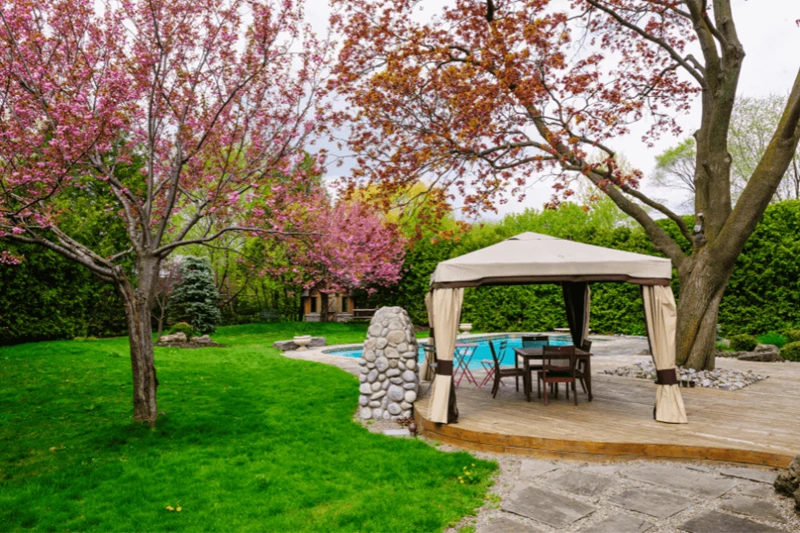 Broken down into its parts, a pergola is little more than a few posts, beams, and rafters. It can be dependent or independent of other structures and can serve either a highly functional or entirely aesthetic purpose. By providing a source of shelter from the elements, pergolas can help to create a more livable space outdoors.
Do Pergolas Add Value to a Home?
However, pergolas are more than just another yard accessory. From creating formal dining areas to serving as a carport, there is no shortage of clever innovations and adaptations to tap into with a pergola. While it can provide you with shade and enhance aesthetics, a pergola can also add value to your home in the event you decide to sell. Typically, a well-appointed deck or outdoor living space can yield an average of a 65% return on your investment. The addition of a pergola can boost that figure up slightly due to its functional and fashionable design.
Is it cheaper to build or buy a pergola?
It's often cheaper to build your own pergola -- but not always. It partially depends on your DIY abilities, your access to tools, and your time. Learning how to build a pergola isn't very challenging, and cheap pergola ideas are easy to come by. However, it's often the easiest and most cost-effective option to buy a kit.
From classic pergola usage for shade to more modern pergola ideas that take advantage of digital technology, there's a pergola for every purpose and design sensibility!
1.Deck Pergola Ideas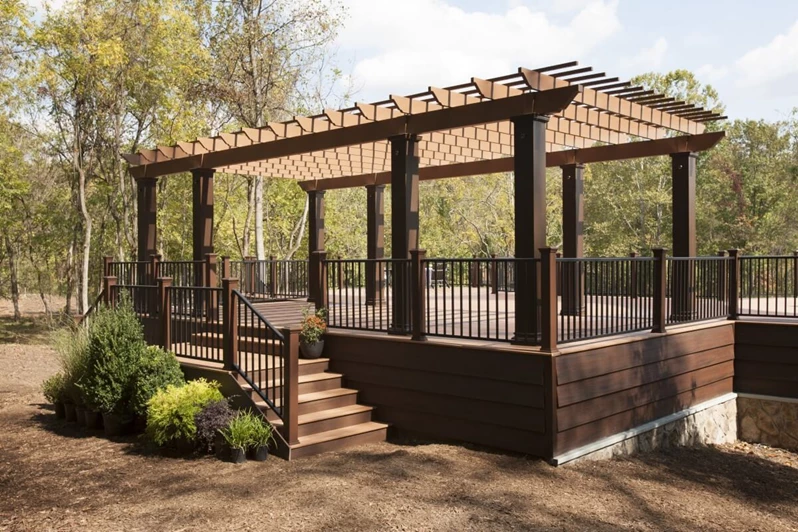 Pergolas often work well when paired with other types of outdoor amenities, like overhead coverage for a bench. That's a small part of the reason they also pair exceptionally well with decks, which tend to already host several amenities. While you can go in many directions, some of the more interesting pergola ideas for decks tend to combine pergolas with seating areas or other spaces where people may be spending extended periods of time.
2. Pergola By the Pool
Sun can be particularly harsh during hot summer months or in more arid parts of the country. A poolside pergola can be ideal for finding relief on a sunny day as you transition from your pool area to relaxing in the shade. They can also bring a high-end, luxurious vibe -- especially when constructed with colors that highlight and compliment the area. 
3. Add Curb Appeal with a Pergola
Adding a distinctive element to your home can unquestionably add raw curb appeal. With a pergola, there's more than one way to add that wow factor. For instance, the right pergola can help you create a grander entryway leading to your front door, guide guests along pathways, or otherwise help make an area its own unique space when decked out with decorative embellishments.
4. Mix & Match Materials for Your Pergola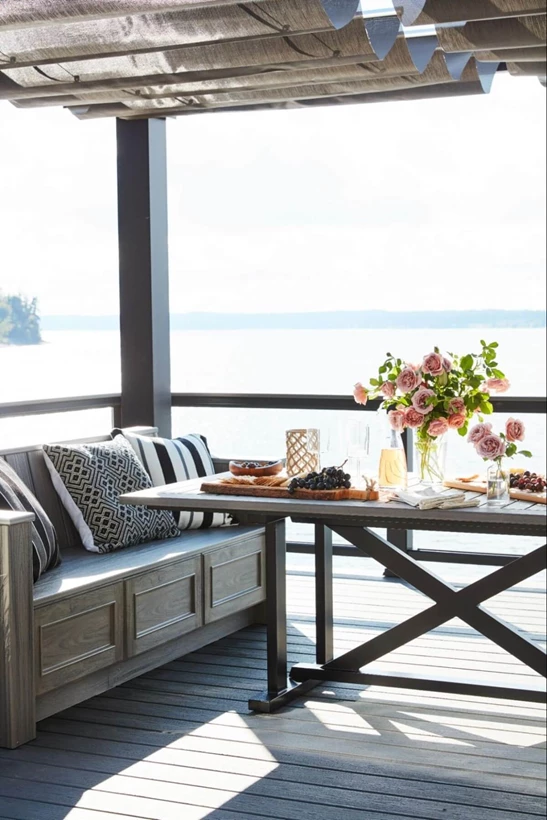 Combining several different kinds of materials – like composite, wood, and aluminum – to build your pergola can create high-contrast spaces with visual interest. This dynamic approach also lets you be choosier when picking which materials will take the brunt of the weather and which won't, as well as making it easier to put together your own DIY project. 
5. House-Attached Pergola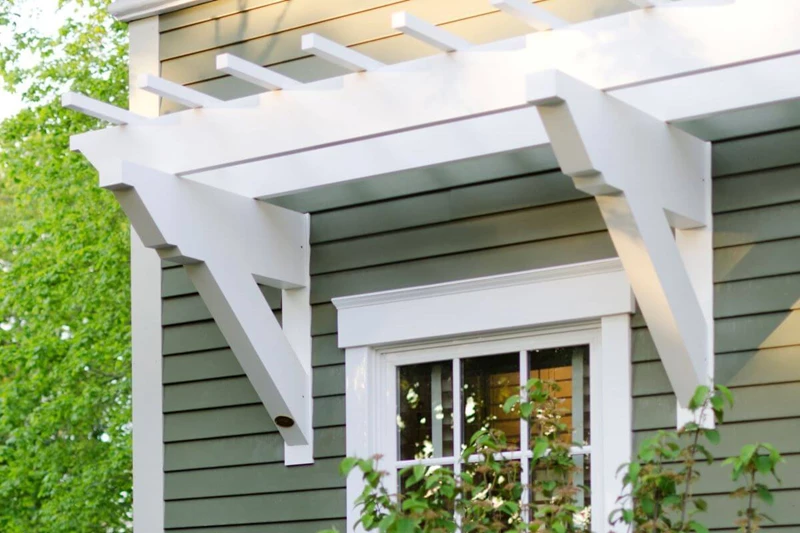 You can create your very own shaded oasis right next to your home by building your pergola as an extension of your roof or overhang. It's easy to make these designs look great when you use similar materials and colors to build your pergola. Starting with an existing structure can make finding an ideal placement easier.
6. Garden Pergola Ideas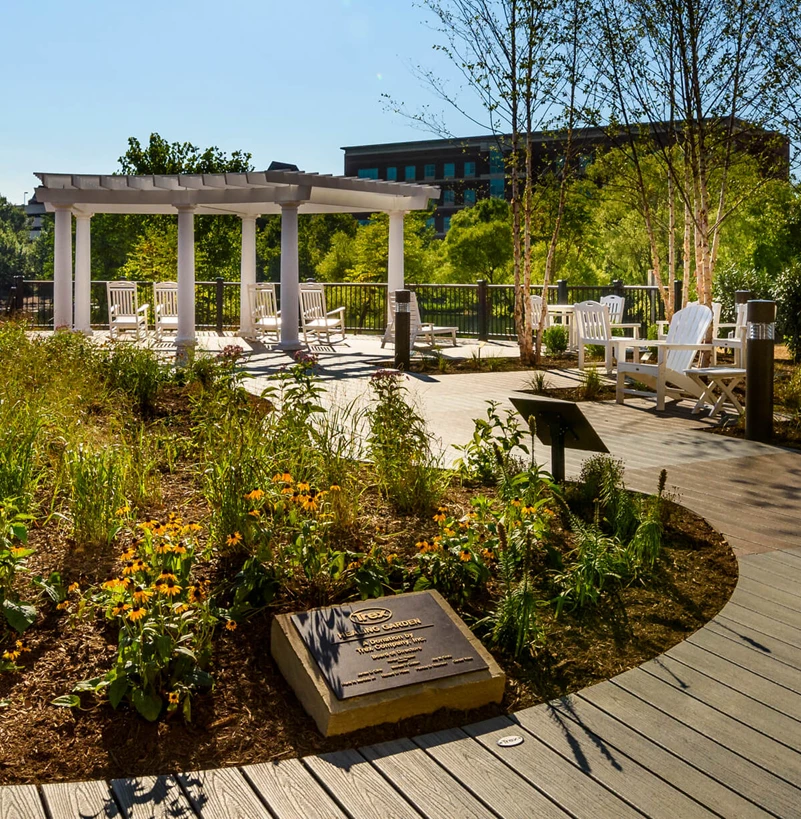 If you're looking to incorporate a pergola within your backyard garden, consider adding a trellis screen. Combining the sun-relief options of a typical pergola with the ability to block additional views or sounds, you can create a much more private, intimate area to enjoy your carefully planted blooms. A trellis can have an outstanding aesthetic impact if you choose to train vines to climb upwards, offering additional shade or privacy. 
7. Carport Pergolas
More than just outdoor eye candy, a pergola can provide shelter from the elements. If you don't have a garage, a well-placed carport pergola can be an excellent opportunity to add some style to your driveway while keeping the hot summer sun from beating down directly onto your car, or from being covered in snow or falling leaves when the weather turns. 
8. Use Landscaping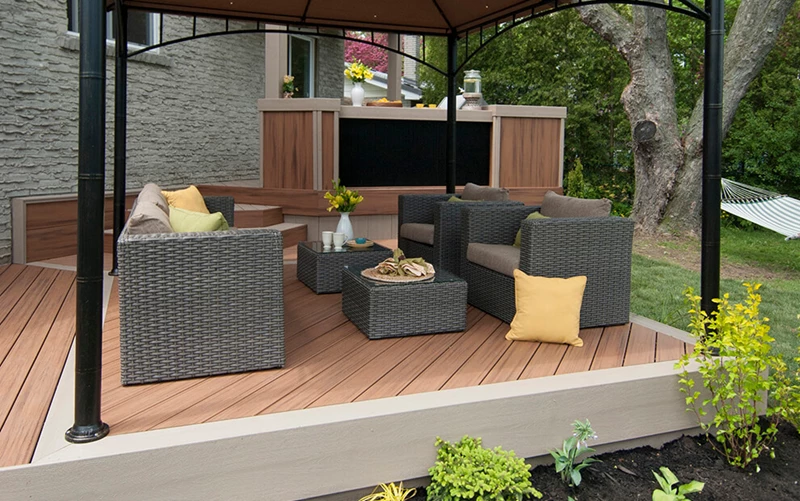 Have any distinctive landscaping in your yard? Taking stock of what you have to work with can help you to better adapt your new pergola to its space. Trees, hedges, and shrubs can all be used to influence both the privacy and style quotient of your pergola, incorporating it into the existing landscaped features of your yard. 
9. Focus on Privacy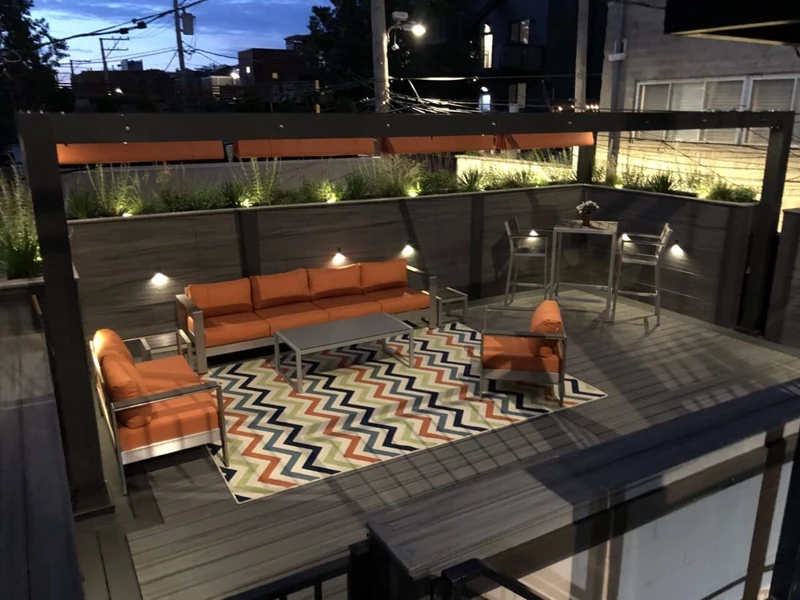 Almost any pergola will provide some degree of privacy, but the extent of that privacy can be amplified in several ways. Privacy screens or other types of siding added to the structure can also help produce a more intimate setting. You can maintain the openness of the landscaping by positioning your pergola to highlight features rather than work against them.
10. Corner Pergola Ideas
The typical pergola makes use of four relatively indistinct sides, while a corner pergola is typically an asymmetrical design intended to tie together a medium-sized space with a sense of cohesion. Usually accompanied by seating options, corner pergolas can also be a good way to help transition from one set of amenities into another. 
11. Try Pergola Accents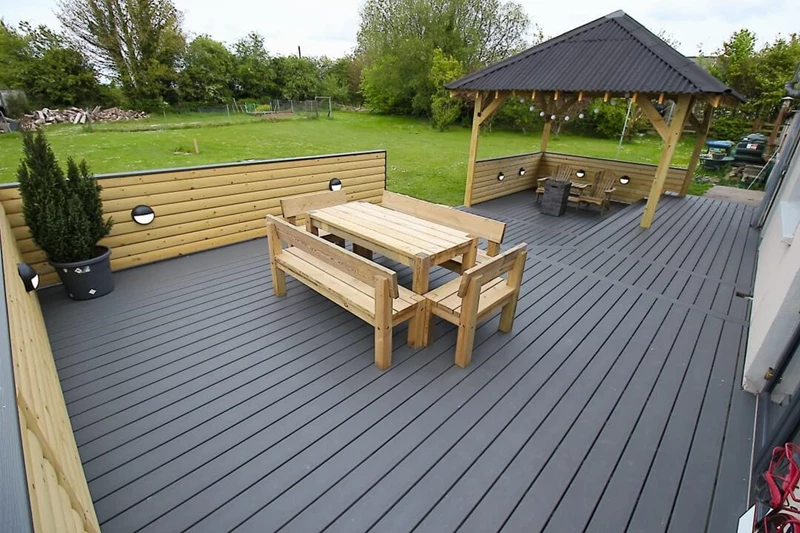 @Scullydecks
Even when you're working with limited space, you can still create a visually effective accent with the right small pergola ideas. For instance, accents can move your pergola in countless directions visually. You can use signage, greenery, or any other number of decorations on the numerous support beams or rafters that compose these structures. 
12. Add Fabric or Curtains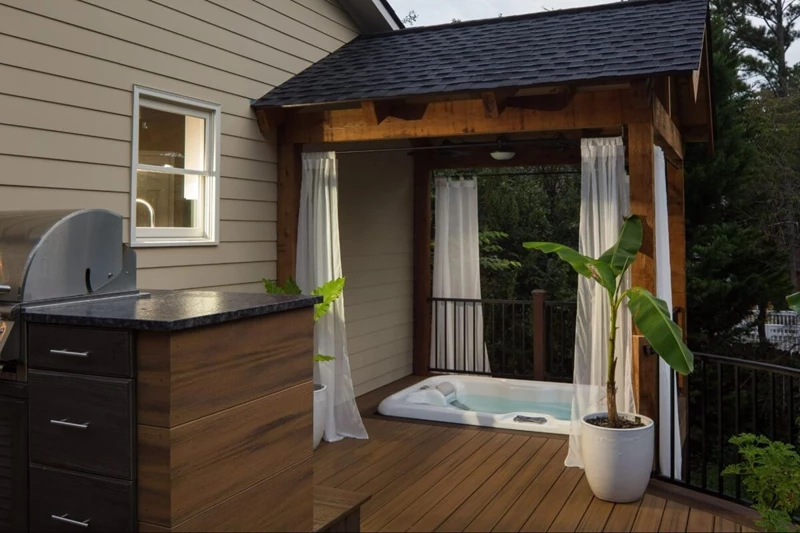 If you're considering pergola shade options, artfully draped fabric happens to be another great method for shielding from the glances of neighbors or traffic. Curtains between pergola posts can be opened or shut as needed. It's also useful for adding protection to decks and other elements from color fading from the elements, but be sure to pick a fabric intended for the outdoors.
13. Covered Pergola Ideas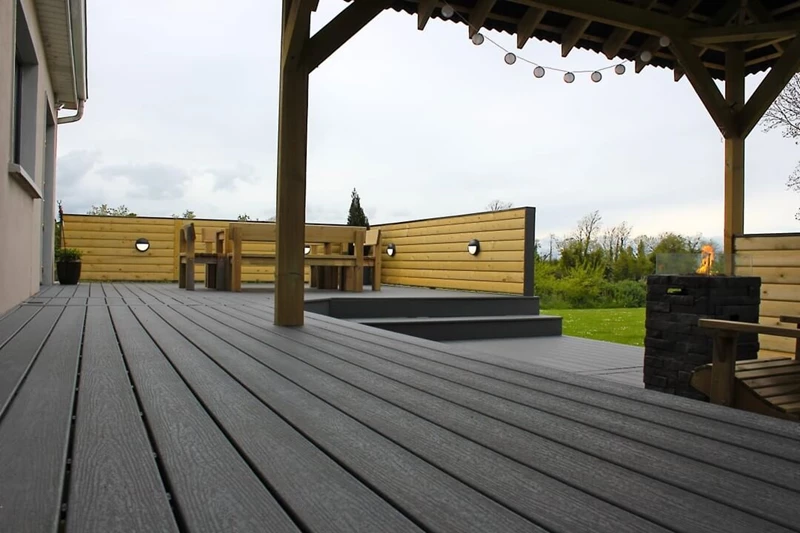 @Scullydecks
Most pergolas are made to provide partial lighting or even indirect light, but you can also make use of a full roof that blocks light entirely. Complete shade is often most effective when combined with existing structures, or with the right furniture and vantage point.
14. Create a Lighted Area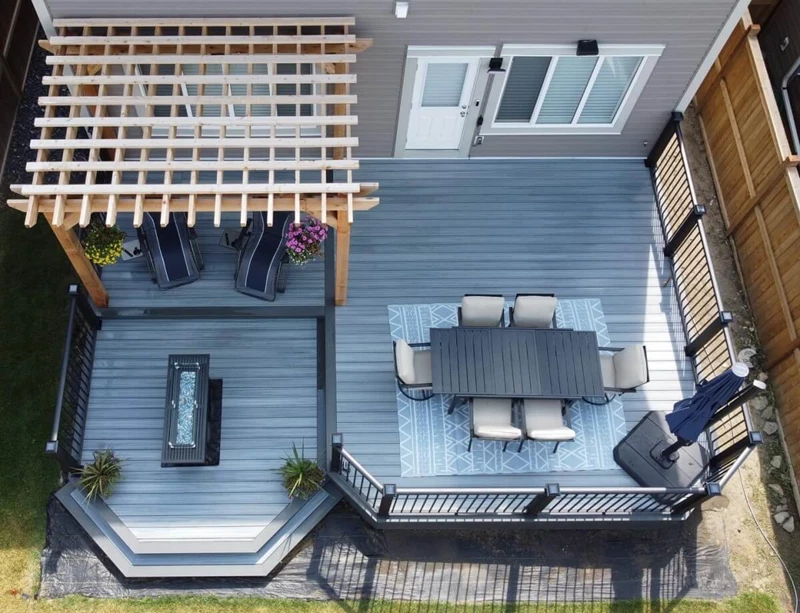 Pergolas are an excellent structure for attaching cables, which makes it easy to stylishly string along lights through their rafters or support beams. This simple but effective addition can make the area more habitable and safe at night, or it can provide a seasonally appropriate gentle glow. All in all, this is one of the most cost-effective ways to make your pergola more functional and stylish at the same time.
15. Use a Pergola to Divide a Larger Yard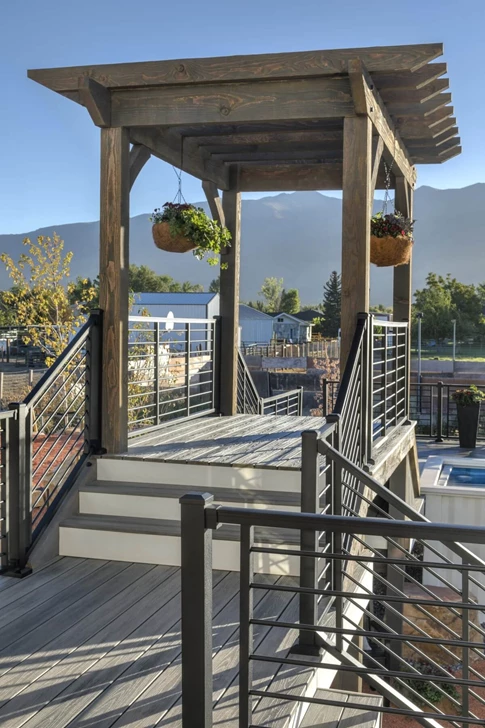 A pergola can help to delineate outdoor space into clear areas, serving to section portions of your yard off. Whether you choose to outfit your pergola with privacy screening or leave them in their typically open form, a pergola can operate similar to decorative shoji screens that serve as both a decorative enhancement to an indoor living room, as well as a functional way to divide and make better use of a larger space.
Perk Up Your Backyard with a Pergola – and More Ideas with Decks.com
Adding a pergola to your outdoor area can lend a touch of elegance and serve a variety of purposes. With a little inspiration, you can find the perfect pergola to perk up your backyard. Need more ideas? Check out Decks.com gallery for tons of photos to use for inspiration. 
---
Explore Articles by Topic
Explore Articles by Topic