Ready to Start Your Project?
You'll be redirected to Trex.com, our composite decking website.
Backyard Patio Ideas and Inspiration for 2023
If you're looking for inspiration for a front or backyard patio, look no further! Check out our collection of patio pictures and ideas to create an ideal backyard living space. From poolside patios to outdoor kitchens, you'll find design tips for small gardens, patios with fire pits, and much more to fuel your design inspiration. Whether you're building a new patio or renovating an existing one, this article is sure to spark your inner designer!
Use a Fire Pit to Make Your Patio Cozy All Year Round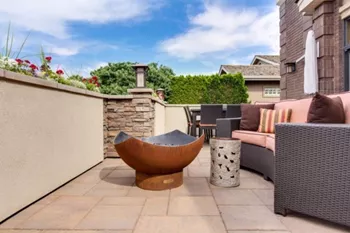 Patio fire pits have seen a surge in popularity in recent years. And with good reason! A patio fire pit will ward off evening chills and provides a cozy, campfire-like effect right in your own backyard. The warmth of a patio fire pit makes it an inviting space to entertain outdoors on a summer night or during crisp fall evenings.
Need some ideas for incorporating a patio fire pit into your outdoor living area? This particular patio fire pit has curved, contemporary lines that make it a beautiful conversation piece and a great place for company to gather for a fireside chat!
The Best Outdoor Patio Lights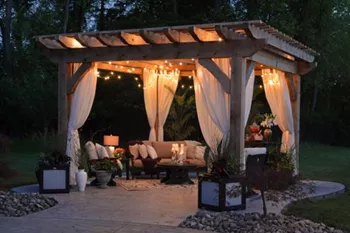 What are the best outdoor patio lights? There's no right or wrong answer to that question. Outdoor patio lights can set the mood of your space and define your patio style.
For example, a patio draped in fairy lights invites you to relax, surrounded by a soft glow of tiny, twinkling lights. Whether you hang string lights from the trees or a pergola, they can create a mellow, relaxing atmosphere.
For a more rustic look, you can use torches or lanterns for heavier swaths of light to illuminate your patio. Less dainty in their appearance, metal lanterns or bamboo or wood torches can add a more down-home feel to your patio.
For something in the middle, you can create a tranquil place to unwind with well-placed real or faux candles to add light to your space.
Patio Furniture Color Schemes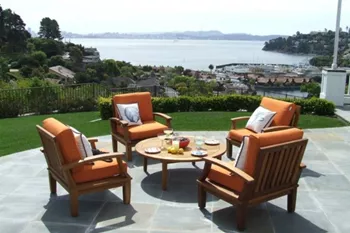 When coming up with patio furniture color schemes, it's important to work with your environment to create a harmonious color palette.
Take note of natural features — such as any trees or flowers in your landscape — and features of your home and patio to see what works. Most importantly, choose colors and a design that matches your personal design aesthetic.
Take a look at these rich, teak wooden chairs situated on a patterned stone patio. Balance the dark wood and stone feature with bright patio cushions. Plus, these burnt orange pillows fall somewhere in between Saffron, Orange Peel, and Cinnamon stick shades on the Pantone's 2020 Color Trend Report.
If bright hues aren't for you, opt for softer pastels to give your outdoor space a Floridian patio color scheme. Complete the look by adding pottery, pillows, and throws in shades of Coral Pink and Biscay Green.
Want a nautical look in classic tones? Decorate your patio with shades of Brilliant White and Navy Blazer, then add smaller accents in either a Biscay Blue or Flame Scarlet to shake things up a bit.
The nice thing about using color with patio chair cushions and other decorative items on your patio is that you can change your space from season to season with on-trend colors to suit your ever-changing style.
Make a Small Patio Feel Bigger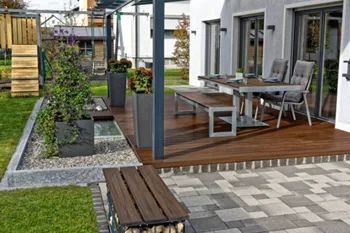 When you want to give the illusion of a larger space, less is more. To reduce distraction and create more visual space, don't clutter your patio with too many decorations.
Instead, make use of surrounding space and keep it simple. If your patio offers you and your guests a nice view, angle your seating to make the most of it. Also, try using a small grill set off to the side of your patio to give your guest more space to enjoy the outdoors.
Heighten the look of your patio by dangling string lights or tall plants to draw the eye upward.
To create an illusion of a longer patio, incorporate plants at intervals across the patio and even onto your yard.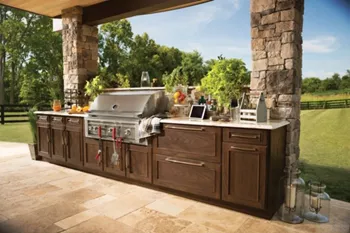 One of the perks of a patio is being able to grill and entertain outdoors.
A gorgeous grilling station with plenty of counter space for prepping and plating is a sure-fire hit with guests.

A grilling station can be simple, or elaborate, with rich wood cabinetry surrounding a brushed metal grill as the centerpiece of this station.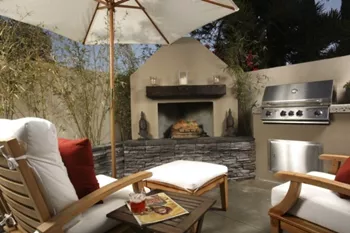 A patio should feel like an extension of your home — just outdoors.
Enjoy a quiet night "in" outside with a cozy patio kitchen, with a built-in grill and broiler in brushed metal. These appliances are cleverly built into the concrete of the patio and positioned to reflect light from the (also built-in) fireplace.

Adding to the zen effect are large statues and soft candle light. Crisp, light-neutral colored furniture and cushions create an even more calming, nature-loving feel to this setup.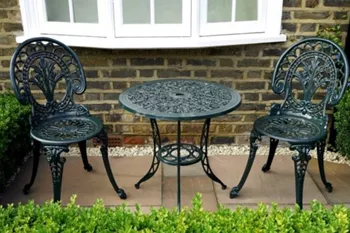 A small patio doesn't have to be boring. Unique furniture with intricate details can transform a plain patio into an elegant seating area. Take this beautiful wrought-iron patio table set for example. Using a cafe table and chair set, you can create a provincial, French cafe feel. To take this to the next level, surround your patio with greenery.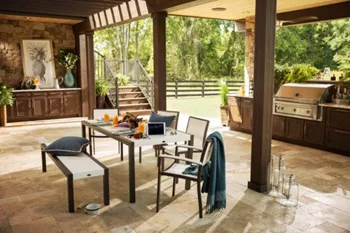 Your patio dining set is the focal point of your outdoor space. It's important to select one that works for your space and your style.

Think of your space and your personal aesthetic. If you favor a rustic style of decor, look to wooden picnic tables. Love simple elegance and minimalism? How about glass tables and sturdy patio furniture with clean lines in black or white?
Or do you crave the feel of coastal charm or the feel of a Tuscan villa? Elegant patio tables — like this one — shows off an indoor/outdoor room perfect for lazy weekend mornings. Crisp white chairs and benches accented in cocoa brown complement the streamlined look of this patio table set, making it perfect for indoor and outdoor use.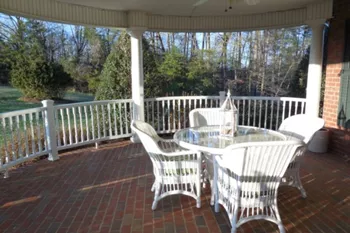 A glass table surrounded by four white woven wicker chairs makes this a welcoming spot for friends and family to enjoy breakfast al fresco.

The white railings match the furniture perfectly, making both pop against the brick patio. Additionally, the pillars and roof frame the backyard in a soothing way, making this patio a perfect place to soak in some morning sun with your coffee.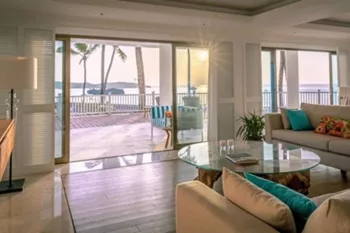 A covered patio provides a shady spot during the day to relax and enjoy the view.

Thick columns don't merely help to support the roof of a covered patio, but they also serve as more of a frame for the picturesque scenery.
Keeping the furniture simple works with — not against — the gorgeous view of the natural surroundings. Furniture with bold, striped patterns in brilliant turquoise and white make for a fun color palette that brightens up the space.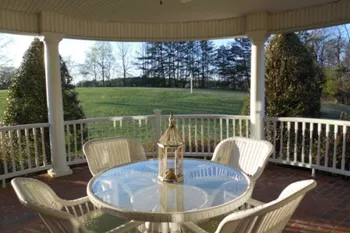 Matching your patio furniture with your patio columns and railings gives your space a sense of cohesion.

Elegant white wicker furniture perfectly matches the circular railing on this enclosed patio, giving it a timeless look.

You can always add colorful pillows or intricate accent pieces — like this delicate gold-and-glass lantern on the table — to add more visual interest.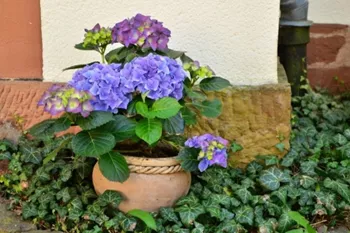 Landscaping around your patio can liven up any outdoor space.

You can use shrubbery or flower beds to either surround your patio or cleverly extend it beyond just the concrete or pavers themselves, creating the illusion of a larger space.

You can also add attractive features such as small fountains or bird feeders to work within your landscaping to create a charming backyard oasis.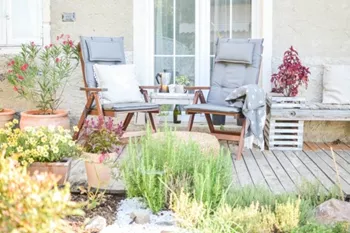 Bohemian "Boho" design has been quite popular in recent years and shows no signs of fading in 2020. This colorful mix-and-match style lends itself to outdoor living.

Colorful jewel-toned fabrics and sari prints can make for gorgeous accents with wicker or rattan furniture — pumping up the color profile of a patio.
The nice thing about Boho is that you're not limited to making all cushions match, either. You can add purple cushions on one chair, yellow or turquoise cushions on another, or vibrant scarlet or emerald green on yet another patio chair. The wicker furniture itself can be a unifying factor while accents, plants, and even fairy lights can create a whimsical feel to your patio.
We hope some of these patio design tips and ideas have given you the inspiration you need to jumpstart your next outdoor home project. It's fun to adapt these garden patio ideas for your space and budget. Play around with your space and these ideas to come up with something that suits your patio and lifestyle!
---
Explore Articles by Topic
Explore Articles by Topic