Ready to Start Your Project?
You'll be redirected to Trex.com, our composite decking website.
Deck Railing Height Requirements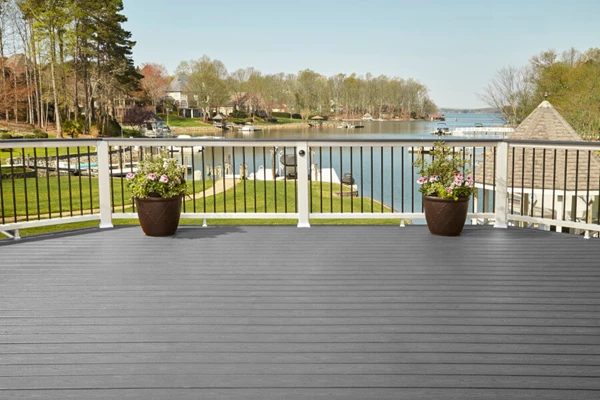 Building, replacing, or repairing your own deck makes for a great DIY project. Depending on the type of decking you use and whether you need to rebuild any of the underlying structures, installing a deck can be suitable for DIYers of all skill levels.
Whether this is your first or your fiftieth home building project, it's key that you meet all code requirements for the municipality you live in.
What is the Maximum Height of a Deck Without Railing?
As a rule, if your deck is low platform (under 30" in height) then a railing isn't required in most municipalities. Check local municipal guidelines to verify the specifics where you live. Additionally, if you want to add a railing to an at-home deck of any height you'll need to adhere to railing requirements for residential decks.
All decks greater than 30" in height must have a guardrail which meets both load-bearing requirements and deck railing height requirements.
What is the best height for a deck railing?
The best rail height for a deck depends on how you intend to use your deck, where your home or business is located, and your local building code.
There are minimum heights for residential and commercial deck guardrails that must be adhered to. For a residential property, the required rail height is 36" and for commercial or multifamily properties it's 42". If you want a higher railing on a residential deck, going up to 42" is possible as materials are already designed to safely support a railing of this height.
Residential Deck Railing Requirements
Decks built onto single-family homes must adhere to the International Residential Code (IRC). The IRC requires a minimum 36" height for all guardrails, but states and even local municipalities have their own deck railing height requirements too.
Even if your deck doesn't require a guardrail, once you build a railing you must meet railing requirements. Regardless of the specific height requirements, a railing should always be measured from the deck surface to the top of the rail.
Measure from the deck floor to the top of the rail between posts. This must be at least 36" high to meet IRC requirements. Make sure your sweep space and all infill openings will not allow a 4" sphere to pass through.
Commercial Deck Railing Requirements
Commercial decks attached to multifamily apartment buildings or businesses are regulated under the International Building Code (IBC). The rules for commercial and multifamily properties differ from those for single-family homes. Guardrails should be a minimum of 42" high.
What is the maximum height of a handrail on a deck?
You are allowed to build taller guardrails than IBC, IRC, or local building codes, as long as they conform to all other railing requirements for decks stated in the code.
Do Deck Stairs Need Railings?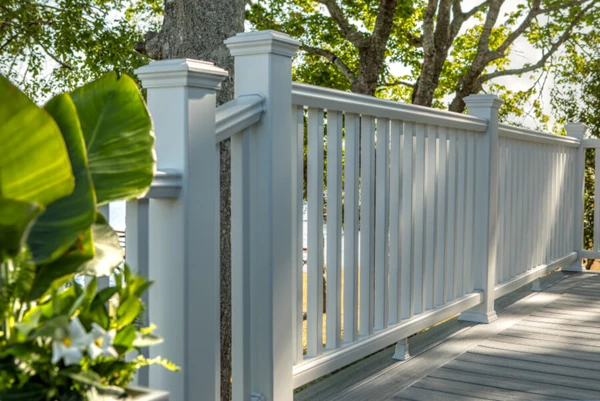 Do you need railings for stairs that lead to and from a deck? The short answer is yes, if your deck is high enough to require a guardrail and has stairs, those stairs need railings too. Deck stair guardrails should be between 34" and 38" according to IRC rules. Always measure vertically from the nose of the stair tread to the top of the railing.
Sweep Space Bottom Deck Rails
This popular rail style leaves a 4" space below the bottom rail to allow for snow, dirt, and any other debris to be swept off your deck surface. Rail posts are attached to the deck frame and support the infill sections. Rail posts need to be properly fastened and should not be spaced more than about 8 feet apart, though contractors usually aim for 6' to avoid sagging and bouncing. Railing can come in both 8' and 6' sections. Purchase what works for your space.
Many builders run a 1x6 cocktail rail continuously over the top of the posts and top rail to provide a clean finished edge. This also offers a surface on which to set down glasses, etc. The pickets can be considerably shorter because they don't need to be individually attached to the deck rim and they are raised off the floor. Most deck builders prefer this rail type due to its relative simplicity and functionality.
Learn More About Deck Railings
Deck railing height requirements are the tip of the iceberg when it comes to understanding how to build a deck to code. Additionally, you need to understand deck railing height codes and requirements whether you're a DIY deck builder or hiring a contractor to build for you.
If you're putting your deck together yourself, you'll also need to understand the parts of a wood or composite deck railing well as teaching yourself a little more about how to install deck stair railings.
Again, remember to check your local building code to make sure you're up to the requirements of your municipality. And of course, the best DIY advice in the book stands for decks too: measure twice and cut once!
---
Explore Articles by Topic
Explore Articles by Topic