Ready to Start Your Project?
You'll be redirected to Trex.com, our composite decking website.
Deck Skirting Ideas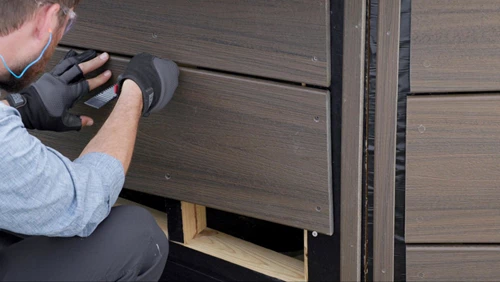 Deck skirting can elevate the aesthetics of your deck while also concealing structural elements or storage space underneath it. Explore different skirting ideas for decks such as traditional composite, wood, stone, or lattice panels - as well as innovative alternatives like metal or planting - to transform your deck into an outdoor retreat that's both beautiful and functional.
With so many options to choose from, finding ideas for skirting for a deck that suit your garden and your needs should be easy. Choosing between them will be the real challenge!
What is Deck Skirting?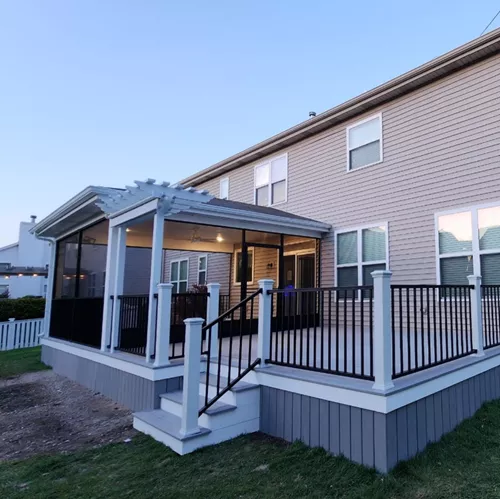 Deck skirting' refers to any material or structure designed to enclose the area beneath a deck, installed around its bottom perimeter to cover gaps between its floor and ground level. Deck skirting hides the space beneath your deck for an integrated and cohesive look. It can be used to keep out animals, protect the substructure of your deck from weather, or simply for aesthetic reasons.
What Can I Put Around My Deck Instead of Lattice?
Lattice is a popular deck skirting option because it's lightweight, good value, easy to install, and looks good with many deck designs. There are plenty of other options for deck skirting, however. Instead of putting lattice around your deck, you could:
Attach fascia boards in the same color as your decking or a complementary color
Use wooden slats
Build steps or stairs
Install decorative metal slats
Create a below-deck storage area or shed
Should a Deck Have Skirting?
Not all decks have skirting, and not all decks need skirting! It's a personal choice, and partially an aesthetic one. Whether or not you decide on skirting will probably depend on your personal taste, the height of your deck, and the climate you live in, amongst a host of other possible factors. To put it simply, deck skirting isn't essential, but it has benefits. 
Benefits of Adding Skirting to a Deck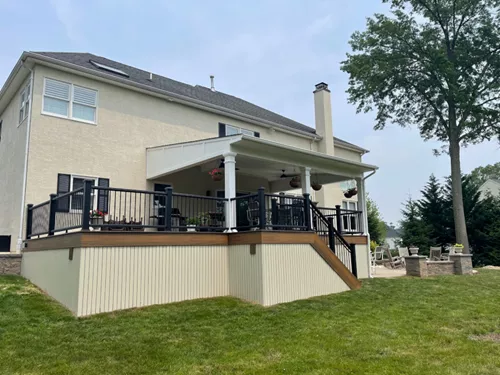 Adding skirting to your deck provides a whole host of benefits. This is your chance to add a final, personal aesthetic stamp to your deck and finish off your beautiful backyard design. Skirting can add flair by introducing a new color, or it can simply keep things simple and clean by hiding what's underneath your deck and allowing a wall for planting vines or shrubs to outline your deck.
But deck skirting is also practical, of course! It makes it harder for animals to use the space under your deck to nest or sleep, and can even offer opportunities to create storage areas.
10 Deck Skirting Ideas & Materials
Here are ten of the most popular styles of deck skirting, using a variety of materials. They vary from modern to classic, with plenty of inexpensive deck skirting ideas included too.
1.Lattice Deck Skirting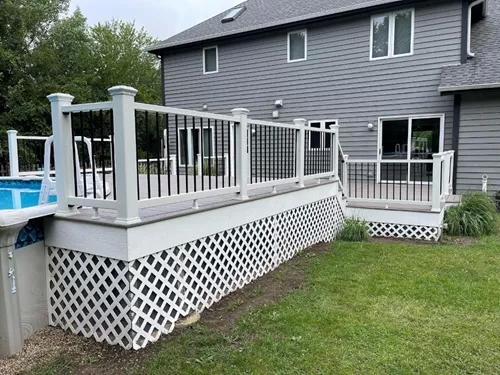 Lattice deck skirting is one of the most versatile and popular inexpensive deck skirting ideas. Its openwork design adds a decorative touch while allowing airflow under the deck. For a personal touch, lattice panels can be customized with various patterns, such as squares or diamonds, to suit your style. This skirting option is relatively easy to install and can be made from wood or PVC. Lattice comes in a wide variety of sizes, too, so it can be used to skirt both low and raised decks.
2.Raised Deck Skirting
If you have a raised deck, you have a lot of space to play with in terms of deck skirting. Making a bold visual choice like using a color that complements rather than matches your decking boards, choosing horizontal skirting such as Trex Cladding, or adding lighting and greenery to finish off your raised deck skirting idea, are all options when you have space to work with. Additionally, skirting on a raised deck can hide a shed, storage space, or even a play area or small workspace.
3. Low Deck Skirting
Even low decks can be enhanced with skirting. You can use stone veneer, low-profile wood panels, or even landscaping elements like greenery to create a subtle and seamless transition from the deck to the ground. Low deck skirting provides a clean and minimalist look, complementing modern low deck designs while effectively concealing the space beneath the deck and protecting it from any critters interested in a new home.
4.Horizontal Deck Skirting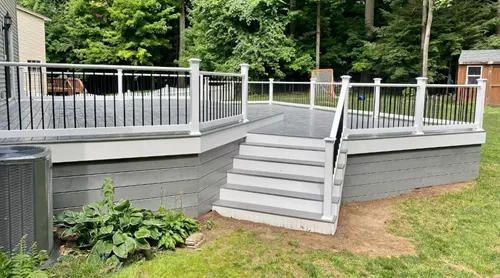 This approach involves installing horizontal boards or slats to create a clean and linear look. Horizontal deck skirting ideas bring a contemporary and sleek aesthetic to your deck, whether you use wood, composite, or even metal. It can be one of the more inexpensive deck skirting ideas depending on the materials chosen, and effectively hides the space beneath your deck while keeping things simple and modern.
5.Modern Deck Skirting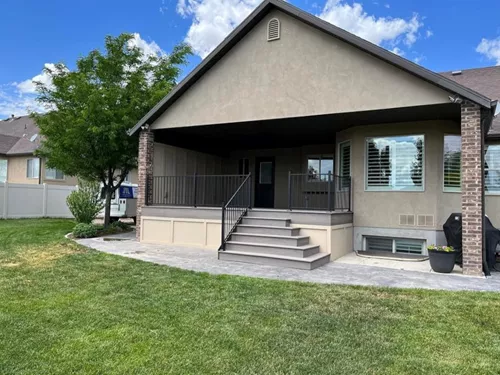 Most modern deck skirting ideas tend to deliver sleek lines, minimalist designs, and innovative materials. Solid metal panels, brick, or even concrete can create a modern look/ Overall, modern deck skirting ideas focus on creating a visually striking or streamlined appearance that complements contemporary architecture.
6. Stair Deck Skirting:
Instead of traditional skirting, some people choose to make the edges of their deck into a wide set of stairs. This works best with simple decks built quite low to the ground, although stairs along one or two sides of a deck can also be combined with other deck skirting ideas to keep things interesting and add the practicality of usable stairs and enhanced deck access.
7.Composite Deck Skirting
Composite deck skirting ideas utilize the same or similar materials as your composite deck boards for a unified and consistent look. Whether you have a traditional or modern deck, composite skirting offers durability, low maintenance, and a wide range of color options. It provides a cohesive design while offering excellent resistance to rot, insects, and fading. If you want your skirting to last as long as your deck does, composite deck skirting ideas are a great option. 
8. PVC Deck Skirting
PVC is a low-maintenance and moisture-resistant option for skirting. It's easy to clean as well. It's usually more expensive than other materials and isn't as natural-looking as composite. It's also lightweight which can be a pro and con for some. 
9. Under Deck Shed
Under-deck sheds and storage areas can be as simple as a small door in your skirting that offers space to keep tools and gardening equipment or as complicated as a full wooden or composite structure beneath a high deck that provides a multi-use space. While some people slot pre-designed sheds beneath a deck, it's more common to build one to fit the space.
H3 Fascia Boards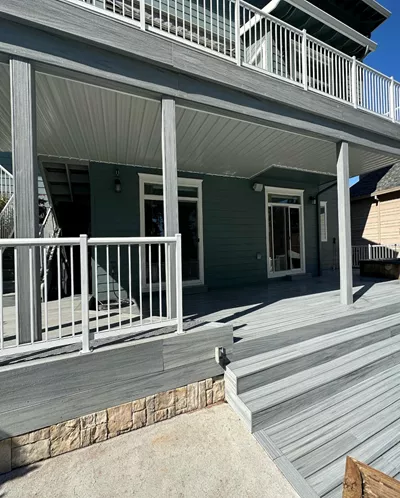 Deck fascia boards or trims are usually installed to hide the ends of deck boards or rim joists. As they often already run around the edges of a deck, use of fascia can be extended to create deck skirting that matches or highlights your decking boards and other style choices.
10. Greenery
Integrating greenery into your deck skirting adds an earthy and relaxing ambiance. Potted plants, planter boxes, or vertical gardens make effective use of greenery as skirting while simultaneously softening the appearance of your deck. You can use greenery as a basic deck skirting or add to the look of lattice, composite, PVC, or other deck skirting ideas using greenery.
Get Started with Your Deck Skirting Ideas Today!
Whether you're ready to start buying materials and installing your deck skirting ASAP or still need a little inspiration before you settle on a design, we have plenty more articles for you to peruse. Take the next step on your deck skirting journey with one of the following:
---
Explore Articles by Topic
Explore Articles by Topic