Ready to Start Your Project?
You'll be redirected to Trex.com, our composite decking website.
Budget - Determines Deck Size and Materials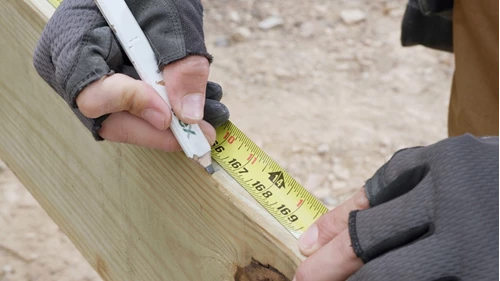 Calculating a construction budget is an equation with three variables:

1) Cost
2) Square Footage
3) Quality of Materials.

You can control two of these variables which will produce the third, but you can't control all three simultaneously. A deck project can be a substantial investment. Most decking materials range from $15 to $30 per square foot. That means a basic, 320-square-foot cedar deck will run about $5,250 for materials or about $10,500 if you plan on using composite materials.

If you are experiencing sticker shock right now, you have discovered a design limitation in your deck design. A bigger deck isn't always the best solution even with an unlimited budget. An intelligent, aesthetically pleasing design will give you more bang for your buck. It is a good idea to set a cost range that you are prepared to spend before getting too far along in your design.

The cost of decking materials will vary depending on the type and quality of material you choose, where you live and what type of lumberyard you buy from. The price of decking is a commodity just like gasoline.

Pressure-treated wood is an economic material, which is ideal for people working within a tight budget, but it doesn't always hold up as well over time. You can expect to pay between $3 and $6 per square foot for 5/4x6 ACQ-treated decking from a big box store. You should sort through the lumber bins to find the best boards. Home Depot and Lowes usually only stock short lengths of decking less than 12', which will leave your deck with more seams. If you go to a local lumberyard for contractors, you will find higher-grade materials with longer available lengths at a slightly higher price. Routine staining will help protect your deck, but it is not uncommon for pressure-treated decking to split, crack, warp and turn gray in a few years.

Cedar and redwood decking prices range from about $7 to $15 per square foot. Redwood is commonly available on the West Coast but is scarce in the eastern United States.

With over 100 brands to choose from, there is a wide range of prices for vinyl, composite and aluminum decking. A variety of attractive colors and textures can be combined in interesting ways, such as borders and inlays. Low-maintenance decking products should offer at least a 15-year warranty.

Exotic hardwood decking materials, such as ipe, tigerwood and Braziilian redwood are usually the most expensive options. You can expect to pay between $7 to $10 per linear foot. Exotic hardwoods are only available at higher-end lumberyards and are usually a special-order item. Exotic hardwoods usually require side-mounted hidden fastener clips, which will add to the total cost.
Ready to browse materials? Find a retailer here for all your decking needs.
---
Explore Articles by Topic
Explore Articles by Topic