Design Your Dream Deck in 3D with Our Free Online Software
Bring your deck vision to life with our easy-to-use deck design tool.

DESIGN YOUR DECK
The Perfect Design Tool Whether You're DIYing or Hiring a Contractor

---
GET INSPIRED
---
Design the deck of your dreams with this simple and fun experience. Explore endless design possibilities with the click of a button—try out different dimensions, make a multilevel deck, or add in stairs. Save or download your designs to share with family members or contractors.
Experiment with different square footage
Try out unique features like octagons or multilevels
Save or download your designs for easy sharing

---
GET PLANNING
---
Explore your unique deck design in 3D and 2D top, side, and front views. Once you're design is complete, download the plans to submit them for permits or share with your contractor. You'll also receive a suggested material list to get a better idea of what you'll need to get started.
View your design in 3D or multiple 2D views
Download permit plans and build specs
Get a breakdown list for all suggested materials
HELPFUL RESOURCE
Download Our Deck Construction Guide
From footings to deck beams to stair attachments, view building requirements and detailed construction diagrams for all parts of your decking project.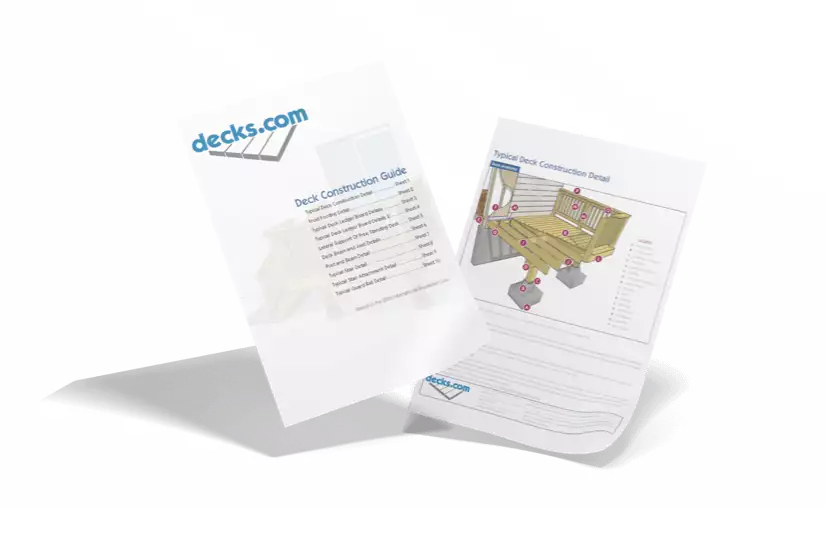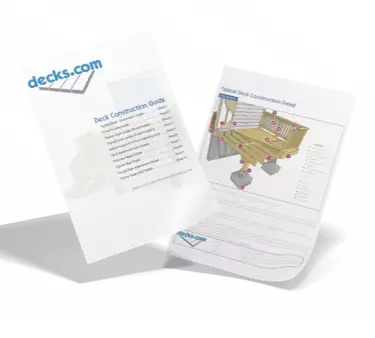 How to Use the Deck Designer Tool
Get Building Plans & Suggested Material Lists
Design, Build & Enjoy
Create an Account or Login

Registering for an account will allow you to:

Save your deck designs for later
Download permit plans and material lists
Get instant and exclusive access to all that Decks.com has to offer, including free downloadable deck plans and hundreds of decking building resources

Design Your Deck

Have full access to the deck designer to create your dream deck
Check out the help videos if you need more guidance

Get Started with Your Project

After you complete your deck design:

Share your designs with family member or contractors to help get your project started
View material breakdowns
Download plans to submit for permits
Design Your Dream Deck
Create an account or login to get started with Deck Designer today.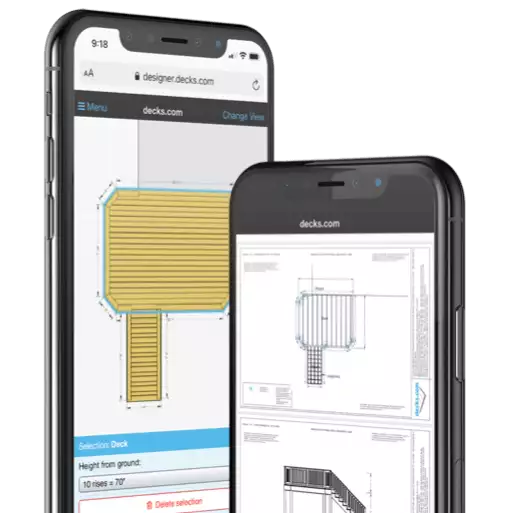 Decks.com Deck Designer Disclaimer and Disclosure
Designing and building a deck can be a fun and rewarding experience. But with any home improvement project it is important to always consider safety first. Please carefully read and accept the terms of use before we get started.
The Deck Designer and related plans are to be used as an educational guide and not to be considered a finalized deck building plan. It is your responsibility to verify the accuracy and compliance with your local building codes and site conditions.
Decks.com accepts no liability for any damages including personal injuries or property losses for the information published from the Decks.com Deck Designer. We cannot anticipate your entire field working conditions or the characteristics of your building materials and tools. Consider your skill level and use caution and good judgement when using this information. If you have questions or concerns, consult with your local building inspector, engineer or architect. Always obtain the necessary building permits and follow local codes and guidelines.
Be sure to follow the building plans and instructions carefully. You are responsible for ensuring that the measurements and design are correct. Due to the size, shape, height, site location, anticipated use and other factors you may be required to install additional structural support including knee bracing or bridging between joists that isn't included in the Decks.com Designer, related plans or construction guide. You are responsible for verifying that the design and any modifications you make meet local building codes.
Decks.com accepts no liability or responsibility for your design, construction or the use of any products supplied by Decks.com.
You assume total responsibility and risk for your use of the Decks.com Deck Designer.