Ready to Start Your Project?
You'll be redirected to Trex.com, our composite decking website.
The Top 10 Outdoor Fireplaces for 2023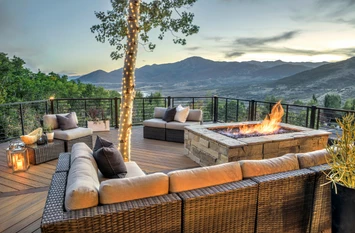 Are you a fan of a real fire and the experiences that come with it? You can bring that charming ambiance to your deck with an outdoor fireplace to add fun and functionality. Use it to cast off the chill of winter or roast marshmallows with your friends and family all summer long.
Picking the best outdoor fireplace can be a tricky task. We made it easier for you by featuring 10 stunning outdoor fireplaces we recommend! 
Before deciding on an outdoor fireplace for your deck or patio, we suggest conferring with your decking manufacturer as to whether it's safe to use an outdoor fireplace on or around your decking. 
Best Overall Outdoor Fireplace: Outland Living Firebowl
The best outdoor fireplaces should be durable, easy to use, and affordable. The Outland Living Firebowl fits the bill, with over 2,000 five-star reviews. This outdoor fireplace uses propane to create a clean-burning fire, and at only 23 pounds, is easy to stash away when not in use.
The Outland Living Firebowl makes the perfect centerpiece for your backyard space. Its quick ignition makes it great for both entertaining and enjoying quiet time. 
Best Outdoor Gas Fireplace: Endless Summer 30-inch Outdoor Fire Pit
Outdoor fireplaces that use gas as fuel are sometimes preferred to wood-burning fireplaces. With an outdoor gas fireplace, you can enjoy the glow of an open flame without worrying about sparks or embers flying around.
The best outdoor gas fireplace should be easy to ignite with the push of a button, just like the Endless Summer 30-inch Outdoor Fire Pit. You're in control with its adjustable flame, so you always have the right amount of warmth when you need it. 
Best Wood Burning Outdoor Fireplace: Amagabeli 36-inch Heavy-Duty Cast-Iron Fire Pit
A wood-burning fireplace adds a feeling of rustic charm to an outdoor living space. The crackle of the fire can ward off the chill, but wood-burning fireplaces often generate smoke, embers, and ash. This is why it's always important to use a fire pit pad beneath an outdoor fireplace to shield your deck from damage, provided your decking manufacturer confirms that it's safe to use an outdoor fireplace or fire pit with your deck.
With that in mind, check out the Amagabeli 36-inch Heavy-Duty Cast-Iron Fire Pit. It comes with a stand that elevates the fire pit, helping to protect your deck surface. 
Best Outdoor Fireplace for Decks: Kozyard Outdoor Wicker Patio Fire Pit Table
If you love to relax on your deck no matter the season, look for an outdoor fireplace you can install directly on your deck. The Kozyard Outdoor Wicker Patio Fire Pit Table is a perfect choice. Its stylish wicker exterior can integrate well with the rest of your outdoor furniture. 
Although its exterior offers the look of natural wicker, this outdoor patio fire pit is made from a durable combination of aluminum, steel alloy, and stone. Beyond good looks, this outdoor fireplace is multifunctional. During the warmer months, you can cover the heating element and use it as a regular table. 
Best Outdoor Fireplace with Chimney: Sunjoy Gwendolyn Outdoor Fireplace
Outdoor fireplaces with chimneys are a smart choice because they direct the smoke up and away from you and your guests. This means that even on windy nights, you can enjoy a wood-burning fire without smoke blowing in your face. 
The Sunjoy Gwendolyn Outdoor Fireplace is elevated to protect your deck, and has a removable grate, which makes it easy to clean up leftover ash. 
Best Budget Outdoor Fireplace: Bessemer Patio Fireplace
Want to enjoy the warmth of an outdoor fireplace without breaking the bank? Look no further than the Bessemer Patio Fireplace. At just over $100, it offers all the fun and atmosphere of a more expensive unit.
This wood-burning fireplace features a convenient handle and wheels for easy transport. Use it on your deck and then pack it up to take camping or to the beach. 
Best Outdoor Electric Fireplace: MAXXPRIME 50" Electric Fireplace
Electric fireplaces built specifically for outdoor use are difficult to come by, but there are some great options for both indoors and outside if you have a protected area of your deck or patio.
The MAXXPRIME 50" Electric Fireplace can be placed on the floor or mounted on a wall, but it must be installed somewhere that is safe from rain and other inclement weather. It has a stylish, modern feel that's sure to impress. 
Best Outdoor Fireplace Kit: Uniflasy 36" by 12" Drop-in Fire Pit
Building your own outdoor fireplace can be a fun DIY project. The Uniflasy 36" by 12" Drop-in Fire Pit comes with a high-quality stainless steel firepan, battery powered igniter, and all the hoses and valves you need to construct your own outdoor fireplace.
Best Clay Chiminea Outdoor Fireplace: The Lakeside Collection Outdoor Wood Burning Clay Chiminea
A clay chiminea outdoor fireplace can act as a stunning accent for any deck. The Lakeside Collection Outdoor Wood Burning Clay Chiminea will enhance your outdoor décor, and its small size is great for intimate gatherings.  
Note that clay fireplaces can be delicate. If you choose to buy one, be sure to cover it during inclement weather and bring it inside during high winds, so it doesn't tip over and crack.
Best Tabletop Outdoor Fireplace: Terram Flame Tabletop Fire Bowl
Tabletop outdoor fireplaces are great for compact spaces. They create a beautiful centerpiece for dining areas or intimate gathering places without taking up a lot of room. The Terra Flame Tabletop Fire Bowl offers a beautiful ambiance and warmth in a small package. 
The flame is contained in an attractive bowl that will fit in with both modern and traditional décor. Though it doesn't offer the same level of warmth as a traditional fireplace, it's still a beautiful and cozy addition to any deck.
How to Choose the Best Outdoor Fireplace
If you're having trouble deciding which fireplace is right for you, try considering these factors when making your decision.
Consider what type of material the outdoor fireplace is made from and the type of fuel it uses. Outdoor fireplaces also offer different levels of heat output, so remember to think about the size of the space you're trying to heat. Additionally, be sure that your decking manufacturer confirms that it is safe to use an outdoor fireplace for use on or around your deck. Safety is of the utmost importance when considering adding any feature to your deck. 
Material
When thinking about what material to choose for your outdoor fireplace, it's important to think about what's going to fit with your already existing outdoor décor. A brick or stone fireplace will add a rustic, traditional touch, while a fireplace made from steel, iron, or glass can add a more modern flair.
Fuel Type
Outdoor fireplaces offer several fuel type choices, including wood, gas, and electricity. Consider the fuel type that is most convenient for you. Do you have a place to plug in an electric fireplace? Do you have easy access to a source of firewood? If not, a gas fireplace might be better for your needs.
Heat Output
Are you heating a small, intimate space, or will you be entertaining lots of people in a big area? An outdoor fireplace with a higher heat output will heat a larger space. However, a fireplace with a high heat output may be overkill if you're just trying to warm one corner of your deck. 
Safety Considerations
Because many outdoor fireplaces create smoke and feature open flames, it's always a good idea to think about safety. Electric fireplaces don't generate smoke but it's still important to consider the space you'll be keeping in your fireplace. Remove any flammable materials and always supervise kids and pets around fireplaces.
We know you love spending as much time as possible on your deck, so if you're looking for more inspiration, check out more articles to give you ideas to make the most of your outdoor living space. 
---
Explore Articles by Topic
Explore Articles by Topic