Ready to Start Your Project?
You'll be redirected to Trex.com, our composite decking website.
16 Freestanding & Built-In Deck Bench Seating Ideas
From a solitary morning breakfast to an evening party with friends, decks can serve countless purposes. And including either stand-alone or built-in benches on a deck can be versatile enough to serve more than one function, from providing a more welcoming area to guests to delivering raw aesthetic appeal.
Between different styles of benches, material types, and varying price points, you'll need to weigh more than a few considerations while designing your ideal seating arrangement. But exploring the full extent of your options can help you make a fully informed decision, which makes browsing a few deck bench ideas a good place to start.
Built-in Deck Bench Ideas
It's never a bad idea to have a few extra seats. Built-in deck benches can easily accommodate larger groups of friends, as well as smaller groups. They can be used to help visually enclose an area, provide spillover seating, deliver storage space, incorporate nature, or otherwise deliver much more than you might expect at first glance.
Backless Deck Bench
Putting aside style, there are basically two practical reasons to prefer a backless deck bench. The first is that this particular type of deck bench is less visually intrusive, allowing you a more unobstructed view of your surroundings. Secondly, a backless design allows for more sitting positions.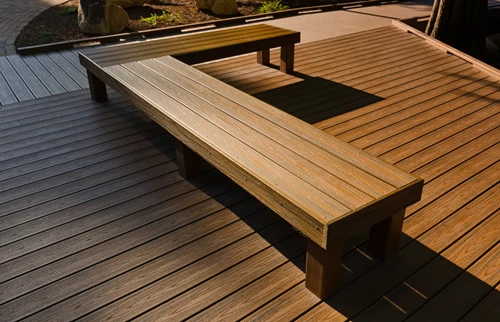 Deck Bench with Back
If you're going to be seated outdoors for more than a couple of minutes, deck bench seating with a back will typically provide more comfort. The height and angle of the back can provide a variety of comfort options, including the ability to add comfy, colorful pillows. Plus, backed benches can be used to help partially enclose an area.
Deck Bench with Storage
After the structure has been built, finding ways to add storage to your deck can be difficult. But one of the simpler and more elegant options is to integrate that storage into a deck bench. These designs can provide easy accessibility to whatever you need at a moment's notice, from cooking ware to blankets.
Deck Bench Railing Combination
A deck bench railing combination can help elegantly combine necessary railing along with your seating. Incorporating your seating with railing is both an easy DIY project and a simple way to create a better sense of continuity between your decking and seating arrangements. While railing will always be necessary, using a deck bench instead of railing can be a viable substitute
L-shaped Deck Bench
An L-shaped deck bench is fantastic for corners and making the most of your deck's space. By placing rows of seating nearly adjacent to each other, you can facilitate conversation between larger groups. With the right placement, an L-shaped deck bench also provides two excellent vantage points.
Curved Deck Bench
Most curved deck benches utilize a "C" shape, but the curvature of that shape can vary considerably. It's typically easier to find good placement for softer curvature, but the more aggressive curvatures provide a more striking appearance.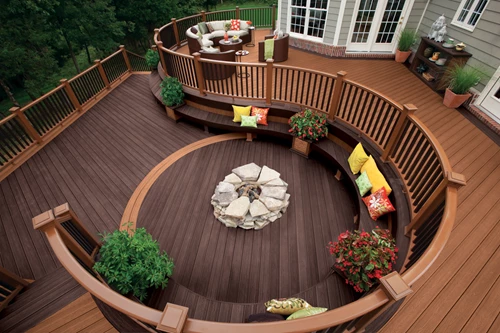 U-shaped Deck Bench
Deck ideas with built in seating can be divided into how much seating they provide. And on that list, few entries can compete with a U-shaped design. A U-shaped deck bench sometimes has longer arms and sometimes offers shorter, stubbier arms. It has many of the same advantages as an L-shaped deck bench, in that it's great for setting up spaces for conversation. These three-sided designs are also great for helping to define or redefine the edges of a space.
Integrated Deck Bench & Planter
Ideal for blending in with outdoor decor, the integrated deck bench planter can let you combine nature directly into your deck design. Whether you're looking to add brightly colored and aromatic flowers, lay vines to extend the garden aesthetic, or set up some shade plants, you're only as limited as your imagination and soil availability.
Built-In Dining Table & Bench Seating
Many people set up their decks specifically for outdoor dining. Similar to a park bench, adding a dining table makes it that much easier to dine outdoors. But with larger choices like these, you'll need to pay more attention to the size and depth, depth, and weight of the table.
Fire Pit Deck Bench
As one of the most elaborate deck seating ideas, most people will find an inherent raw attraction to a fire pit deck bench. These designs can either exist adjacent to a firepit or fully integrated with a table. The ambiance is undeniably cool, and the addition of heat can be quite welcome in the right environment.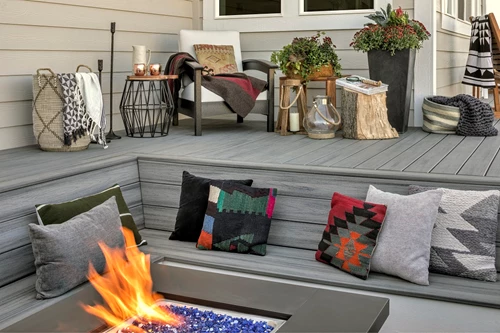 Floating Deck Bench
The appearance of floating in these bench designs is created by aiming to visually hide-away the supporting legs, typically towards the center of the bench's underside. Though these designs are nearly always backless, the floating aesthetic is both clean-looking and truly striking.
Deck Bench Around Tree
Some of the best built-in deck bench ideas come more organically than others. Perhaps the ultimate way to incorporate nature into your design, building a structure around a tree is both aesthetically appealing and, surprisingly, not difficult to achieve. The added shade of the tree can make this the ideal location for seating, too. But the limiting factor is having the right tree to begin with.
Concrete, Brick & Stone Deck Benches
Even wood that's been protected with stain will gradually wear down through weatherization. Using stone, brick, or concrete effectively solves that problem. One concern with concrete, brick, or stone benches is that they may way considerably more than a wooden built-in bench. With these types of benches, it's important to be certain that your selections are appropriate for the structural strength of your deck.
Freestanding Deck Bench Ideas
A built-in deck bench might not always be possible with your existing structure. As a design commitment, opting for a built-in approach to seating is somewhat inflexible in the long-term. However, a freestanding deck bench can do nearly all of the same things, and provides the flexibility to match with a variety of related outdoor deck furniture ideas.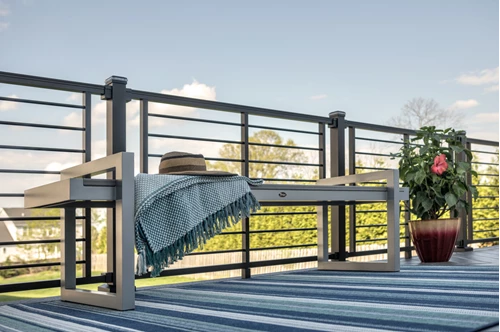 Freestanding Backless Deck Bench
Compared to backed benches, backless designs are more spacious, both visually and in practice. You have many more options for ways to sit, and backless benches are a great way to add charm to an area. Most fully portable designs are suitable for three to five people.
Freestanding Deck Bench with Back
Freestanding deck benches with backs may block a vantage point or, visually, take up too much space. However, for longer periods of sitting and in terms of comfort, backed designs will usually outperform their backless counterparts.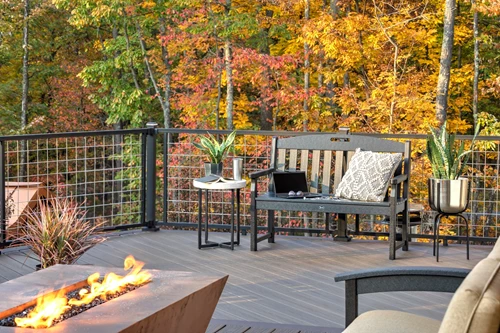 Freestanding Deck Bench with Storage
Though built-in storage is more common with built-in deck benches, these designs also work great for freestanding decks. Freestanding deck bench ideas come in many varieties: some have seats that lift up, while others have drawers that slide-out from the bottom of the bench. But in nearly all cases, the sizable area beneath the bench is transformed into ample storage space.
Comfortable Built-in Deck Bench Plans
With so many options at your disposal, it's worth taking your time to select the right elements for your deck. Depending on your budget and DIY spirit, you may also want to customize your designs further. You can start with some comfortable seating deck bench plans for some of the more popular designs:
But if you've never undertaken a DIY project like this, instead start by learning how to build a built-in deck bench so even ambitious deck bench plans can be a bit simpler for you.
---
Explore Articles by Topic
Explore Articles by Topic