Ready to Start Your Project?
You'll be redirected to Trex.com, our composite decking website.
Comparing Trex Decking Lines: Signature vs Lineage vs Transcend vs Select vs Enhance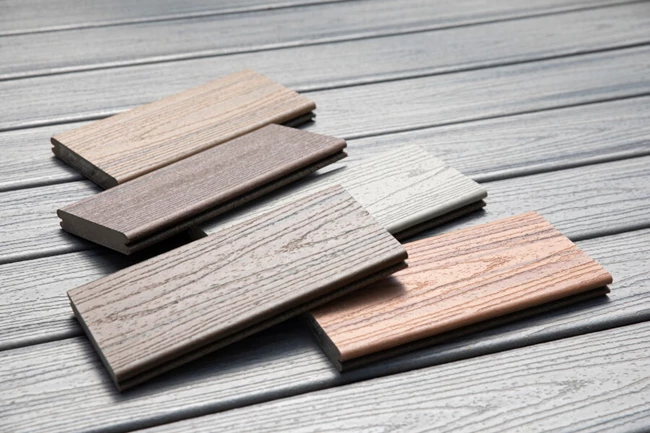 As you look out at your backyard, filled with excitement about your future deck, there's a lot to consider. How many events, memories, and late-night chats will you host in your new outdoor space? How many major life events will you celebrate there? Then, there are the foundational questions about how it will all come together — what materials and resources will go into your new backyard oasis?
Trex's roster of decking products offers options for various budgets, styles, and construction requirements regardless of your building plans and unique material, environmental protection, and design needs. Tour the Trex catalog and see which decking collection is the perfect choice for your space.
What is Trex decking?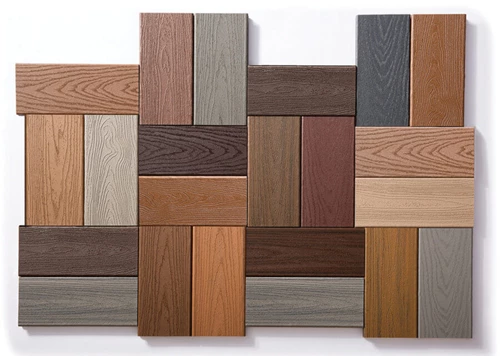 Trex decking is a wood thermoplastic composite material with an integrated shell that covers the top surface and sides. Trex decking is made from a blend of recycled polyethylene (PE) film and wood dust and manufactured by a continuous extrusion process. The proprietary surface formulation produces a natural, wood-like look without the environmental impact of deforestation. With authentic wood-grain patterns, rich colors, and natural streaking manufactured into a protective top surface and sides, Trex high-performance composite decking lasts decades with minimal maintenance requirements.
Is Trex decking better than wood?
Deck boards made from pressure-treated lumber, the traditional and most popular option with homeowners looking for lower upfront costs, require more maintenance over time than composite decking like Trex. Homeowners who choose wood may pay less for materials — unless using higher-end woods like redwood or bamboo — while also having access to customization via stains, paints, and other chemical additions.
Even so, long-term degradation with your wood deck will cost you exponentially over time. Meanwhile, composite materials like Trex resist fading, staining, scratching, and mold while preventing rotting, warping, cracking, or splintering — a simple, low-maintenance experience. See the break down of the advantages and disadvantages of composite decking here.
How long does Trex decking last?
Trex decking is made from recycled materials, including reclaimed wood dust and plastic film and backed by warranties covering material defects, fading, and staining. These include guarantees of 25-50 years, whereas traditional wood decking typically lasts between 10 and 15 years — even with sophisticated protections in place.
Trex Decking Reviews and Comparisons
Trex offers five composite decking collections: Trex Signature®, Transcend® Lineage™, Transcend®, Select®, and Enhance®. Read below to learn more about Trex decking and compare the prices, colors, and features of each product line.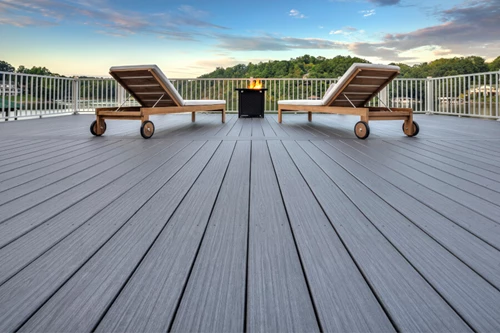 The latest offering in the Trex decking line, Trex Signature, represents the pinnacle of technological innovation and expert artistry in deck design. Weatherproof coupled with high-end aesthetics, the Trex Signature line brings a premium feel that sets a new standard for style in outdoor living.
Trex Signature brings new materials crafted with an aesthetic that replicates the elegance of exotic hardwoods, natural colors and patterns, and unparalleled durability and scratch resistance.
Price: The suggested retail price of Trex Signature is approximately $8 per linear foot.
Colors: Trex Signature is currently available in two colors.
Whidbey (a misty grey)
Ocracoke (a medium brown)
Warranty: 50 years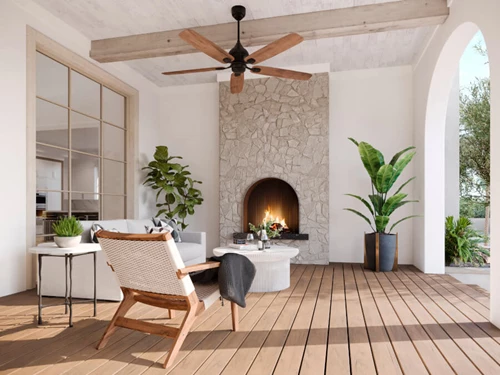 The Transcend Lineage brand takes Trex's popular Transcend line to the next level. With heat-mitigating technology, Lineage is Trex's coolest decking yet* — literally - delivering on-trend colors and grain patterns for superior aesthetics.
Price: The suggested retail price of Trex Transcend Lineage is $6.50 per linear foot.
Colors: Trex Transcend Lineage is available in four different wood-based colors.
Biscayne (a light brown)
Rainier (a subtle grey)
Carmel (a creamy taupe)
Jasper (a mocha brown)
Warranty: 50 years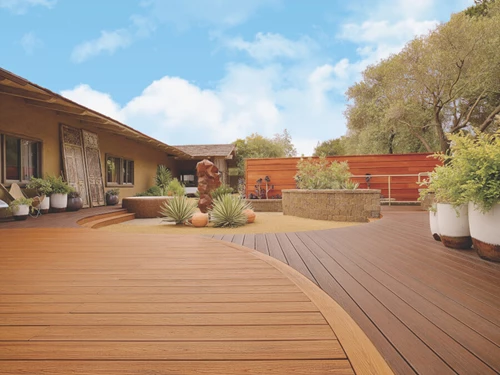 Launched in 2010, Trex Transcend is the industry's best-selling composite decking, combining earth-friendly manufacturing processes with the laser focus Trex brings to environmental resistance and long-lasting durability. Thanks to a specialty formula, Transcend produces a natural, wood-like grain pattern that features a low-sheen, high-traffic aesthetic protected by durability that revolutionized composite performance and scratch resistance in the decking industry.
Price: The suggested retail price of Trex Transcend is $6.05 per linear foot.
Colors: Trex Transcend is available in six different nature-inspired colors.
Havana Gold (a honey brown)
Island Mist (a streaked grey)
Lava Rock (a redwood)
Spiced Rum (burnt umber)
Tiki Torch (a ginger brown)
Rope Swing (a pale taupe)
Warranty: 50 years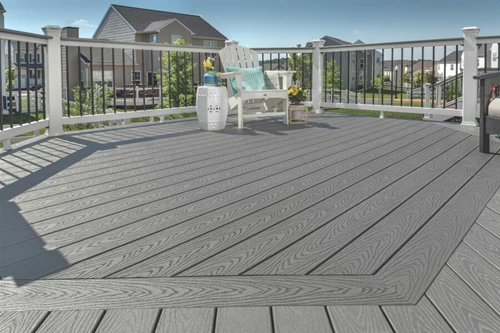 For quality decking materials at an affordable price, Trex Select provides first-time builders with a budget-friendly option for outdoor spaces. Select offers the same unparalleled durability as Transcend and aesthetics perfect for most budgets and style.
Price: The suggested retail price of Trex Select is approximately $4.05 per linear ft.
Colors: Trex Select is available in two earth tones that complement any outdoor décor.
Pebble Grey (a heather grey)
Saddle (a medium brown)
Warranty: 35 years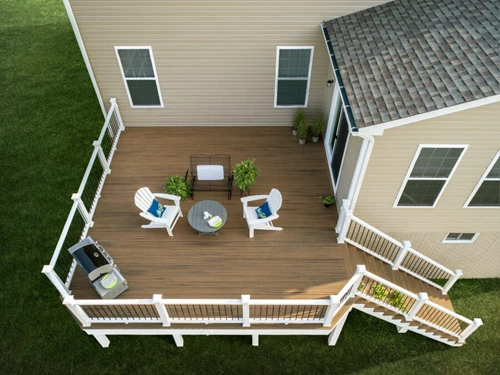 Named among the 2019 Remodelers' Choice 100 by Qualified Remodeler magazine, Trex Enhance offers an excellent choice for the budget-conscious homeowner seeking innovative design at an affordable price. Thanks to the scalloped profile of this decking line, builders have access to a lower-cost, lighter material that retains endurance through fade-and-stain-resistant materials that prevent mold and mildew build-up.
Price: The suggested retail price of Trex Enhance decking is approximately $2.35 per linear foot.
Colors: Trex Enhance comes in two different design categories — Basics and Naturals.
Basics (Lower cost, monochromatic options)

Beach Dune (a light brown)
Clam Shell (a medium grey)
Saddle (a medium brown)

Naturals (Upper tier, multi-tonal options)

Coastal Bluff (dark, earthy, brown)
Foggy Wharf (a driftwood grey)
Rocky Harbor (a perfect taupe)
Toasted Sand (a dark brown)
Warranty: 25 years
The Best Trex Decking Line for You
Whether you choose Signature, Transcend Lineage, Transcend, Select, or Enhance, Trex products represent an investment in a hassle-free, low-maintenance composite deck that will last for years to come. High-quality composite decking materials will allow you to build the deck of your dreams where you can spend warm afternoons and cool evenings relaxing with friends and loved ones.
Your final decision will likely come down to a matter of budget, functionality, and need for aesthetic purity. No matter what your specific outdoor space calls for, the various Trex decking lines offer a diverse set of options to bring your vision to life.
Where is Trex composite decking sold?
Trex composite decking is available at approximately 6,700 retail locations worldwide, including Home Depot and Lowe's, as well as through wholesale distributors at retail lumber outlets. Use Trex's dealer finder to locate a Trex retailer near you.
Want to learn more about Trex decking lines? Visit the Trex comparison tool for a detailed breakdown of everything you read here and a deeper dive into what best fits your design and budget needs for your upcoming projects.
Read more on composite decking
---
Explore Articles by Topic
Explore Articles by Topic