Ready to Start Your Project?
You'll be redirected to Trex.com, our composite decking website.
Best Deck Material Options: Composite, Wood & Alternative Materials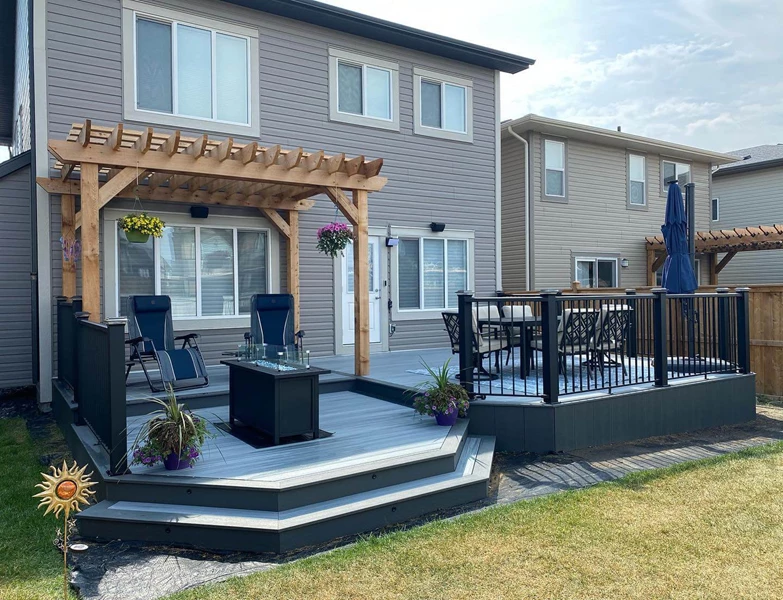 Photo Credit: @Nationalfenceanddeck
Choosing a decking material is arguably the most important decision you'll make while building a deck. Different circumstances call for different types of decking, such as composite and wood decking. Each option has its unique aesthetic appeal, maintenance requirements, and other important considerations to keep in mind when choosing. Deciding which decking material option is right for you comes down to both personal and practical tastes.
Types of Decking Materials
There are many types of deck materials to choose from, including wood, composite, and exotic woods. Before you choose the type of material to build your deck, it's important to explore your options and understand the pros and cons of each, as well as the level of maintenance required to keep your deck beautiful for a long time. Here are some of the most popular decking material options to choose from when building your deck and factors that may help narrow your decision.
Let's discuss the following deck materials:
Composite Decking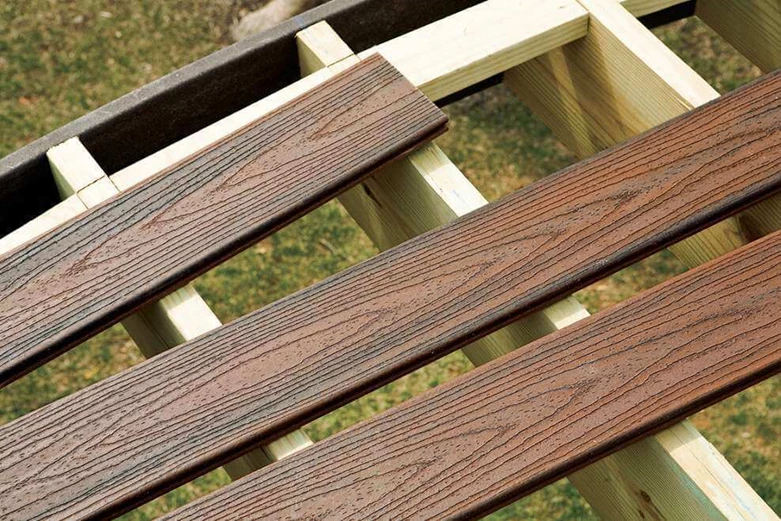 There are many types of composite decking. In general, the word "composite" means different materials combined to create a new finished product. Most commonly, low-density polyethylene (LDPE) and wood fibers are used together, but some products use rice hulls, high-density polyethylene, and other combinations of various materials.
Composite decking is resistant to the elements. Many composite hues resemble wood and are scratch-resistant, but performance varies by manufacturer and price. 
Composite decking is also very low-maintenance and does not require sanding or refinishing. Washing your deck a few times per year is typically the extent of the required maintenance. With minimal care, high-quality materials like Trex Composite Decking can last for 25 years. 
The cost of composite decking can vary widely — as much as $5 to $13 per square foot.
Many manufacturers may use recycled materials in composites without affecting performance. Some brands recycle up to 95%. If lowering your carbon footprint is important to you, contact the manufacturer for information.
Composite decking is the best decking material for several reasons. First, it doesn't require painting or staining as wood does. This can save you a lot of time and money in the long run. Second, composite decking is more durable than wood. It's resistant to rot, insect damage, and weathering, which means it will last longer and require less maintenance over time. Third, composite decking is made from recycled materials, so it's an eco-friendly choice. And fourth, it comes in a variety of colors and styles to suit your home.
Capped Composite Decking
Capped composite decking is a type of composite decking coated with tough, durable plastic. This plastic material helps protect the composite decking from moisture and other elements, making it more resistant to rot, warping, and insect damage.
Capped deck building materials are also less likely to fade or stain than uncapped decking, making it the best decking option based on durability. Installation is similar to traditional composites, but following trusted manufacturers' installation instructions is essential, as precise spacing is necessary for proper ventilation.
Uncapped Composite Decking
Another type of composite decking is uncapped decking. It lacks a plastic layer to protect the core, so it's not as resilient as capped decking.
Uncapped composite decking isn't usually recommended since it's more susceptible to damage from the elements and likely to fade unevenly and stain over time. In addition, it's prone to mold, mildew, and fungus growth in humid climates, and it can be scratched and damaged easily. Cracking and crumbling may also occur.
Wood Decking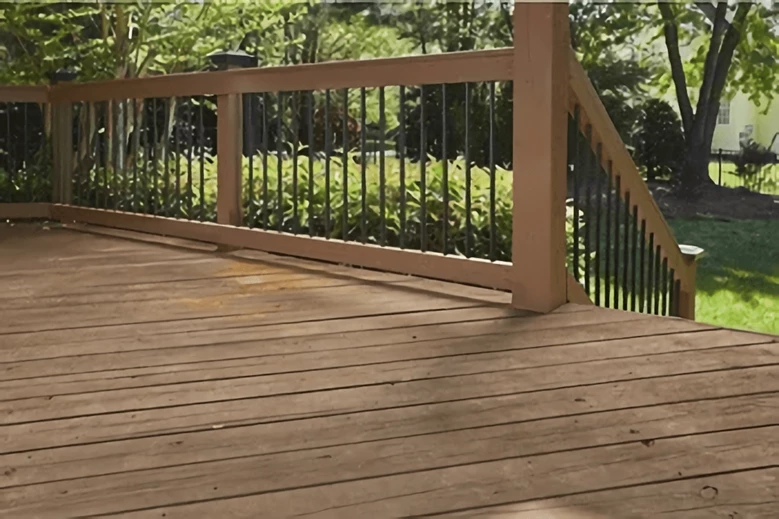 There are several types of wood decking to choose from when planning your new deck. The most common wood for decking includes cedar, redwood, and pressure-treated. Other wood decking options include tropical hardwoods such as ipe, cumaru, and tigerwood.
Pressure-Treated Wood Decking

Pressure-treated lumber is one of the most common types of wood decking. While ordinary lumber is not treated with chemicals, pressure-treated lumber is permeated with chemicals that deter insects, inhibit mold and mildew, and protect the wood from rot, helping enhance its natural durability. It's also easy to find, cut, and work with, although precautions, such as a mask, must be taken while sawing or drilling to avoid inhalation of chemicals. In addition, scraps should not be burned to avoid releasing chemical vapors.
If you don't like the appearance of pressure-treated lumber, a stain can help make it more attractive.. However, it's recommended to let pressure-treated deck wood weather for a few months before staining, and consider sanding before applying it.
It's also important to note that there are different grades of treated lumber, and your local supplier can help you choose the grade that's right for your budget.
When comparing composite and wood decking, ordinary lumber tends to split, warp, or crack, and pressure-treated wood requires far more maintenance than composite decking. But with care, including power washing, sanding, and regular re-staining, you can extend the lifespan of your pressure-treated deck.
Pressure-treated wood is also affordable, available at around $3-$6 per square foot.
Cedar Decking
Cedar is commonly regarded as a higher-quality wood for decks compared to pressure-treated lumber. This natural wood gradually weathers into a soft gray tone over the years. It's lightweight and easy to work with, which makes it great for DIY projects. Cedar also contains natural tannins, which make it resistant to decay, infestation, and rot.
Use heartwood, not sapwood, for cedar decking. Heartwood is denser than sapwood, the tree's outer layer, and its density makes it decay-resistant.
Similar to pressure-treated wood, cedar requires regular maintenance. But if you select quality cedar and provide annual refinishing, you can expect your cedar deck to outperform standard pressure-treated wood decking. You can find cedar for around $9-$11.50 per square foot.
Hardwoods
Exotic hardwoods such as ipe make great decking. Hardwoods are hard, as their name suggests, and their dense material resists termites and decay. In addition, they contain tannins that work like the chemicals in pressure-treated lumber to enhance durability. 
Every hardwood has its own look. Ipe, a rich crimson brown, fades to gray unless oiled 1-2 times a year. Mahogany, tigerwood, and cumaru are other hardwood options. Due to their density, hardwoods last longer and look better with age than softwood. However, many hardwoods are slow-growing, and the ability to renew certain species is debatable. If this is a concern for you, there are many resources to consult online to decide what wood types for decks are best for your project.
Alternative Decking Materials
In addition to composite and wood decking, a few alternative decking materials are worth mentioning. Let's look at them.
PVC Decking
Polyvinyl chloride (PVC) plastics are available in many levels of quality, but nearly all are resilient. High-quality PVC decking has almost none of the vulnerabilities of wood. That means you don't have to worry about sanding or staining, which makes vinyl decking almost maintenance-free.
Aesthetically, vinyl provides a wider range of options than wood. Brown, gray, white, tan, and wood-grain patterns are available. Plus, some people feel that PVC is more attractive. Solid PVC decking has improved in formulation and aesthetics over the last 20 years, and it's lighter than other decking materials, making it easier to carry and work with on the job site.
PVC's cost and lack of recycled content are its main limitations. Depending on the manufacturer, PVC decking ranges from $11.82 to $26.34 per square foot, but with any longer-lasting building material, decreased maintenance can lower costs over time. That said, PVC decking has less recycled content than other synthetic choices (some are 100% virgin). This increases the carbon footprint and doesn't necessarily translate to a higher-quality deck board.
Aluminum Decking
Aluminum decking is a popular alternative to traditional wood decking. Aluminum decking has low maintenance requirements and can last for years without replacement since it doesn't decay or crack over time. It's also fire-resistant.
Aluminum decking is another choice for homeowners who want a durable, low-maintenance deck. It's available in a variety of colors and styles to match your home's exterior. In addition, since it's fire resistant, it's recommended in areas prone to wildfires, and it's also a good alternative for homes where hail storms and strong winds are common, since it's resistant to weather damage. On average, aluminum decking costs about $25 to $50 per square foot.
Use The Right Deck Material Options
Many factors go into choosing deck material options, from cost and appearance to maintenance and installation. If you want to make the best choice among the types of decks, it helps to be fully informed about your options. Take a moment to learn more about decking materials here.
Ready to start with your decking project? Find a contractor or shop for decking materials near you.
---
Explore Articles by Topic
Explore Articles by Topic