Best Deck Material Options for 2021
Choosing a decking material is arguably the most important decision you'll make while building a deck. Different circumstances call for different types of decking, and each option has its own unique aesthetic appeal, maintenance requirements, and other important considerations to keep in mind when choosing. Deciding which decking material option is right for you comes down to both personal and practical tastes.
Types of Deck Material Options
Before you choose the type of material you'll use to build your deck, it's important to explore your options, understand the pros and cons of each, as well as the level of maintenance required to keep your deck beautiful for years to come. Here are some of the most popular material options to choose from when building your deck.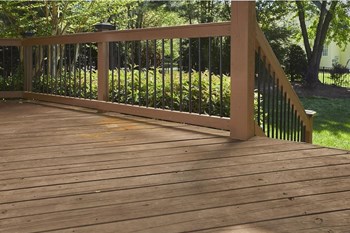 #1 Pressure-Treated Wood
Among the various types of wood decking, pressure-treated lumber is the most common. While not all lumber is treated with the same chemicals, pressure-treated lumber is permeated with chemicals that contain insecticides and anti-rot properties, helping to enhance its natural durability. It's also easy to find, easy to cut, and is generally easy to work with. If you don't like the natural hue of your pressure-treated lumber, a stain can help with that and make it more aesthetically pleasing to suit your own tastes.
Typically, it's recommended to let your deck weather for a few months prior to staining, and there are some benefits to sanding prior to applying stain. It's also important to note there are different grades of treated lumber and your local supplier can help you choose the grade that's right for your budget.
When comparing composite and wood decking, the most important differences involve how ordinary lumber has a tendency to split, warp, or crack. Pressure-treated wood also requires regular maintenance. But with care, including power washing, sanding and regular re-staining, you can extend the lifespan of your pressure-treated deck. Pressure-treated wood is also quite affordable, available at around $3-$6 per square foot.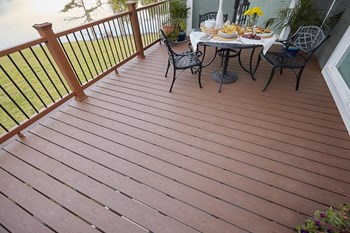 #4 Composite Decking
There are many types of composite decking. In general the word "composite" means different materials combined to make a new finished product. Most commonly low-density polyethylene (LDPE) and wood are used together, but some products use rice hulls, high-density polyethylene and other combinations of various materials. Among the many benefits of composite decking, you'll find they stand up well to environmental conditions. Composite also comes in a wide range of several colors, including many that approximate the appearance of wood. Composite has a reputation for being extremely scratch resistant, but that can vary quite a bit with different brands and price points within each brand.
Composite decking is very low-maintenance and does not require sanding or refinishing. Washing your deck a few times per year is typically the extent of the required maintenance. With minimal care, high-quality materials like Trex Composite Decking can last for 25 years. There are many manufacturers and color options to choose from when selecting composite materials, so the cost of composite decking can vary widely – as much as $8 to $12 per square foot.
Lastly, due to the composition of composites many manufacturers can effectively use recycled materials with no impact on performance. Some brands use up to 95% recycled materials. If reducing your carbon footprint is important to you, refer to each manufacturer for more information about materials used.