Ready to Start Your Project?
You'll be redirected to Trex.com, our composite decking website.
Underrated + Overlooked Features to Consider Adding to Your Deck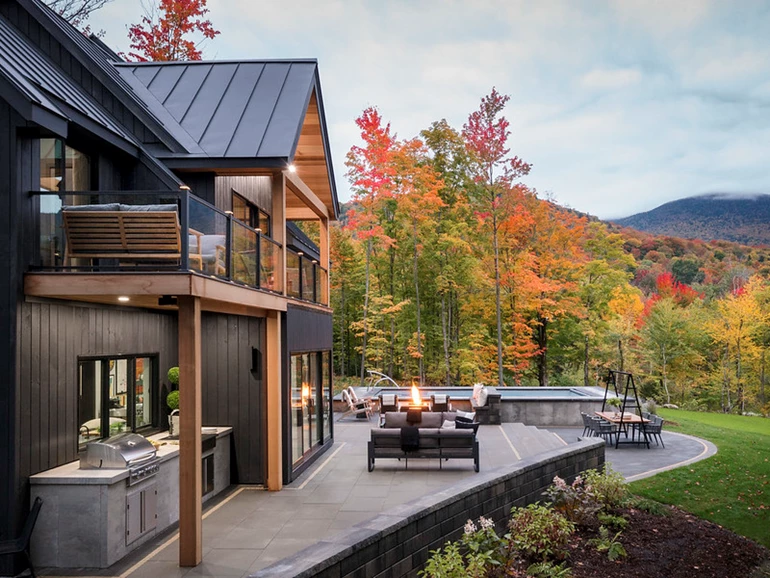 Don't miss out on making your deck stand out with well-executed, unique deck features. With just a few simple additions, otherwise ordinary decks can be transformed into a work of art. From garden-themed decks to private reading nooks, the right additions can help you define or redefine your deck.
But what kind of features make your deck a step above the rest? Familiarize yourself with these cool deck ideas to find inspiration for your own projects and backyard improvements.
7 Unique Ideas for Your Deck or Patio
Although unique deck ideas come in many shapes and forms, it's important to find features that make the most sense for your particular layout. Choosing the right deck features to make the most of your deck really depends on how you plan to use the space. Whether you're looking for a way to create a better space for socialization, or you're simply interested in making your deck look gorgeous, you'll need to explore all of options.
Fireplace
Fire has a magnetic visual quality that creates an undeniable primal attraction. Adding both aesthetic beauty and warmth to your outdoor space, an outdoor fireplace mixes functionality with style. It's a stunning feature that can serve as a focal point for your deck. While some cool outdoor patio ideas require more effort than others, adding a fire place is easier than you think to pull off. You'll just need to investigate any related ordinances to outdoor fire, as provided by your local municipality. Additionally, you may want to check with your decking manufacturer to be sure a fireplace can safely be used on or around your deck.
Built-In Furniture
Seating options for large groups, convenient beverage tables, or even minor elements like built-in cup holders on seating can make a big difference when it comes to spending time on your deck. Cool ideas for decks like built-in seating are mostly about determining exactly how the flow of traffic works through the area -- and where people will spend their time. Whether you want to include built-in benches with backs around the perimeter of your deck, or include benches with hidden storage features to stash pool towels, there are a variety of ways that built-in furniture can help you make the most of your space and make it a comfortable spot for guests to gather. Make sure to have a well-crafted plan and turn your outdoor space into a functional, pleasant place to spend time.
Non-Traditional Stair Design
In the contest for distinction, few unique deck designs can compare with non-traditional stairs. You might choose rounded stairs or you might want a curvy, winding staircase design for added effect. These designs are almost unavoidably among the most visually arresting options for deck design. Provided that you pay attention to local building codes, most which will require steps of 8" or less, building stairs is actually a relatively simple way to make your deck even more striking.
Built-In or Railing Planters
Deck features don't have to be overly expensive or complicated; some of the best ways to incorporate unique deck decorating ideas is through the aid of a few ordinary planters. Whether you like the look of climbing vines, the sweet scent of lilacs, or the ease of care for desert cacti, plants can be used to create privacy, develop a distinct sense of space, or simply to add natural highlights for everyone to appreciate. Built-in planters and decorative deck plants can provide plenty of options for seasonally appropriate decoration, and railing-mounted planters are both easy to build and generally inexpensive.
Outdoor Lighting
With the right implementation, creative deck ideas can be used to highlight an area, improve safety, or simply make your deck a more enjoyable place to spend at night. From string lighting to solar railing, there's a surprisingly wide variety of lighting options for your deck. Lighting might seem like a simple thing, but by illuminating an outdoor space with a warm and gentle glow, it can have a truly special effect on both the presentation and the habitability of your deck. But like with so many other overlooked deck features, effective deck lighting is mostly about smart placement.
Curved Decks
Few cool deck designs have the raw visual impact of a well-done curved deck. These designs work particularly well in circumstances where the view from your deck is beautiful from multiple angles. While more traditional deck designs tend to lock-in your vantage point, a curved deck can let you change your point of view and appreciate the nearby scenery with fresh eyes. Apart from helping your deck stand out, curved surfaces lend themselves to a largely different aesthetic feel than the harder, more geometric angles of a traditional rectangular deck. Curved decks can be challenging to DIY, so you might want to consider hiring a professional deck contractor, if you want to incorporate this into your design.
Awnings
Create as much or as little shade as you need with a freestanding fabric roof. An awning can protect both you and your patio or deck, creating a more pleasant habitat through warm summer months. Depending on the fabric you select, you can find shelter from rainfall, as well as the sun. And that means depending on your environment, you can either remove your awning seasonally or use it year-round.
Enhance Your Deck With These Unique Features Today
Your deck and your backyard are unique. For that reason, not every deck feature will work for your space – or appeal to you. However, when you do find features that can properly compliment your deck and its design, the effects on your outdoor experience can be nothing short of incredible. Start designing your deck today!
---
Explore Articles by Topic
Explore Articles by Topic