Ready to Start Your Project?
You'll be redirected to Trex.com, our composite decking website.
Glass Deck Railing Ideas and DIY Installation Tips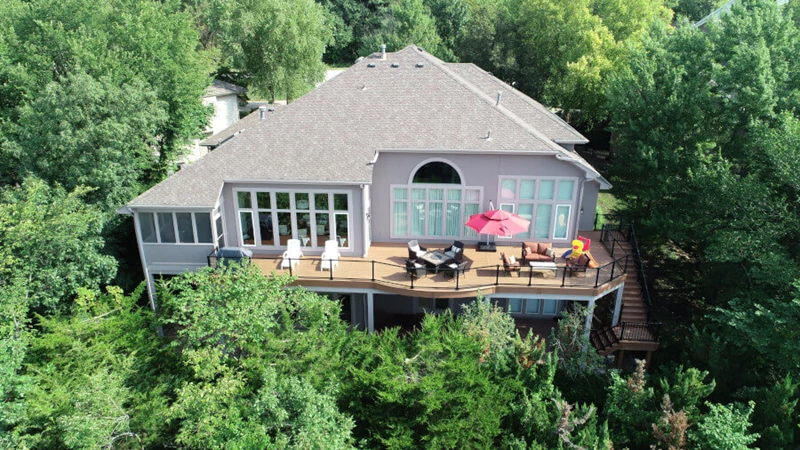 Glass deck railings are a great way to modernize your outdoor space and revitalize your backyard with a great view.
There are a variety of options out there, but some have difficulty meeting local code requirements. It's always a good idea to check with local code requirements before purchasing your sleek glass deck railing.
Glass Deck Railing Ideas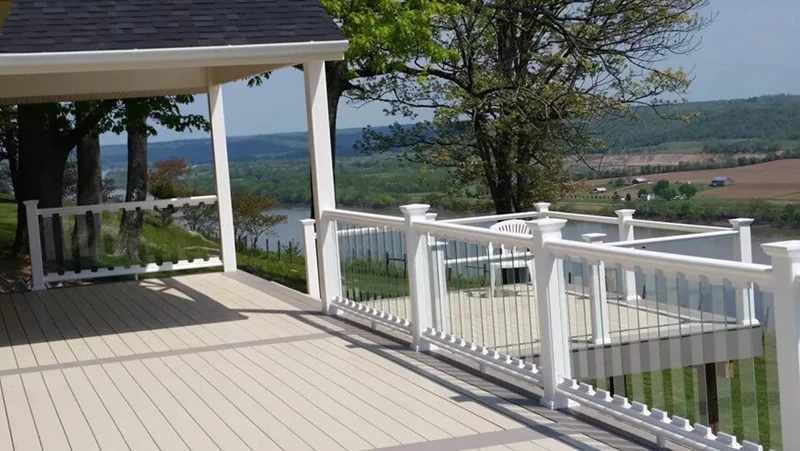 The 3 predominate options are:
Glass Panel with Top Frame
Glass panel deck railing with a top frame has many benefits. It easily meets code requirements with top rail and is nicer to lean against in patio situations. It requires some customization with custom length panels ,but overall very easy to install. It adds a modern and stylish touch to any deck or balcony.
We usually install our posts, measure the panels, and within 2 weeks have the panels at our door to install. Bottom rail allows snow removal for those living in the Midwest, which is always something to consider. My personal favorite.
Glass Deck Railing With Banisters
Deck glass railing with banisters provides a sleek and modern look to any outdoor space. It not only enhances the aesthetic appeal of your deck but also offers safety and security. The glass panels provide unobstructed views while the banisters offer additional support. Deck glass railing with banisters is also easy to install and maintain, making it a practical choice for any homeowner.
This choice gives the customer a sophisticated look without a lot of customization needed. I personally prefer a solid glass panel for safety purposes, but still like the more "traditional look" this brings. It creates a nice atmosphere without being overly complicated.
Frameless Glass Panels
Frameless glass panels are the most complicated to install, yet the most beautiful. Codes officials sometimes require some arm twisting due to using connector pedestals and clips, along with not having a top rail piece.
Super cool look with lighting options within the pedestal. Installation requires a higher level of math, but with proper preparation, it's not super difficult. Consider seeking a contractor for this type of install.
Is Glass Deck Railing Worth It?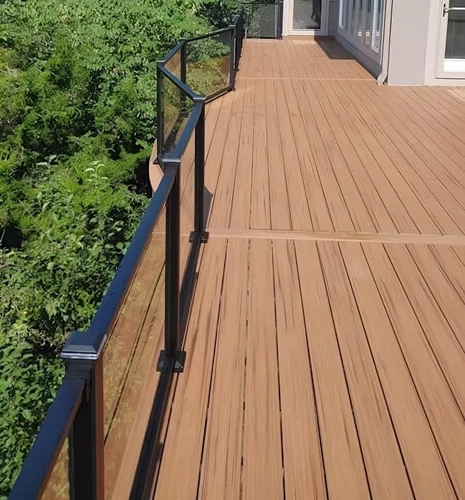 The short answer is yes!
You may need to do some research to find a local glass company that can manufacture a custom glass order for you. Glass is priced as a commodity that does fluctuate in price. When ordering, you will need to provide the exact measurements of each piece and the thickness.
Using glass railing is an interesting choice that wonderfully preserves views. However, glass is very expensive and is only used in selected positions around the deck. Between the beautiful views and modern atmosphere it creates on your backyard deck or patio, it is absolutely worth it.
Most systems have great install videos which makes DIY glass deck railing a easy possibility. Glass panel rails are much more accepted by code officials than in previous years, and much easier to install.
Installing Glass Deck Railings: Tips for DIYers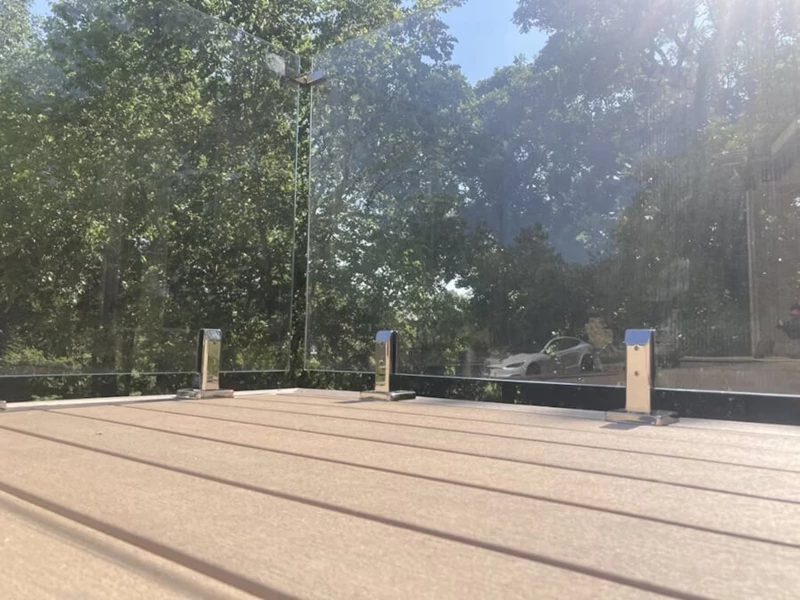 Preparation and planning is everything when you are learning how to install glass railing on a deck. If planned out correctly, the actual install is a breeze, with the help of one other person to steady the panel while you make the attachments.
We rarely use suction cups to handle the glass panels, personally prefer to just grab and carry. It will majorly blow your friends minds when they come over and see your DIY Glass deck railing.
What to Know Before You Start
All glass used for deck rails must be safety-tempered and shatter-resistant. Also, always make sure that all the edges of the glass are polished to prevent anyone from getting cut. Before building a glass deck rail, you should check with your local building department to enquire about any local restrictions. Most deck builders use tinted glass to match the house windows and deter birds from accidentally hitting it.
The first step is to research the different options based on the location of your project. Anything with potential snowfall that will require shoveling will probably rule out the frameless glass panels.
The second step is to take in your potential choice to your local building codes officer and review it with him. It's much easier to get code approval from a system offered by a company with ICC reports, rather than ordering glass locally and submitting your own shop drawings.
A careful layout measure once your deck frame has been built will allow you to place the order for your materials. Installing glass deck railing is easy at this point if you have followed the first three steps.
You can never go wrong doing something correctly.
How to Install Glass Deck Railing Posts or Pedestals
Installing glass rails will usually require you to build the rail frame first and take precise measurements to custom order the tempered safety glass. Because glass is very heavy, we recommend spacing the rail posts no more than 5 feet apart.
Maximum distance on glass panels is usually 6 feet, so you need to lay out your posts in 6 feet or less increments. This sets the stage for measuring your customized panels. If not sure on how to install glass railing on a deck, please refer to your manufacturer install manuals and videos. Pedestals and surface mount posts usually require a double 2 by 8 block under the floor to lag your pedestal or post to.
How to Put the Glass Into the Deck Railing Frame
This is usually best done with an assistant. The assistant does not need to be able to lift glass, but mainly stand in one area and steady the panel once you have set it into the bottom rail or pedestal. We usually have our pedestal or bottom rail cut and installed with the top rail being cut and brackets installed, ready for the final step.
Carefully remove the panel from the package and carry it to the desired position. Set it directly down into the slot, and have your assistant steady the panel while you safely secure it, based on the system you use. Repeat the process. Now grab a chair, and a glass of tea, and enjoy the fruits of your DIY Glass Panel railing project.
Glass Deck Railing FAQs
This is one of my favorite questions to answer. Do you ever install less windows in a home because you need to clean them? Glass panels are no more difficult to keep clean than exterior home windows. On top of that, they are super easy to, simply reaching over the top rail with a cloth and spray, for that semi annual cleaning. The short answer is, no they are not.
Please refer to local code officials for glazing requirements and shatter resistance needs.
Materials usually cost between $100 to $130 per linear foot. Due to multiple trips installation costs will vary if you hire a local contractor.
Clamps are usually more effective for a simpler installation while dadoes offer a sleeker design. The choice of which one to use would probably depend on your skill level and appetite for complexity.
Check Out These Other Deck Railing Resources
---
Explore Articles by Topic
Explore Articles by Topic