Ready to Start Your Project?
You'll be redirected to Trex.com, our composite decking website.
Low-Maintenance Composite Deck Railing Options
Chipped paint and warped, rotted wooden deck railings are unsafe and unattractive. Wood takes special care and significant upkeep. This can translate to homeowners needing to replace and repaint wooden railings every few years.
Fortunately, homeowners have other alternatives to wood. Composite deck railing can help extend the life of decks and deck railings, making them both easy-on-the-eyes as well as easy on upkeep. When compared to wood railings, composite deck railings are incredibly low-maintenance. Unlike wood, composite will not splinter or crack. Composite does not require frequent painting and is available in a range of colors and styles to match your home, environment, and décor.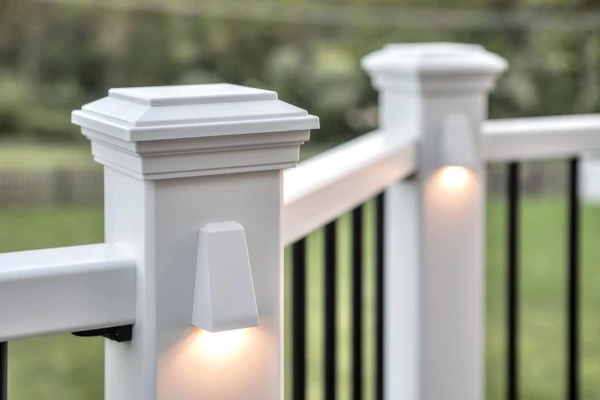 Composite vs Wood Railing
For decades, wood was widely considered as the most popular option for railings. However, as a long-lasting, low-maintenance solution, wood leaves a lot to be desired. Termites and carpenter bees can compromise the structural integrity of a wooden railing.
The elements are tough on wood, too. Rain, snow, and hot summer sun over the years can take its toll on wood railings. Those temperature fluctuations cause wood to expand and contract, resulting in warped railings. This can also cause wood to splinter and chip its paint. To properly maintain wood railings, you'll find yourself frequently repainting and replacing them, which is both time-consuming and costly.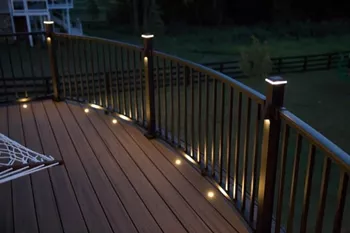 Although composite railings have been around for decades, more homeowners have come to recognize its beauty and functionality. Composite can be an aesthetically pleasing alternative to natural wood, minus the drawbacks.
Composite railing blends wood fibers and plastic together. These substances are then mixed into a paste and then molded into railings. The design possibilities are virtually limitless. In turn, you get the strength of wood with the added benefit of plastic, which protects against rot, moisture, and insects. This results in less time spent on the upkeep of your deck and more time actually enjoying it.
The best composite railing systems look great and can withstand the elements for years to come. They're easy to clean too and won't stain as easily as wood.
How to Clean Composite Deck Railing
Deck railings are bound to get dirty. It goes with the turf of being outside. However, with regular upkeep, a low-maintenance deck railing can be easily cleaned with soap and water. For homeowners who enjoy entertaining on their decks, this can eliminate worry about stains from greasy BBQ or muddy children's handprints becoming a permanent fixture on your deck railing. Composite won't stain like wood and once the composite railing is installed, there is never a need to sand, paint, or stain your railings.
However, it's still a good practice to do a deeper clean once or twice per year to keep your composite deck and railings looking their best. To clean your composite railings, simply spray them with a soapy water mixture and use a soft cloth or soft-bristled brush to scrub dirty spots. Using soft bristles ensures a deep clean without being too abrasive on the surface of your composite railings. For the best results, wait for a dry, sunny day when you can remove everything from your deck and thoroughly clean the decking boards and your railings.
If you live in a snowy climate where your deck is buried during the winter months, you may find a little extra cleaning is in order come spring. A Shop-Vac can remove leftover debris like matted leaves and dirt. Otherwise, some soap and a soft-bristled brush are usually enough for general cleaning.
Composite Railing on Wood Decks
Can you mix a composite railing with wooden decking? Technically, you can mix materials although you may not care for the results. For starters, it's tough to match the color of wood with composite. You can paint or stain a wooden deck, but color-matching is a tricky art. It's also easy to scratch paint and stain, so if you install the deck railings after you've treated your deck, you run the risk of damaging your deck's appearance. Additionally, composite materials are fade-resistant, which makes for fresh, consistent coloring throughout the years. By comparison, wooden decking may fade. Even if you initially have a perfect match between your composite railings and wood decking, years of use and exposure to the elements can leave your wood decking several shades lighter than your composite railings.
Best Composite Railing Systems For Your Home
There are plenty of choices when it comes to choosing composite railings to suit your lifestyle and climate. Brands like Trex have a variety of color and style options to match any type of deck.
Composite railing can be incorporated with other low maintenance options, such as glass and aluminum for a modern, low maintenance option. In areas where you want to make the most of your surroundings -- such as the view from a deck overlooking your swimming pool or waterfront property -- try using glass or mesh panels in place of traditional balustrades.
Cable wire-style railings and railings that make use of traditional spindles are other options that can work with your composite decking of choice. There are many options for composite railings and our deck railing ideas gallery can help you find your perfect design.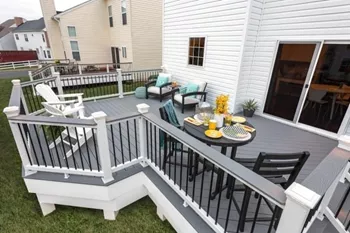 For example, if your deck makes use of a unique design, you may find it's best complemented by a simple railing. Another way to style your deck is to choose composite railing colors that pull from hues in your patio furniture cushions or the trim on your house. Get creative in mixing and matching railing colors and styles and look to both established design principles, as well as what speaks to your personal aesthetic. Because composite posts, post sleeves, caps, and post trim are sold separately, you can mix and match to suit your taste and lifestyle.
Don't forget to check local code ordinances for safety regulations prior to building your deck and choosing deck railing designs. For example, families with young children may not want wire balusters because while they look beautiful, they can be tricky to install and can pose a safety hazard. Consider the look and practicality of your deck railings, as well as clearing it with local ordinances.
Consider your needs and tastes and choose your deck railing colors accordingly. There are plenty to choose from. Find out more at the Best Deck Railing Ideas & Designs for Your Inspiration.
---
Explore Articles by Topic
Explore Articles by Topic