Low-Maintenance Composite Deck Railing Options
Chipped paint and warped, rotted wooden deck railings are unsafe and unattractive. Wood takes special care and significant upkeep. This can translate to homeowners needing to replace and repaint wooden railings every few years.
Fortunately, homeowners have other alternatives to wood. Composite deck railing can help extend the life of decks and deck railings, making them both easy-on-the-eyes as well as easy on upkeep. When compared to wood railings, composite deck railings are incredibly low-maintenance. Unlike wood, composite will not splinter or crack. Composite does not require frequent painting and is available in a range of colors and styles to match your home, environment, and décor.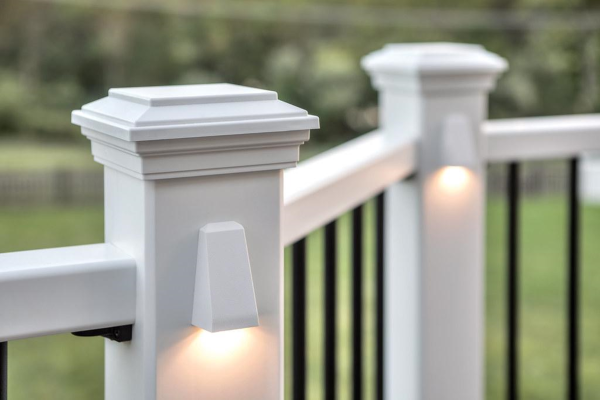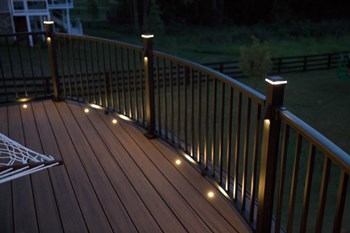 Although composite railings have been around for decades, more homeowners have come to recognize its beauty and functionality. Composite can be an aesthetically pleasing alternative to natural wood, minus the drawbacks.
Composite railing blends wood fibers and plastic together. These substances are then mixed into a paste and then molded into railings. The design possibilities are virtually limitless. In turn, you get the strength of wood with the added benefit of plastic, which protects against rot, moisture, and insects. This results in less time spent on the upkeep of your deck and more time actually enjoying it.
The best composite railing systems look great and can withstand the elements for years to come. They're easy to clean too and won't stain as easily as wood.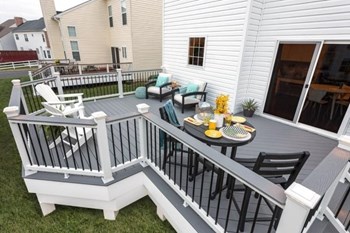 For example, if your deck makes use of a unique design, you may find it's best complemented by a simple railing. Another way to style your deck is to choose composite railing colors that pull from hues in your patio furniture cushions or the trim on your house. Get creative in mixing and matching railing colors and styles and look to both established design principles, as well as what speaks to your personal aesthetic. Because composite posts, post sleeves, caps, and post trim are sold separately, you can mix and match to suit your taste and lifestyle.
Don't forget to check local code ordinances for safety regulations prior to building your deck and choosing deck railing designs. For example, families with young children may not want wire balusters because while they look beautiful, they can be tricky to install and can pose a safety hazard. Consider the look and practicality of your deck railings, as well as clearing it with local ordinances.
Consider your needs and tastes and choose your deck railing colors accordingly. There are plenty to choose from. Find out more at the Best Deck Railing Ideas & Designs for Your Inspiration.