Ready to Start Your Project?
You'll be redirected to Trex.com, our composite decking website.
How to Choose the Right Deck Railing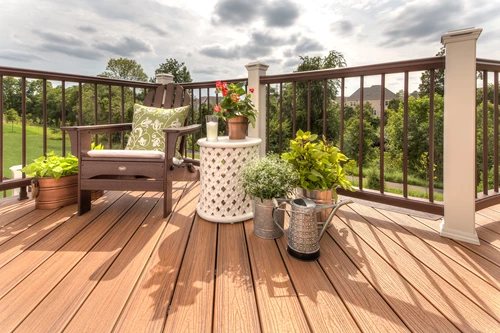 Deck railing can elevate your outdoor space, but it might be hard to choose the right one. Deck railing serves a very important function and should add to the overall beauty of your deck. Choosing a deck railing or a deck railing color isn't hard at all. Deck railing can elevate your outdoor space, but it might be hard to choose the right one. Deck railing serves a very important function and should add to the overall beauty of your deck. Choosing a deck railing or a deck railing color isn't hard at all. 
Your deck might have a staircase leading down to a patio or a lawn. If this is the case, it's necessary to choose a railing that's comfortable to grip producing a high level of safety. Keep in mind the size of the hands of any small children or elderly family members when making this choice.
What to Consider Before Choosing a Deck Railing
Think long and hard about what materials you'll need as maintaining a deck handrail can be extremely time-consuming down the road. Here's a handy list to guide you:
Materials - Treated wood is probably the least expensive and easiest to work with. However, It might not offer the most comfort. Wood requires lots of maintenance.
Cost - Composite materials, aluminum, or capped extruded fiberglass can be costly, but they offer exceptional gripping comfort and are extremely low maintenance.
Color - Your deck railing color choices are best when you use treated lumber. It can stain treated wood with lots of different earth tones. Composite or manufactured deck railings will often have limited color choices.
Code Requirements - No matter what you choose, you need to be aware of the code requirements with respect to the height of the deck railing. You need to know about the code requirement regarding strength. It's vital your new railing prevents people from falling to the ground.
What to Consider when Choosing a Railing For Your Deck
As one of the most visible elements of a deck, railing serves an important aesthetic and structural role – adding support, safety and style. Consider these five factors when selecting railing for your deck. 
1. Look for High Quality Materials for your Deck Railing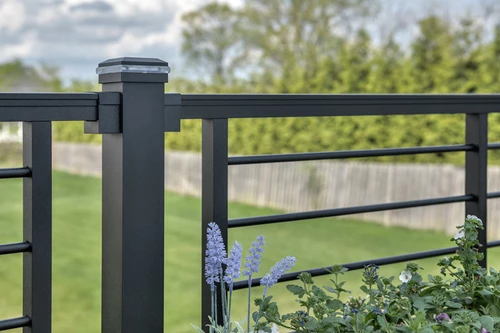 When choosing railing, look for high-performance and low-maintenance materials, so you'll be able to spend more time relaxing on your deck, rather than maintaining it. Although a classic and traditional option, wood railings require frequent staining and sealing-- and are also prone to rot and decay.  Aluminum and composite deck railings offer durable, attractive and versatile options that are both easy to work with and maintain.
2. Deck Railings Should Complement your Personal Style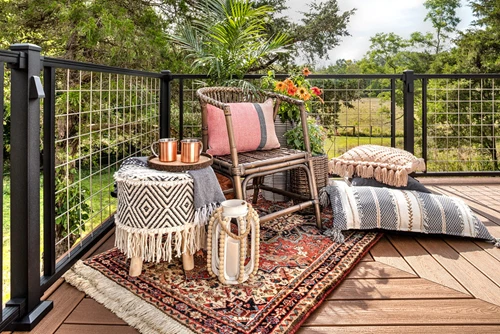 Selecting a railing color and style should be fun, but the myriad of options available can make it overwhelming.
To streamline the process and simplify things, use one of the following approaches to achieve a successful decking and railing pairing:
Coordinate - You can never go wrong by selecting railing in the same shade as your decking, such as gray railing for a gray deck. This creates a cozy, well-coordinated look.
Contrast - If you have trouble finding a perfect match for your decking – or if you're open to trying something different – consider railing in a contrasting color, such as black or white. Both are classic and stylish options that complement virtually any outdoor setting.
Customize - Homeowners wanting a more custom look should let their creative juices flow. Mixing colors and materials, such as combining dark aluminum railing and balusters with white composite posts, will help create a dramatic, distinctive design.
3. Use Railings to Maximize Views and Add Privacy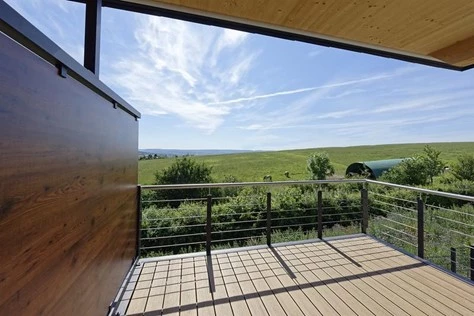 If you have a view beyond your deck, maximize it with aluminum railing that offers maximum strength with a minimalistic style. Railings with thin vertical or horizontal balusters visually blend into the background, allowing the view to be the focal point. 
Some composite decking manufacturers also offer thin round or square balusters that are part of a code-approved railing system. Cables and clear glass can also be used under the railing to maximize any views you might have as you lounge in a chair.
If scenic views are not the focus, opt for railing options that feature thicker posts and larger balusters to help enhance the privacy of your outdoor space.
4. Deck Railings can Combine Form & Function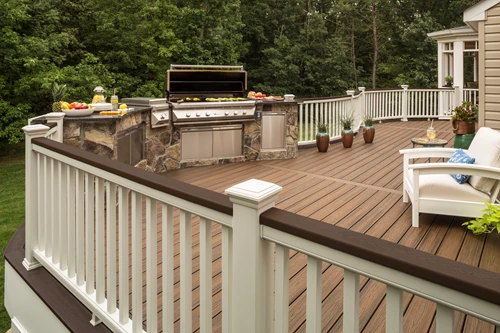 Deck railings can serve a purpose beyond keeping you from falling over the edge of your deck. One of the most popular trends right now – especially among homeowners who like to entertain outdoors – is "cocktail railing." This design approach uses a deck board as a top rail to create a flat surface ledge at just the right height for holding drinks and plates. By using boards that match the decking, you can achieve a look that perfectly complements your home's deck, while making excellent use of the space.
5. Incorporate Lighting into Your Deck Railings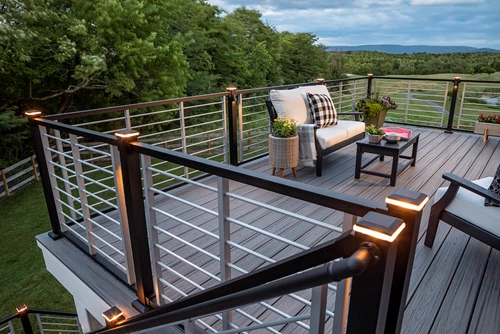 Add to the beauty of your railing and lengthen the time you can spend enjoying your deck by integrating discrete outdoor lighting on railing posts and caps. Not only will lighting set the mood, it also will add safety and security. Consider LED dimmer options to maximize energy efficiency. Learn more about various deck lighting options here.
Get Inspired to Start Your Deck Railing Project
For more deck railing inspiration, check out our image gallery or these 18 deck railing ideas. 
Or if you're ready to get started, find a deck builder or shop for materials.
---
Explore Articles by Topic
Explore Articles by Topic