Ready to Start Your Project?
You'll be redirected to Trex.com, our composite decking website.
25 Balcony Decor Ideas to Make the Most of Your Space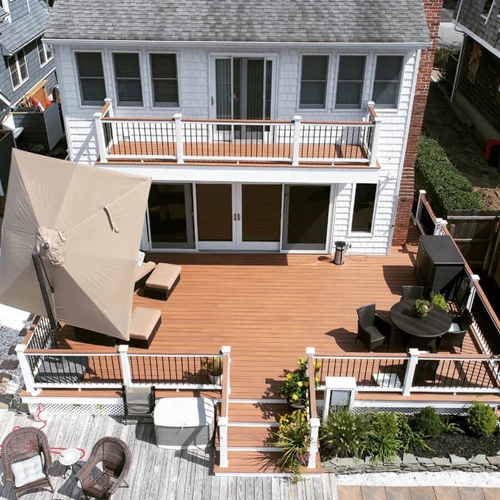 Photo Credit: @bluestarcarpentry
Plain balconies are a missed opportunity to enhance the beauty of your home – and make greater usage of indoor/outdoor space.. Fortunately, there are quite a few good balcony ideas you can tap into to take it from ordinary to extraordinary.
Balconies come in all shapes and sizes, so whether you're in the planning stages of building a balcony deck or you're looking for some apartment balcony ideas to enjoy a bit of the outdoors in a city setting, it all starts with exploring your options.
1. Make Your Balcony Pet-Friendly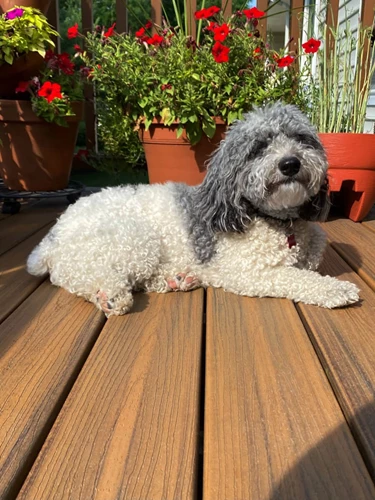 As an outdoor enclosure, balconies can be amazing for pets. Adapting your balcony to make it perfectly pet-friendly is often as simple as adding a small fence or some wire mesh screening. As an added bonus, you can use your screening to support additional décor.
2. Natural Art with Mirrors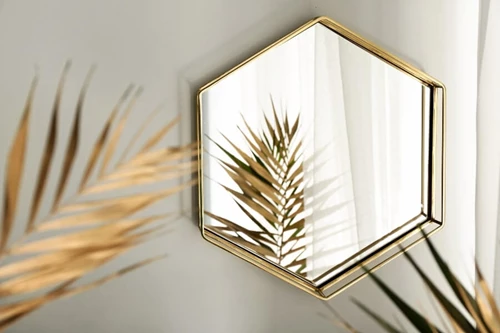 In the right spot, even ordinary mirrors can produce outstanding visual effects. For instance, they're great at making smaller spaces feel larger. You can also use mirrors on your balcony to augment or enhance a great view. On a smaller scale, you only need a handful of small mirrors to create your own decorative mosaic. 
3. Add Wall Art
An easy way to make outdoor spaces feel more like indoor spaces is to decorate them as you would a living room or bedroom. Adding wall art on the area behind your balcony is a great opportunity to put that design practice into play. Plus, it gives you the chance to drastically alter your balcony's general aesthetic feel, even on a relatively small budget.
4. Balcony Privacy Ideas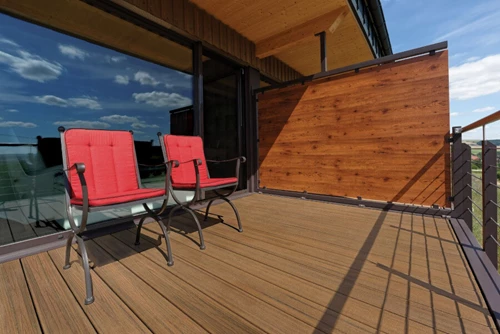 Privacy walls can do more than keep out prying eyes, they can also help make a space feel cozier. Though you can find a variety of other wood accents, bamboo screens on your balcony can add an element of style at an affordable price. Moreover, its lightweight qualities make it easy to place and move as needed.
5. Alternative Balcony Privacy Options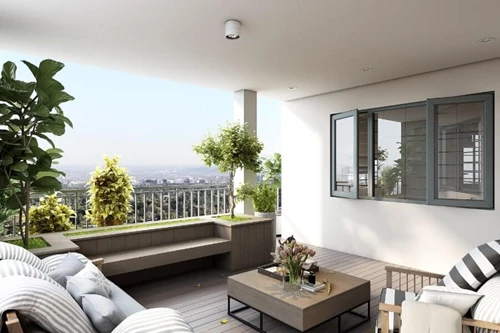 You don't always need screens or walls to help delineate a space. From flags and tapestries to strategically managing seating arrangements, there are more than a few ways to adjust levels of privacy and section off areas of a longer, larger balcony.
6. Balcony Flooring Ideas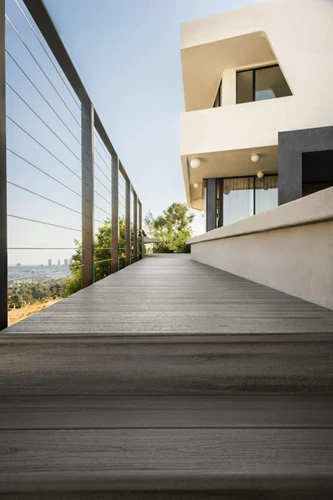 Many patios are made from unattractive or unremarkable flooring – often, grey concrete. But a change in your flooring doesn't have to be an enormous undertaking. If you're renting, the solution to beautifying your balcony might be as simple as adding a few outdoor rugs. Staining concrete is another fairly simple DIY project. Alternatively, you could explore adding composite decking, like Trex, to refresh your balcony space. 
7. Consider Going with Tile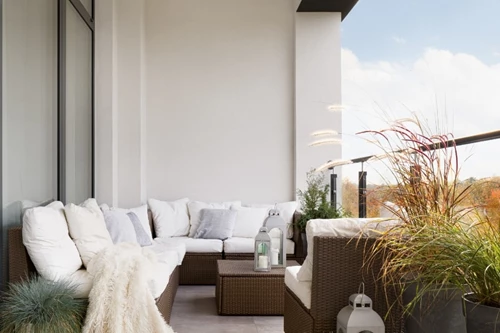 Rugs can be a quick and effective fix, but few things will make an outdoor space feel more like an indoor space than the addition of quality tile. With a little creativity, you can even generate your own personalized geometric patterns. Just remember to stick with outdoor tile that can withstand the elements on your balcony.
8. Balcony Garden Ideas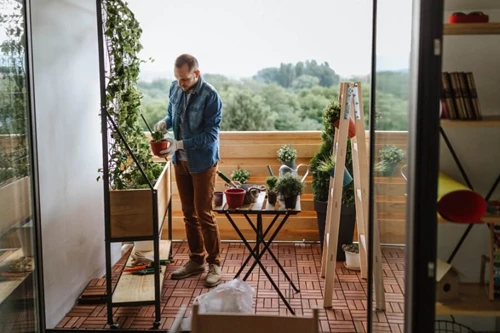 Who doesn't love some greenery to make you feel like you're immersed in the outdoors on your balcony. Many people find gardening rewarding, and balconies bedecked with trailing vines and hanging plants can amp up the wow factor. You can grow your own herbs and berries, surround yourself with summer blooms, or create an evergreen terrace that stays lush year-round. Selected appropriately, many plants require minimal maintenance and attention, giving you a no-fuss balcony garden that adds curb appeal.
9. Turn Your Balcony Into an Extension of Your Living Room
Everyone loves a cozy living room, and recreating that kind of space on a balcony doesn't take too much effort. In many cases, all you'll need are a few armchairs and a well-placed coffee table. If you're feeling ambitious, you can add some throw pillows or blankets - just be sure to use outdoor fabrics.
10. Mimic Interiors
You can make your outdoor space an extension of your indoor space by matching the aesthetic of the interior of any adjoining room. If everything is beige and brown on the inside, you can create a sense of continuity by keeping that going around the areas where your home spills out onto your balcony. It both works well visually and is a great way of welcoming people into your home.
11. Small Balcony Ideas
Working with a smaller space? Vertical storage can make it feel much larger. For instance, consider taking advantage of nesting tables or hanging baskets. If you're hanging or stacking plants, you can build your own vertical garden and fill your balcony area with twice as many.
12. Add a Balcony Table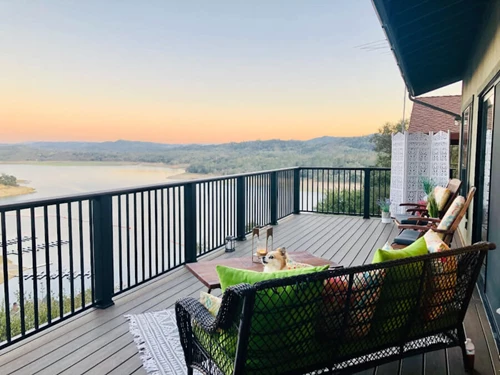 Don't have space for a table? You can turn the railing into a table with a balcony bar. This works great in particularly small outdoor spaces, allowing you to support food, drinks, laptops, or further decoration.
13. Zoning Separate Areas
When working with a larger balcony, you may have enough space to divide it into several distinct areas. For instance, you might set up one side of your balcony specifically for enjoying coffee and taking in a view, another area specifically for drinks and dining, and another area for cooking. You'll just need to plan the flow of foot traffic and take steps to keep each area feeling distinct.
14. Balcony Furniture Ideas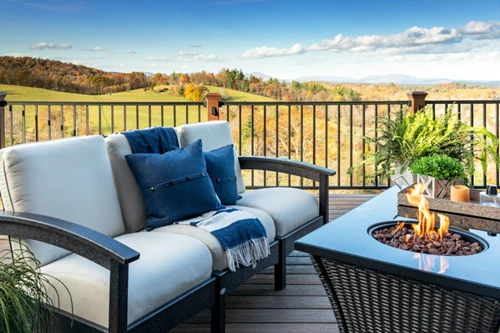 Wood furniture fits in well outdoors and many types are rot resistant – but it's far from your only option. Synthetic wicker is fairly inexpensive and it holds up extremely well against the elements, furniture covers can make your indoor furniture protected from the outdoors, and foldable furniture is ideal for saving space. Additionally, you can also look to composite materials for balcony furniture inspiration. Check out Trex outdoor furniture to explore all of your options. 
15. Change Up Your Seating
Few things will help an old area to feel new quite like a new seating arrangement. Sometimes, a little rearrangement can also change the functionality of a space, transitioning from an area for enjoying your morning coffee to space for having lunch with friends.
16. Balcony Lighting Ideas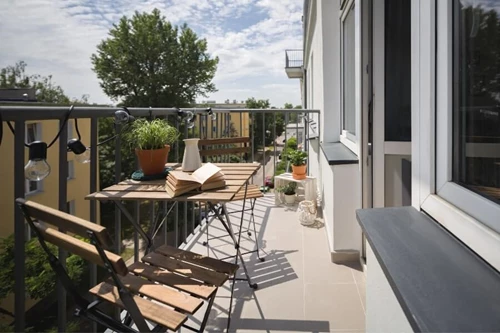 String lights can be a great way to adorn your balcony with artfully draped strands that add illumination, as well as style. It's generally inexpensive and easy to set up your own string lights, and lighting can be highly adaptable to varying circumstances. For instance, you can choose colored lights that can be adapted to change for the season, moving from colorful hues for the winter holidays to cool white or champagne-colored lights for summer nights.
17. Even More Balcony Lighting Ideas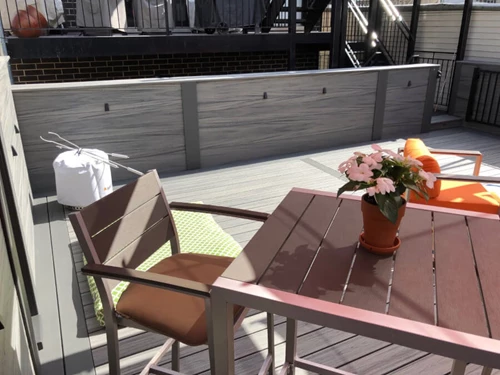 While string lights provide a pleasant ambiance, they don't deliver the functionality of brighter, direct lighting. In the right areas, good lighting can have a transformative effect, making your balcony a more accessible place day and night. If updating railings, it could also be a good time to add lighting to it to add ambiance.
18. Add a Sofa
Deck chairs and other outdoor furniture certainly have their place. But when you want to create an ultra-cozy environment on your balcony, incorporating a sofa or loveseat is ideal. You'll need to make sure you're using a couch made specifically for the outdoors, otherwise you'll want to take steps to thoroughly weatherproof it.
19. Recycle & Reuse
Filling a space with comfortable seating for your perfect balcony retreat isn't always easy, but the key to doing so is finding options that suit your given area. If you've got limited space to work with, you can create some easy-to-store seating options by stacking a few wooden crates on their ends and topping them off with outdoor pillows. Combined with a table for your balcony railing, you've got an impromptu balcony bar on a budget with a great view. 
20. Balcony Railing Ideas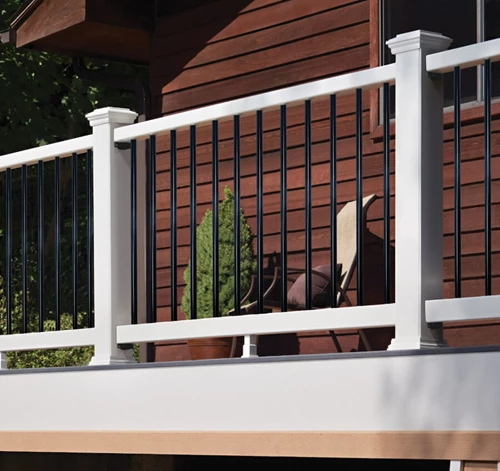 As one of the defining elements of a balcony, the railing is both visually and structurally important. In fact, matching your balcony with the most appropriate railing can make the difference between a good-looking balcony and a great-looking balcony. Making changes doesn't have to be challenging, either. There are quite a number of prefabricated railing kits that can make it easy to have a beautiful balcony without having to build one from scratch. 
21. Make a Spot to Recline
Sitting is great - but sometimes taking an outdoor nap is better. You'll need to reserve a little space, but whether you want a lounge chair, hammock, or pull-out futon. However, the (well-rested) results can speak for themselves if you choose this type of addition to your balcony decor!
22. Add Shade
Adding shades to your balcony can help you to regulate just how much or how little sun you get. For instance, you can go for a more natural route and add vertical shelving stacked full of plant life to achieve partial shade. Or you can also stretch a shade sail, build an awning, or even add a cantilever umbrella for more coverage from the sun and elements. 
23. Make it Minimal!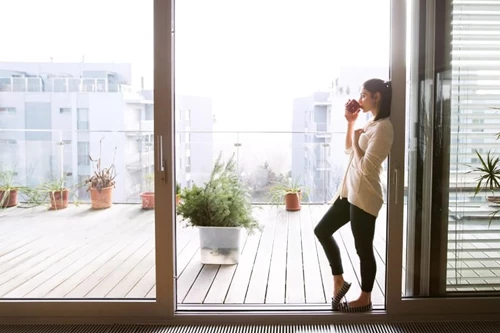 Minimalist decor can be a great way to keep it simple and allow the beauty of your balcony to speak for itself. Consider a small cafe-style table and chairs with comfy cushions, and a large potted plant to give yourself a cozy place to enjoy the view. 
24. Balcony Design Ideas
A mish-mash of colors can work fine, but sticking to a well-conceived color story can bring a sense of cohesion to your balcony. Try using colors that match or compliment the surrounding area. For instance, black, brown, and orange can form a fantastic base that can make your décor pop when placed together. 
25. Finishing Touches
You don't always need to take radical steps to totally reinvent your balcony. The simple addition of a few well-chosen throw pillows and an outdoor area rug can add the perfect touch that makes your balcony feel homey. Just look for an empty space and let your imagination do the rest.
Get More Inspiration for Your Balcony or Outdoor Space
---
Explore Articles by Topic
Explore Articles by Topic