Ready to Start Your Project?
You'll be redirected to Trex.com, our composite decking website.
Building an Outdoor Kitchen? Here's What You Should Consider Before You Start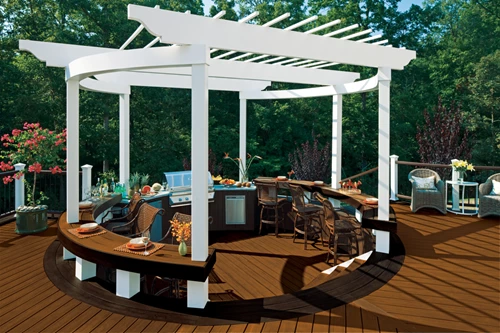 Kitchens of all types tend to be the central hub of activity in a home. It makes sense as food is a basic survival need and interacting with others while it's being prepared is a fun and engaging activity. Building an outdoor kitchen and then using it can enhance this enjoyable experience. Imagine a balmy summer afternoon being with friends, family, and neighbors outdoors and being lulled into a sensory experience of cooking food! You might be able to taste it as you read this. It's going to be marvelous, wait until you use your outdoor kitchen for the first time.
Why Build an Outdoor Kitchen?
As previously mentioned, an outdoor kitchen can enhance the pleasure of a meal being prepared. Guests may find it more enjoyable outdoors near your new outdoor kitchen. With proper planning, the guests will be close by, but not in the way or underfoot of the people who are preparing the meal. You'll discover that building an outdoor kitchen will indeed become the ideal hub for your guests who are relaxing with you and your family. Talk with one of the top realtors in your neighborhood and there's a good chance they'll confirm an outdoor kitchen can improve the value of your home.
Do Outdoor Kitchens Add Value to a House?
An outdoor kitchen that's built with high-quality materials and has a great flow can add value to a house. The amount of value will depend on where the house is located. Usually, the best person to speak with about this as you plan is the top realtor in your area. This professional can offer guidance as to what the current buyers are looking for in an outdoor kitchen. More importantly, the realtor can tell you what mistakes, materials, or appliances to avoid. Some outdoor kitchen attributes might be a turn-off to the buyers in your marketplace.
Things to Consider When Building an Outdoor Kitchen
There are several important considerations when building an outdoor kitchen, including location, climate, material selection, finding weatherproof décor and furniture, and much more. You'll also need to determine whether you have the appropriate skills to build an outdoor kitchen on your own. If you're not ready to run electrical wiring or water pipes, it may be worth finding a contractor with the experience necessary.
Budget
Building an outdoor kitchen involves a ton of customizable elements, which can make budgeting a challenge. The cost to build an outdoor kitchen can be affected by material selection, the size of the area, the necessity of appliances, permits, and more.
How Much Does it Cost to Have an Outdoor Kitchen Built?
Local Permits and Building Restrictions
Many homeowners find themselves asking, "Do I need a permit to build an outdoor kitchen?" The answer is: it depends. If you don't want to add a roof, and if you don't need electrical or plumbing work, then you most likely won't need a permit.
If your outdoor kitchen plans include any electrical appliances or heat sources, it's very likely your project will require a permit. You may also need to follow state and local requirements with respect to framing grills and fireplaces.
Climate
The climate where you build your outdoor kitchen plays a major role in both the design, materials, and length of the open season for your kitchen. Here are a few things to keep in mind:
Coastal Climates - Saltwater and sea air can be extremely corrosive. Talk with architects or seasoned remodelers/builders to discover the materials and appliances that won't be harmed.
Desert Climates - Intense and harsh sunlight might be your biggest enemy. You'll need to factor in how you'll keep the outdoor kitchen in the shade, especially late in the day when the heat is highest
Cold Climates - Keeping your outdoor kitchen open as long as possible is paramount. Think about portable heaters, outdoor fireplaces and wind screens that can give you 4-6 additional weeks of use time.
Size of the Kitchen Area
The size of the kitchen area will help determine the shape of the kitchen, and how each part relates to its surroundings. Do you want your outdoor kitchen to take up a small portion of your deck and still have room for a lounge area or other type of section? Or do you like the idea of a sprawling outdoor kitchen that spans the entirety of your deck, made with entertaining and cooking for your guests in mind?
If you have ample space to build a larger outdoor kitchen, it's much easier to incorporate islands, built-in grills, and other functional features. On the flipside, working in tight spaces can require more creativity and spatial planning.
Location and Layout
The outdoor kitchen design you choose should complement your space from both an aesthetic and functional standpoint. For example, while designing an outdoor kitchen layout, you might want the location to have minimal exposure to elements. Outdoor kitchen designs should also incorporate a variety of considerations, such as size, shape, format and flow.
Your outdoor kitchen should be placed with certain things in mind. For example, is there a prevailing wind direction on your deck? You don't want your guests to be downwind of the smoke from cooking if at all possible. Think about the direction of the sun for both the guests and the chef. You don't want either to be looking into the harsh sun in the late afternoon as they mingle and talk.
The distance away from the house is important as well. You surely don't want this outdoor kitchen to be far away from the normal place that you feel people will gather. Remember, it's going to be the hub of activity. For that reason, you don't want it to be in a location where neighbors can easily look down or across at your gathering. It's best to try to achieve some privacy. Check out this article to get outdoor kitchen design inspiration and layout out tips.
Maximizing Space
Once you have a good idea of the size of your kitchen space, you'll want to plan the shape of your kitchen, which can be one of the most important stages of the design process. To figure out how to best maximize your space, consider the following:
Available counter space
Proximity to appliances
Hot, cold, wet, and dry zones
Amount of people you'd like to accommodate
Cabinet Materials
There are quite a few options for outdoor kitchen materials. Your material selection will have a big impact on style, function, and cost. It's especially important to select materials that are appropriate for your climate. Even minor amounts of material expansion or contraction can interfere with sliding doors and hinges, and most materials are vulnerable to drastic fluctuations in temperature.
Powder-coated stainless steel cabinetry is usually your best option for building an outdoor kitchen in areas where weather fluctuations might be a concern. In addition to holding up well against the elements, stainless steel can withstand a variety of chemical interactions, which is one of the reasons it's so popular in commercial kitchens.
Outdoor Lighting and Appliances
A small outdoor refrigerator can keep beverages and condiments cool, while power burners make heating quick. And, for some people, grills are absolutely essential. The good news is, you can choose from among a wide variety of appliances to make the most of your outdoor kitchen space, so long as they're designed to withstand outdoor conditions.
You'll no doubt discover these are must-have appliances in your outdoor kitchen:
Sink
Refrigerator
Freezer
Grill/Oven
Burners
Optional Wood-Fired Pizza Dome
Weatherproofing is particularly important when exploring lighting options and arriving at a choice that best suits your needs.
Proper Ventilation Between Appliances
To allow for proper ventilation, you should leave about 1"-2" of space around the top and bottom of cabinetry, as well as between appliances. Poorly ventilated appliances can lead to higher energy consumption, increased risk of fire, maintenance difficulties, and shortened lifespan. The best source for determining the ideal spacing for ventilation is the appliance manufacturer.
Color Choice
While choosing the right colors for your outdoor kitchen involves complementing its style and working with your home's current aesthetic, it's mostly about expressing your preferences and personality. That's why many outdoor kitchens are built in a fairly extensive range of colors and powder-coated finishes.
Delivery and Installation
Homeowners who want to take a DIY approach may find that an outdoor kitchen installation is much easier than they'd expect. In fact, some kitchens are designed specifically for ease of installation. However, if you're not quite confident in installing an outdoor kitchen yourself, you can always consider finding a local professional to do the install for you. Outdoor kitchen installation is a relatively inexpensive project, and relying on an expert can help to keep your project free from unexpected difficulties.
Routine Maintenance and Care
The level of maintenance required for your outdoor kitchen will mostly depend on your material selection. Routine upkeep includes wiping down countertops and clearing away charring from the tops of grills. With stainless steel surfaces, most messes call for just a mild all-purpose cleaner. However, you'll want to avoid cutting directly on the surface.
Start Your Outdoor Kitchen Project Today
If you're planning on incorporating an outdoor kitchen into your deck design, be sure to keep these factors in mind. Having a clear picture of the type of space you want, along with any features you may have your heart set on, can help you better budget for your outdoor kitchen and make for a smoother installation process.
For additional information and expert assistance with your new outdoor kitchen, consult a professional. To find local pros in your area, use the Decks.com Find a Builder and Find a Retailer tools.
---
Explore Articles by Topic
Explore Articles by Topic