Ready to Start Your Project?
You'll be redirected to Trex.com, our composite decking website.
Brown Composite Decking Ideas & Images
Brown is one of the most popular choices for homeowners when selecting a composite decking color -- and with good reason. Brown decking most closely resembles the look of natural wood, without the high maintenance or additional drawbacks.
Brown composite decking comes in a variety of natural-toned hues, such as these shades from Trex Composite Decking. From warm, reddish-brown tones like Spiced Rum to cooler shades of tan like Beach Dune or Toasted Sand, brown composite decking spans a full spectrum of shades.
While the shade you choose depends on your own personal preference, it doesn't hurt to seek out inspiration to find colors -- or color combinations -- you like when looking for the perfect shade of brown. Browse through our collection of images below to get ideas for your next project and see the versatility that brown composite decking offers!
Brown Composite Decking Image Gallery
Brown composite decking can lend a classic and cozy touch to an outdoor living space, or create a fresh, modern backyard oasis. Choosing the right colors for your environment, as well as those that speak to your own personal aesthetic can help you achieve a look you'll love. Explore design ideas below and get tips for pairing brown composite decking with different railings, furniture, or using different design configurations to incorporate into your own decking projects. Whether you have something specific in mind or are open to new ideas, there are a variety of composite decking color options available to help you find the perfect shade.
Clean, Modern Lines
Simple can be striking! The warm brown composite decking laid in a neat, paralleled pattern pairs nicely with the vertical and horizontal lines of mesh railing. Incorporating a pergola constructed from the same style and shade of decking continues to draw the eye upward, keeping the theme of clean lines throughout this backyard space.
Mixed Materials in Matching Shades
Cooler-toned dark brown decking can offer a modern feel when combined with matching metal rod railing in a matching hue. This tone-on-tone effect avoids being too "matchy-matchy" by mixing materials for a cohesive look that feels fresh. Incorporating candle sconce chandeliers gives this covered deck a welcoming, rustic touch to keep things interesting.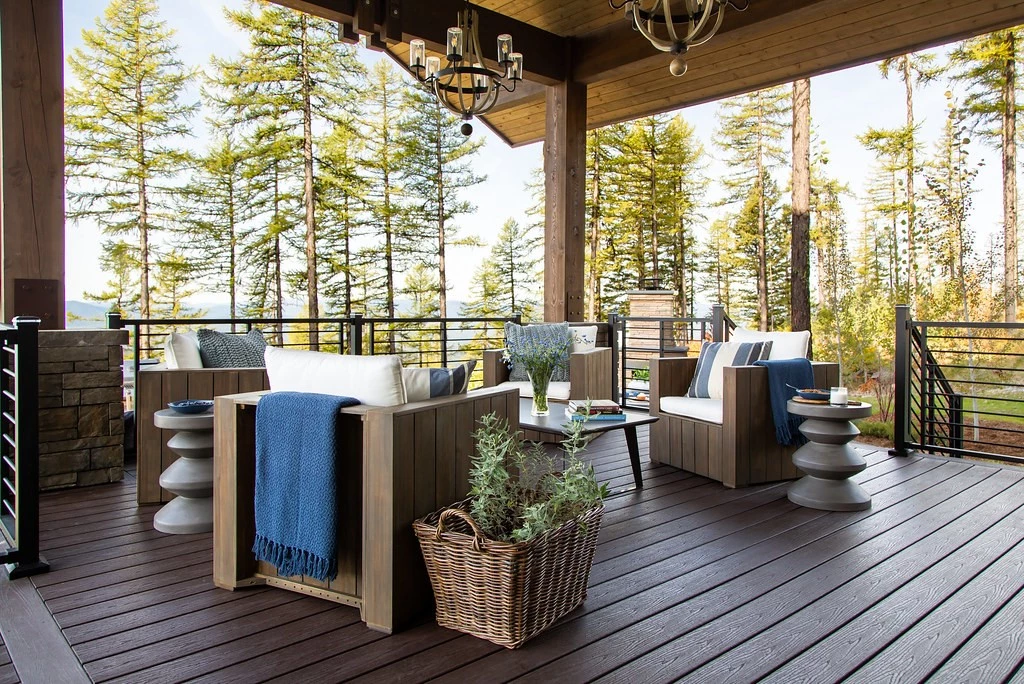 Perk Up Your Deck with a Pergola and Plants
Warm tan decking pops when played against a bright white pergola. Adding plants of varying sizes nestled in wicker pottery adds fresh greenery to a deck.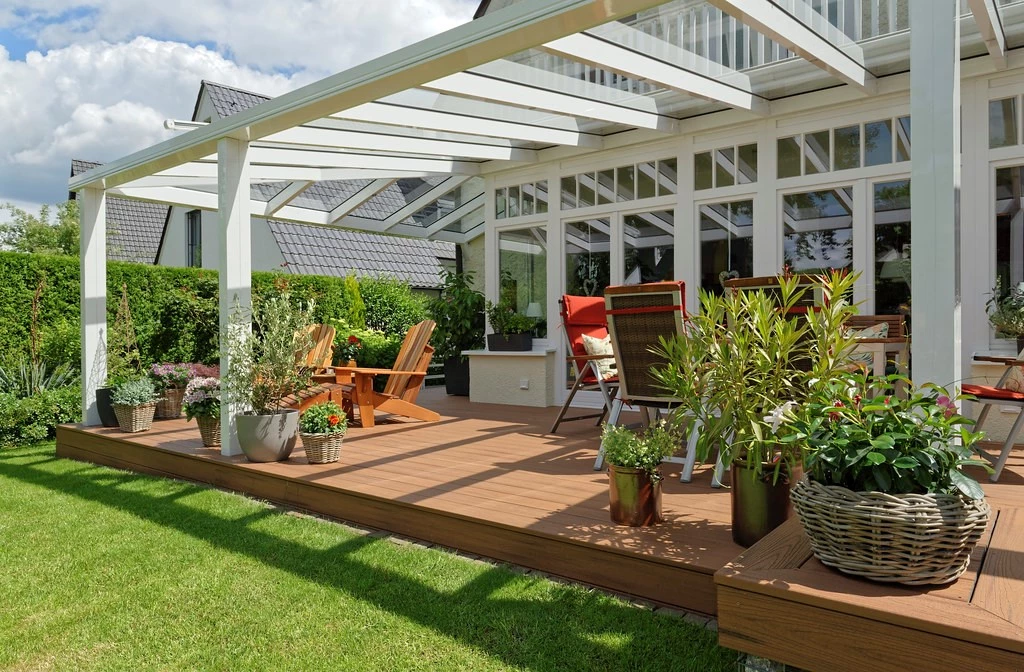 Classic Brown Deck with White Railing
Anything-but-basic, classic brown decking can up the style quotient of outdoor space when laid in a diagonal pattern. A white railing gives it a down-home feel, especially when paired with crisp, white Adirondack chairs for lounging.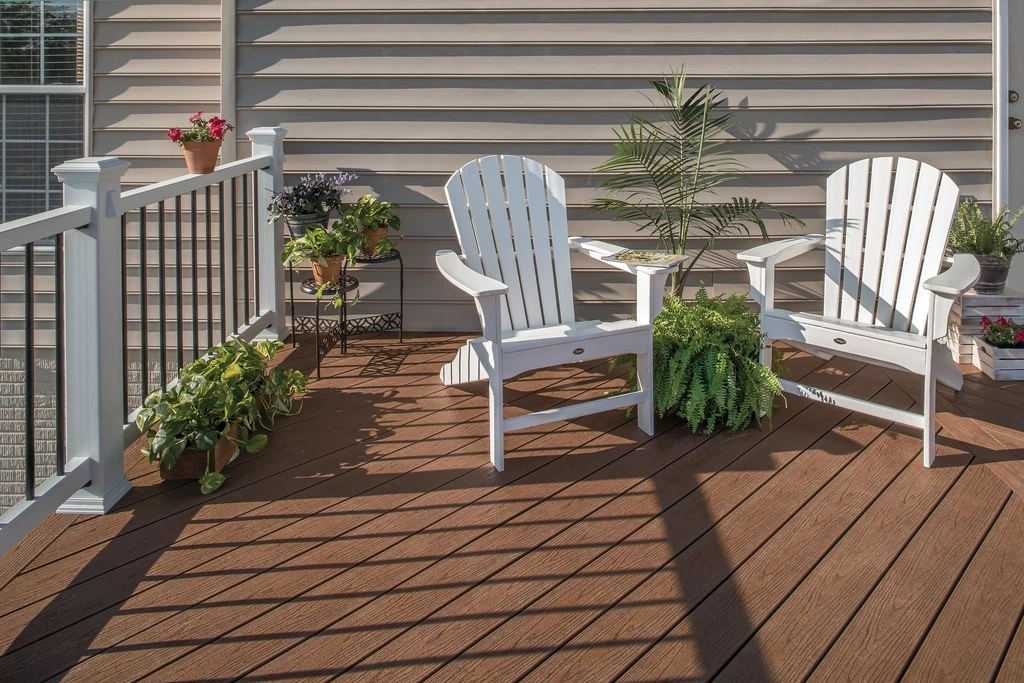 Poolside Perfection
You may not live at a luxury resort, but warm-toned brown decking with a wood-grain beauty alongside an inground swimming pool can make your backyard feel like the next best thing. Brown composite decking comes in a variety of shades and finishes that can deliver the look of weathered wood, without compromising the integrity of a deck.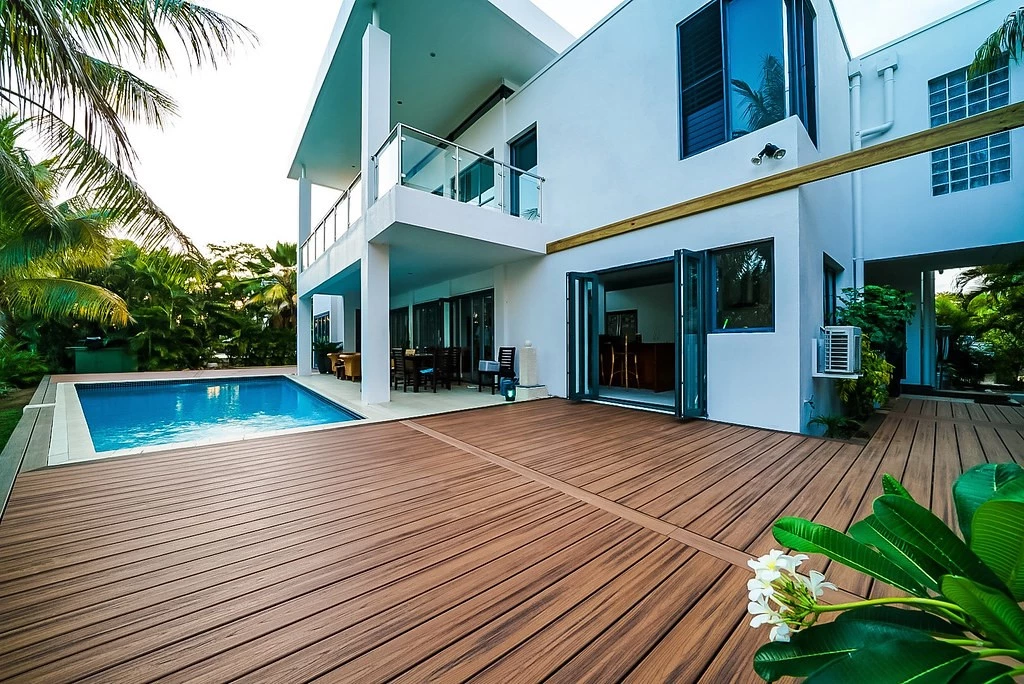 Contrasting Colors & Decking Patterns
Another option homeowners can look to when building the deck of their dreams is to create simple, yet interesting patterns with decking. Using contrasting colors of decking to help carve out different "spaces" on a singular structure can add interest to a deck. Choose one, lighter color for the main body of your deck and then add some punch with a darker shade of brown composite decking to help create patterns. Adding a metal rod railing can help bring those design elements together in a striking way.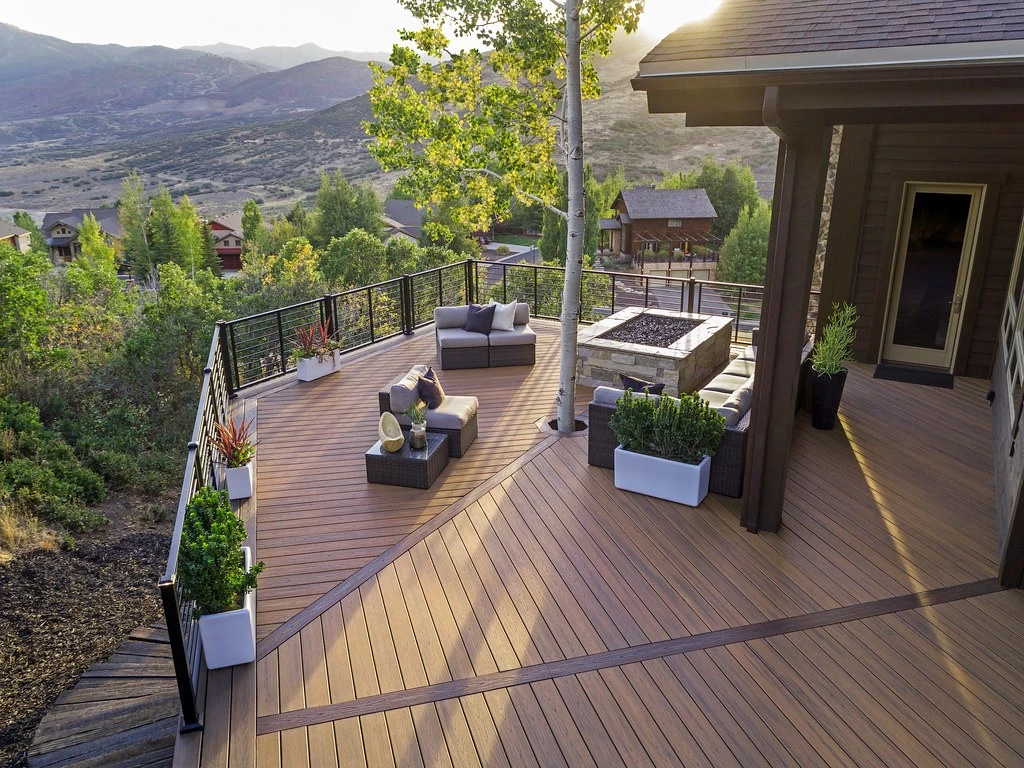 Incorporate LED Step Lights to Brighten Up Your Brown Decking
Bi-level decks with slightly-raised platforms can benefit from extra visibility with embedded LED step lights. Bright LED lights tastefully illuminate this brown deck's slight steps that are low-to-the-ground, making for a safer tread when used at night.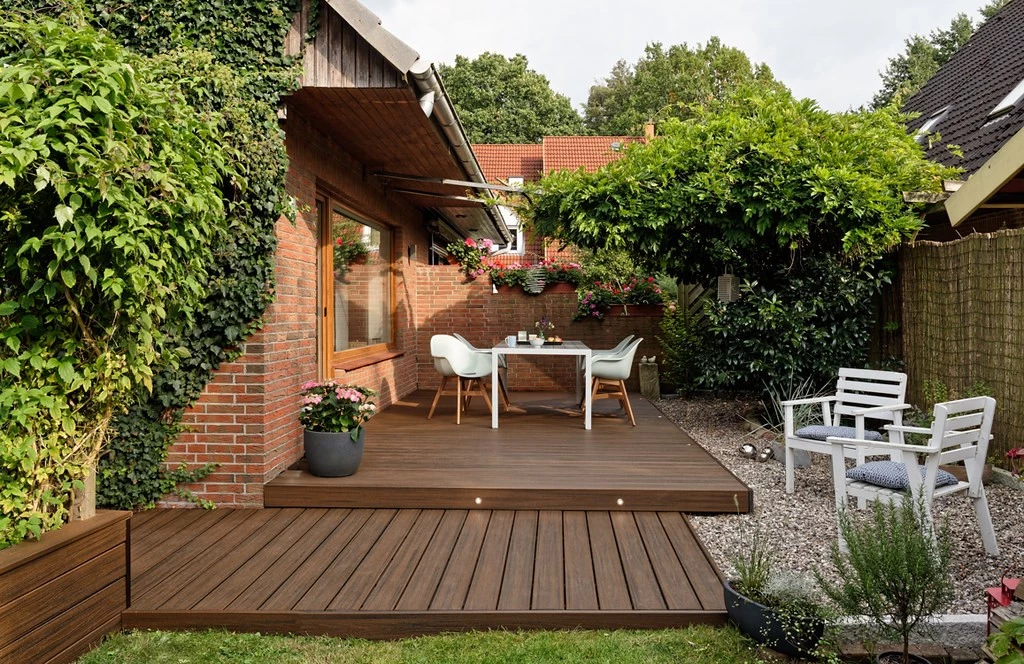 Brown Decking to Compliment Your Home and Surroundings
When choosing the right shade of brown or tan decking, take your home and surroundings into consideration. For instance, if your deck is attached to your home and your home's shingles or vinyl siding is a pale tan with white trim on your windows, you may not want your decking to be an exact match for the sandy tan shade of your home. Opt for a slightly darker shade of tan with a gently weathered look to offer a tonal contrast. However, you can use white railings to match the trim of your home to create a more cohesive look for your attached deck and home exterior.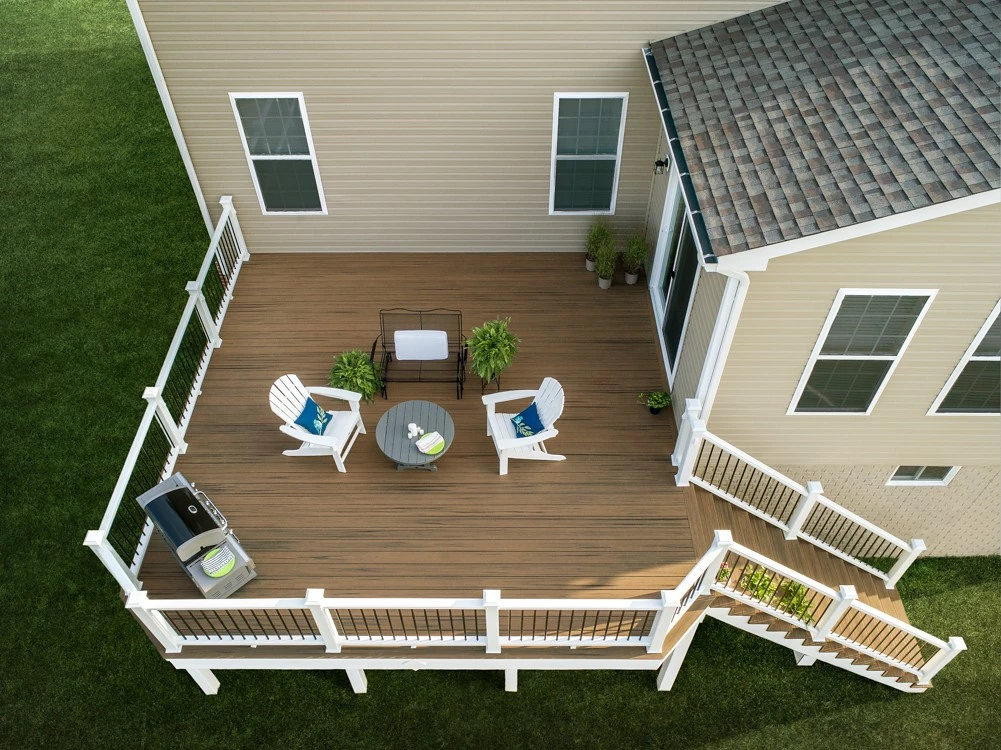 Brown Decking, Grey Pavers
Brown and grey are from two distinctly different color families. However, the two can work really well together, particularly when you mix mediums. Brown composite decking gives a rich, woody tone to an outdoor deck and it pops when used with grey stone pavers that form a patio landing directly underneath. A dark grey pergola above the deck and grey wicker planters match the various shades of grey stones in the pavers. Mixed-media deck furniture combines a brown wood that matches the composite alongside brushed metal trim, which really brings out the different tones of grey in the pavers and pergola.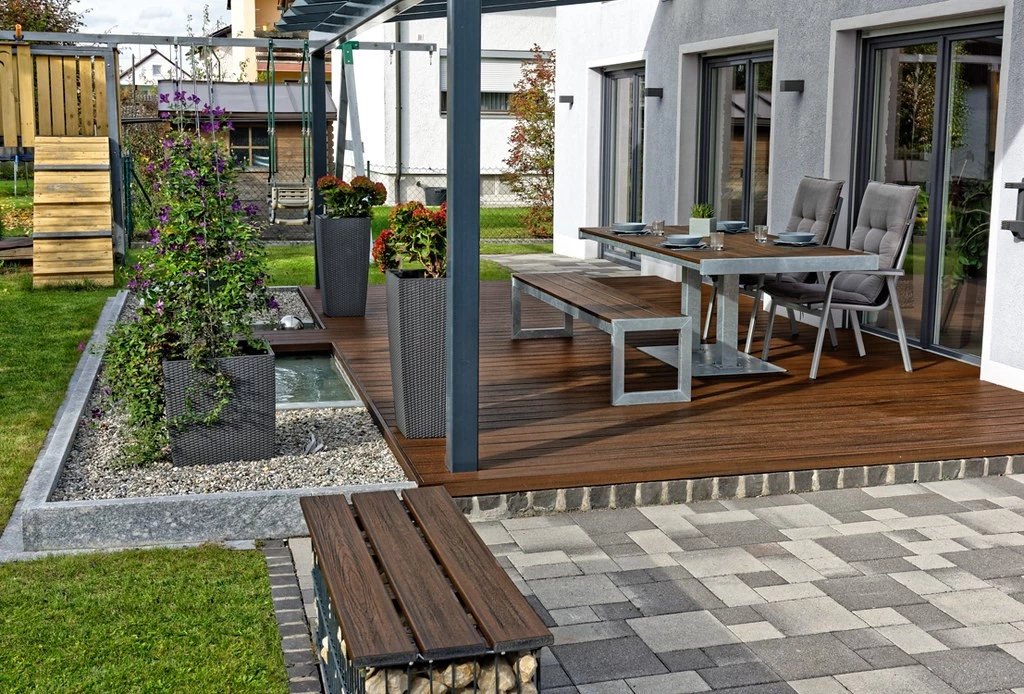 Brown Indoor-Outdoor Deck Ideas
The natural tones of brown composite decking can help create a cozy, modern-meets-rustic feel with an indoor-outdoor space. The soft, woody tones of brown decking work well with tan stones in a fireplace. Brown wicker chests and furniture stay within the same color family to create a warm, welcoming vibe. Plants and colorful wall decor with a weathered feel keep the rustic vibe alive while bringing pops of color.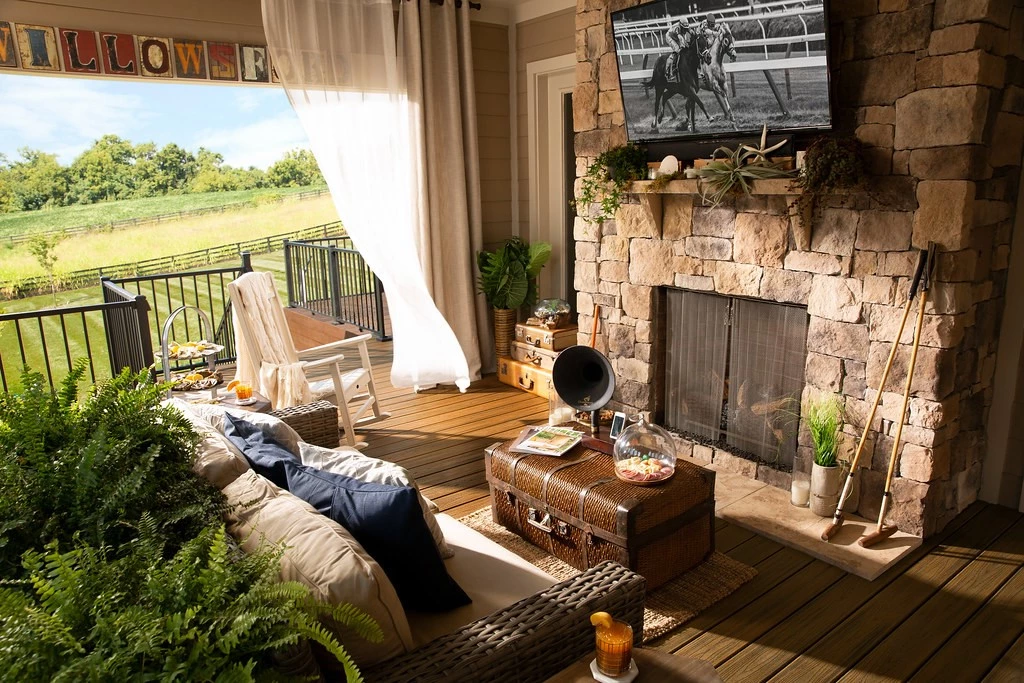 Brown Composite Decking to Frame Planters
Composite decking doesn't have to be used as just decking. It can be a beautiful way to frame tiered planters to landscape your backyard and deck. Using the same shades of brown composite decking to create stairs, planters, and multiple levels to your deck can add depth to a smaller space. This lush, green backyard oasis uses deep brown composite decking to form the base but frames it with a lighter, brighter shade of tan decking to frame the planters, stairs, and deck landings themselves. Not only does this add dimension, but the lighter decking also makes steps and tiers more visible -- and so do the cleverly embedded LED lights in each step!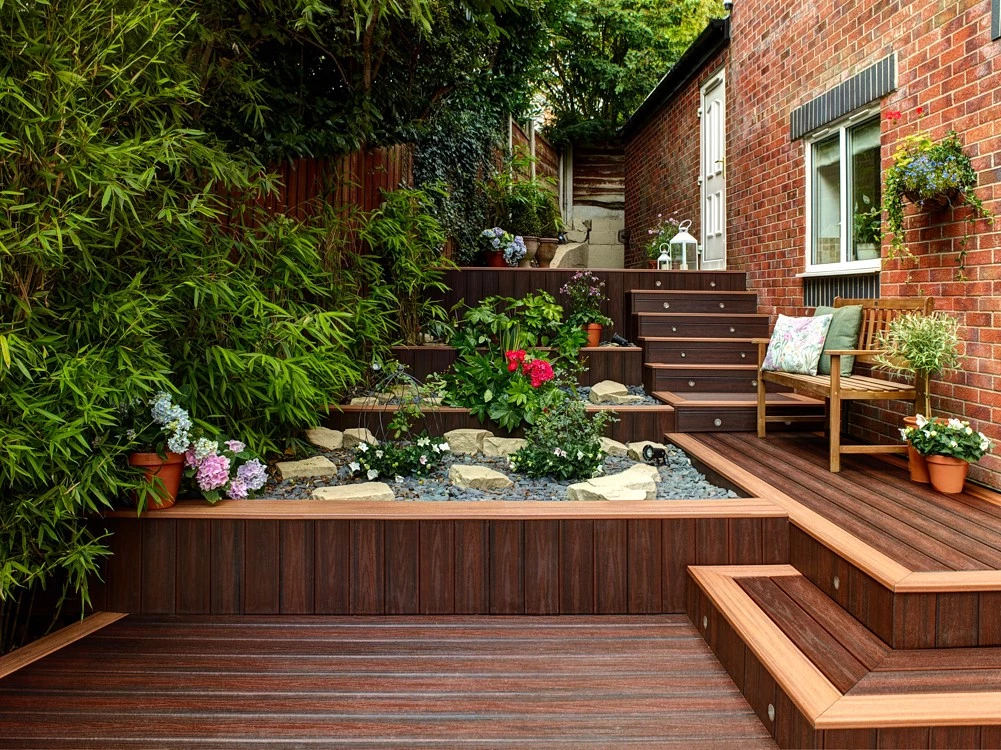 Use Contrasting Shades of Brown Decking to Add Dimension
Large outdoor decks can benefit from multiple levels and using different tones of decking to create separate sections for eating and lounging. While the base color of this elegant deck uses a rosy-toned brown shade, a lighter shade of tan decking edges the deck itself, as well as the raised platform for dining. A black metal railing frames the deck, standing in sharp contrast to the bright, white couch to complete this sophisticated study in contrast.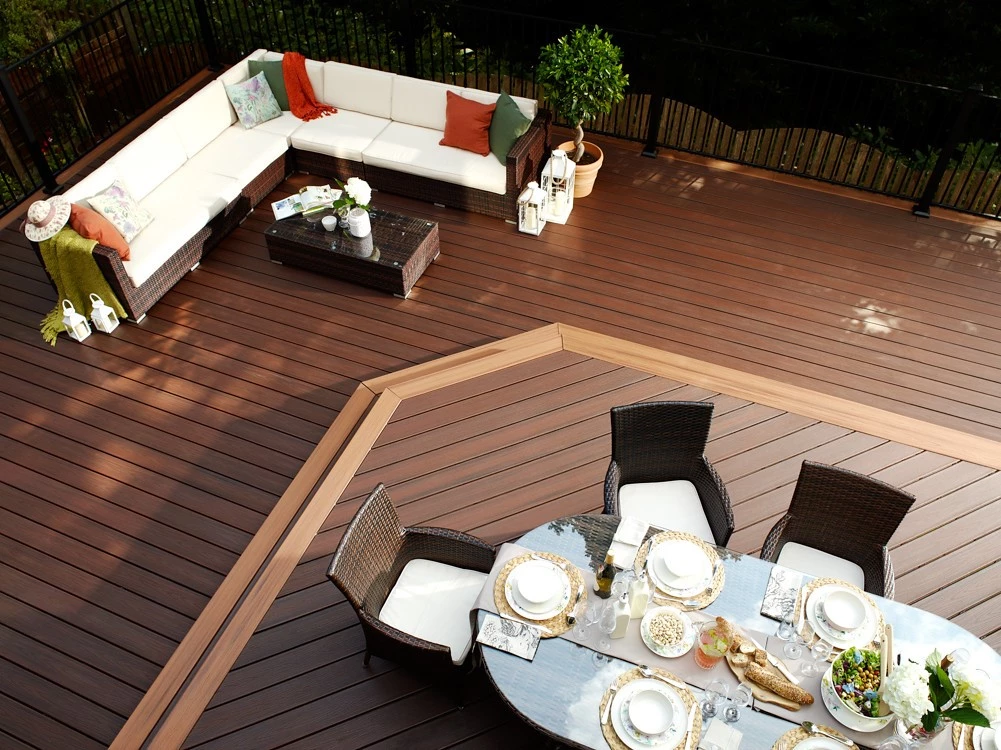 Play with Unusual Shapes and Mixed Media
The round shapes of this wicker outdoor dining table-and-chairs set contrast against the sharp, geometric angles of this multi-tiered deck. Once again, a slightly lighter shade of tan composite decking borders a darker base to make those angles pop. A glass railing, such as Trex Signature® Railing with glass inserts and polished chrome accents give this deck a thoroughly modern feel.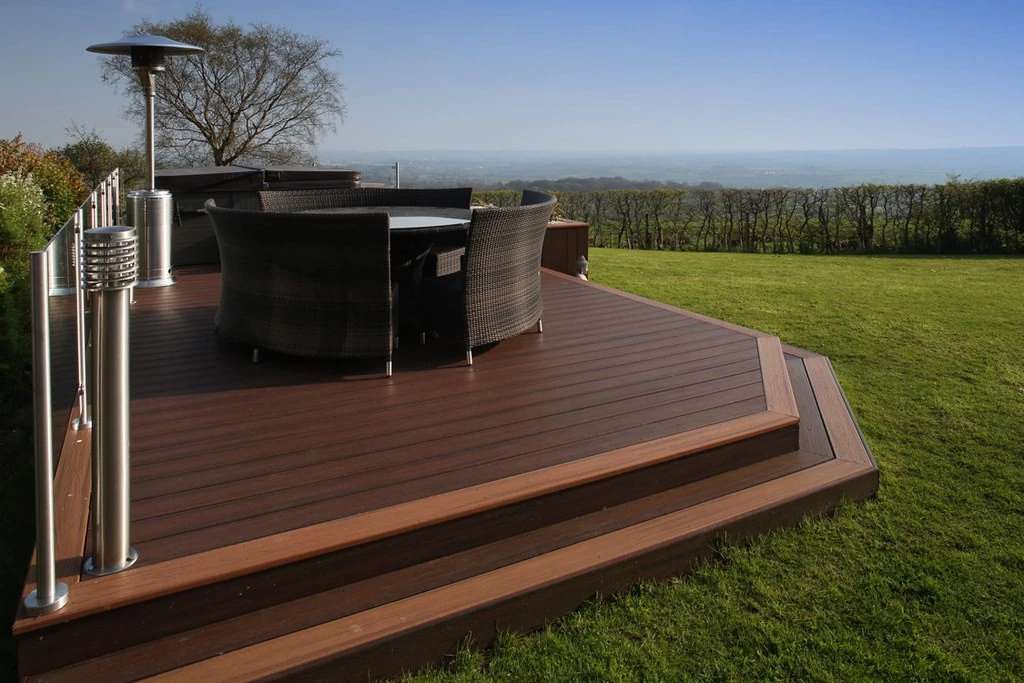 Yes, Brown Decking Goes Great With Bright Colors!
Neutral-toned brown composite decking can be a great backdrop for brilliant bursts of color. This multi-level brown deck benefits from bright white railings and even brighter turquoise deck furniture to create a beachy vibe -- even if you live smack dab in the suburbs.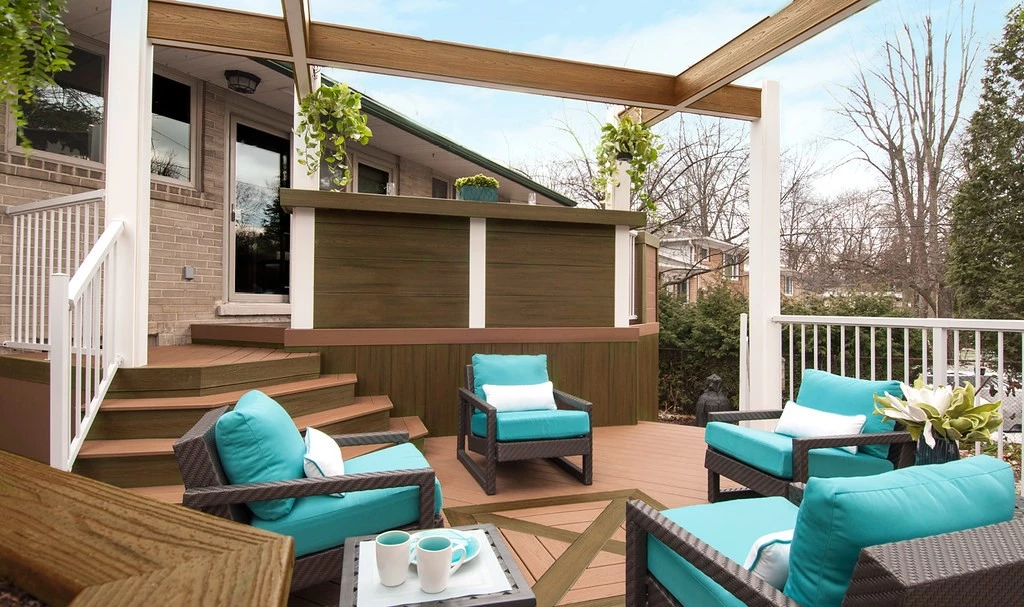 Use Simplicity to Offset Your Surroundings
Simplicity can be a beautiful thing. This deck has the one-two punch of a grand spiral staircase and a gorgeous waterfront view. Neutral brown composite decking laid in a simple, paralleled pattern doesn't compete for attention, but rather, it compliments these striking features with minimal design distraction.
---
Explore Articles by Topic
Explore Articles by Topic