Ready to Start Your Project?
You'll be redirected to Trex.com, our composite decking website.
Deck Stain Color Ideas & Inspiration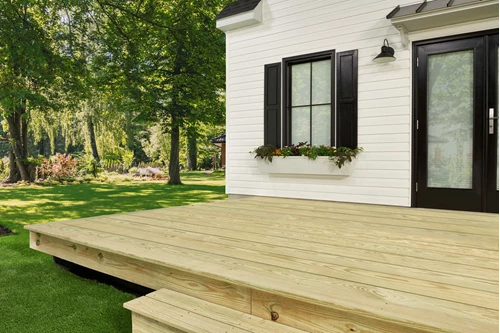 Deck colors can have a big impact on the overall effect your deck has on your backyard. They can help lend a sense of openness, warmth, and elegance. When choosing between wood and composite, both decking materials give you a wide variety of options. However, wood gives you the option to paint, stain, or restain your deck with different shades, giving you greater customization potential over the long haul.
Stain also plays a very important role in protecting your deck. Thankfully, it's not difficult to find a high quality stain, which allows you to focus more on aesthetic considerations with built-in protection. Whether you're looking to achieve a sophisticated urban vibe or something a little more traditional, mixing and matching the right color schemes can help you visually reinvent and redefine your deck. But since deck stain colors can be taken in so many directions, it can be a good idea to explore a few deck color ideas beforehand to learn more about your options.
Deck Stain Color Options
Natural
Staining a wood deck with coloration isn't always the way to go. Natural stain is typically transparent, or otherwise intended to specifically match the hues of the surface to which it's applied. It allows the natural beauty wood to shine through the protective layer of the stain, and with nearly the same levels of protection as colored stains. Going natural tends to be a good idea when the material you're using is new, or otherwise already has the coloration you're looking to achieve. 
Brown
Brown is far-and-away the most common coloration for decks -- and with good reason. As a neutral color, brown easily compliments most outdoor surroundings. Acorn, caramel, chestnut, cedar, chocolate – there are dozens of distinct shades within the brown color family. While cinder brown has cooler gray undertones, chestnut brown has richer warm undertones, each appropriate for subtly different environments. Browns also provide an almost limitless range of house and deck color combinations since they are well complemented by common colors like white, blue, yellow, gold, rose, and orange.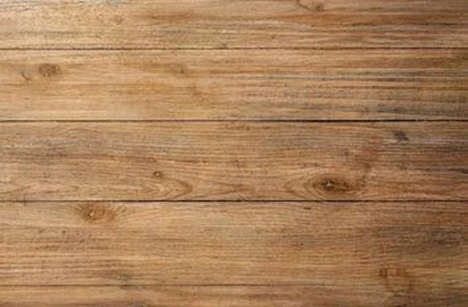 Blue
Blue outdoor wood stain stain isn't nearly as popular as brown when it comes to decking, but it adds a unique touch to an outdoor landscape. Deeply pigmented stains like blues still allow the beauty of the wood grain to come through. This versatile shade can also provide a quaint, rustic look. Much like the brown color family of decking stains, there are also a range of different blues, from deep sea to bright turquoise, from midnight blue to island sky. These tones each match exceptionally well with green, orange, and white in an outdoor setting. Try matching with white for a timeless coastal aesthetic.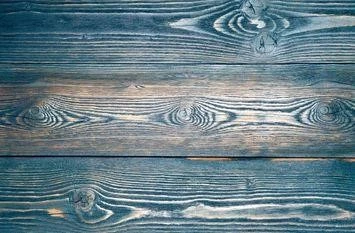 Gray
Similar to brown, gray is an inherently neutral color that allows it to blend into its environment and complement its surroundings with relative ease. Gray stains tend to be most popular among beach homes and other parts of the country that receive an abundance of direct sunlight because these colors fade more gracefully with weatherization, as well as remain cooler underfoot. However, gray isn't a very common option for wood deck stain colors when it comes to darker woods because the gray often doesn't stand out against those hues.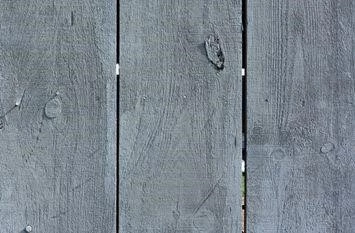 Green
Solid deck stain colors like green are far from neutral, but some of them can still be an attractive alternative to the classics. Green can create a seamless look with a well-maintained grassy yard. With hues ranging from avocado green to a rich brown-toned woodland green to a gray-green like sage, greens can be taken in many directions. Broadly speaking, stains within the green color family tend to match well with earth tones, especially browns and yellows.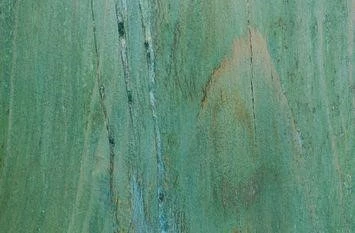 Red
Among the most vibrant modern deck paint colors, red deck stain stands out as a high-contrast option for people who aren't shy about their deck being a focal point of attention. Red stains range from sizzling firetruck red, to pinkish hues like coral white, to near-purples like raspberry sherbet. That makes these tones an ideal match for brick exterior homes and for homes with more of a Mediterranean flair. As far as color compliments go, outdoor stain colors like red can be paired with white, black, green, blue, and yellow to create a truly bold look.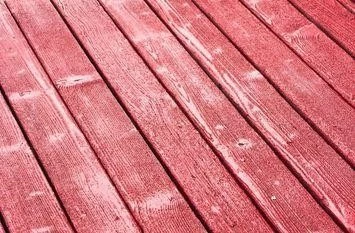 Deck Stain Color Opacity Options
Visually speaking, some deck stains are nearly as opaque as colored paint, leaving little-to-none of the natural coloration of the original material behind. Other times, deck stain opacity is virtually transparent, allowing you to maintain the appearance of your wood's grain, as well as all of the original coloration of the wood. There are also stains which split the difference, being somewhat opaque, but not entirely. However, the differences are only partially aesthetic:
Clear or Transparent
Transparent stains can maintain the original appearance of the wood grain to which it's applied. That makes it a good choice for a new, unstained surface that already looks great. If you're using brand new materials, then a clear or transparent stain might be the right choice. 
Tinted
Tinted deck stain is similar to semi-transparent, except the addition of coloration can bring a paint-like vivacity to the stain. Getting pigments to match your project can be tricky because, on a single natural wood board, you might find four different shades of brown. A tinted wood stain can help push all those colors towards a happy medium, giving a greater sense of uniformity.
Semi-Transparent
Semi-transparent stains provide an added hint of coloration while still keeping the texture of wood grain underneath. It's a compromise that allows you to keep most of the original coloration while aiming to restore a weathered deck to its original glory. Semi-transparent stain tends to be best for decks that are about five years old, helping to revitalize the wood without fundamentally changing its appearance. 
Solid
Solid stains are ideal for hiding imperfections brought about by weatherization and aging. Helping to provide a uniform appearance, these stains can do everything short of making cracks disappear. Revitalizing a worn down deck with a solid stain is usually most appropriate for decks that are at least ten years old and have an undesirable appearance.  
How to Choose a Deck Stain Color
Determining how to pick deck stain is mostly about knowing your priorities and which colors you need to match. 
Do you want to try and keep the original appearance of the wood as much as possible? 
Are you worried about fading or covering imperfections in the wood?
 How many imperfections do you need to camouflage? 
Do you also want to make sure your deck harmonizes with the color of your home and any existing trim or landscaping?
You'll also need to think about the type of wood. Softer, inexpensive woods are often best treated with solid or semi-solid stains, for purely practical reasons. And even when you start to narrow down the list of potential candidates, you'll want to make sure you try out your best options before dedicating yourself to one. 
Choose a Complementary Color
For achieving a harmonious color scheme, it's critical that whichever outdoor wood stain colors you end up selecting work well with their surroundings. For most deck layouts, your home is an enormous part of that decision. That means you'll want to coordinate the coloration of your deck with your home, as well as any area your deck overlooks. 
If you're not familiar, the color wheel is a simple way to help identify relationships between various colors. That includes not only pairings, but also combinations of three or more accenting colors. Depending on the approach you take, you can look to colors adjacent to your choice for a more tonal quality, or look to the color opposite your selection on the color wheel for a bolder, more contrasting pairing. You can also use the wheel as a cheat-sheet to identify analogous colors which are on the same "side" of the wheel, as well as optimal hues and tints within the same color family. 
Consider How Much Direct Sunlight Your Deck Gets
In an area that receives a lot of direct sunlight, darker deck colors will noticeably fade quicker. They'll also tend to get hotter underfoot because they absorb heat faster. Conversely, lighter colors tend to fade less noticeable and remain cooler through the heat. If heat and fading are of particular concern to you, you may want to opt for a cooler color scheme like light gray or tan.
Don't be Afraid to Test a Deck Color Out
The appearance of color heavily depends on its context – the colors and structures around it. It also heavily depends on lighting conditions. If you're viewing a color swatch online, it's worth knowing that most digital displays aren't intended to reproduce a truly realistic coloration. In short, there's simply no substitute to testing out the deck colors that interest you. You'll need to strip the color from the areas you test after you've made your decision, but the certainty is worth the extra effort. 
Learning how to choose a deck stain color is a good start, but there are a lot more design elements to consider than color alone. If you're trying to make all the right choices, try out our deck designer tool or find a retailer who has the color choices that most appeal to you.
---
Explore Articles by Topic
Explore Articles by Topic