Ready to Start Your Project?
You'll be redirected to Trex.com, our composite decking website.
Herringbone Decking Pattern
There are many interesting and creative ways to apply decking. A zipper pattern involves the intersection of two opposing diagonal decking patterns that combine in the center of the deck in a staggered orientation to present the appearance of a zipper. A hearing bone is a similar pattern that meets without the alternating zipper effect. An octagon can be decked as an offset pattern that follows the shape of the frame. We have even seen parquet deck floors installed by using squares that alternate decking direction.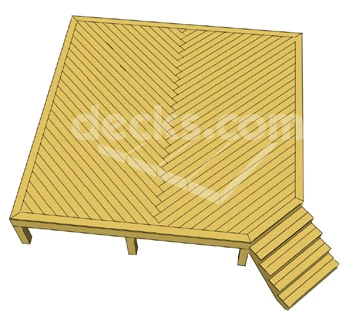 Any of these patterns will require you to add blocking to the frame below the pattern to provide support and a solid surface to fasten to. When using composite decking you may consider using contrasting colors to add emphasis to the effect. Try to avoid working with small pieces of decking as a part of your design. Butt joints and miter cuts can separate over time and small pieces can loosen and fall out.
---
Explore Articles by Topic
Explore Articles by Topic