Ready to Start Your Project?
You'll be redirected to Trex.com, our composite decking website.
Deck & Patio Furniture Buying Guide
As an Amazon Associate, Decks.com earns from qualifying purchases from the links in this post.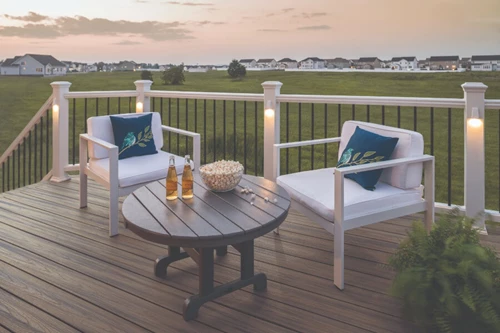 Given the time and money spent to create a gorgeous outdoor deck, it's worth the extra effort to outfit it with furnishings to make it a space you'll enjoy for years to come. While your deck itself is timeless, your outdoor furniture can change with the times and trends, giving you more design flexibility and a greater return on your investment. 
In this outdoor furniture buying guide, we'll arm you with patio furniture buying tips and how to take your deck's aesthetic from "meh" to "magnificent." Let's get started!
What To Consider When Buying Deck & Patio Furniture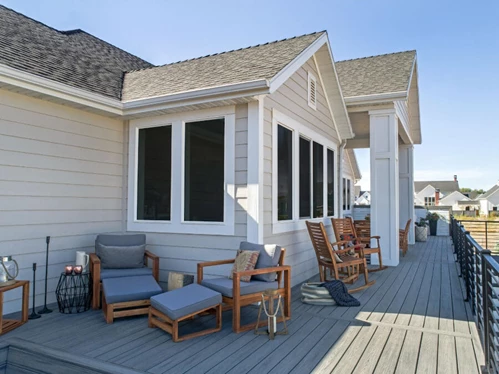 The same way you followed a plan to build your deck, it's just as important to make a plan to furnish and decorate your deck. Planning ahead will allow you to be more purposeful with your space, envision the look and feel you want from your decor, and stick to a budget. Here are a few tips to consider when purchasing patio furniture:
Evaluate your space: Do you have a large, multi-level deck? Or a smaller, single-slab patio? The size of your deck will play a role in the type of furniture you select so it doesn't feel either too cramped or too spare. For instance, if you have a smaller deck and plan to entertain, consider bench-style seating with built-in storage that can nestle against the perimeter of your deck. This can leave you with plenty of space to grill and a clever way to store plates and utensils outside. On the flipside, a larger deck will allow you to find ways to section it off for different activities. In this scenario, your challenge will be to find ways to give those different sections a cohesive feel. 
Functionality: How do you plan to use your deck? Do you want to entertain friends on the weekend? If so, you'll need plenty of seating and a cooking area. Is your deck situated around a pool? If so, think about deck furniture that incorporates storage features for towels and pool toys – as well as lounge chairs and a patio umbrella for shade. Or do you prefer to enjoy quiet time outdoors on your deck? Think about comfortable seating with cushions in a fabric that can withstand the elements, or even a cafe-style table-for-two to enjoy your morning coffee. Understanding how you plan to use your space will help you more clearly envision the furniture you'll need to create that ambiance.
Aesthetics and Style: Your deck is an extension of your home. No doubt, you chose railings, lighting, and even the color of your decking to compliment the exterior of your home. Well, your deck furniture should also compliment your deck and home, too. Think about colors that will work together, design styles, and accents. Tastes may change, but patio furniture itself can be timeless. You can always switch it up with different throw pillows and outdoor area rugs – so don't feel you're locked into a single style forever!
Budget: Consider how much cash you have to spend to furnish your deck. Assessing your space, how you plan to use your deck, and the furniture must-haves on your list will help you determine where to spend the bulk of your budget, and where you can bargain hunt for other, less-necessary items.
Materials for Outdoor Patio Furniture
Your deck furniture will be exposed to the elements for prolonged periods of time. Purchasing sturdy, yet comfortable furniture will ensure that you get your money's worth for years to come. Keep in mind that "sturdy" does not mean sacrificing style. Outdoor furniture comes in a variety of materials that can compliment any aesthetic. However, each has their own pros and cons to consider. 
Some of the most common materials for outdoor patio furniture include:
Composite:

Pros: Similar to how composite decking offers the look of natural wood without the burden of upkeep, composite deck furniture is also available in a variety of different finishes and is resistant to mold, mildew, rot, and wear-and-tear from the elements. Lightweight-yet-sturdy, it's easy to clean with just simple soap and water and can merge seamlessly with nearly any aesthetic sensibility.
Cons: Composite patio furniture can be more expensive than some types of wood. However, it requires less of a time investment to maintain.
Plastic and PVC:

Pros: Among the most inexpensive outdoor furniture options, these lightweight materials give you a range of colors to choose from and are typically low maintenance. In terms of upkeep, you'll only need to use simple soap and water – and occasionally spritz your furniture with a mildew-preventive cleaner. Plastic and PVC furniture are lightweight and are easy to stack, saving you storage space when it's time to tuck away your deck furniture until next season.
Cons: While some plastic and PVC furniture can look comparable to high-end teak wood furniture, other pieces can look cheap. Another downside is that, although lightweight, plastic and PVC furniture can blow over during heavy winds or storms.
Steel:

Pros: Steel furniture is highly durable and, if well-cared for, can last a long time. It's relatively easy to maintain, only requiring an occasional rinse with soap and water. Unless you opt for rust-resistant stainless or galvanized steel furniture, you may want to periodically apply a protective solution to keep corrosion at bay. Some steel furniture already comes powder coated, offering you added protection and more color options. Because of its sturdy construction, steel is hard to damage and won't budge when heavy winds kick up.
Cons: Steel outdoor furniture is among one of the more expensive options. It's also heavy and difficult to move. Another downside is that steel furniture absorbs temperatures. So, it can get hot to the touch in warm weather, or a chilly place to sit during cooler months. If you opt for steel, consider adding high quality cushions and armrests.
Wrought Iron:

Pros: Wrought iron is another sturdy option that looks gorgeous and can elevate your deck's style profile with its gracefully curved designs. If you've ever wanted the feel of a Victorian tea garden in your own backyard, wrought iron can help bring your Bridgerton fantasies to life! Wrought iron is sturdy and long-lasting, especially if well-maintained. Plus, its weighty construction makes it durable and it will not move or blow over in harsh weather. 
Cons: Wrought iron is among the more expensive options for outdoor furniture. And, without proper maintenance, it's susceptible to rust – especially if used outdoors in areas with heavy snow and rainfall. To maintain, apply a weather-resistant coating and regularly clean it with mild soap and water. Use a scrubbing brush to get into some of the smaller swirls and decorative areas. You'll also want to apply paint to any scratches or rusty areas to help prevent further corrosion. Another downside to wrought iron is that, like steel and aluminum, it will respond to temperatures and get either very hot or very cold to the touch, depending on weather.
Aluminum:

Pros: If you like the look of steel and wrought iron, but don't want heavy, difficult-to-move deck furniture, aluminum can give you some of that functionality in a lighter weight. Aluminum is also rust- and fade-resistant and easy to maintain, requiring only periodic cleaning with soap and water. Most aluminum deck furniture is powder coated, which not only enhances its durability and resistance to the elements, but also gives you a wider variety of colors to choose from. 
Cons: Aluminum is lightweight, which is great if you plan to move it from one place to another on your deck. However, if you live in windy areas, it can blow over more easily than sturdier options like steel or even wood. Additionally, like steel and wrought iron patio furniture, its surface can get hot or cold depending on the weather.
Wicker:

Pros: If you've ever watched an episode of The Golden Girls and envied their lanai, wicker furniture is an eye-catching option that can give you the feel of sunny Miami no matter where you are. Fortunately, wicker and rattan furniture made from natural materials are less susceptible to warping and rot. Adding a fresh coat of paint or lacquer every year can help improve your wicker's resistance to mold and water. Apart from that, it's relatively low maintenance and only requires infrequent cleaning with mild soap and water. Although it's lightweight, wicker outdoor furniture is far sturdier than its intricately-woven construction might lead you to believe at first glance. 
Cons: Due to its intricate craftsmanship and natural materials, wicker furniture can be one of the more expensive options for deck furniture. Although it's relatively low-maintenance, you'll still need to inspect your wicker furniture for any loose weave or unraveling of the rattan. Not only can this compromise its structural integrity, but it can poke you when you walk past or sit down. On its own, wicker furniture might not be very comfortable, so be sure you've reserved enough budget to invest in comfy cushions and throw pillows in a weather-resistant fabric.
Wood:

Pros: Wood is always a classic and capable of working with any aesthetic. Renowned for its solid construction, wood furniture can last for many years, if properly maintained. Certain types of wood, like teak, are naturally water-resistant. Other varieties – like cedar, redwood, and cypress – are naturally rot-resistant. However, if you opt for a less expensive wood, it's important to practice good maintenance to preserve your gorgeous outdoor furniture. 
Cons: Wood deck furniture, depending on materials used in its construction, can be among the most expensive options. Even the most rot- and water-resistant wood furniture still requires regular upkeep. Investigate the type of lacquer, oils, and preservatives you'll need to keep it looking its best before purchasing a specific type of wood. Additionally, keep in mind that wood can split and splinter– nothing is worse that sitting down and getting rewarded.
Patio Furniture Sets
Your aesthetic and the size of your deck will help you narrow down your choices for the best outdoor dining sets for your patio. For smaller-sized patios, a small bistro table with two chairs can offer a cozy, elegant option. Mixed media outdoor bistro sets – like this tile-and-metal table and chairs – offer a Mediterranean vibe, while a simple wood bistro set adds more rustic flavor to your deck.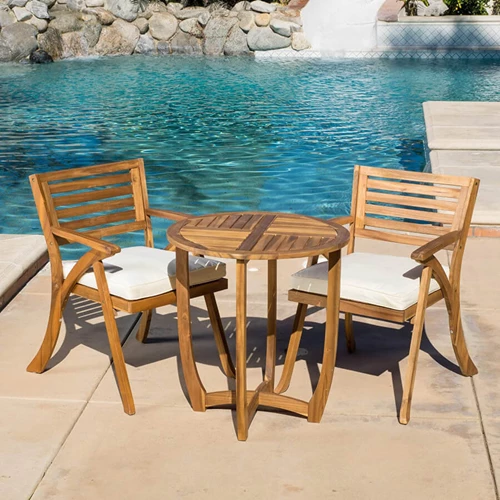 Want something to fill more space – or a larger table to entertain more guests? There are virtually endless choices of outdoor dining sets that can seat four or more!
An extendable outdoor dining set features drop leafs that allow you to comfortably seat between six to eight people. Even if you're tight on space, a smartly-designed set of rattan barstools with a matching high-top offers elegance and economy of space. Especially since it's equipped with built-in storage for your favorite beverages and mixers.
Remember: Even if an outdoor dining set seems a little plain, you can always punch it up with colorful cushions or add a vase or potted plants to liven things up. Consider cost, materials, and how you plan to use it when choosing an outdoor dining set.
Outdoor Patio Chairs
Patio chairs and seating are one of the most valuable and versatile additions to your deck in terms of furniture. You'll want chairs that are comfortable, durable, and stylish. 
If you plan to use your deck for sunbathing or drying off after a dip in your pool, a chaise lounge can be a great choice, allowing you plenty of room to stretch your limbs. However, if you'd prefer to take it easy on your patio and kick back with a good book and a cold beverage, nothing beats a rocking chair. While traditional wood rocking chairs can lend your porch or patio rustic charm, there are also colorful options that allow you to add a pop of color and a more modern twist on a timeless classic!
Adirondack chairs are another popular choice. These deck chairs have wide armrests – perfect for balancing a plate of BBQ or a refreshing drink – as well as a gently sloping structure that supports your lower back. Adirondack chairs come in a variety of materials – from wood to plastic to durable composite – and an endless array of colors, offering you both style and comfort in a single seat.
Patio Tables
Even if you don't have room for a large dining table, your patio can benefit from a few smaller, well-placed outdoor tables. Similar to indoor accent or end tables, outdoor patio tables come in a variety of heights and sizes to suit any space or need. 
For a quaint-yet-colorful bistro feel, consider a glass top garden end table that's as pretty as it is practical. If modern minimalist is more your style, a white Adirondack-style outdoor end table might fit the bill. Similarly, if you want something a little more rustic – but still truly unique, opt for a tree stump-shaped end table in ultra durable concrete for a back-to-nature vibe.
Deck Pergolas
An outdoor deck pergola can be the perfect addition that affords you both style and shade. While there are a plethora of ready-made pergolas available for purchase, learning how to build a deck pergola can be an option for DIY-ers who want to add a more personalized touch to their outdoor space. 
If you'd prefer a ready-made version, there are quite a few inexpensive pergolas available that are attractive and functional. This version, with its stainless steel frame, is priced at below $300 and has a retractable canopy shade. There are, however, larger and more extravagant options in different materials to add character. For instance, this pitched-roof cedar pergola with an insulated steel roof that stands up mightily to the elements!
These options all require assembly and installation - if attempting to do it yourself, you should expect to spend at least a couple of hours and have a friend or family member on hand to help!
Outdoor Furniture Accessories
While your outdoor furniture itself will be the backbone of your deck decor, your accessories can help enhance your aesthetic and give your patio creative touches. You can also change up your accessories – such as colorful patio umbrellas, cushions, throw pillows, and outdoor area rugs – every few years for a trendier look, or if you just want to breathe new life into your deck. Look for waterproof fabrics and materials that are made with outdoor use in mind. 
Outdoor textiles aren't your only option to add a pop of color or create a pleasing palette! Planters and potted greenery can make your deck even more welcoming and in-harmony with the great outdoors. Simple flower boxes can be beautiful additions to a multi-level deck, while a trellis-style planter can give ground-level decks and patios an opportunity to add climbing vines and veggies into the mix!
Get Started with Choosing Patio Furniture Today
The right patio furniture can help you get even more enjoyment from your deck and complement your design. When choosing your deck furniture, keep in mind the size of your deck, your budget, and materials that will work well for your needs. Start saving those ideas to your Pinterest board or Amazon cart now!
Additional Outdoor Furniture and Accessories Inspiration
Not sure where to begin? Check out some of our best-of picks for more inspiration:
This page contains affiliate links. If you choose to purchase after clicking a link, Decks.com may receive a commission at no extra cost to you.
---
Explore Articles by Topic
Explore Articles by Topic