Ready to Start Your Project?
You'll be redirected to Trex.com, our composite decking website.
Deck Patterns, Layouts & Design Ideas
Adding decking patterns to your deck design can add a splash of style. Consider these options when planning your deck. In most cases, this will require a little extra material.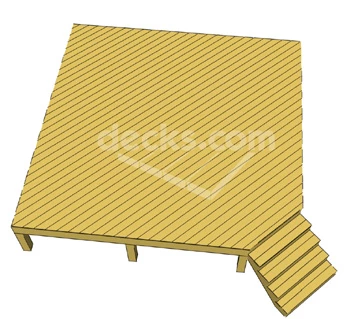 Diagonal Decking:
The technique entails installing decking at a 45-degree angle across the joists. Using diagonal decking increases the strength of the deck frame, which prevents racking and makes installing sway bracing unnecessary. Depending on the decking material you are using, you may need to reduce your joist spacing to 12" on center to help support the diagonal span. Some deck builders will tell you that applying decking diagonally will increase your waste factor by 15 percent. We believe you can do much better than that with some planning. However, more labor is involved because this technique requires you to make more cuts.

It is usually best to start with the longest board length from a corner and work off of both sides. It is important to square the decking in order to maintain a consistent angle across the surface. You can allow the ends of the boards to hang over the frame until the end so you can use a single pass with a circular saw to achieve a consistent edge. Diagonal decking adds a distinct character to your deck and can emphasize a view or affect how people move through the space. For decks that are over 20' wide, you should consider applying your decking diagonally to minimize butt joints.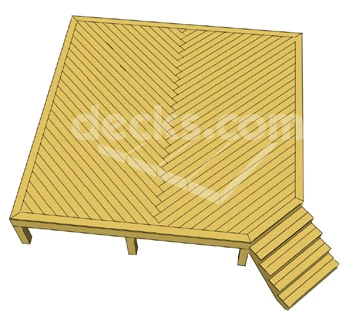 Herringbone Decking:
There are many interesting and creative ways to apply decking. A zipper pattern involves the intersection of two opposing diagonal decking patterns that combine in the center of the deck in a staggered orientation to present the appearance of a zipper. A herringbone pattern is a similar pattern that meets without the alternating zipper effect. An octagon can be decked as an offset pattern that follows the shape of the frame. We have even seen parquet deck floors installed by using squares that alternate decking direction.
Any of these patterns will require you to add blocking to the frame below the pattern to provide support and a solid surface to fasten to. When using composite decking, you may consider using contrasting colors to add an effect. Try to avoid working with small pieces of decking as a part of your design. Butt joints and miter cuts can separate over time and small pieces can loosen and fall out.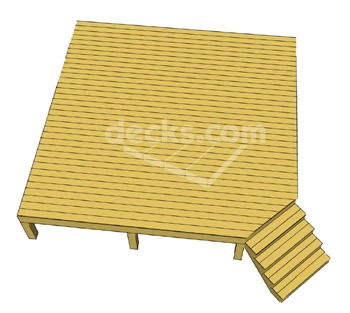 Horizontal Decking:
Applying your decking horizontally is usually the easiest method for finishing a deck's surface. Before you get started, you will need to install sway bracing to protect the deck from racking. You can then proceed to lay your deck boards parallel to the house over the joists. Deck boards should be fastened at every joist by two nails, two screws, or some kind of hidden fastener system. Make sure your fasteners are the correct size and compatible with the decking material you're using.

If your deck is less than 20' wide, you should be able to finish the deck without any butt joints or splices. However, if your deck runs longer, you will want to splice the deck boards over a joist. You may want to stagger the butt joints as best you can in different positions to reduce their visibility or use a division board to control or concentrate them in one logical location. Wood deck boards are usually available in 2' increments while most composite decking materials are limited to 12', 16' or 20'. Depending on the width of your deck, this could result in a large amount of wasted material. Plan for efficiency and you will save yourself some money at the end of the project.
Decking Inlay:
Installing a decking inlay is a creative way to add some flair to any deck project. Use a combination of contrasting colors, angles and shapes to make a statement. We have seen some beautiful examples of octagons, compass roses and even curved designs. However, inlays are challenging, time consuming and require a lot of wasted materials. Plan ahead to save yourself some frustration. Curved inlays are very difficult to build even for professional builers. Find a pattern that is attractive and practical to build.

Decking inlays always require a lot of vertical blocking in between joists because most decking materials can only overhang 3" beyond a joist. Attention to detail is important because every cut will be on display. Also, remember that small pieces are more difficult to install and more likely to loosen, separate and fall out over time.
---
Explore Articles by Topic
Explore Articles by Topic