Ready to Start Your Project?
You'll be redirected to Trex.com, our composite decking website.
10 Ideas for Reusing Leftover Decking Boards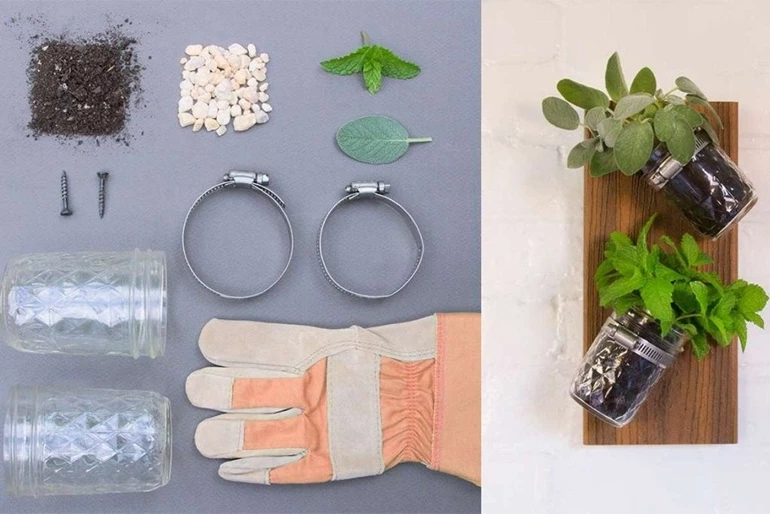 Ever wonder what to do with your leftover composite decking boards? You could always save them if you have to replace a damaged board, there are more immediate uses for these leftovers that can add charm and functionality to your home and backyard.
Here are 10 ideas for leftover composite decking boards and how you can get creative. They range from simple uses suitable for even beginner DIY-ers to create to more advanced projects that require a bit more know-how.
How to Repurpose Leftover Composite Decking & Offcuts
After completing a large project, it's quite common to end up with leftover composite decking. Maybe you ordered a couple extra boards to prepare for mistakes but never ran into problems. Or maybe you have a few spare sample boards lying around, or scraps leftover from offcuts. In any case, with the aid of a few leftover composite decking ideas to help inspire you, it's easy to turn those spare materials into fresh new ways to enhance your deck and its surrounding area.
In fact, ideas for leftover decking boards span from highly utilitarian privacy barriers and seating options to purely aesthetic additions like garden planters. But whatever your needs are, determining what to make with leftover composite decking is much easier when you're aware of your options, which can largely depend on how many spares you have remaining.
Window or Planter Box
Plants can be great for accenting an area with natural features. And by allowing you the freedom to swap between different styles as the season's change, window boxes and planters can be one of the most versatile ways of dressing up an outdoor space. Better still, figuring out how to build a planter from decking boards just involves some simple preparation. You'll need a tape measure, saw, drill, and some safety glasses.
Based on the materials you have available, it's easy to determine the size of the deck board planter box you want to make. Then you mark and cut your boards to size, and line the base with landscaping fabric to protect against moisture. Planter boxes made from composite decking can be particularly resilient to moisture, but the fabric is still a good idea because it can be beneficial for drainage and root health.
Garden Furniture or Bench
If you want to make garden furniture from decking boards, then you'll need more than one or two spare boards. Especially if you end up choosing a design with back support, or something of considerable size. Depending on your layout and need for additional seating, you generally don't need that much scrap to put together a simple bench -- especially if you have a few smart bench ideas to start with. However, keep in mind that other types of decking furniture typically involve more detailed planning or additional specialized materials.
Birdhouse
Few things exemplify the beauty of nature more than wildlife, and you can encourage some friendly visitors to come near your deck with the aid of a well-placed birdhouse. Best of all, a birdhouse can be put together from just one board. The most basic design involves four sides of equal measure, a base, and an equally sized roof. The final touch you'll need to add is an entry hole, which is a relatively easy 2" diameter cut with a miter saw. You won't have to worry about maintenance because much like your deck, a composite deck board birdhouse will hold up marvelously against the elements.
Privacy Screen
Whether blocking the prying eyes of neighbors or trying to visually delineate one area of your yard as separate from another, creating a privacy screen from leftover deck boards can work wonders. Partial enclosures are fantastic at helping create a distinct sense of space, and it's quite simple to learn how to build a deck privacy screen.
In fact, simpler designs can incorporate as few as four upright posts, allowing you to cover with boards or plants, placed vertically, horizontally, or at an angle as desired. However, you may need to review building codes for your region to ensure the screen meets regulations for the height and attachment of the screening boards, especially if you're part of a homeowners association.
Corn-Hole Set
Buying professional regulation corn-hole boards can cost upwards of $300. But with very few modifications, you can make your own fair and functional corn-hole board using hardly more than a couple of spare boards. As far as outdoor entertainment goes, this is easily one of the better ideas for scrap composite decking.
A regulation set will need a 48" x 24" rectangular frame with a 1/2" thick surface. You'll also need to cut legs, so the back of the platform can rise 12" off the ground, while the front stands between 2.5" and 4" in height. That only requires around four or six cuts, provided you have enough spares. You'll also need to secure a few washers and wingnuts to attach the legs securely and safely.
Shelving
For low-effort, high-reward projects, very few can compare to shelving. Even a few spare boards can be crafted into stylish and functional shelving. The amount of shelving you can create is really only limited by how many leftover deck boards you have, as well as your need, space, and ideas for shelf placement.
Two of the best routes to consider are freestanding designs and wall-mounted shelving designs. This shelving can be an addition that complements your décor, serving as a spot to place potted plants or seasonal ornaments – or a practical platform for necessities.
Outdoor Bar or Kitchen
Figuring out what to do with leftover deck boards is much simpler if you're willing to consider adding a couple of new supplies to your project. For instance, putting together your own outdoor bar can be a great way to create a convenient space that adds to your ability to entertain guests on your deck. However, keep in mind that a project of that size is generally going to take more than a couple of spare boards.
Likewise, an outdoor kitchen is an excellent way to create a community activity or a convenience, potentially delivering a superior experience while using your deck. Adding an outdoor kitchen can be as simple as building an area to prepare or store food, or as elaborate as installing a running sink or refrigerator.
Bottle Opener
For a small leftover composite decking idea, where you only have a couple of pieces of scrap, a bottle opener can be a great addition to any deck where drinks may be served. You can put together a simple DIY bottle opener with as little as a quarter of a board.
You'll need to cut a recessed slice out of the top half of the board to help provide space for the cap. You'll also need to embed a washer or a coin in the board to provide the rigid surface from which you'll press off the bottle cap. With a good piece of scrap, no extra work is necessary. These simple designs can be made more elaborate with varnish or coloring, and then mounted or hung anywhere you might need a bottle opener.
House Number Sign
It can be harder to figure out what to do with leftover decking boards when you're working with small pieces of scrap. Even for relatively small pieces of board, there are always a few clever DIY hacks for deck samples, like making your own house number sign.
While you can get a house number sign from any home goods store, you'll generally end up with something everyone else has. With only modest dexterity and a miter saw, you can slice together small pieces of scrap into a personalized house number sign with character and originality.
DIY Swing
Though this can be one of the more complicated ways to repurpose leftover deck boards, it can also be one of the most rewarding. Having some outdoor fun on a swing set is a favorite activity of kids (and some adults!). Best of all, the core component of a good swing is no more than a couple of sturdy boards with a pair of holes drilled on either end.
It's fairly inexpensive to get your hands on a rope or chain with enough tensile strength to support an adult. Depending on how you approach the project, you may also have to build a simple support structure, which may include roughly three additional beams and a little bit of digging.
Get Inspiration for Your Next Decking Project
With a little creativity and inspiration, raw materials can be turned into any number of home improvement projects. Small flourishes, like adding a bottle opener or a custom number sign to your house, can go a long way
If you're thinking of adding a new deck to your home that will help you enjoy your property and make a lifetime of memories, the first step is to find a retailer to show you the depth of deck customization that's possible to serve as inspiration.
---
Explore Articles by Topic
Explore Articles by Topic