Ready to Start Your Project?
You'll be redirected to Trex.com, our composite decking website.
Questions To Ask Your Deck Contractor
The quest to find the right contractor to complete your decking project can feel overwhelming and stressful. However, it's certainly possible to track down the right contractor for the job and get the information you need about each of your prospects before making the decision.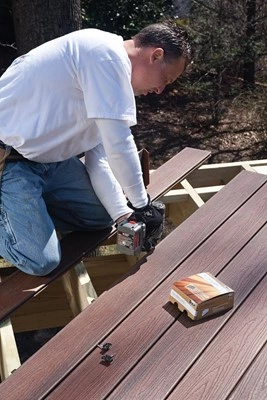 Asking the right questions of a deck contractor up-front can help to narrow your search, as well as help you choose a contractor whose work style is in line with your desired end result. Hiring can be complicated, so it also helps to learn what to expect when working with a contractor, and to figure out where to find a builder. But what are some questions you might want to ask a contractor at an interview?
Here are a few questions to keep in mind when you're interviewing prospective contractors to complete your decking project.
Are you licensed and bonded?
Working with a licensed contractor provides you with opportunities for legal recourse if their work turns out unsatisfactory or incomplete. Ask if they have a surety bond to insure against disputes and get a copy before signing any contracts. Differences in state law mean bonds are not always necessary to protect you from work you don't feel is up-to-par, but failure to produce claimed or required credentials is a big warning sign.
Are you insured?
To protect both the homeowner and the contractor, it's considered a best practice to choose someone who has general liability insurance. Ask your contractor to provide proof of insurance, and find out if their coverage includes all of their employees that will be working on your deck.
What types of decks do you specialize in?
Some contractors may not have half a decade of work experience but are still adept craftsmen. Asking about brand preferences for materials and tools can speak volumes about the quality of their work. It's also worth finding out about their prior experience with the specific materials you have in mind for your deck. Have they worked with composite decking before? Wood or vinyl? Learning about what they feel comfortable working with can help you determine if they are a good fit for your ideal project.
What do you recommend for my project?
While you may have an idea in mind for the look of the deck you want, it's often useful to get an outside perspective. Consider asking for advice on anything from material selection to style. Any experienced contractor should know about the advantages of different materials and how well they work in different environments. They should also have a sense of when those materials might look out of place either alongside your home or within your backyard.
Can I see a portfolio of completed projects or references?
If you're trying to get a pulse on the quality of a contractor's body of work, looking at their past successes is one of the best ways to gauge a builder's ability to complete your project. Ask if they've completed similar projects in the past and ask for examples. You might also want to ask for references and speak with prior customers to hear their account of how smooth things ran while working with the contractor. For instance, if you have a friend or neighbor whose deck you love, ask them about their experience with the contractor who built it, if they happened to have commissioned the project.\
How do you handle unexpected problems?
Although this is often one of the most overlooked questions, asking a prospective contractor about how they handle unforeseen difficulties is a great way to avoid finding yourself in a worst-case scenario. Learning about how a contractor has handled issues in the past can help give you a hint as to how they might handle a future problem. Ask about a specific instance where something went wrong and find out what they did to resolve the situation. Hearing about the way they approach a potential setback can help you feel more at ease with how they may respond should the worst-case scenario happen with your own project.
Can you estimate the time required to finish the project?
Timelines allow you to establish milestones for the project, which can help keep everyone accountable. Ask if the contractor is able to commit to the timeframe they've provided. You may also want to know if it's possible to structure pay around project milestones. Start dates can typically be counted on, but firm completion dates are sometimes out of the contractor's control -- such as unexpected weather conditions or delays in material supply.
Is a permit necessary?
Among the most fundamental of all deck building questions, any licensed contractor should know when permits are required for your project. (And in most cases, permits usually are required.) While it's often a good idea for homeowners to handle their own permits, contractors sometimes offer permitting services to make things simpler.
Do you require a deposit?
Most contractors will require some kind of upfront deposit to cover the price of materials. It's usually around a quarter of the cost of the project; anything higher than half of the contract amount would be considered unusual.
Preparing yourself with several contractor questions to ask at an interview is a great starting point, but hiring the right person will often take more preparation. To come prepared, learn more about finding the right contractor with our planning articles, or start to narrow down your selection and find a qualified local contractor.
---
Explore Articles by Topic
Explore Articles by Topic