Ready to Start Your Project?
You'll be redirected to Trex.com, our composite decking website.
The Best Outdoor Rugs to Buy
Ever hear someone say, "that rug really pulled the room together?" Indoors or outdoors, rugs can help divide a space, draw the eye to a new focal point, provide a sense of personality, and even protect surfaces from scratching. In short, they can help outdoor spaces feel more like indoor spaces, which is part of the reason why rugs can be an integral part of patio design and deck design.
Although indoor rugs have a reputation for being quite expensive, a majority of outdoor rugs are quite reasonably priced. The best outdoor rugs are usually made from synthetics and require little maintenance, which means you're often able to focus less on the finer details and more on aesthetic concerns. With that said, below you can learn more about selecting the best indoor outdoor rugs.
Disclosure: As an Amazon Associate, Decks.com may earn from qualifying purchases from the links in this post.
Best Overall Outdoor Rug: Patio Country Calla
The best outdoor rugs have to meet a lot of criteria, and the Patio Country Calla hits just about all of them. For starters, this rug is available in four sizes, mostly suitable for smaller and medium sized spaces. The gray/black version gives high contrast, which helps the rug stand out. Conversely, the blue/grey is muted and calming, which is intended to blend in. It's among the best indoor outdoor rugs in-part because the style appears so much like something you'd see indoors, but still has a fairly high degree of outdoor ruggedness.
The material has a non-shedding design that won't make a mess as it wears, the coloring is UV fade-resistant and stain-resistant. Cleaning is no hassle and can generally be done with a garden hose. Except this rug doesn't actually dry that quickly, so if you're in an area with frequent rain, you may eventually end up with some water-stains.
Find this rug on Amazon.
Best Budget Outdoor Rug: nuLOOM Lefebvre Braided Accent Rug
The best budget outdoor rug has to be flexible enough to work well in a wide variety of situations. This is a nearly perfect description of the nuLOOM Lefebvre Braided Accent Rug. Between ten size options and three options for shapes, these are among the largest yet most economical rugs on the market. There's also a deep range of color options that help nuLOOM stand out. Aqua, charcoal, ivory, light blue, light grey, pink… they offer a variety of colors appropriate for nearly any environment and style.
The material is polypropylene, which is one of the most common materials for an inexpensive outdoor rug. However, one of the few drawbacks of this indoor/outdoor design is that the bottom does not have much of a non-slip surface. Unless it's pinned under something, it has a tendency to move around as foot traffic wanders across it continually. In a high-traffic area, that could become an issue.
Find this rug on Amazon.
Best Outdoor Rug for Pets: Santex Single Layer Outdoor/Indoor Plastic Rug
The olive green coloring of this outdoor pet rug may or may not be your cup of tea, but the unidirectional pattern clearly draws the eye in one direction. It also has many qualities that make it one of the best outdoor rugs for pets. The weaving pattern of the material allows for what could be called above-average durability relative to its cost, and maintenance is as simple as spraying the rug down with a hose and brushing it clear of debris.
This rug's material is only modestly resilient against UV rays, which means over time you can expect some fading. Another downside is that there aren't any non-skid pads included, so you'll need to think about pinning down the rug or adding pads.
Find this rug on Amazon.
Best Reversible Outdoor Rug: SAND MINE Reversible Mats
Finding the best reversible outdoor rug is tricky because there are so many different things you might look for in a rug, but SAND MINE Reversible Mats are certainly in the running. Color options are slightly limited but tasteful, including black/white checkerboards/lattice, black quatrefoil in brown/ black or black/grey. Naturally, the reversed pattern is the color inverse of the pattern displayed on the top.
The low pile height of the rug prevents it from absorbing dirt and debris like thicker shag carpeting would. Additionally, the rug's edging was designed to resist graying. Cleaning it is pretty much as simple as brushing it down or hosing it off. Moreover, the breathability of this material, due to the way it's been woven, helps it to dry fairly quickly. That can make this a nice choice for areas with a high frequency of rain. If there's one downside to this rug, it simply doesn't fold-up that well.
Find this rug on Amazon.
Best Outdoor Rug for Rain: House, Home and More Heavy-Duty Ribbed Indoor Outdoor Carpet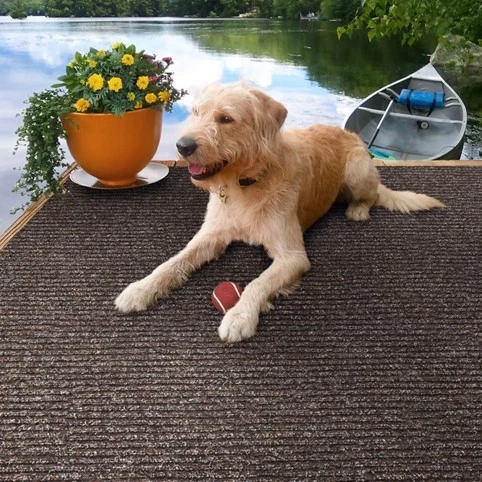 The House, Home and More Heavy-Duty Ribbed Indoor Outdoor Carpet is on the higher-end of the price spectrum for an outdoor rug, but it holds up well under the elements. The best outdoor rug material for rain will depend on more factors than weather. You'll need to think about the surface the rug is being placed on, and whether or not you're concerned with added grip.
Making use of a neutral Tuscan brown, this rug blends well in nearly any environment. The ribbed carpet provides excellent traction on both sides, while also being surprisingly good at trapping dirt and mud. Just about the only thing to dislike is this carpeting is fairly heavy, weighing upwards of 25lbs.
Find this rug on Amazon.
Best Outdoor Rug for Composite Decking: Gertmenian Nautical Tropical Outdoor Patio Rug
The Gertmenian Nautical Tropical Outdoor Patio Rug offers more than a dozen style options, as well as quite a few size variants. As imports from Belgium and Turkey, the aesthetic has a distinctly cosmopolitan quality. The asymmetrical starfish or palm leaves patterns are ultimately a matter of taste, but the neutral color options work well for most spaces.
But what really helps these rugs stand out as among the best outdoor rugs for composite decking is how well the quality matches its mid-range price. The material is polypropylene, and as with any of the best rugs for composite decks, this rug is safe for composite decking and can help prevent scratches. However, if you're looking for the best rugs for Trex decking you may want to learn more about choosing a rug for your composite deck.
Find this rug on Amazon.
Best Outdoor Rug for Concrete Patio: Green Decore Weaver Outdoor Reversible Rug
The best outdoor rug for concrete patio doesn't necessarily need a fantastic gripping surface on the bottom, and you may be less concerned with scratching. With those things in mind, the Green Decore Weaver Reversible Plastic Outdoor Rug can be a great choice.
Its pattern is simple enough to work with nearly any decor scheme. It's also easy to maintain and clean, or at least as simple as any other woven polypropylene rug. It may also be worth noting these rugs were constructed from recycled plastic straws, rendering them soft and comfortable underfoot.
One of the few downsides of this rug is that there are just two style options: turquoise/green and black/grey. The colors you end up with can have some variation due to the recycled nature of the materials.
Find this rug on Amazon.
Best Designed Outdoor Rug: Unique Loom Outdoor Solid Collection
Different outdoor rugs work better in different circumstances, especially when taking into account variations in climate, personal usage of different spaces, and aesthetic tastes. But if aesthetic matters a great deal to you, then finding a stylish outdoor rug will be easier if you have lots of well-rounded options around a central theme.
That's exactly what the Unique Loom Outdoor Solid Collection provides. Some colors are available in oval, rectangular, round, and other shapes. Additionally, the polypropylene is roughly 0.16" thick, giving it some extra squishiness underfoot.
Find this rug on Amazon.
Best Round Outdoor Rug: Cotton Craft Reversible Jute Rug
You don't always need a monstrously big rug, especially if you're just trying to tie together an area with a circular design. As the name suggests, the Cotton Craft Jute Rug is made from jute, which is a natural plant fiber. The braided weave is resilient enough to take some abuse from people wearing shoes.
Although being reversible isn't necessarily a requirement for the best round outdoor rug, it's another feature that makes this rug so appealing for those who want options. The color patterns are vibrant and wild, somewhere between tie-dye and something more subdued. Since it's made from recycled materials, you may see color variation compared to pictures.
Find this rug on Amazon.
What is the Best Material for an Outdoor Patio Rug?
Without examining factors on a case-by-case basis, the best material for indoor outdoor rugs is usually polypropylene with a soft backing to prevent scratching. But the best outdoor carpet material also depends on what you're covering. For instance, what is the best outdoor rug material for composites? If you have a composite deck, you may want to be extra careful to avoid rubber, latex, fixed metal grommets, or other sharp accents that occasionally find their way on rugs. As a quick overview:
Polypropylene – Safe for kids, fire resistant, stain resistant, fade resistant, inexpensive, broadly durable.
Nylon – Fantastic strength and elasticity. Along with olefin it can be much softer underfoot than polypropylene alone. As a downside, nylon tends to be more expensive than most alternatives.
Polyester – While plastics are resilient against UV, the absolute best resilience for stains and fading is polyester. It's not quite as durable as alternatives, but woven well it can be very strong
If you're in need of more inspiration, viewing examples of outdoor areas executed well might help.
---
Explore Articles by Topic
Explore Articles by Topic