Ready to Start Your Project?
You'll be redirected to Trex.com, our composite decking website.
What Does it Cost to Build a Second Story Deck?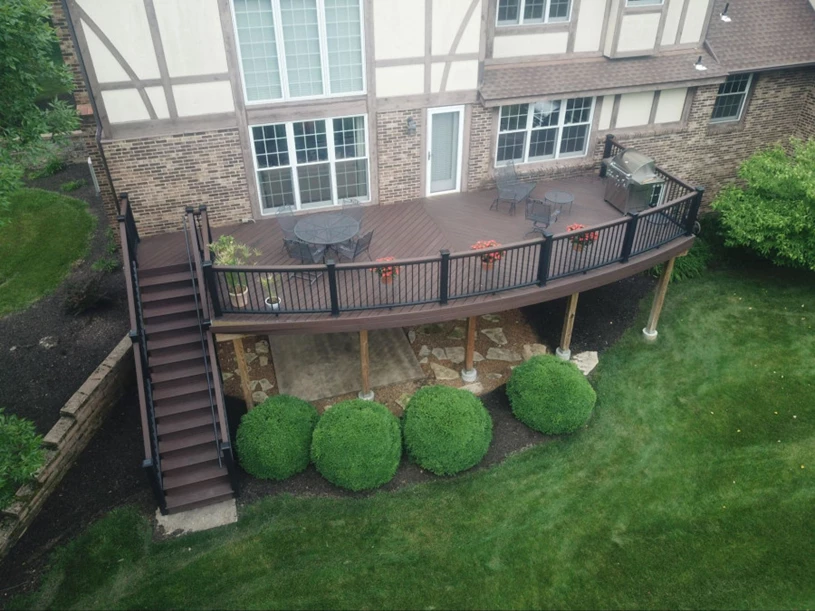 A deck provides you with a beautiful way to spend more time in the great outdoors while enjoying your home. Some handy DIYers can install a small deck or porch over a weekend with the right equipment and helpers. However, building and the costs of a second-story deck take more dedication and effort because of the height involved. Discover the costs of building a second-story deck in our handy guide.
What Is a Second-Story Deck?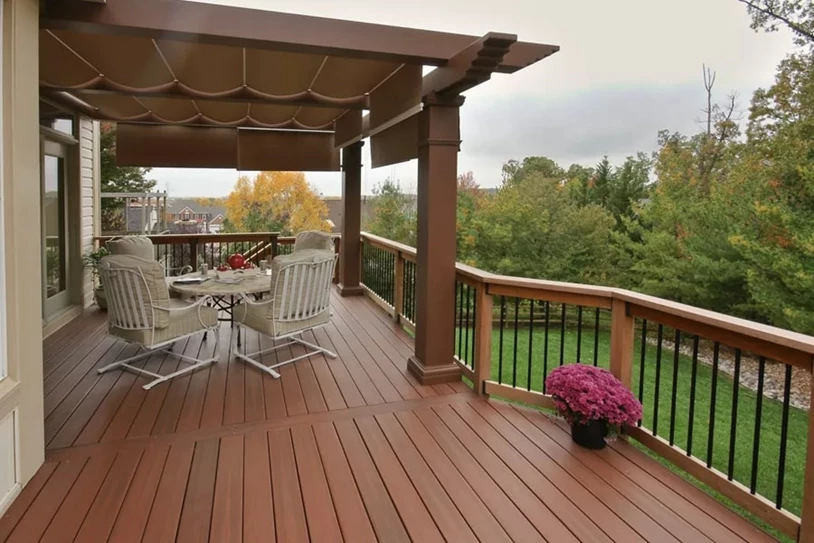 A second-story deck is one that attaches to an upper level of a house and may require stairs to move from an upper level to a lower level or the ground. For example, let's say you have a living room or kitchen with a great view of the backyard. The room is above your finished basement that opens directly to your backyard. You decide to install a second-story deck to enjoy the beautiful outdoors right outside the heart of your home. Take a look at some second-story deck ideas for inspiration as you consider second-story deck costs. 
How Much Does It Cost to Build a Second-Story Deck?
In general, the cost to build a second-story deck can be anywhere from $30 to $60 per square foot as a national average. DIYers can install their own elevated deck, but they must follow IRC building codes just like a contractor does. You may need to get permits from your local housing authority, as well. Permitting will increase the costs. Typically, a deck that's 10 feet by 12 feet will cost $3,600 to $7,200 for materials only. 
Labor costs increase with a second-story deck because it requires more materials to install than a ground-level deck. Pressure-treated wood comes with the lowest price, while composite decking costs more but needs less maintenance as it resists rot and weather better than wood. A second-story deck also needs more bracing to stiffen and support the structure above it. If you want an estimate on your project, take a look at how to calculate the costs of building a deck while trying to determine your second-story deck costs.
Second Story Deck Cost FAQs
Discover the answers to frequently asked questions about your second-story deck costs.
Stairs are a complex, complicated part of a deck build that can vary, This is no set price and it's based on the design of your deck and what materials are needed. Stairs can vary from 4' wide to 30' wide and be from 2' high to 20' high. There's also railing to consider. A stairway using Trex Transcend and Signature Railing of a 15 rise and 4' wide could be upwards of $12,000 including a rough estimate of labor costs. For a better cost of the materials for stairs, try Trex's Deck Designer tool which includes the costs of decking, railing, and stairs. 
Yes, when you compare a 400-square-foot deck on the ground floor to one that's adjacent to your second story, the latter will cost more. Costs for an elevated deck are higher because it requires more materials for braces or stairs and the extra permitting, whether you decide to make this a DIY project or hire a contractor.
Yes. If the appraiser considers the elevated deck when assessing the home's value. Homeowners may recoup around 65% of an elevated deck's construction costs. Your ROI will depend on home values when you sell your home. For example, maybe you spend $10,000 to install a second-story deck. At 65%, that deck will add $6,500 to the value of your home. Market forces may increase your home's worth even more if you decide to sell during a time of higher home prices.
Get Started With Your Second-Story Deck Today
How much does it cost to build an elevated deck? The cost of a second-story deck may change based on your location, materials, size, and permits required, or if you hire an installer. We're happy to help you with your second story deck project. Find a builder to get started today. 
Explore These Second-Story Deck Plans:
---
Explore Articles by Topic
Explore Articles by Topic