Ready to Start Your Project?
You'll be redirected to Trex.com, our composite decking website.
Small Backyard Deck Ideas & Designs
Who says smaller backyards can't have character? Limited backyard space doesn't mean you have to sacrifice style. However, smaller outdoor spaces require a bit more planning and thinking outside the box when it comes to designing and decorating a deck. Even if you don't have a sprawling backyard, there are plenty of small backyard deck designs to serve as inspiration. Browse through our collection of small backyard deck images below to get tips and inspiration for making the most of your small outdoor space.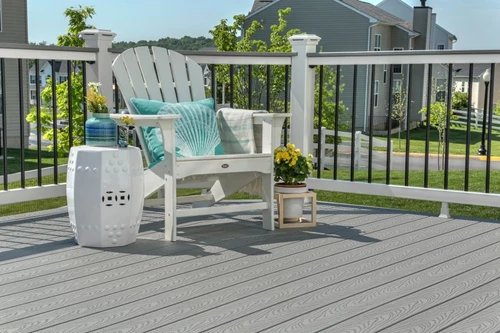 Considerations for Building a Small Deck
If you haven't started building a deck yet, here are some considerations to keep in mind as you start to conceptualize.
Keep the Design of Your Deck In Scale With Your House - If you have a small house and a small backyard, you don't want the design of your deck to overwhelm either. Decide on where you want your deck to sit, if you want a free-standing deck, or a deck that connects to your house -- preferably where you can easily access it from inside. While you can certainly have an elevated deck for a small house, keeping things simple is the key to having a beautiful deck that adds value to your home and works with your outdoor space. Check out small deck designs and plans to find one that works for your home and backyard.
Permits For Decks - Before you even consider breaking ground to build your new deck, it's important to have the proper permits in place. Once you have blueprints for your deck plan, you'll need two copies of scale drawings to present to your local building office to obtain your permits. Many inspectors are helpful and willing to be sure your deck is up-to-code and compliant with local codes and safety regulations before you build it, saving you a headache in the long run.
Deck Railing Codes and Requirements - Even the smallest deck needs to adhere to deck railing codes and requirements. If your deck will be above 30" off the ground, you are required to build a guard railing. The height of your guardrail depends on whether you have a residential or commercial property. Learn more about the deck railing requirements.
DIY vs. DIFM - Before you get started, you'll need to determine whether you plan to build the deck yourself or hire a professional. A small ground-level deck might be a good project for a DIYer, but depending on your skill level, you might want to find a contractor to build it for you.
Working With Sloped Yards - Sloped yards can present a challenge and make your backyard feel smaller because the land isn't level. Consider adding stairs or a ramp over the sloped portion of your yard to lead up to your deck on the more level part of your yard. Because working with a sloped yard may be difficult for many DIY-ers, you may want to enlist the aid of a contractor to help you best determine how to work with your yard's natural features and make the most of your space.
10 Small Deck Design Ideas
Need some more small outdoor deck ideas? From ideas for a small backyard deck to building decks for small houses, find inspiration and ideas for decorating, furnishing, and conceptualizing a deck that works for your space.
1. How Do You Arrange Patio Furniture On a Small Deck?
One way to arrange patio furniture on your small deck is to create a sitting area/dining area near one end, giving you more space on the other side of your deck for other activities. By placing deck chairs or a long sitting bench at one end -- as opposed to directly in the middle of your deck, you can create "zones" instead of taking up the full width of your small deck with your furniture.
Placing pretty planter boxes around the perimeter of your small deck can also help it blend into your backyard, making it feel larger and more spacious. Similarly, embedding LED lighting in your decking boards economizes space, adding lighting without having to set up large floor lanterns that may take up additional space.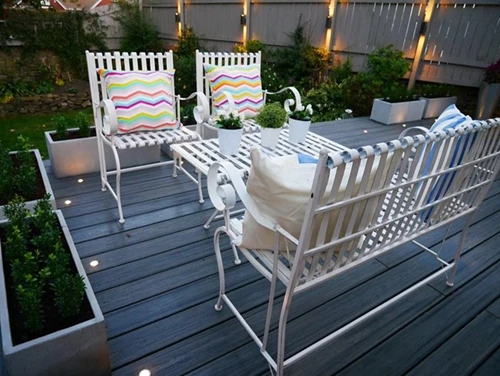 2. How Do You Make a Small Deck Look Bigger?
Choose furniture that works with the structure of your deck. A wicker or rattan sectional sofa can nestle snugly into the corners of your deck, especially if your deck is connected to your home. By placing a sectional flush against the walls of your home on your deck, you free up more space on your deck while offering ample seating to entertain guests.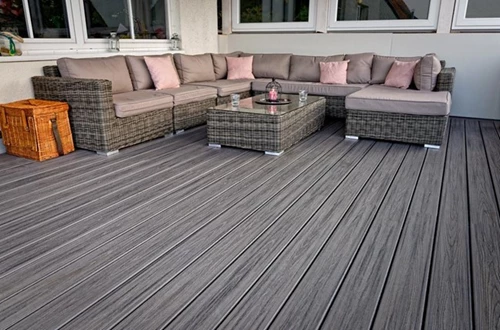 3. Think of Your Small Deck as an Adjoining (Outdoor) Room
A best practice for building any deck -- especially a smaller deck -- is to connect it to an existing doorway with your home. For instance, glass sliding doors are a perfect way to seamlessly move from an indoor setting onto your outdoor deck. In warmer weather, you can open up your glass doors and have a flow of indoor-outdoor traffic to make the most of entertaining guests on your small deck. Setting up an inviting dining table on your deck helps make it feel more like an extension of your home rather than a separate outdoor space.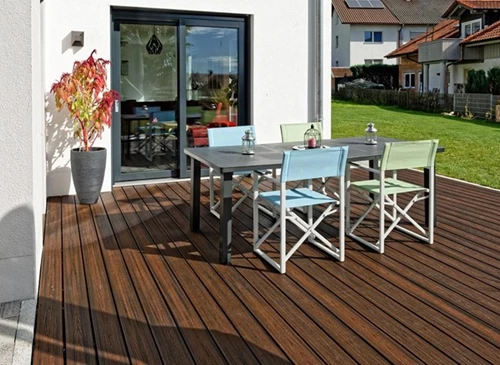 4. Small Decks Built to Incorporate Natural Features
Building a small deck around natural features -- such as large trees -- can help you maximize your space. These features can serve as built-in boundaries on your deck, helping you to section off portions for sitting or other activities. Installing a glass railing can also help your deck feel better integrated with your surroundings, adding an unfettered view of lush greenery and making your small deck feel bigger.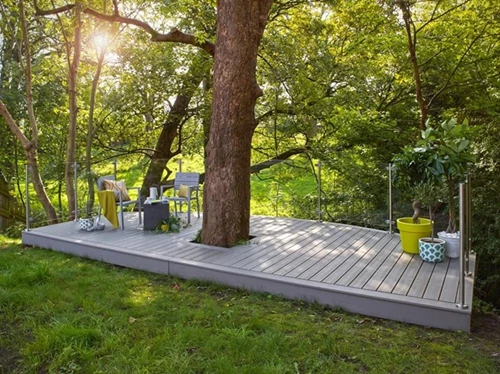 5. How to Make a Small Deck Feel Bigger
A glass railing and striking-yet-compact furniture can make a small deck feel bigger. Not only do glass railings offer a better view of the lush greenery of your yard, but it helps your deck more seamlessly blend with your surroundings. Similarly, stylish and compact furniture -- such as curved chairs that easily tuck in around a round table -- afford more space on your small deck when not in use.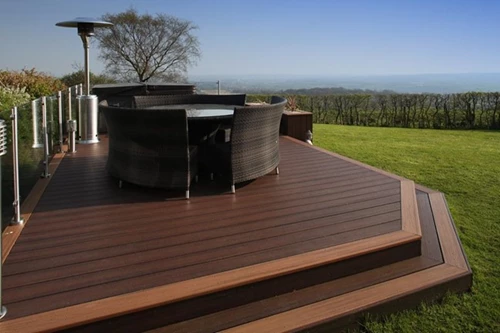 6. Small Deck, Striking Furniture
A small deck can be ultra-stylish with the right furniture. Chic, egg-shaped rattan chairs afford comfort without sacrificing style in a small space. If you have a small deck, you likely won't need a lot of furniture. However, it allows you to get creative with your choices and select pieces that are truly unique to make your small deck a standout!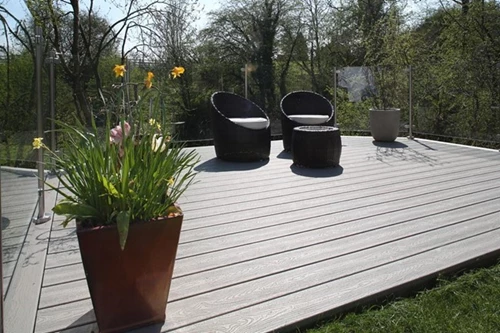 7. Deck Furniture with Hidden Storage to Maximize Small Deck Spaces
Furniture with clever features -- such as benches that incorporate hidden storage -- can help you make the most out of your small deck space. By incorporating benches into the design of your deck or placing them flush against a wall, it gives you more space to entertain on your deck. Benches with built-in storage drawers give you extra places to tuck away spare towels and blankets, as well as books or snacks to enjoy from the comfort of your deck.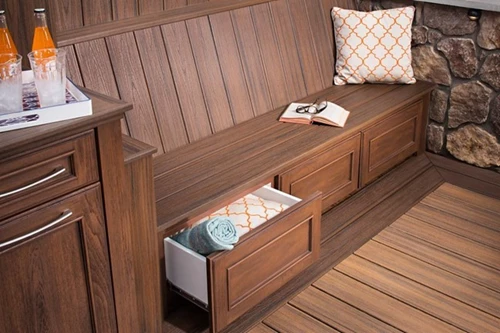 8. Small Rooftop Decks: Decks in an Urban Setting
If you live in a bustling city, rooftop decks are a great way to enjoy the outdoors -- even if you don't have a backyard. A small outdoor deck can become an intimate oasis that affords a glorious view of the skyline. Decorate it with colorful flowers and plants to add a touch of lush greenery within the cityscape. Colorful chair cushions also make a small rooftop deck a welcome retreat.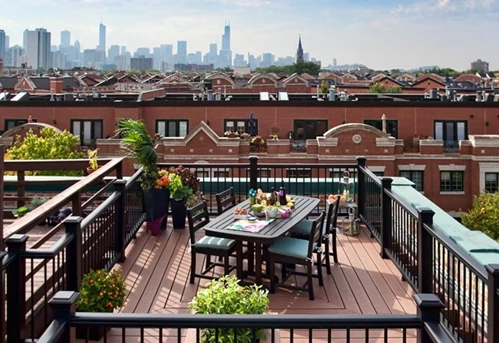 9. How Do You Decorate a Small Deck?
There's no wrong way to decorate a small deck, however, pops of color can make even the smallest deck feel utterly charming. Neutral furniture can blend with the decking, but bold pillows and throws that mix-and-match solids, florals, and patterns can tie the look together. Adding colorful vases and flowers can also bring a small deck to life.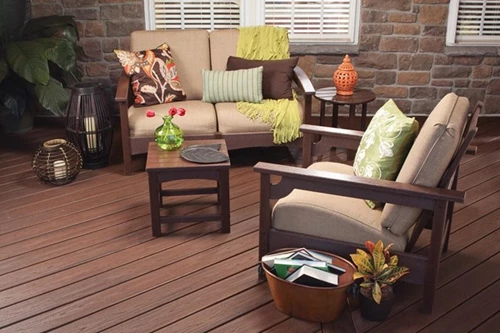 10. Small Decks With a Cozy Feel
Contrasting colors and pottery of varying sizes can offer a comforting feel to a small deck. Crisp white railings and white deck furniture pop against cocoa-toned decking. Adding plants of varying sizes enhances the small space without closing it off, providing a fresh burst of green.
Small decks can yield big rewards, including a return on your initial investment and years of enjoyment. Proper planning before building your deck and getting ideas for decorating your small deck can go a long way toward creating an inviting space.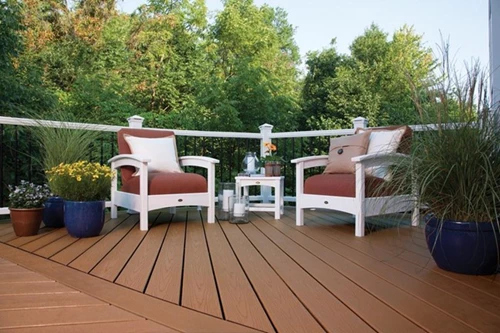 Ready to Get Started & Build your Small Deck?
Get ready to make the most out of your backyard and small deck space. Find a retailer near you to shop materials or look for a contractor in your area to get started.
---
Explore Articles by Topic
Explore Articles by Topic