Ready to Start Your Project?
You'll be redirected to Trex.com, our composite decking website.
7 Outdoor Storage Ideas & Tips
Outdoor storage can be a great way to empty out closets, garages, and attics to make more room. It can be used to provide amenities to guests, to help sort recyclable containers in a more organized way, or as a place for storing firewood.
With the right approach to outdoor storage and a few tips, you can make the most of your space and can even make your storage areas more pleasing to the eye. We've collected some of our favorite under-deck storage pictures and clever outdoor storage ideas to help fuel your inspiration.
Under Deck Storage Ideas & Benefits
When you're designing your deck, it can be easy to overlook opportunities for storage space. When planning an outdoor storage area, decide whether you need wet storage or dry storage. If you're storing waterproof items like garden hoses or plastic pipes, wet storage will often be sufficient. Items that should be kept away from the elements, like lumber, can also be kept in wet storage if elevated off the ground and protected with a tarp.
However, wet storage isn't right for all circumstances. True to its name, dry storage involves storing items in a way that creates a waterproof seal around them. For example, storing books or guitars would require dry storage to help protect them from humidity.
Whether you're looking for wet storage or dry storage, creating your own deck designs with storage underneath is usually a fairly simple task. For example, you can create waterproof barriers between the space of your deck boards with modifications like the Trex® RainEscape®. Installing these kinds of waterproof under deck storage mods is a straightforward DIY project that anyone can complete. And these kinds of modifications are nearly all it takes to create a variety of effective outdoor storage spaces.
Outdoor Kitchen Storage
Do you have a barbeque, grill, or outdoor kitchen? What better place to store kitchen supplies than directly outside, in your outdoor kitchen? With the right storage space, you can keep outdoor kitchenware, cutlery, and cleaning supplies at-hand. And with a few simple adjustments to a regular sliding drawer, you can easily create your own icebox.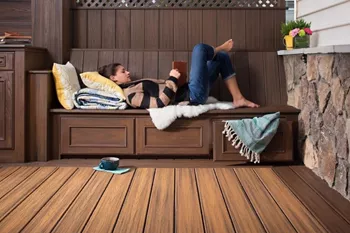 Storing Guest Amenities
Many of the best storage ideas involve making outdoor spaces a little more comfortable and taking advantage of furnishing with items that are equipped with hidden storage features. Durable outdoor furniture can be converted for comfort with the addition of a few blankets and pillows. These cozy additions can be a great way to decorate your deck while creating a more comfortable environment for guests.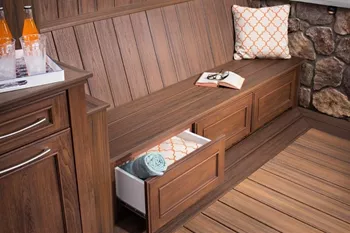 Seasonal Storage
The best backyard storage ideas for your outdoor space often depend on regional circumstances and weather conditions. You might fill sliding chest drawers with blankets or pillows to help warm those enjoying your deck during a brisk spring morning. In warmer months, what better place to keep towels for drying off after a dip in the pool? Creating multi-purpose storage areas can be a great idea for people who intend to keep using their deck year-round.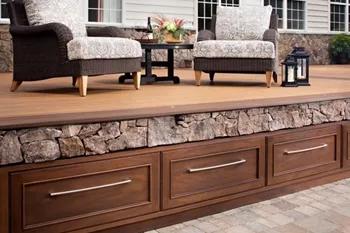 Under Deck Storage
With the right design, you can create a great deal of protective and private storage space right below your deck. Apart from adding height and levels your deck, a design that includes built-in wooden storage and drawers nestled into an attractive stonework facade, provides ample space to stash a variety of items you plan to use while entertaining on your deck. Using a hideaway style of storage can prevent your deck from looking like cluttered chaos, no matter how much you're storing underneath! With a few simple adjustments, you can turn built-in storage drawers into secure, locked storage spaces.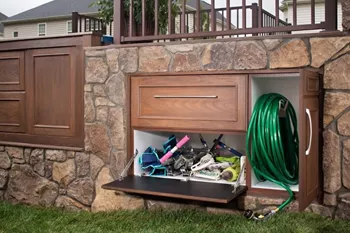 Garden Storage
Just because some things are weatherproof doesn't mean you want them cluttering up your lawn or backyard. You can store away yard games, garden tools, and lawn chairs when they're not in use in a built-in storage shed underneath your deck for easier access when they're needed. Whether you're storing herbicides and pesticides or putting away summer toys until warmer weather returns, keeping these items organized and available can be quite helpful.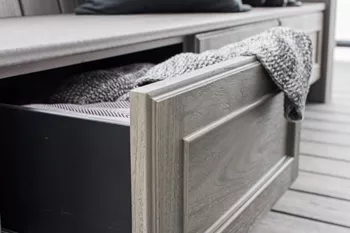 Deck Enclosures and Storage
People who have an unenclosed deck may not have the same storage options as those with enclosed or partially-enclosed environments. If you have an enclosure around your deck, this can greatly increase your storage options. Places where it would've been inconceivable to keep fabrics, pillows, and rugs can be much easier to protect and it makes it much easier to create a cozy outdoor space.
Storage Sheds
If you're looking to store a huge amount of stuff -- and you want that stuff to remain accessible, you might need a storage shed. As the king of outdoor storage ideas, storage sheds offer the best of both worlds. Storage sheds can be purchased and are portable. You can set them up anywhere in your backyard -- either up against your home, beneath a multi-level deck, or as a free-standing structure wherever you feel it looks best. A storage shed doesn't have to be an eyesore. It can be painted or incorporated into your backyard landscape in an attractive, practical way. Better yet, keeping your storage shed organized helps you keep items you need at-the-ready and protected from the elements.
How Do I Organize My Storage Shed?
All it takes is a little organization to greatly increase the efficiency of a storage space. Figuring out how to organize your storage shed is mostly a matter of balancing the accessibility of your belongings, reducing clutter, and ensuring you always know where things are. In most cases, the best way to optimize space within a storage shed is to take advantage of both vertical and horizontal space. For example:
Horizontally hang almost any broom-sized piece of wood on the interior or exterior of a storage shed. Use hanging brackets to allow you to store a variety of garden tools.
Plan a path of empty space that can be used for walking around the storage area. Creating a circular or "C" shaped space is often optimal, depending on the items you plan to store. For instance, if you're storing chairs in your shed, you may want a wider space to maneuver so as not to scratch your chairs or have a difficult time moving them from your shed to your lawn.
Look for areas where you can add shelving. Alternatively, look for an area where you can install a slat wall to store larger objects like power tools, hoses, ladders, and other objects of medium-size.
Consider using a pegboard for organizing smaller tools and objects. Just add hooks to the holes and you can create new storage as needed.
If you have a tall vertical space, consider overhead storage made possible with hanging hooks.
Incorporating storage features into your deck or creating a designated outdoor storage space (like a shed or other enclosure) can eliminate clutter, keep your backyard beautiful, and allow you to stay organized. Whether it's time to entertain guests or pack away chairs and tables before colder weather sets in, outdoor storage helps you find extra space for all the things that make your backyard feel like home.
---
Explore Articles by Topic
Explore Articles by Topic