Ready to Start Your Project?
You'll be redirected to Trex.com, our composite decking website.
Space Planning
Think about how rooms of a house serve different purposes and are arranged together to form a complete living environment. You should begin to think about your deck this way. Most decks will be composed of a variety of spaces to accommodate various activities. How these spaces are designed and creatively organized will determine the spatial layout of your deck.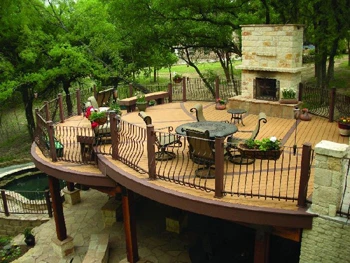 The more versatile your deck design is, the better it can accommodate change. We encourage people to use a composition of different smaller spaces instead of building one large space. This will allow for more general flexibility and less wasted space. When combining deck areas consider how you want them to intersect and overlap for the best functionality and flow.  You may want to add a shade feature or porch roof over certain areas of the deck.
The space you use for dining and entertaining will be considered your primary space. This area is usually the largest space on the deck. Plan for a minimum of 12' x 12' for a table set. You may want to elevate this area or change the decking direction. A grilling area can be placed in an out-of-the-way niche or bay.
Don't forget about
the area under your deck
. This often overlooked area can be finished with a water drainage system to create an alternate area to enjoy on rainy days. Add a concrete patio floor and screened walls to add further comfort. The area below your deck also can be utilized for storage.
---
Explore Articles by Topic
Explore Articles by Topic