Ready to Start Your Project?
You'll be redirected to Trex.com, our composite decking website.
How to Bug-Proof Your Deck & Floorboards
Like ants at a picnic, it's not fun to deal with unwanted bugs, crawling or buzzing around your deck. The good news is that you have several options for creating a bug-proof deck. For homeowners in the planning stages of building a deck, you can start by considering pressure treated wood or composites, which are virtually immune to pesky insects. However, for those who already have a deck -- and even years after it's built -- there are always new opportunities to keep your deck protected from insects.
Installing Under Deck Screening To Your Deck Floor
Even if you've decided on a relatively bug-proof material like composite decking, you may still find yourself with insect problems. The underside of a deck can provide a nice shady area for a variety of crawling creatures to make their home.
If you're concerned about bugs coming up from the gaps between floorboards, you may want to place a screen under the deck floor. But before making any modifications, be sure you check the warranty on your deck to know if you're at risk of accidentally voiding it.
Installing Screening Under An Existing Deck
Under deck screening can be placed between joists to create a highly effective barrier against bugs. Inserting screening under a deck floor that has already been constructed can be more labor intensive compared to placement prior to construction. But depending on the design of your deck, adding screening is often as simple as stapling the material to the underside of the structure.
Installing A Deck Screen During Construction
By contrast, installing an under deck screening during the initial construction of your deck is typically much simpler. You can lay the screen on joists and hold them in place with the weight of the deck boards. This doesn't necessarily require using staples, adhesives, or other modifications that might jeopardize a warranty.
Additional Ways to Bug-Proof Your Deck
Placing a screen under your deck floor isn't your only choice -- and it isn't always your best choice. Another option worth considering is hanging mesh screens, which encompass the entire perimeter of your deck. This additional layer of screening can keep bugs out while creating a more private space for your guests.
The proper lighting can also play a role in keeping bugs away. For your exterior lighting, consider swapping over to a bulb that can offer lower brightness and a warmer color temperature, like a 2700K LED. These lights are far less prone to attracting the attention of flying bugs.
Preventing Insect Damage
Under deck screening won't protect you from burrowing insects like termites. The best way to avoid insect damage to your deck is constructing it from materials specifically designed to withstand insects. Most modern wooden decks are treated with chemicals to keep the bugs away, and you'll find that composites are nearly invulnerable to infestation.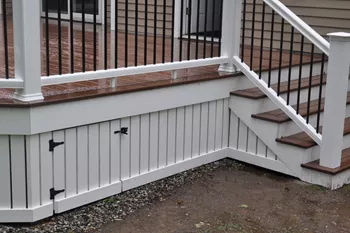 Add a Deck Skirt Made of Composite Or Pressure Treated Wood
Even the best under deck screening won't stop insects from crawling around the edges of your deck. But installing deck skirting can cover the gap between the edges of your deck and the ground, preventing bugs from getting under your deck in the first place.
Constructing a deck skirt can be costlier and more labor intensive than using under deck screening alone, but it's also one of the most effective methods of deck bug control. Just remember to build your skirt from pressure treated woods or composites to stay protected from burrowing pests like termites.
Considering some of these tips during the planning stages of building a deck can help give you greater, pest-free enjoyment of your deck in the years to come. Even if you have an existing deck, some of these tips can help you build a better barrier between you and bugs when it comes to spending time outdoors.
---
Explore Articles by Topic
Explore Articles by Topic