Ready to Start Your Project?
You'll be redirected to Trex.com, our composite decking website.
How to Install Metal Deck Railings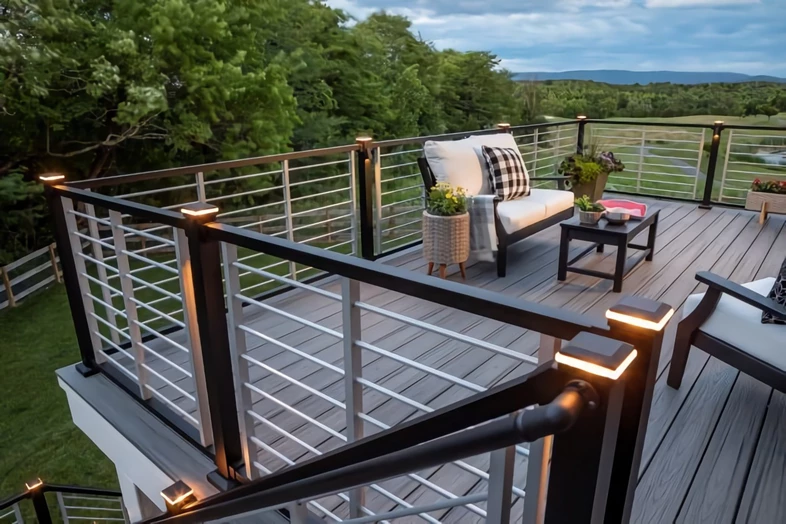 Metal deck railings offer durability, style, and versatility for your deck. They also provide extra safety and security for your guests, family, and loved ones as they enjoy the great outdoors. With many styles of prefabricated metal deck railings on the market and plenty of DIY kits, you have a ton of choices when shopping for this addition to your deck.
You can realize several benefits from metal railings for your deck:
Durability: Metal deck railings do not succumb to the elements like wood does.
Security: There are no cracks or weaknesses you might find in wood railings.
Style: Manufacturers offer several styles to fit your aesthetic.
Versatility: With powder coating, you can choose one of three colors with Trex metal deck railings.
We'll take a look at how to install metal deck railings from start to finish as part of your beautiful outdoor space and as a way to improve your existing deck.
Types of Metal Deck Railings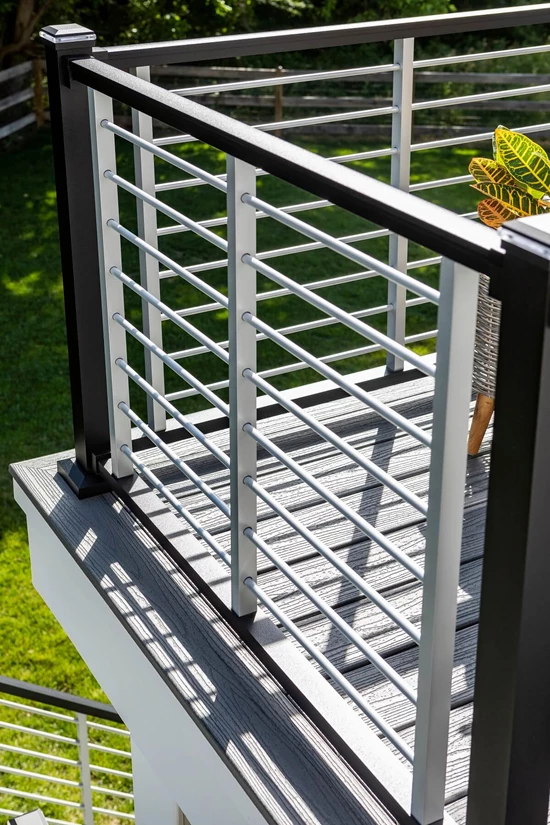 There are three different types of metal railings for decks on the market today: stainless steel, wrought iron, and powder-coated aluminum. Stainless steel is appealing because of its silvery luster. Wrought iron is a classic choice with its sturdiness and paintability. Powder-coated aluminum is extremely durable and powder coats can come in many colors.
Of these three types of metal railings for decks, aluminum is the one that is most maintenance-free. Stainless steel comes in a close second with its corrosion resistance. Wrought iron can be prone to rust due to harsh winter weather, so you'll need to watch out for that. While wrought iron can be painted over, you may need to touch up the paint every year or two.
What to Consider Before Installing Metal Deck Railings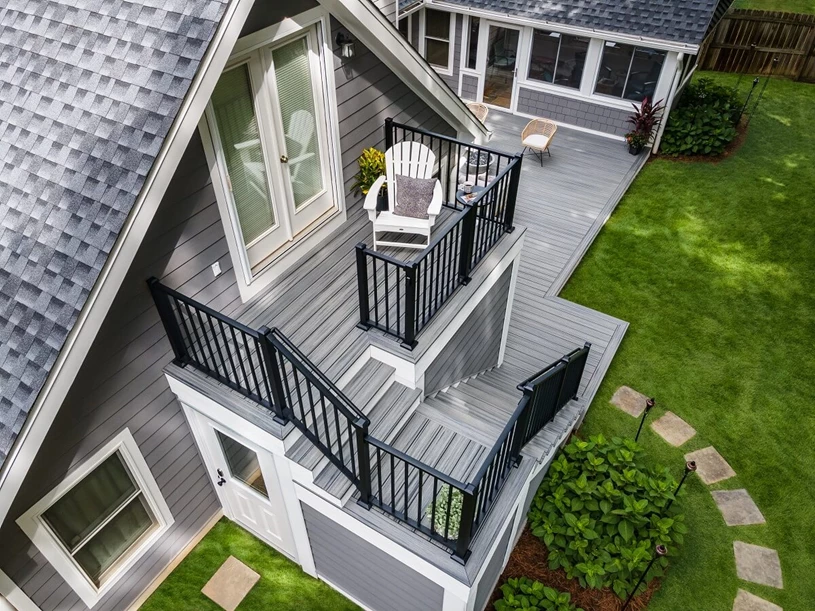 Metal deck railings offer many benefits. You have a few things to consider before installing them.
The budget, determined by the size of your deck and how many metal railings for your deck you'll need for the project, can fluctuate by a few hundred dollars. You need to account for the outer perimeter of the deck but also any stairways. Do you want to install it yourself or hire a contractor? A contractor will cost more money than a DIY kit.
Local building codes come into play, too. They vary from state to state. In some instances, you may need a permit to install your deck's metal railings. Check with your local building code office for more information.
Will a Metal Deck Railing Match my Style?
Metal deck railings come in many styles to match your aesthetic appeal. Wrought iron can have the classic fleur-de-lis tips at the top that embellish your deck in a traditional style. Stainless steel offers a modern touch, while powder-coated aluminum is both contemporary and eclectic if you choose a contrast to the colors of your deck or home.
Glass deck railings offer a popular option because they provide unobstructed views when sturdy, tempered glass is installed using appropriate bottom and top rails in between posts. You can also go for cable-style deck railings made of thin metal cables for another see-through choice.
How Long Do Metal Deck Railings Last?
Powder-coated aluminum metal deck railings can last 20 years or more. The powder coating resists rust, corrosion, and chemicals, and non-wood deck railings don't suffer from the same ravages due to ice and rot. Do aluminum railings rust? No, they do not because aluminum is a non-ferrous material.
Do Metal Deck Railings Get Hot?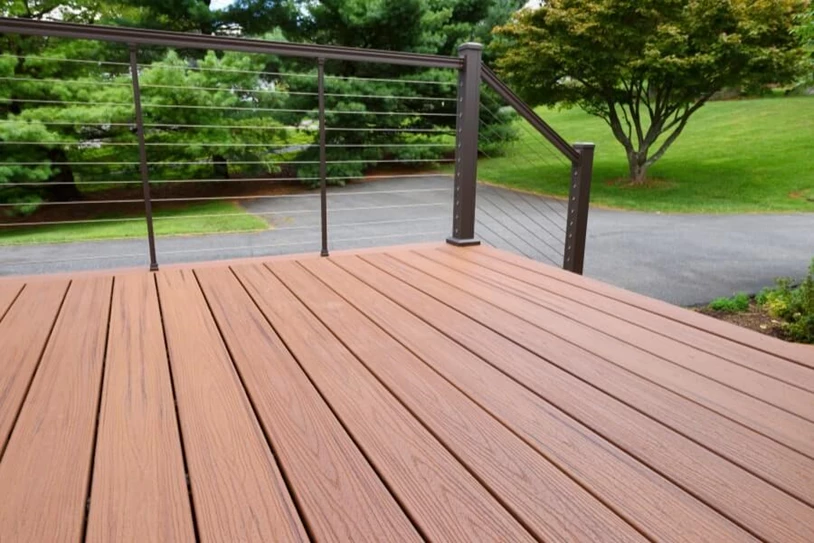 Yes, especially in direct sunlight. However, aluminum works differently. Does black aluminum deck railing get hot? Yes, but it dissipates heat more readily than other metals and even wood. The key is being out of direct sunlight. Once sunlight no longer touches aluminum deck railings, the metal quickly loses its heat, whereas wood maintains its heat for several minutes after being out of direct sunlight.
How Much Do Metal Deck Railings Cost?
The cost of metal railings for a deck can run anywhere from $40 to $55 per linear foot for aluminum. There are many factors that can dictate the final installed cost of a metal deck railing. The amount of railing you need and the material are two. The ultimate cost of aluminum deck railing will depend on whether you're installing it yourself. Hiring a contractor drives up your expenses when talking about how much a metal deck railing costs.
Are Metal Deck Railings Easy to Install for Do-It-Yourselfers?
Yes, particularly when metal deck railing do-it-yourself kits are available with step-by-step instructions. You'll need a helper or two along with the right tools. But handy homeowners can complete metal railing installation in a weekend.
How to Cut Metal Deck Railing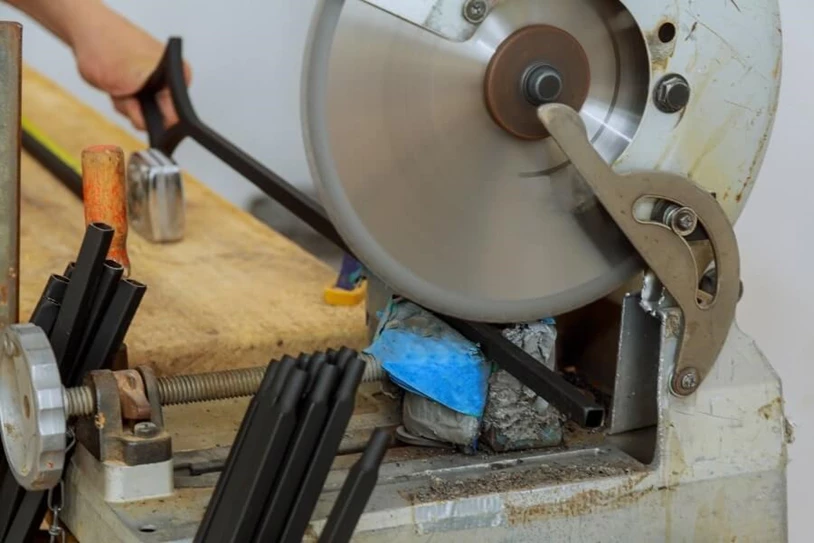 Aluminum can be cut with a standard saw blade just like wood to be custom fitted to your design. Some systems come in pre-manufactured steel or aluminum panels that are easy to install. Metal rail systems are usually top-mounted to the deck surface by bolting the rail posts into the framing. In order to accomplish a solid connection, you will be required to install blocking into the framing to provide a stable foundation for the posts, and always consult and adhere to local building codes.
Tools Needed to Install Metal Railings
Installing metal deck railings requires a few tools. 
You'll need:
Cordless drill with screwdriver bits
Chop saw with a blade that can cut through metal
Level to make sure you install the metal deck railings without any slant
Tape measure
Rubber mallet
Retractable utility knife
Marker, pencil, or pen
How to Install Metal & Aluminum Deck Railings
Installing a metal deck railing requires careful planning and at least a weekend afternoon for someone who's handy. Before you cut a single piece of aluminum deck railing, you'll want to measure your deck and draw out a sketch of a plan for how to install metal deck railing properly. This should be done even before the decking is installed to ensure proper blocking is in place for surface-mounted posts. Surface-mounted posts are installed after the decking is in place, so it's very important to have this framing done correctly to allow for this.
Step 1: Space & Mark Post Locations
The first thing when learning how to attach a metal railing to your deck is to space and mark the post locations. Using your tape measure, mark the spots on your deck where the aluminum posts will go. Posts are generally 6 to 8 feet apart, depending on building codes and whether the deck is for a residential or commercial building. 
Step 2: Attach Metal Post to Deck
Pre-drill holes in your deck where the metal posts will go. This will make attaching the metal posts to the deck easier. Set your first metal post upright and secure it with one bolt before going to the next one. Consider having a buddy hold the post upright until you can get the first bolt or two on it. Use your level to make sure the post is exactly vertical. Always refer to the manufacturer's instructions for proper post installation to ensure you are following all install requirements.
Step 3: Attach Rail Brackets to Posts
Once all of your metal posts are fastened to the deck, it's time to get to the rail brackets. These brackets hold the rails against the posts firmly and at the right spacing. Attach brackets per your manufacturer's instructions. You may need a cordless drill to install the brackets, and the posts should be marked to show where they go.
Step 4: Install the Bottom Rail
Because each metal deck railing kit is different, review the detailed instructions that come with the one you purchased in order to ensure that all the steps are followed in the correct order. In general, you will start with the bottom rail. Each bottom rail has premade holes for balusters with the correct spacing. Fasten the bottom rail to the bottom brackets using a level to make sure it's straight.
Step 5: Position & Fasten the Balusters
Each baluster should snap easily into place into the bottom rail. Balusters are spaced no more than 4 inches apart. Use your level to see if the balusters are perfectly straight.
Step 6: Install the Top Rail
Next, install the top rail snugly over the balusters. Again, these have premade holes in them for a snap-tight fit. After the top rail aligns properly, secure it to the top brackets on each end. Take a few sights with your level to ensure the rail is perfectly straight. 
Additional Feature: When determining how much deck railing costs, you might want to consider adding lighting to your overall plan. You can install deck lights along the railing to add some extra ambiance to your late-night outdoor gatherings. You'll want to install any deck lighting before putting caps on.
Step 7: Cap the Tops
After the balusters are in place, it's time to cap the tops of the posts and finish your metal deck railing installation. Simply put the caps on each top and secure them with the fasteners included in your kit. 
Get Started With Your Metal Deck Railing Project Today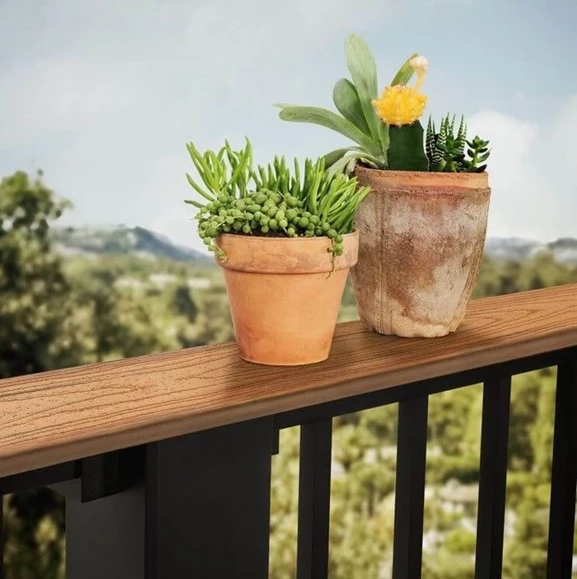 Metal deck railing can add sturdiness, value, and peace of mind to your outdoor slice of heaven. You've made it this far! Take the next step in your project when you Find a Retailer and Find a Contractor for your metal deck railing installation. Need some more inspiration? Look at some Trex® deck railing systems to see what catches your eye.
---
Explore Articles by Topic
Explore Articles by Topic