Ready to Start Your Project?
You'll be redirected to Trex.com, our composite decking website.
Best Plants & Flowers to Brighten Up Your Deck
As an Amazon Associate, Decks.com earns from qualifying purchases from the links in this post.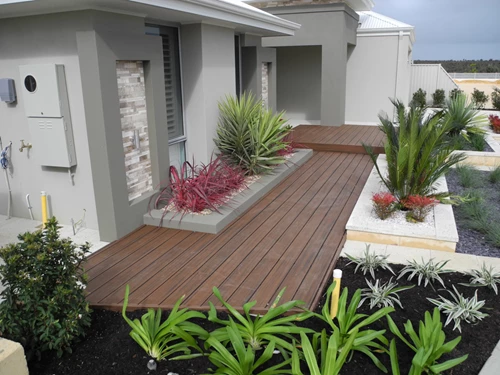 What describes your ideal deck? Soothing? Minimalistic? Cheerful and bright? If you're going to spend time on a deck or patio, why not cultivate your own outdoor getaway. And when the right deck plants are paired with appropriate deck landscaping ideas, the results can be magical.
Whether that means personal and cozy, or creating a vibrant oasis is entirely up to you. Because there are outdoor patio plants appropriate for nearly any kind of vibe, it's just a matter of knowing your options, and then looking into the fine print to ensure you're able to properly care for those plants that can make your deck all the more inviting.
How to Choose Plants for Your Deck
Picking the best deck plant ideas for your particular circumstances requires you to consider a couple of important factors, the first of which are practical botanical questions. 
How much sun does your deck or patio get? How much rain? 
Choosing plants in-line with the USDA Hardiness Zone where you reside can make these issues simpler, but not foolproof. Because some plants need persistent shade, while others need direct sunlight; some are drought-resistant, while others will die at the first sign of neglect. 
The second set of considerations relates to potential for personalization. Are you trying to create privacy? Would you like to grow your own food? Do you want to repel insects? Or do you crave gorgeous blooms that brighten up your deck with color? Narrowing down your options is essential to ending up at the decision most appropriate for your unique circumstances and taste.
20 Best Patio Plants
Plantlife is incredibly diverse. From cacti that take decades to bloom, to Japanese cherry blossoms, you'll find no shortage of incredibly interesting species from around the world. But what kind of plants for the deck and patio plants thrive under outdoor conditions?
1. Caladium
Combining lush, heart-shaped leaves with bright pink and red hues, it's not hard to see why caladium is among the best patio plants. As a great option for someone who's looking for annuals, just about the only caveat to be aware of is this species prefers a humid environment and a semi-shaded area; so they're not necessarily the best option for an arid desert setting.
2. Begonia
Providing large, bright blooms, begonia's are another classic option loved by gardeners globally. And this species will bloom without the need for you to remove their old blooms as the season carries on, meaning they involve less cleanup than many other types of patio flowers. Most begonias prefer partial shade, but there are several sub-species of begonia, so pay attention to the plant's tags for any variants you consider.
3. Lavender
In the right environment, lavender is capable of supplying more than a few thrilling patio flower ideas. Though the blooms on lavender aren't as large as those on flowers like begonias, it retains its coloration quite well and blooms consistently throughout the spring and summer. Lavender is a great high-contrast plant that delivers one of the most identifiable and appreciated flowery scents, making it great for placing near a seating area. But keep in mind that it prefers direct sunlight and is somewhat vulnerable to overwatering. Another added bonus is that lavender may potentially help repel mosquitoes.
4. Croton
Croton are more common as houseplants, but they can also work well for many different patio plants ideas. Their rainbow-like leaves create considerable visual interest even without flowering. Indoors, crotons tend to stay at moderate sizes, but with full sun exposure, they'll grow to be large and bushy. Just ensure their soil has good drainage and the rest should fall into place.
5. Ornamental Grass
From Purple Fountain Grass to Japanese Forest Grass, there are dozens of different ornamental grasses, each offering something unique. Grasses often work well as potted plants for a patio because of their ability to create more privacy while filling up a space with visual interest. Ornamental grasses are also commonly selected because of their ability to grow quickly, and the gardener's capacity to prune back the grass as needed during any point during the season.
6. Hydrangea
Easy to cultivate, tolerant in almost any soil, and eager to create countless pastel blooms, Hydrangea are clearly people-pleasers. Blooming shrubs like hydrangea are most beautiful in the first half of the summer, but persist quite well until they encounter freezing weather. Most hydrangea need direct sunlight to flower, but prefer shade in a warmer climate, making them one of the best deck flowers for temperate areas.
7. Coleus
For deck plant ideas that work well year-round, coleus might be one of your better options. They provide an exceptionally wide array of leaf coloration, from bright pinks to darker purple hues, and they're exceedingly easy to grow. Provided you don't have to worry about freezing temperatures, can ensure their soil remains most, and offer full sun or partial shade, coleus can be a beautiful addition to almost any patio. 
8. New Guinea Impatiens
Even when compared to the best outdoor patio plants, the bright blooms of New Guinea impatiens stand out as a wealth of tropical color. From orange to violet, there are plenty of festive and matching color sets to choose between. Additionally, this species does not tolerate drought, and most variants of this species prefer at least partial shade. Keeping your New Guinea impatiens' soil consistently damp (and a little added fertilizer every so often) will help them retain their glorious blooms. 
9. Succulents
With an almost alien-like quality, succulents deliver a magnetic aesthetic that stands in stark contrast to other types of lush greenery. And if you're looking for low-maintenance patio plants, succulents are hard to beat. Many varieties can be ignored for weeks or months at a time -- the thicker their leaves, the more resilient they are against drought. Most succulents prefer well-draining soil and direct sunlight, but will tolerate partial shade. 
10. Lobelia
Most commonly found in white, blue, and purple, lobelia is an annual that prefers a nicely shaded area like a patio or covered area on a deck. These blooms endure best in more moderate weather that you might find during the spring or early summer – or in the shade. Lobelia does require some pruning in between seasons, but with minimal maintenance, you'll find they work excellently in hanging baskets or other common patio containers.
11. Million Bells
Some flowers make a smaller number of large blooms, while others make a larger number of small blooms. Million bells are the prolific type, making them ideal for blanketing an area in color. Additionally, they don't require particularly deep soil, making them very suitable for deck railing garden boxes or hanging baskets. Just keep in mind they don't handle dry climates very well, and demand full sun to create so many rich blooms.
12. Boxwood
For creating a formal, elegant vibe, Boxwood can be an excellent decision. As an evergreen plant, these can offer a dense foliage that persists through the seasons, and a rapid rate of growth that can be fashionably trimmed into silhouettes. Left to their own devices, most species will grow between 2 ft. to 8 ft. However, as with many plants for deck growing, the size of the plant you end up with will largely depend on soil availability, meaning you won't get a large Boxwood out of a tiny 1-gallon pot. 
13. Roses
Blooming throughout the summer, roses have highly recognizable blooms with a scent to match. Roses have a reputation for being tough to grow, and many people pride themselves on cultivating the perfect blooms. But for many species of rose, maintaining your own bush actually isn't very demanding. The largest barrier is the fact that most prefer direct sunlight to fuel their large blooms, and most will require regular feedings. 
14. Herbs
Many edible plants are challenging to grow, but most herbs will grow like weeds. You can make your own deck herb garden filled with practical herbs appropriate to your culinary tastes, ranging from chives and sage to basil or cilantro. Most herbs tend to prefer direct sunlight for most of the day, especially if you intend to grow a large crop.
15. Creeping Jenny
Living up to its name, the Creeping Jenny likes to wander, leading it to cover swaths of space with its vine-like offshoots. Many people consider this an essential plant for a diverse deck garden precisely because it's ideal for hanging baskets or covering large areas with foliage. Though its flowers aren't particularly eye-catching or long-lasting, the rounded foliage is charming and it maintains a healthy coloration through the year. 
16. Bamboo
While bamboo isn't known for colorful blooms, it is an ideal privacy plant with its own unique jungle-like aesthetic. Depending on the species of bamboo you grow, you might expect 20 ft to 30 ft in growth. It enjoys shade through the warmer parts of the day, and strongly prefers moist soil. But like a spreading weed, that rapid growth can make bamboo somewhat invasive if not properly maintained.
17. Pelargonium
Pelargonium is a large genus of plant spanning nearly 300 distinct species, and you'll find an equally impressive array of coloration to go along with their pinwheel-like petals. That prolific variety is part of the reason this long-standing favorite works great in most garden on patio plans; but the sheer quantity of blooms means you'll need to feed these plants on a regular basis. While the majority of pelargonium prefer direct sunlight, some varieties will tolerate modest shade without significantly hampering their ability to bloom. 
18. Hibiscus
Along with its distinctive scent, hibiscus flowers grow in striking neon colors that stand out like a highlighter. These plants generally require full sun or minimal shade in order to support their constant creation of new blossoms until the fall. While hibiscus aren't especially challenging to grow, it's worth noting the tropical variety does poorly in cold temperatures, and the non-tropical variety will slow growth when temperatures run below 50 degrees Fahrenheit.
19. Angelonia
Many types of flowering plants can't handle heat without shedding blooms in stress, which can make it more challenging to decorate with flowering plants in warmer climates -- but Angelonia are one of the exceptions to the rule. Loosely resembling lavender, Angelonia offer dozens of tiny flowers in a wide range of pastel hues. 
20. Marigolds
In the world of flowers, marigolds are a staple. Many blooming plants require special treatment or pampering, but like a weed, marigolds will bloom time-and-time again with minimal care. Classic oranges and yellows are the easiest to find, but other variations do exist. Enduring warmer temperatures with some grace, marigolds will survive until the first freeze of the season. Just make sure they get plenty of sun and enjoy the show.
Deck Garden Frequently Asked Questions
What are good potted plants for a patio?
The right potted plants for your patio will largely depend on how much shade and direct sunlight you can provide, as well as your commitment to maintaining them. Begonias and angelonia are adapted very well for life in flower pots or railing pots. Most succulents don't root very deeply, making them quite suitable for life in pots. But unless you have very large containers, you might want to avoid deep-rooting plants like boxwood, hydrangeas, or hibiscus.
What outdoor plants are good all year-round?
Potted plants for the patio that work year-round aren't that tough to find if you live in a region that doesn't have particularly cold winters. For example, lobelia, begonia, and angelonia are annuals that do fairly well in moderate cold, but won't survive an arctic freeze. For colder areas, boxwood are evergreen shrubs that can handle below-freezing temperatures, and Creeping Jenny remains perpetually bright and happy even in conditions cold enough to kill boxwood.
Can you put potted plants on a deck?
Potted plants on decking can be a great idea, but execution counts. You'll want to consider whether or not your garden decking ideas will require you to manage water runoff; and to what extent you'll need to clean-up after the plants you select as they shed blooms, leaves, or twigs. Provided you're situated to handle those minor messes, putting potted plants on your deck can be transformative for its aesthetic appeal, as well as creating a more soothing and pleasant space to spend time.
Add Some Color To Your Deck With These Plants and Flowers
Once you've found the right companions for your deck, plants and flowers can have a stunning impact. Having the right inspiration in selecting plantlife can make things easier -- and that effect can be magnified with other types of inspiration for renovating outdoor spaces, as well as finding a retailer and exploring your options. With your plans drawn up, you're ready to take the final step and find a contractor who can help you make your dream deck into a reality.
This page contains affiliate links. If you choose to purchase after clicking a link, Decks.com may receive a commission at no extra cost to you.
---
Explore Articles by Topic
Explore Articles by Topic