| | |
| --- | --- |
| Article Category: | |
10 Tips For Designing A Great Deck
Deck design is a very personal task. Your home's style should be a major factor or it will feel out of place. Over the years, we have seen each metropolitan area develop its own style of design. One builder takes an idea from another and, eventually, you have a flavor all its own that develops in your city. Then, you have a wide selection of manufacturers that have created as many as 2-10 product designs for you to choose from. There has been no lack of creativity in the deck industry over the past 5-10 years.
Site & Views - House, Yard, Elevation
The most common mistake in deck design is simply attaching a deck to fit an existing ledger board or replacing an exact copy of an old deck. This approach will limit your options and stifle the creative process. Home builders often add ledger boards and decks as an afterthought. It may not even be attached properly. 

The house door will serve as the primary access to your deck. The position of your door will determine your decks initial elevation. 

Low decks (less than 30" above grade) do not require guardrails. They look relatively squat and massive. The ground under a low deck will be concealed to view but can become a home for small animals or insects. Consider ventilation because the more a low deck can "breathe," the more mold- and mildew-resistant it will be.

Higher decks will appear more lightweight, like a floating platform. Guardrails will be required and long stretches of stairs are usually necessary. High decks offer an opportunity to showcase views of the surrounding landscape. The space underneath the deck is a great place for storage or a screened-in area for rainy days. 

What kind of views do you have to work with - a breathtaking snow capped mountain peak or an ugly water tower? Spend some time in the space at different times of day to get an idea of what kind of day lighting you can expect. Do you have any trees that provide spotted shade? If not, you may want to incorporate a shade feature. Is your yard flat or sloping? Do you have a pool, patio, hot tub or garden? 

A good design will accentuate the advantages of the site, whereas a poor design will bring attention to its flaws. The shape of your lot may affect the size and positioning of your deck. Landscaping, small trees, vents and AC Units can be adjusted if necessary. Sometimes large trees can be framed around your deck design, as well.
Establishing your Wants and your Needs
Most people want to design their own deck but often do not know how to start. This is how we suggest you start. Try exploring the big picture. Don't get hung up on details. Use your imagination. If you are still saying things like "I want a deck just like our last house," you are not trying hard enough. Don't be afraid to think big and bold. Perhaps you would enjoy owning your own private terraced oasis, an elegant veranda or some other outdoor space. This approach will typically lead to better results than deciding on a replica of your neighbor's deck.

You probably won't be able to fully realize all of these visions but, in the end, it will be worth it if you can blend a few of them into the final design. Now, let's decide upon what you really need to accomplish your dream deck. Do you need a way to access the backyard from an elevated patio door? Do you need a good place to keep your grill? Do you need a space for outdoor summer dining, relaxing and entertaining? Recognizing and negotiating your needs and wants will be a critical component in expressing your design intentions.
Traffic and Stairs
Think about how foot traffic will flow across your deck. Make sure that your furniture and grill arrangements do not interfere with movement. Your stairs and the house door should be easy to locate and free to access from any area of your deck. 

Guardrails will usually define the perimeter on taller decks. A short rail or benches can help guide traffic and maintain views for a low deck where guardrails are not required. The interior spaces of the deck need to include aisles for movement. Changing the direction of decking can be a useful technique to separate spaces. Pointing diagonal decking in a certain direction is a subtle cue to direct people's path of movement. 

Your deck stairs will anchor your deck to the yard and act as a primary point of access. Measure the height of your deck and use our Stairs Calculator to determine the number of steps you need. Long sets of stairs can be gently wrapped around a deck or split by a set of landings to reduce their awkwardness. Avoid landing stairs underneath a deck frame because of headroom issues. 

Multiple levels can be used to gracefully move people across your deck in interesting ways, but be aware that severe and sudden changes in elevation are not only awkward-looking, but also can be dangerous. Steps that form irregular angles or that are difficult to see may cause a tripping hazard. For low decks, consider stepping down around an angled corner with a cascading wrap around the stairs to help blend the deck into the yard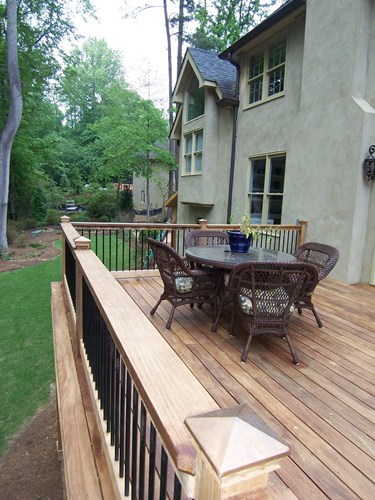 Create a path for smooth traffic flow.
Decking Choices
Choosing the right type of decking for your design is a very important decision. Some people prefer the look and feel of real wood like cedar, redwood or exotic hardwoods over man-made materials. Other people are fans of low-maintenance materials that offer a variety of colors and textures. Researching decking materials is key to making the right decision for you and your lifestyle.
Hidden fasteners will eliminate screw or nail placements in the floor. Reverse trim head composite screws are recommended over nails for composite decking for holding strength and to prevent mushroomed screw holes. 
Wood decks will need to be stained to protect the wood from cracking and warping. A variety of stain colors are available from natural to deep reds, browns and grays.

Color is a very important part of design. The playful use of contrast with a border can add a spark of life to any deck. Large decks with broad expanses of redundant floor treatment often will appear too plain. Decking applied diagonally or in a herringbone pattern can focus attention towards a particular space or view. Some designers even create a unique floor inlay to add some character to their deck.