Ready to Start Your Project?
You'll be redirected to Trex.com, our composite decking website.
Best Composite Decking Materials & Options for 2023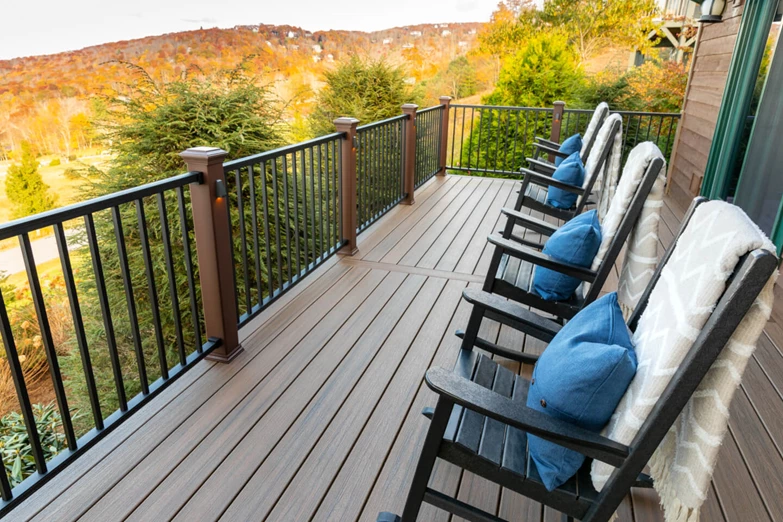 The most common question we get at Decks.com is, "What's the best composite decking material?" Unfortunately, there isn't a simple answer. There are multiple brands to choose from, that range in price and quality. You should also take into account composite decking reviews to see which brand is the best option for your home, budget and taste.
What is Composite Decking?
Composite decking boards combine two or more materials—typically wood fibers and one or more forms of plastic—to improve the appearance and durability of decks. Composite decking cuts and fastens like wood but performs better because it eliminates the imperfections of natural materials. As a result, composite decking lasts longer and reduces the need for maintenance, including power-washing, sanding, and staining.
What is Composite Decking Made of?
Composite decking boards are often made from recycled or reclaimed materials, mainly polyethylene (HDPE or LDPE) or PVC (polyvinyl chloride) mixed with wood fiber, rice hulls or other fillers, as well as a blend of chemical additives. Some composite products contain no recycled materials, while others are made with as much as 95% recycled content. The difference in recycled content, however, is more of an environmental consideration than a performance concern since most manufacturers have perfected their processing techniques.
Types of Composite Decking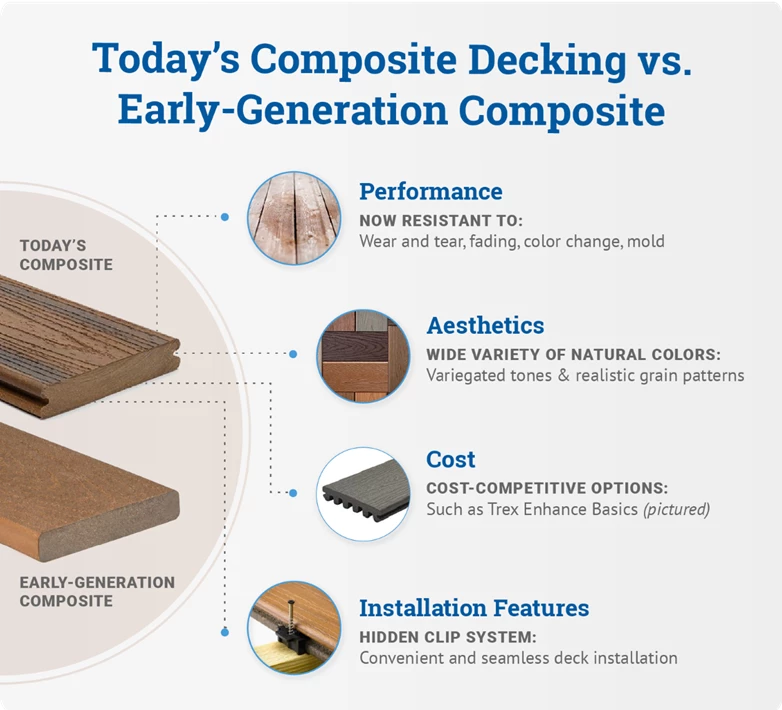 First-generation composite decking boards were a uniform mixture of wood fiber and plastic. Later, manufacturers added a synthetic cap that covers three or four sides of the boards, improving performance and appearance. The core of these capped boards differs among manufacturers and product lines. It is either a composite of wood fibers and plastic or fully synthetic.
First-generation boards. Made from reclaimed wood and plastic, the first composite deck boards were appealing because they were environmentally friendly, lasted longer than wood, were splinter free, and didn't need much maintenance. Without a synthetic cap, however, the boards would eventually show the effects of moisture and exposure to the sun.
Capped boards with a composite core. The cores of these boards often include materials similar to those found in first-generation composite decking. Around the core is a wrap, or cap, which prolongs the service life of the boards and enables manufacturers to offer a richer variety of colors. The cap also makes the boards easier to clean.
Capped boards with a synthetic core. These composite boards have synthetic (plastic) cores and synthetic caps. As a result, they withstand the elements better than boards that have wood fiber in their core and come with a longer warranty. Depending on the manufacturer and product line, the core contains either a blend of recycled and new material or all-new material.
What to Consider when Comparing Decking Materials
Value: Is a Composite Deck Worth the Money?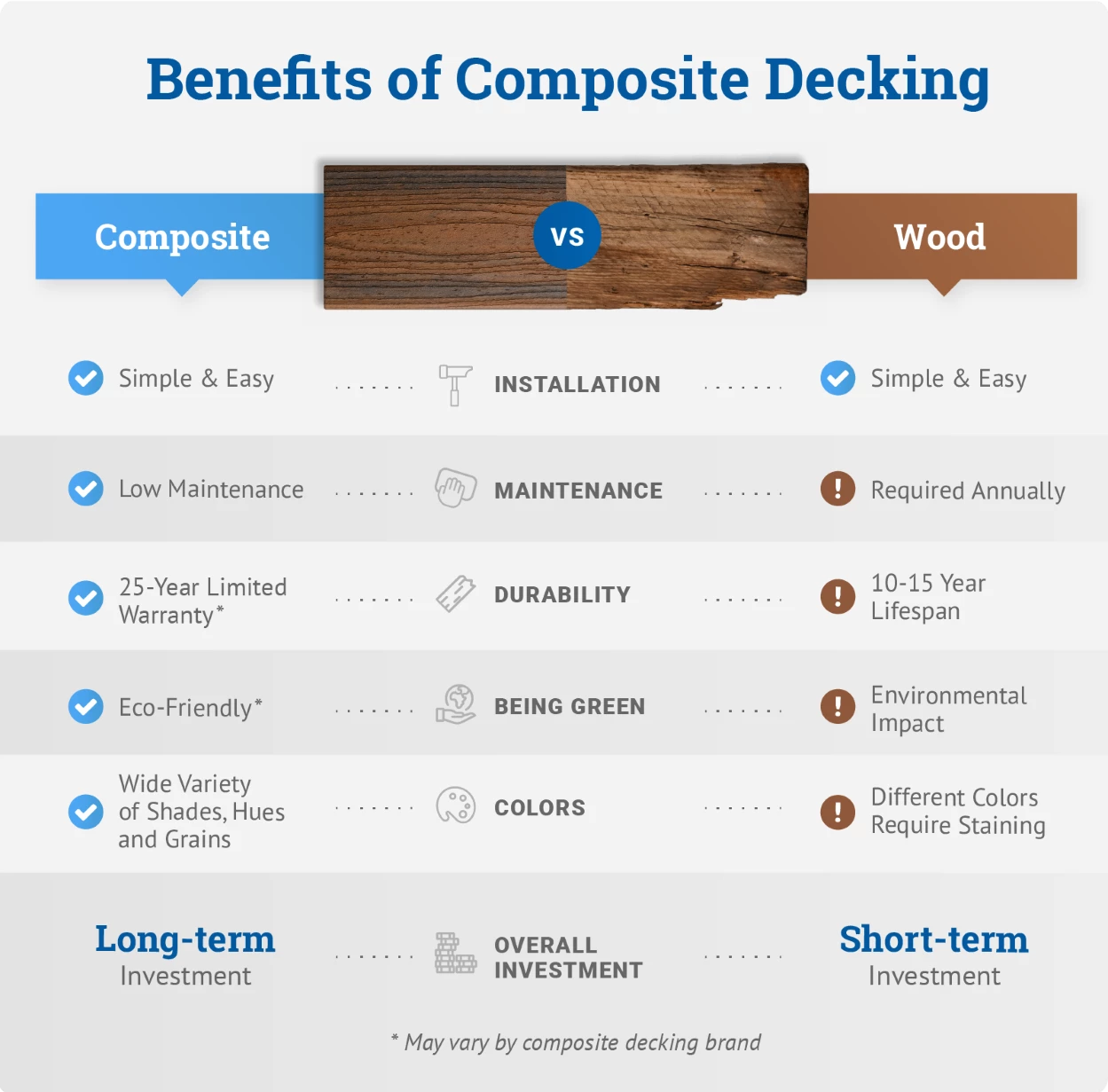 Whether you choose natural wood or composite materials, investing in a deck adds value to your home. And while cost is often the primary consideration, it's equally important to understand the value you're getting.
You've probably already noted that composite decking boards often cost more initially than natural wood. But the price difference has narrowed considerably as the cost of wood has risen in recent years. The price gap narrows even more when you look at the total cost of ownership. A wood deck requires much more time and money to maintain than a composite deck, which requires only periodic washing with mild soap and water. Plus, most composite products are backed by decades-long warranties.
A wood deck requires regular power washing, sanding and sealing/staining, and rotted or damaged boards must be repaired or replaced to preserve the performance and structural integrity of the deck. Whether you hire a contractor or do the work yourself, the costs add up. Once you factor those costs in, a composite deck can be less expensive than wood in the long run.
Let's take a more detailed look at the benefits of composite materials.
Ease of Installation
While wood decking is simple to install using nails or screws, composite decking manufacturers have created special fasteners that "disappear" to deliver a cleaner finished look. Most of these "hidden fasteners" require no special tools and are easy to install. Another option is color-matched screws that make the installation more like wood. As long as you follow the manufacturer's recommendations—proper spacing between boards and at butt joints, for example—using these fasteners to install composite decking is no more difficult than using traditional nails and screws.
Composite decking also cuts like wood and has similar dimensions. Most composite decking is available in 5/4" x 6" boards (actual 1" x 5.5") in 12', 16' and 20' lengths and that are installed perpendicular to the joists 16" on center or diagonally 12" on center. Most are recommended to be installed at least 3.5" above the ground to allow ventilation below the deck. Many companies also offer color-matched railing systems, trim boards, and low-voltage lighting to complement your composite deck.
Low Maintenance
Unlike wood, composite decking never needs stain, sealer or paint, and requires just an occasional soap-and-water cleaning to retain its aesthetics and performance.. Your local building department may require an evaluation service report (ESR) from an accredited materials testing laboratory as proof that the decking you plan to install meets building code standards. Typically, major composite deck manufacturers offer their most recent reports online.
While composite decking will save you time, energy, and money in the long run, it does require some maintenance, just as outdoor furnishings or other living spaces do to keep them free of dirt and debris. Learn more about deck maintenance here, and discover some additional benefits of composite decking versus wood as you plan your next deck.
Durability: How Long Do Composite Decks Last?
Composite decking is one of the most durable decking materials on the market, lasting 25+ years with minimal upkeep. This is partly because the decking is made from weather-resistant materials that won't rot or succumb to insects. Comparatively, traditional wood decks last just 10 – 15 years on average and demand routine maintenance.
Sustainability
In addition to its low-maintenance benefits, composite decking is often eco-friendly, because many manufacturers use recycled materials, which helps keep plastic and waste wood out of landfills. You're not only adding value to your home, but helping the environment too.
Variety
Composite decking has also come a long way in terms of style and color. Consumers can select from a wide array of natural-looking wood shades and grain patterns to suit different tastes and complement almost any architectural style.
Composite Decking in 2022: How Have Materials Evolved Over Time?
Performance
Today's composite decking materials perform better than earlier versions. They're less prone to damage from exposure to elements and deliver impressive resistance to scratches and scuffs. This is largely due to the resilient caps most manufacturers added to their decking, as well as new formulations and additives. The newest generation of composite decking is more resistant to general wear and tear, fading, color change and damage from elements, especially UV from the sun. When comparing composite decking beware of outdated information. Base your buying decision on reviews of the latest products and technology.
Aesthetics
Another improvement is the tremendous variety of natural-looking colors to choose from, i including many variegated tones that realistically imitate exotic hardwood grain patterns. New lines of colors are added so often that many deck builders now refer to the ever-expanding design choices as "deck fashion."
Cost
Composite decking manufacturers have also found ways to offer more cost-competitive options, such as Trex's lower-cost board, to fit a wider range of budgets. Now, it's possible for a homeowner or contractor to build with composite decking materials and get the same long-term benefits without breaking the bank. When comparing the prices from various manufacturers, also compare attributes, such as board thickness, board profile (solid or scalloped), aesthetics, and scratch resistance. These are what typically separate lower-cost boards from the more premium offerings.
Installation Features
Most composite deck boards are now installed using hidden fasteners. These fasteners come in different types, but they all deliver a smooth, seamless look where you don't have to see screws on top of the boards, or plugs. A groove in the edge of the composite board provides a surface for the hidden fastener to secure the board to the support structure.
Composite Decking Brands to Know
Invented by Trex in the mid-1990s, composite decking is widely recognized as a high-value alternative to wood. Many manufacturers have since entered the market, and several brands offer unique features, including proprietary materials, realistic grain patterns, and a variety of color options.
Trex(r) – Trex was the first company to combine plastic and wood flour in an extrusion process to make non-wood deck boards. Since launching approximately 30 years ago, Trex has remained the #1 brand leader. The company is best known today for its industry-leading Transcend product line, which is durable, beautiful, and easy to source locally.
Additionally, Trex offers boards at multiple price points to fit every buyer's budget. Trex also offers a full complement of fascia, railing and deck lighting.
TimberTech(r) – Several years ago, Azek Building Products—the leading manufacturer of PVC (polymer) decking—acquired TimberTech. Azek was a very strong composite decking brand, and the acquisition put the two most popular decking technologies under one roof.
Fiberon(r)- Fiberon is another strong composite decking brand with a long history. Known for offering unique grain patterns and streaking aesthetics, Fiberon composite decking is easy to find in key markets.
Which Composite Decking Material is Best?
Few manufacturers will tell you exactly what their composite decking contains or how it's made, so precise comparisons are difficult. Nonetheless, capped composite decking boards have several advantages, most of them stemming from the synthetic shell that protects the board's core from mold, mildew, rot, and the elements.
Capped composite decking is certainly more durable than its uncapped counterparts. Even so, it's up to homeowners to decide which material best suits their personal aesthetic, how much time they're willing to spend maintaining their deck, and which material offers the look and other features they like best.
Use our Find a Retailer to search for local suppliers of composite decking, and visit our Find a Contractor to identify people who can install it for you.
---
Explore Articles by Topic
Explore Articles by Topic