Ready to Start Your Project?
You'll be redirected to Trex.com, our composite decking website.
Comparing Composite vs Wood Decking
Over the last decade or so, the popularity of composite decking has waged a new question for future deck owners everywhere – wood or composite decking? While each have its own share of pros and cons, including cost, durability, maintenance/labor and lifespan, the checkmarks in the pro-composite decking column seem to be stacking up. However, there are many dedicated wood users who advocate for the material, and thus the composite decking vs wood debate is still in full force.
Composite Decking
So what makes composite decking such a great choice? For starters, composite decks are nearly maintenance-free. They don't typically need sanding, sealing or staining. They do, however, require semiannual cleaning, which consists of a soapy water mixture and a low power washer or soft bristle brush.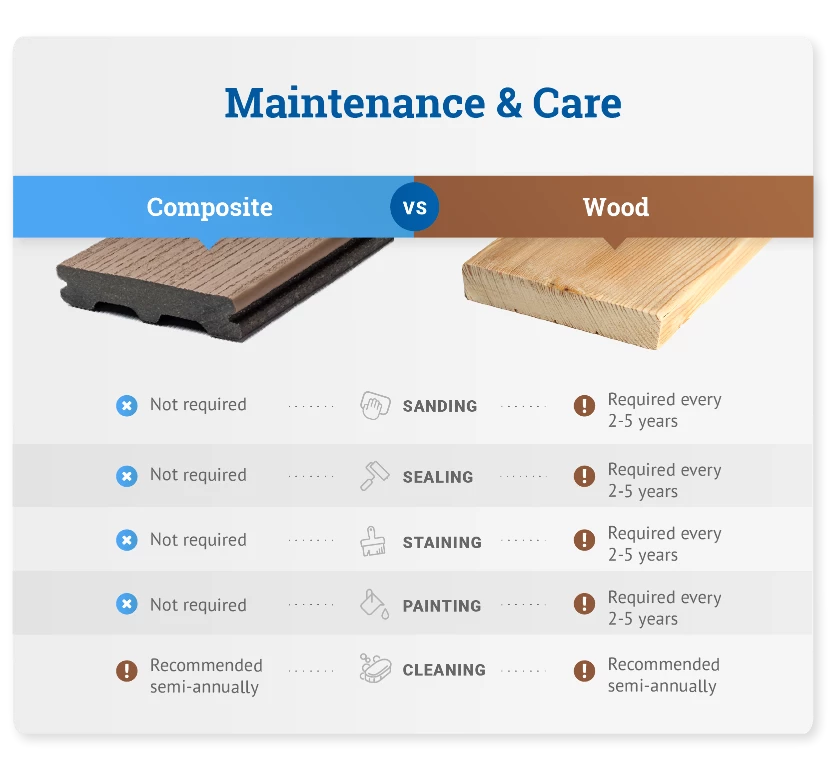 Maintenance & Durability
Composite decks are made of durable, long-lasting materials that are stain-resistant and will hold up well to harsh weather, as well as natural wear and tear for up to 50 years. Unlike a natural wood deck that can last 10-30 years before needing repair, composite won't splinter, rot or become susceptible to insect damage.
Additionally, most composite decks have built-in UV resistance, so they won't fade or lighten as much as natural wood would over time. But if your composite deck does fade over time due to direct sunlight exposure, you can stain or paint it to make it look new again. Many people don't realize that staining or painting composite is possible, but it's doable and can enhance the beauty of your deck over time, keeping it looking like new.
Costs
Is composite decking better than wood? The primary drawback to composite decking is arguably the higher price tag. At $30-$60 per square foot for installation, the costs can rack up fast when compared to $25-$43 for natural wood. However, due to the pros associated with composite decking -- including the low maintenance, durability, and the long-lasting nature of the material -- the cost of composite decking can be easily offset over time, eventually saving you money in the long run.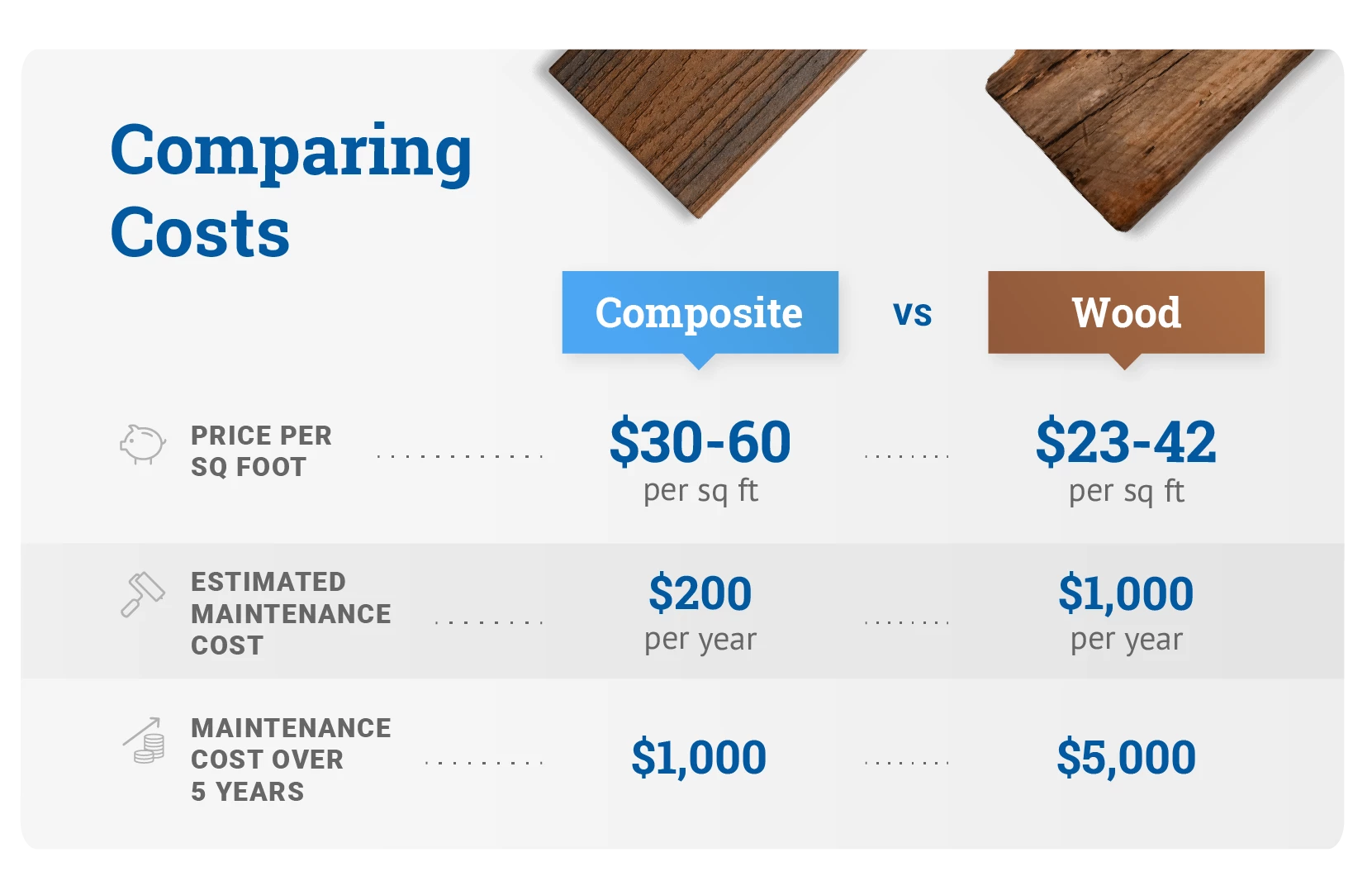 Wood Decking
The original and oldest choice for decking materials, decks have been using wood for their makeup since their existence, so we know it's a proven material that looks great. When it comes to wood, the biggest pro is that it's economical, long lasting and comes in several different types of wood from cheaper, pressure-treated options like yellow pine or higher quality varieties like cedar and redwood.
Maintenance & Durability
While composite decking is made to look like natural wood, some people prefer the authenticity of actual wood. However, as durable as wood decking is, it's still far more susceptible to maintenance costs, time and effort. Most decks require a full on retreatment consisting of sanding, cleaning, staining or painting and sealing every two to five years. If left untreated, the deck will fade and eventually rot.
Additionally, wood decks are known to splinter or warp due to the elements or normal wear and tear from use. This is especially noticeable in pressure-treated wood. However, on average, a well-cared for deck can last up to 20 years or more. Still not as long as composite, but an admirable amount of time, if properly treated.
Costs
If you're on a budget and the price tag of a composite deck is just too much, then a wooden deck is a great alternative. The lowest cost per square foot for a pressure treated pine deck sells for about half the price of composite, $25 versus $30 installation, respectively. Even high-end wood like cedar and redwood still come in under the price for the lowest composite decking.
Choosing Between Composite or Pressure-Treated Wood Decking
The argument of wood or composite deck all comes down to preference in the end. If you just absolutely love the rich, natural look of real wood and the time and money for maintenance doesn't bother you, then perhaps natural wood is for you. But, if you want a deck that's low maintenance and can last nearly twice as long as a natural deck, then maybe you fall in the composite camp. The choice is up to you!
---
Explore Articles by Topic
Explore Articles by Topic