Ready to Start Your Project?
You'll be redirected to Trex.com, our composite decking website.
Composite Decking Price Comparison Guide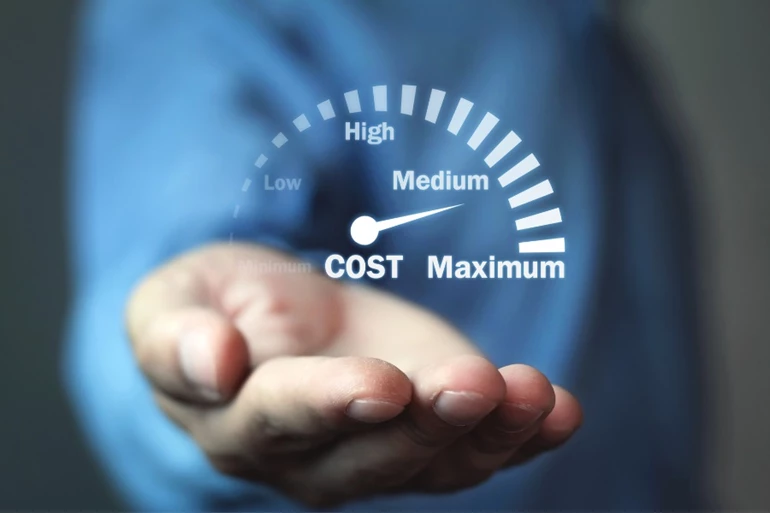 With the price of wood nearly doubling, low-maintenance composite decking looks better than ever. As you research the options and compare prices, keep in mind that many manufacturers offer different product lines at different price points, i.e., "good, better, best." In addition, most composite decking is priced in linear feet, but since the width of decking can vary, comparing prices based on square footage will give you more accurate results. Most contractors use square footage to price their bids.
Limit your search for composite decking to companies that have a current engineering report. Many building authorities won't issue a building permit without one. (The reports summarize the test results of the manufacturer's products.) Another important factor is local availability. It's best to find composite decking stocked by a local distributor, lumberyard, or another retail outlet. This will make returns and future purchases more convenient.
How Much Does Composite Decking Cost?
A big, beautiful deck is ground zero when you're entertaining guests outdoors. From cookouts to the conversation, nothing gets more use than a nice deck on a beautiful day. And, as the price of natural wood and composite decking approaches parity, it's important to understand the advantages of composite decks over natural wood.
So how much does composite decking cost? On average, a composite deck costs between $4.50 to $13 per square foot for the decking alone, or about $30 to $60 per square foot installed, including the substructure (joists, posts, and beams). Natural wood decks cost $25 to $43 per square foot installed. More desirable woods like cedar, redwood, and ipe (a tropical hardwood) will skew higher.
Deck Cost Factors
Decks also typically include rails, stairs, and fascia. As a result, the final cost of a deck isn't reflected in the cost of the decking alone. Much will depend on the building site, deck size, and design choices.
Other factors to consider:
Warranty. Wood doesn't come with a warranty, but most of the leading composite decking manufacturers guarantee their products for 25-50 years or longer.
Maintenance. Most wood decks require deep cleaning and refinishing every few years, which cost time and money. A composite deck is easy to clean with a brush and mild detergent.
Composite Decking vs Wood Cost: Is a Composite Deck Worth The Money?
Based on these averages, it can cost between $12,000 and $24,000 for a composite deck versus $10,000 to $17,000 for a wood deck. While that may seem like a large difference upfront, composite decks are less expensive over time because they last longer, look better longer, and require less upkeep than natural wood. In fact, better durability means the cost of a composite deck like Trex can be easily offset over time.
Compared to natural wood decks, which may last only 15 years with diligent maintenance, composite decks may last 25 to 30 years or even longer. That's due to their mixture of synthetic and organic fibers that are wrapped in a protective synthetic shell, which enables composite deck boards to resist mold, warping, and staining. They are also scratch- and fade-resistant.
The Rising Price of Wood
The cost of wood jumped 275% starting in 2020. While prices are lower today, wood still costs nearly double what it used to. Meanwhile, the cost of composite decking hasn't changed much. This makes composite decks very competitive, even compared to pressure-treated pine, the least expensive wood option. In fact, the price gap between composite and wood decking has never been so narrow.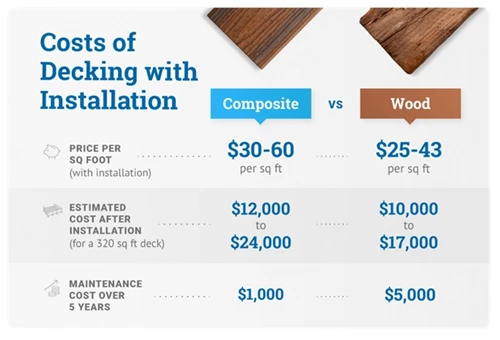 Comparing Prices of Composite Decking Brands
Comparing prices is important to ensure you get the best product that meets your budget. Many composite decking brands offer a range of products at different price points. Consult the manufacturers' websites and visit your local distributor or retailer to see how price relates to appearance and performance.
In most cases, you should also be able to pick up samples of composite decking materials from your local lumberyard or dealer - order them online. It's a good idea to do some practical testing at home to see how easily the surface can be scratched with a key or stained with some grease or ketchup.
Some materials tend to fade more than others. If your deck will be subject to intense sun and little shade, look for a finished project or outdoor display that has been exposed to the elements for a few years. Compare its deck boards with new ones to see how well they have resisted fading.
Check out our comprehensive composite decking comparison pricing chart for the most popular brands available, including the average cost of Trex decking. Trex's low-maintenance decks cost roughly two to five times more than wood, depending on the performance tier which ranges from low-cost to premium, but they last for decades and offer a lower total cost of ownership over their lifetime.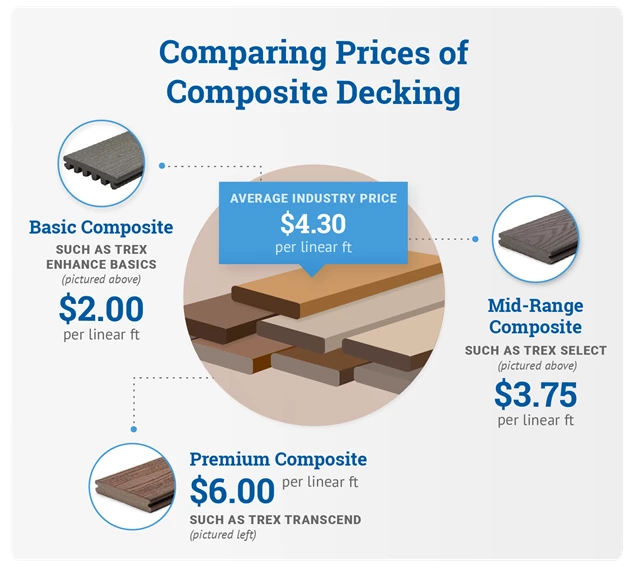 Composite Decking Brand Price Comparison Chart
Cost to Replace Deck Boards with Composite
The cost to replace wood deck boards with composite can run between $15 to $25 per square foot. A variety of factors may impact this range in costs, including the cost of composite materials, size of the deck, the complexity of the deck's shape or patterns to lay the decking, and the cost of labor. If you plan to install new composite decking yourself, the costs may range between $8 and $22 per square foot.
Due to the upkeep required by wood decking, many homeowners decide to later remove wooden deck boards and replace them with lower-maintenance composite decking. It's possible to just replace wood decking with composite, but if your deck's original structure and framing materials are made from wood, you want to ensure its structurally sound and the joists aren't rotted. Typically, it's not recommended to only replace the boards. Consider replacing the structure of your wood deck with composite framing.
Get started by calculating the cost to build your deck here.
When you're ready to build your deck, find a contractor near you or find a retailer to buy composite decking.
---
Explore Articles by Topic
Explore Articles by Topic