| | |
| --- | --- |
| Article Category: | |
Composite Decking Price Comparison
When researching low maintenance, composite decking materials and prices, there are a few important things to consider and compare. Even though there are a number of composite deck brands currently on the market, we recommend limiting your search to companies that have a current engineering report.
Many local building departments require that a manufacturer has one of these reports to provide testing data for their products in order to issue permits. Another important factor to consider is local availability. It is best to find a material that is stocked at a local lumberyard. This will make returns and future purchasing much more convenient.
How Much Does Composite Decking Cost?
A big, beautiful deck is one of your main resources of outside entertainment for guests. From cookouts to conversation, nothing gets more use than a nice deck on a beautiful day. So, when comparing composite decking prices with their natural wood counterpart's pricing, it's important to know why composite decks are more expensive than a natural wood deck.
Let's get down to it: how much is composite decking? On average, a composite deck costs between $30 and $60 per square foot, including installation. Natural decks, on the other hand, cost about $23 to $42 per square foot installed, especially for high-end wood like cedar and redwood.
Is a Composite Deck Worth The Money?
Based on these averages, if you do the math, it can cost between $12,000 and $24,000 for composite decking versus $10,000 to $17,000 for a wood deck. That may seem like a large expense differential up-front, but if you keep in mind the low maintenance cost, time and effort, in addition to the longer-lasting and more durable material, the cost of a composite deck like Trex can be easily offset over time. 
Compared to natural wood decks that may last only 15 years if given diligent maintenance, composite decks may last for more than 25 to 30 years. Due to their mixture of synthetic and organic fibers wrapped in a protective synthetic shell, composite deck boards are resistant to mold, warping, and staining. They are also scratch-resistant and fade-resistant. Not only does composite decking hold up better in terms of longevity and structural integrity, but a deck made from composite will still stay beautiful over the course of its lifetime with significantly less maintenance than a wood deck.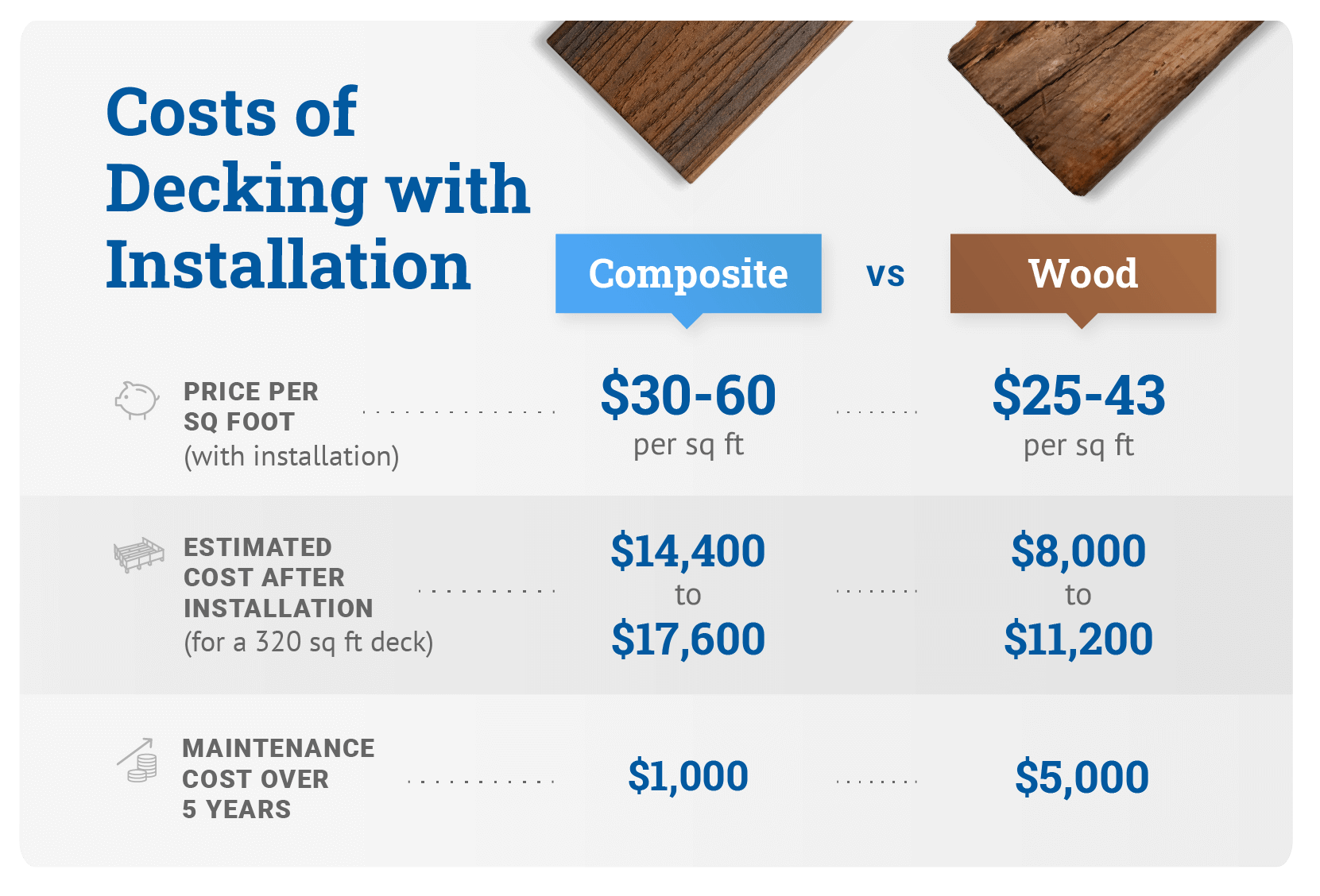 Comparing Prices of Composite Decking
Comparing pricing is always important when trying to choose the best product to meet your budget. Many low maintenance decking brands offer a range of products at different price points. You can consult the websites or your local dealer for details of how price relates to appearance and performance.
In most cases, you should also be able to pick up samples of materials from your local lumberyard or order them online. It's typically a good idea to do some practical testing at home, so you can see how easily the surface can be scratched with a key or stained with some grease or ketchup.
Some materials tend to have color fade issues more than others. If your deck will be subject to the intense sun with little shade, you may want to see if you can find a finished project or outdoor display to visit that has been exposed to the elements for a few years as a part of your research process.
Check out our comprehensive composite decking comparison pricing chart for the most popular brands available, including the average cost of Trex decking.
Trex's low-maintenance decks cost roughly two to five times more than wood, depending on the performance tier which ranges from low-cost to premium, but they last for decades and offer a lower total cost of ownership over their lifetime.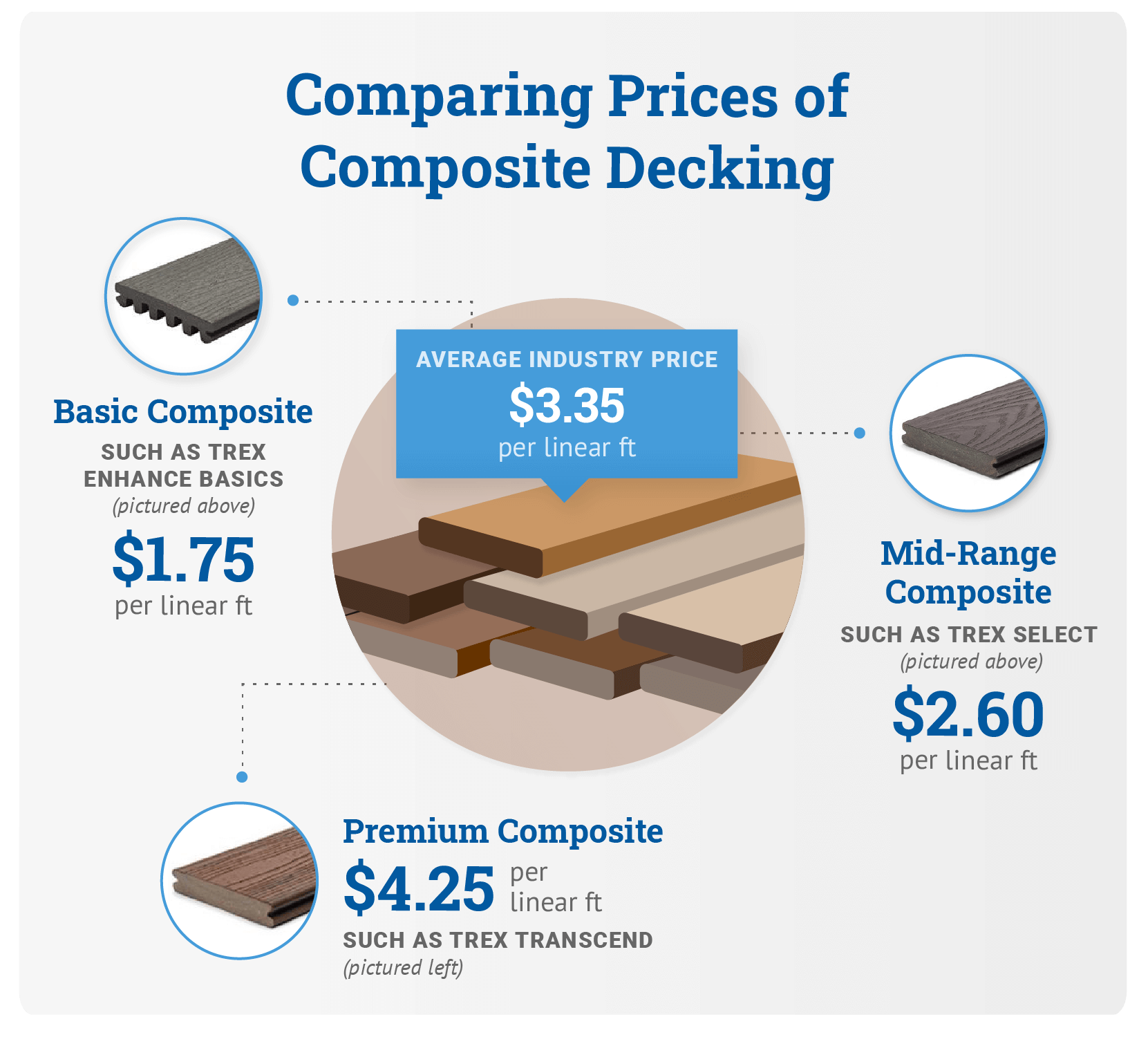 Composite Decking Brand Price Comparison Chart