Ready to Start Your Project?
You'll be redirected to Trex.com, our composite decking website.
Replacing Wood Deck Boards With Composite
While the structure of your deck can remain solid for decades, surface boards tend to wear down much faster. That's led many people to wonder, can you replace wood deck boards with composite, and then continue using your deck's original structure?
Replacing wooden deck boards with composite materials does require a little preparation, even if you are building with kits that were specifically designed to provide high-quality composite materials for resurfacing projects. But with some planning and forethought, installing composite decking over existing deck structures can be quite cost-effective. At the least, homeowners will want to make sure that everything remains up-to-code and their joists are not rotting.
The advantages of replacing deck boards with composite mostly come down to the costs of maintenance. Since there is no staining or sanding required, composite decking requires much less maintenance compared to wood. Additionally, installing composite decking over old decking is generally far more cost-effective than doing a full replacement. And if you're replacing a damaged surface, installing composite decking over wood can actually add value to your home.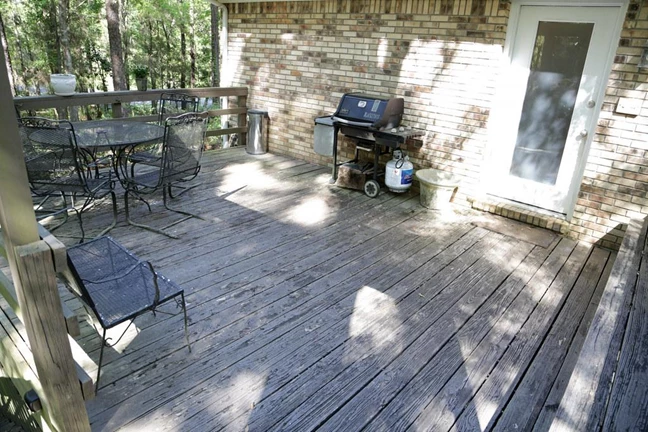 Can You Place Composite Boards Directly On Top of Wood Boards?
No; this is not a recommended practice. In many decking replacement jobs, joists end up being replaced, repaired or capped. This is due to the common discovery of dry rot beneath the decking, usually where the fastener penetrated the joist. When updating a deck with new decking, it's crucial that the old decking is removed so the joists and beams can be assessed and repaired if necessary.
Installing decking over old decking will drastically reduce the lifespan of the material. The joints between the two materials will readily trap water in wet environments. This contact area should be limited only to the top of the joists, leaving most of the decking exposed on both sides. If placed on top of other decking, there will be little drying potential beneath the new decking and more rapid decay of both the new and old can be expected. For manufactured products, installations over old decking or solid surfaces are prohibited and will likely void the warranty.
How Much Does It Cost to Replace a Wood Deck with Composite?
Before installing a new surface, you'll need to remove the old one. The average price of removal is around $5.00 to $10.00 per square foot, while replacement composite decking may typically range between $3.00 to $12.00 per square foot. Replacing deck boards with composite may cost between $8.00 and $22.00 per square foot, assuming you install the new composite yourself.
The cost of replacing deck boards with composite also increases if you want to replace more than the surface of your deck. If you'd like to see how much it would cost to replace the full structure, check out the deck building cost calculator.
How to Install Composite Decking Over an Existing Deck
There are a few simple steps to follow in order to install new composite decking over an existing deck structure.
Step 1: Remove wooden deck boards.
Starting from the edge of the deck, use a drill, hammer, or pry bar to remove unwanted boards. A circular saw or chisel may be necessary for dislodging damaged sections.
Step 2: Check joists for rotting or warping.
Identify soft spots or loose fasteners by using a screwdriver to probe areas where substructures come into contact. Chisel and treat small areas of damage before starting to resurface your wood deck with . To protect joists from water damage and rot in the future, you may also want to use a protective joist tape, such as Trex Protect, to seal deck fasteners and prevent moisture penetration.
Step 3: Install composite decking boards.
Use 3" decking screws to connect replacement boards into joists. Alternatively, deploy a hidden fastener system to keep the boards tightly sealed against their supporting joists.
But how do you know you're inspecting the frame properly, or placing the new boards correctly? Before trying to refinish a deck with composite, it's worth taking some time to learn more about replacing deck boards and how to install composite decking over a wood frame.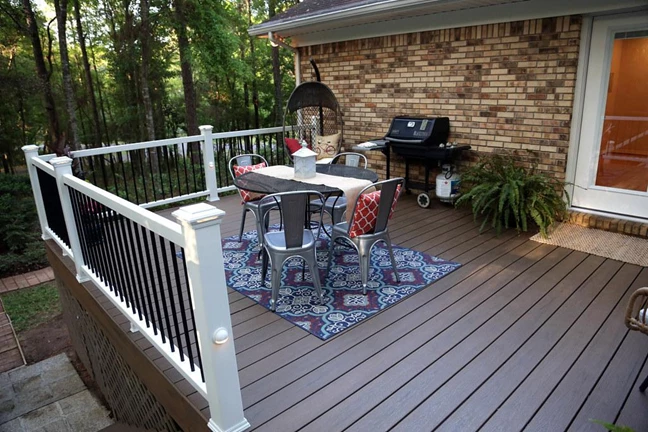 ---
Explore Articles by Topic
Explore Articles by Topic