Ready to Start Your Project?
You'll be redirected to Trex.com, our composite decking website.
Concrete Deck Footing
This footing type uses a concrete pier that extends from the footing base to above grade. There are several variations of this footing type that are commonly used.

Small diameter footings may use a cardboard form tube that is set to the acceptable depth and filled with concrete to produce a monolithic footing.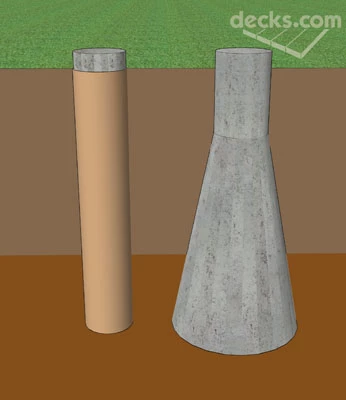 For larger diameter footings, it is more practical to pour a footing base to the appropriate size and depth and extend the footing to the surface with a smaller diameter pier. In order to sufficiently connect the footing to the pier, you will want to use two L-shaped pieces of rebar.

The top of the pier will need to be fitted with a concrete anchor and post base connector in order to accept the deck post. There are different kinds of concrete anchors to choose from that can be installed. Some anchors are set while the concrete is still wet; others are predrilled and then tightened with a wrench to expand into the hardened concrete. Post bases are designed to lock into the concrete anchors and connect to the support posts. The anchor, post base and support post will have to come together in a relatively small area. Using an adjustable post base can give you a little more room to work with.

Footings that use concrete piers offer several advantages over other methods. Once the footings are in place, they will provide permanent visible evidence of the support strength of the structure. Also, this type of footing makes it much easier to replace a post if one ever becomes damaged. You can modify this type of footing by using a rigid plastic base form that is engineered to create a flared base to help prevent frost heaving.

Square footings offer the benefit of maximizing the surface area for soil compression. This variation typically makes more sense where shallow footings are required because hand digging will be required.
---
Explore Articles by Topic
Explore Articles by Topic