Ready to Start Your Project?
You'll be redirected to Trex.com, our composite decking website.
How to Design & Build an Above-Ground Pool Deck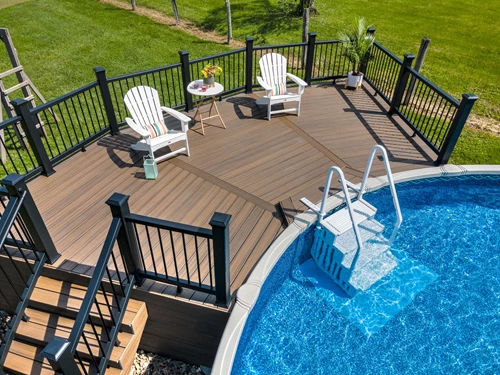 So, you've finally decided to break ground for a new above-ground pool. Congratulations! Chances are, if you're installing a new pool, you'll likely want a beautiful new deck to accompany your latest backyard acquisition. However, designing a deck for an above-ground pool is a little different than designing a deck that exists off the side of your home or patio.
Before you cannonball into the deep end of above-ground pool ownership and building a deck, it's important to consider some of the hidden costs and plan accordingly. This way, you can set aside an ample budget for your project and head off any future problems at the pass.
What to Consider When Designing a Deck for Above-Ground Pools
Here are some questions to consider before you decide to DIY or enlist a professional to draft a plan for your above-ground pool deck:
Should you hire a professional deck builder or DIY?
The first, and biggest, decision you have to make is whether you want to try your hand at building an above-ground pool deck yourself, or if it makes more sense to hire a contractor. Consider your construction skill level, the amount of time you have to complete the project, and your budget. No matter which route you choose, there are plenty of tutorials and resources online, such as our Decks.com DIY deck building guide. You can also easily find a contractor near you.
Install your pool before you build your deck
Don't build the deck first and hope it fits around the pool you choose. While above-ground pools have standard wall heights (48", 52" and 54"), every pool will be slightly different. Don't take a chance on building a deck and not having it work with the new aquatic centerpiece of your backyard.
Budget for fencing around your pool
Any yard that has a pool must also have a fence as a safety precaution. Regulations on how high fences around pools vary between states and municipalities. Be sure your fence complies with local building codes before breaking ground. If you don't already have a fence, be sure you earmark part of your pool and deck building budget to include the construction or installation of one.
Build your deck as close to your pool as possible
Perfectly aligning your pool's decking boards with the lip of your pool is not only an attractive design feature, it's a great safety feature, too. It keeps the ground level for those getting in and out of the pool and can help minimize trips and falls over any pieces that jut out.
Run decking boards beneath your pool rails
At some point in the distant future, your pool may need its liner changed out. If your deck hasn't been planned correctly, your installer may need to cut your deck to change the liner, ruining a beautifully constructed deck. To future proof your deck build, take into account that most above-ground pools have a top railing that either screws or snaps into place on the pool's frame. Running deck boards beneath your pool rails can make it easier for an installer to remove them to change your liner without having to cut into your deck.
The best plan is to have a conversation with the pool installer. Ask him how the deck must be installed, its height, required gapping, etc., so he can change the liner out with a minimum of effort in the future.
Build a separate structure to house your pool equipment
Many people opt to place their pumps and filters beneath their above-ground pool deck. While it looks neater and protects your equipment from the elements, it can make it much harder to maintain the equipment that keeps your pool clean and functioning. Instead, situate your equipment to the side of your deck to ensure easy access and make . To keep the equipment out of sight, you can build a smaller structure to contain your pumps, filters, and equipment. (Pro tip: Repurpose any waste lumber or composite boards leftover from constructing your deck to build housing to keep your pool equipment out of sight.)
It's important to realize some mechanical equipment might need airflow so motors and pumps don't overheat. Check the installation manuals on all pool equipment to ensure a structure will not void the warranty or cause premature failure.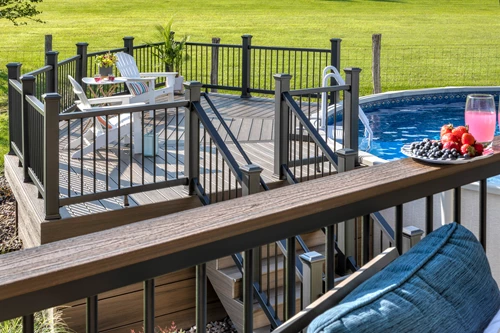 Above-Ground Pool Deck Ideas & Shapes
One of the things you will need to decide on early in the process is the shape of your pool -- and your pool deck. From round pool decks to rectangular pool decks, you have a number of options to choose from.
Circular or Round Above-Ground Pool Deck
Most above-ground pool decks wrap around a circular or oval-shaped pool. Stairs provide access to a platform to enter the pool and relax on poolside furniture.
Oval Above-Ground Pool Deck
An oval above-ground pool deck is pleasing to the eye for starters. It complements the circular shape of most above-ground pools. The disadvantage is an oval pool deck can be more difficult to build than a standard rectangle due to its curves.
Rectangular Above-Ground Pool Deck
The biggest benefit of a rectangular pool deck is the ease of construction. Anyone with basic DIY skills who can read and follow instructions should be able to complete this project.
Irregular or Kidney Shaped Pool Deck
A kidney-shaped deck can add lots of sizzle to the overall visual appeal of a pool. That said, achieving a kidney-shaped design can increase installation difficulty by perhaps 4X that of an oval-shaped pool deck.
How to Build an Above-Ground Pool
Decks constructed around above-ground should not be attached to the pool for stability, meaning the deck should be sufficiently stable in all directions by itself, without requiring any lateral or vertical support from the pool. The structure is essentially just a freestanding deck adjacent to the pool. For most above-ground pools, these decks will be anywhere between 3 to 6 feet above the ground and must be laterally braced from the beams/joists to the bottom of the posts. Cross-bracing in these regions and in both axes (north/south, east/west or such) is necessary. At common pool heights, embedding posts in the foundations will not be sufficient for lateral restraint.
New building codes addressing decks around pools should also be considered. The maximum gap between the decking and the pool coping is generally 3/4 inch. Slip resistance, gaps between boards and slope of the deck may also be regulated depending on the local codes. These design requirements should also be considered for any deck adjacent swimming pools or hot tubs, whether in or above ground.
Ideally, the pool deck should be built directly under the lip of the pool edge. It is best to set a series of segmented beams and footings about 2' from the edge of the pool to support around the curved sides. It is a good practice to install joist tape over the top of joists to protect from standing water. Installing a self-closing gate may be required to prevent access for unsupervised children. Installing extra blocking will reinforce the frame because of the added activity and variety of uses on pool decks.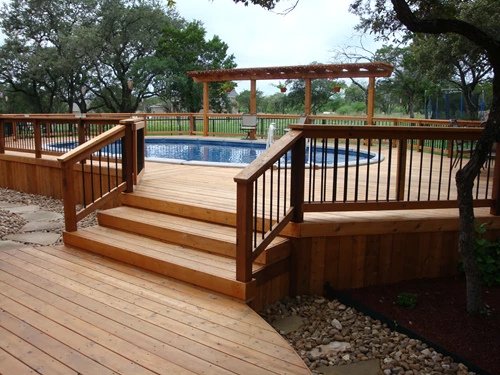 Get Started with Above-Ground Pool Deck Plans
Having a gorgeous deck can enhance the enjoyment factor, giving you space to lounge poolside and make the most of your new swimming pool. However, keep an open mind when planning, and don't feel tied to a specific design or material if it's not within your budget. A knowledgeable, trustworthy builder can help guide you in the right direction and help you strike the right balance that you, your family, and guests will enjoy for years to come.
Check out our free pool deck plans to get started. You can also find a deck builder or shop for materials.
---
Explore Articles by Topic
Explore Articles by Topic