Ready to Start Your Project?
You'll be redirected to Trex.com, our composite decking website.
11 Deck & Patio Landscaping Ideas
Creating a beautiful landscape around your deck or patio can be pleasing to the eye, but there is a lot of work involved to get there. You'll need to consider constraints such as space, cost, and maintenance involved. While every backyard is different, it always helps to have some ideas to see what's possible and what may work with your own backyard. Check out our gallery of images and ideas below to get inspiration for your deck or patio landscaping project.
How Do You Landscape Around a Deck or Patio?
Once you have a few concepts, it's time to bring those landscaping ideas to life. When incorporating your deck or patio into your backyard landscape, you'll want to plan accordingly:
Select your materials and determine borders. Plants, trees, bushes, and fencing can help create a border to contain your backyard landscape. For instance, if your deck surrounds a pool, you'll likely be required to have a fence based on local ordinances to provide a protective barrier that keeps people from using your pool unsupervised. If this is the case, you'll want to include a fence in your landscaping plan.

Additionally, understanding what plants or bushes may work with your landscape and the amount of sunlight, moisture, and overall maintenance required can help you narrow your choices.

Breaking ground. You'll also want to plan to dig up existing turf, install border edging, and lay out landscaping fabric to help minimize the amount of grass or weeds that can disrupt your carefully-cultivated backyard landscape.

Planting and adding materials. Once you've mapped out your landscape and prepared the ground, it's time to finalize your layout and install your plant. You can also add mulch or rock beds on top of your landscaping fabric. Using these materials in your layout may help decrease overall time spent on mowing or maintenance, as well as add color or patterns with different types of mulch or gravel. This is where the decorative touches come into play and make the backyard landscape of your dreams a reality!
Beyond adding plants, mulch, and stonework to your backyard, there are other design principles and features to consider. Some of the best backyard deck and patio design ideas incorporate colorful cushions, space for a grill or outdoor dining area, and lighting options to create a welcoming atmosphere.
Landscaping Ideas for Decks and Patios
The right landscaping design can complement your deck and patio, offsetting the beauty of your home and backyard. Look to our gallery of deck and patio landscaping ideas to find inspiration, as well as get tips on how you can adapt these looks for your own backyard.
Surround Your Patio With Flowers and Trees
Planting bushes around your deck with colorful, fragrant flowers can not only form a natural border, but enhance the view. Consider plants and bushes that will rebloom every year. For instance, hydrangeas thrive in partial sun, so having a covering of small trees can give them just the right amount of shade.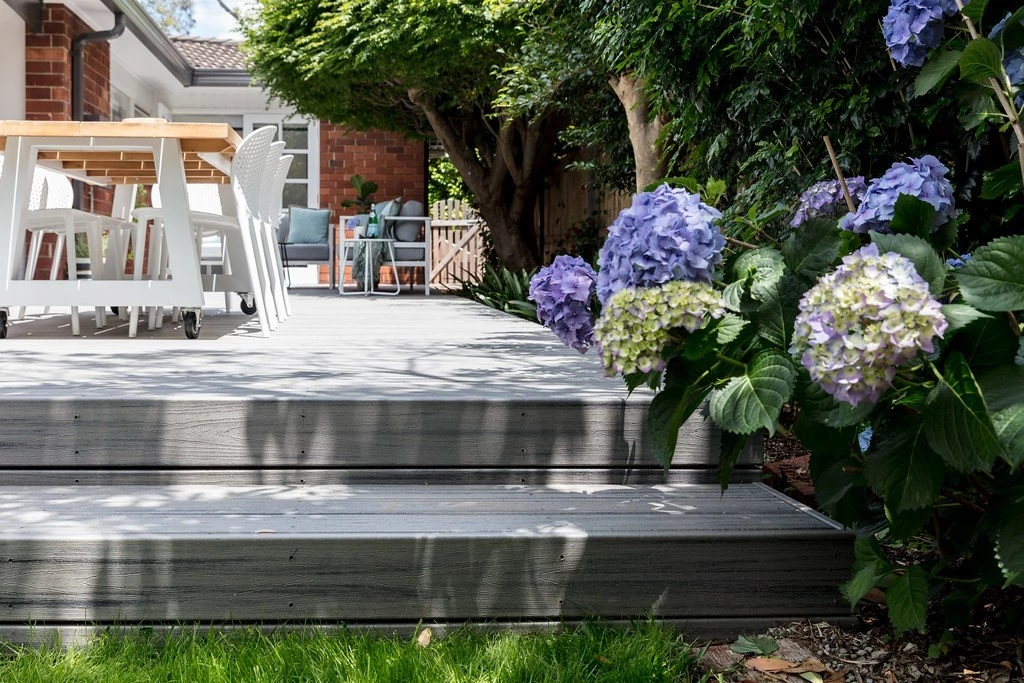 Bushes & Trees Around a Raised Deck
When working with an elevated deck or patio, consider the height of bushes and plants you want to surround your deck. Tall bushes can help fill in the gap where your deck is elevated and eliminate an unsightly crawlspace from view.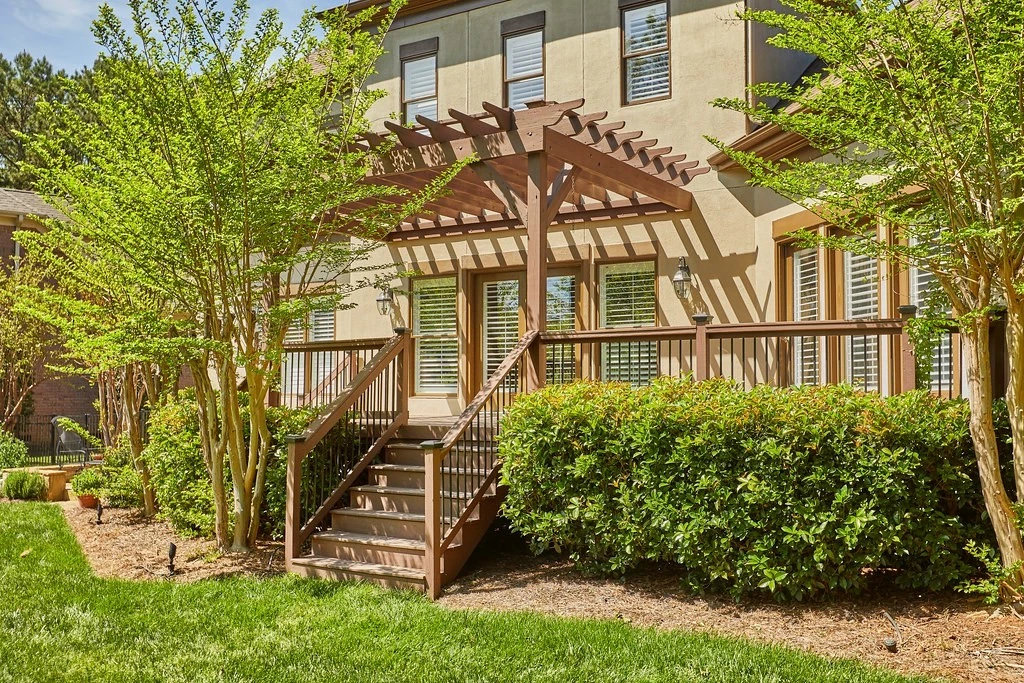 Minimalist Landscaping with Rock Beds
Rock beds can be an attractive way to create a border between your patio and lawn. While you can plant a small bush or tree in these decorative areas, there is little risk of grass or weeds encroaching upon your patio. This can save you hours of time from having to pull weeds and creates a polished, well-maintained space around your deck.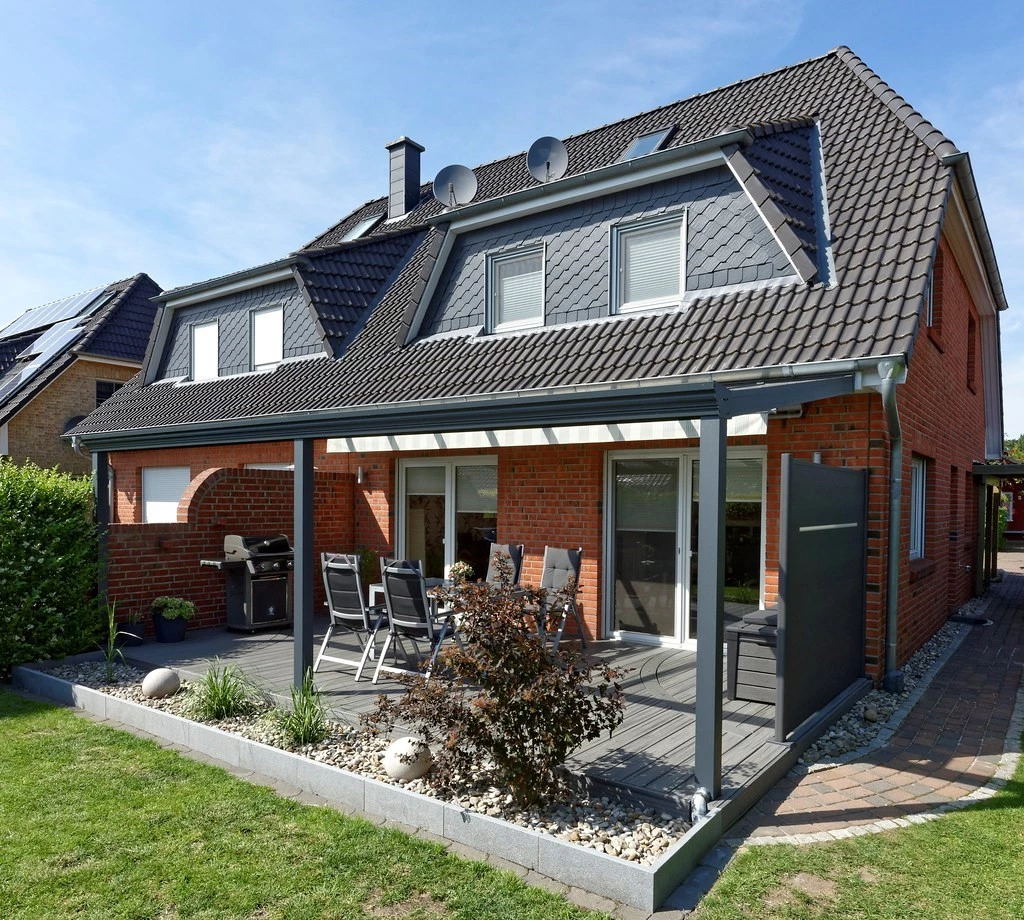 Add Planters and Flower Beds Around Your Patio or Deck
Planter boxes can be a great way to add plants to a raised deck, and it's easy to build your own planter box. You can use large planters constructed from the same type of wood or composite materials to match your deck. These planters can be used to add plants and colorful flowers around your deck. A pergola -- as well as graceful climbing ivy -- can add interest with minimal maintenance.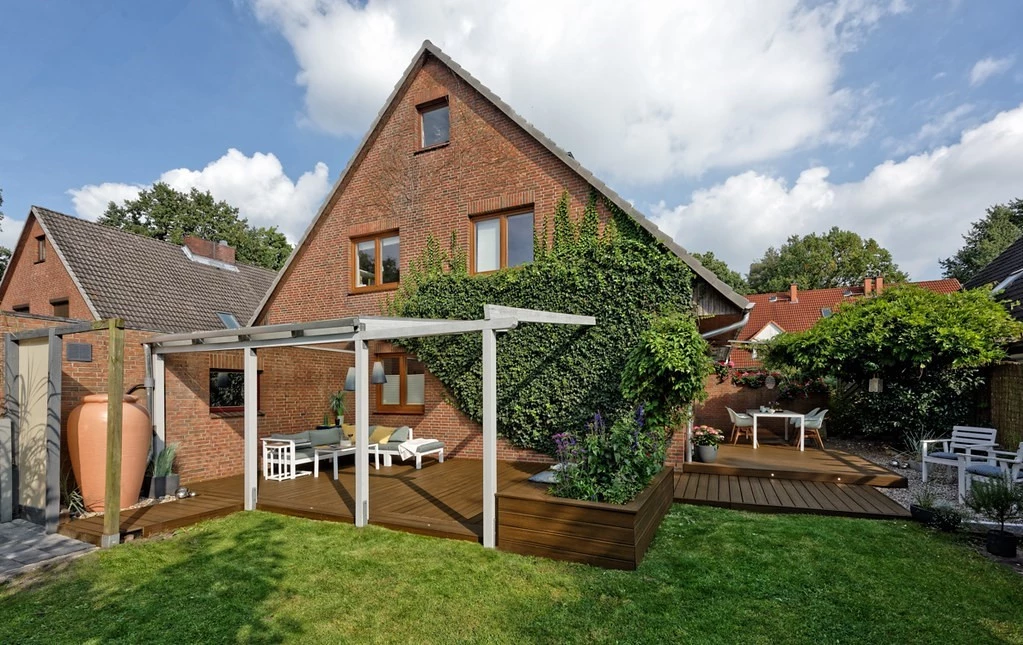 Use Mulch to Contain Plants
Adding mulch on top of landscaping fabric can help to minimize growth of weeds, while also serving as a place to add plants. This multi-level deck and patio also incorporates built-in planters for a landscaped look that you can tend to without having to mow or pull weeds.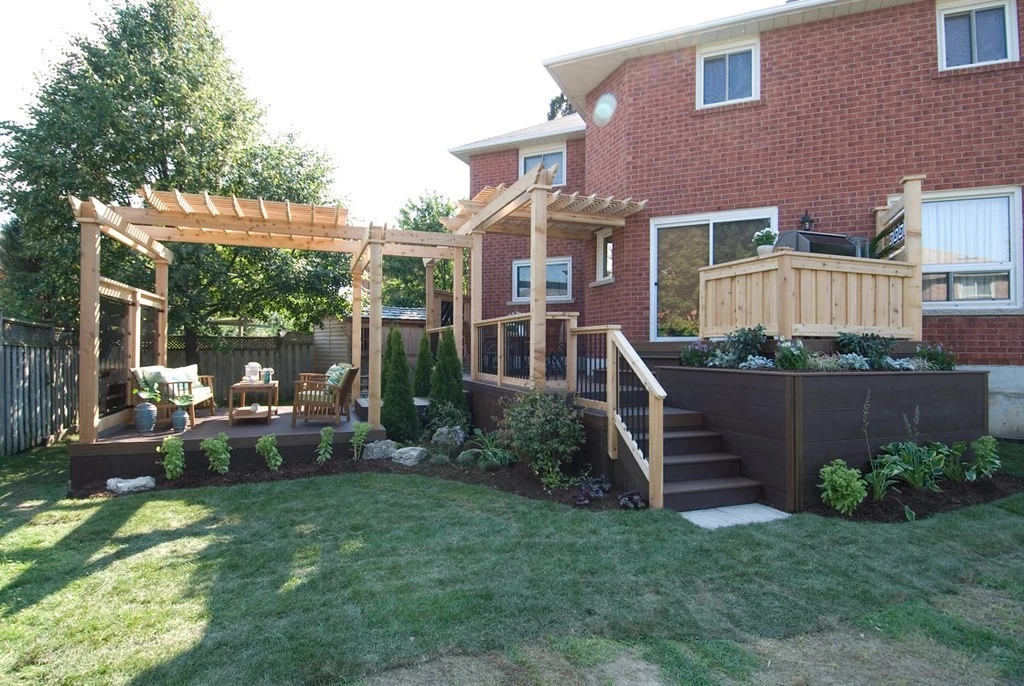 Use Natural Stones Create Your Own Backyard Pond
Don't have a natural spring in your backyard? No problem! Artfully arranged rocks can provide an enclosure around an artificial pond of your own creation. Adding mulch and shrubs can create a picturesque area surrounding your patio.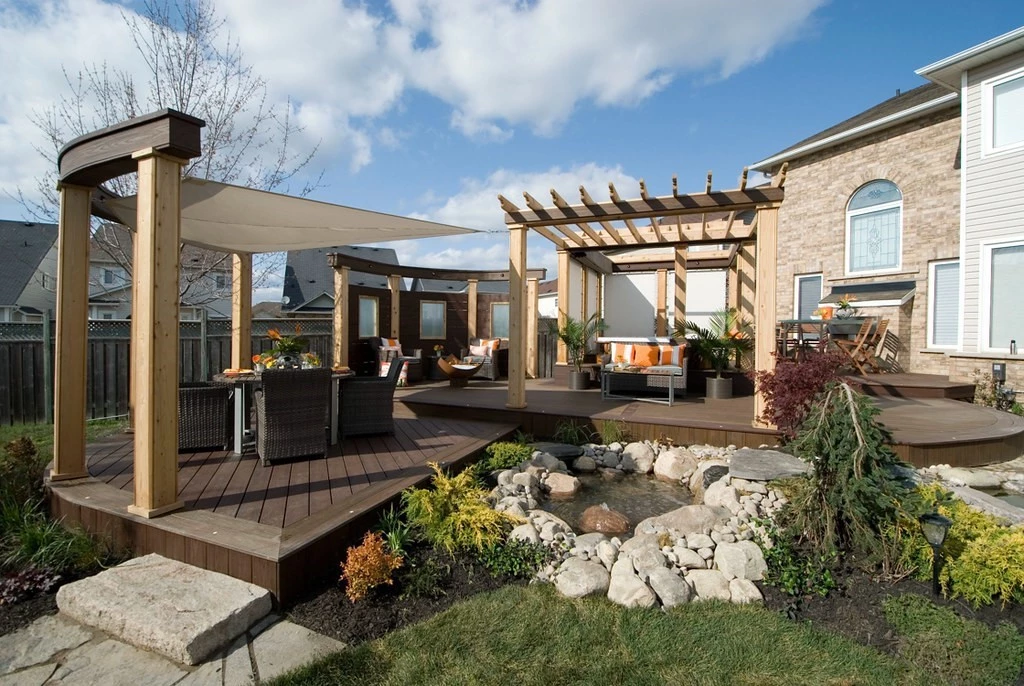 Mulch & Gravel to Prevent Overgrowth
If your patio or deck sits closer to the ground and isn't elevated, there are clever ways to reduce having to mow or weed any overgrown areas near your deck. Better yet, these design tips can also help you create an attractive backyard oasis. Digging, then adding landscaping fabric to areas surrounding your deck can provide a base layer for mulch. Layering man-made gravel beds can also stop unwanted overgrowth. You can also mix gravel in different colors to make an eye-catching pattern.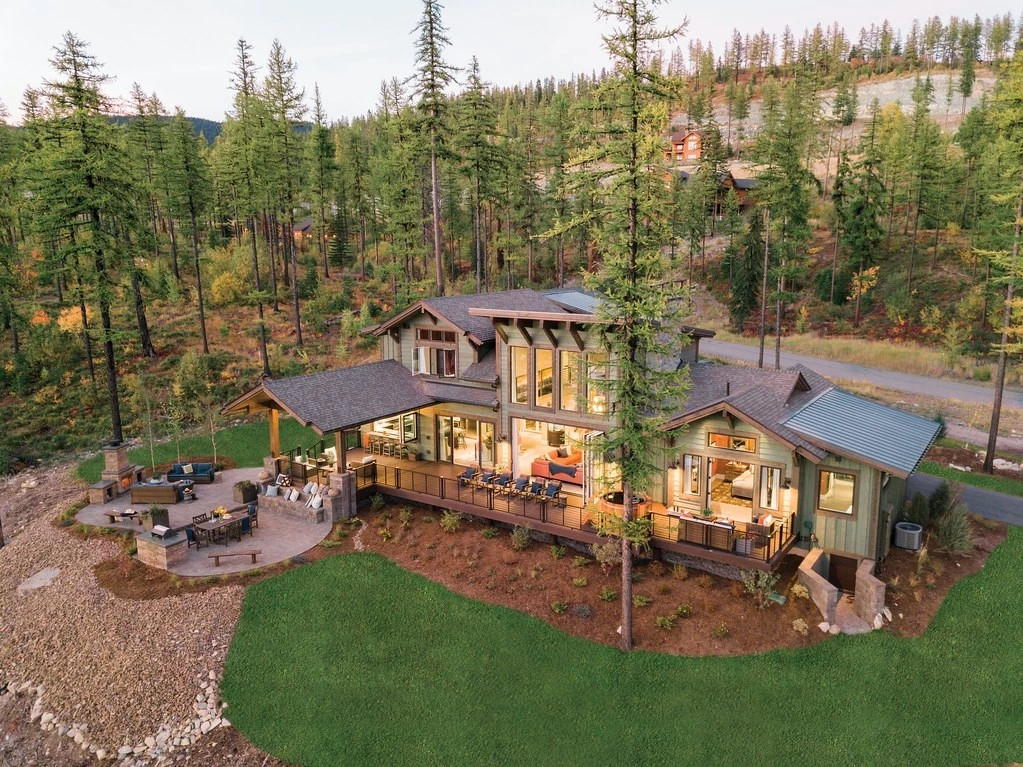 No-Fuss Planters
Sometimes, simplicity can be one of the most beautiful aspects of a backyard landscape. A well-manicured lawn (grass or astroturf!) can offset a patio. Large pottery and plants of varying shapes, sizes, and textures can surround your patio, making it feel cozy and welcoming -- all with very little effort!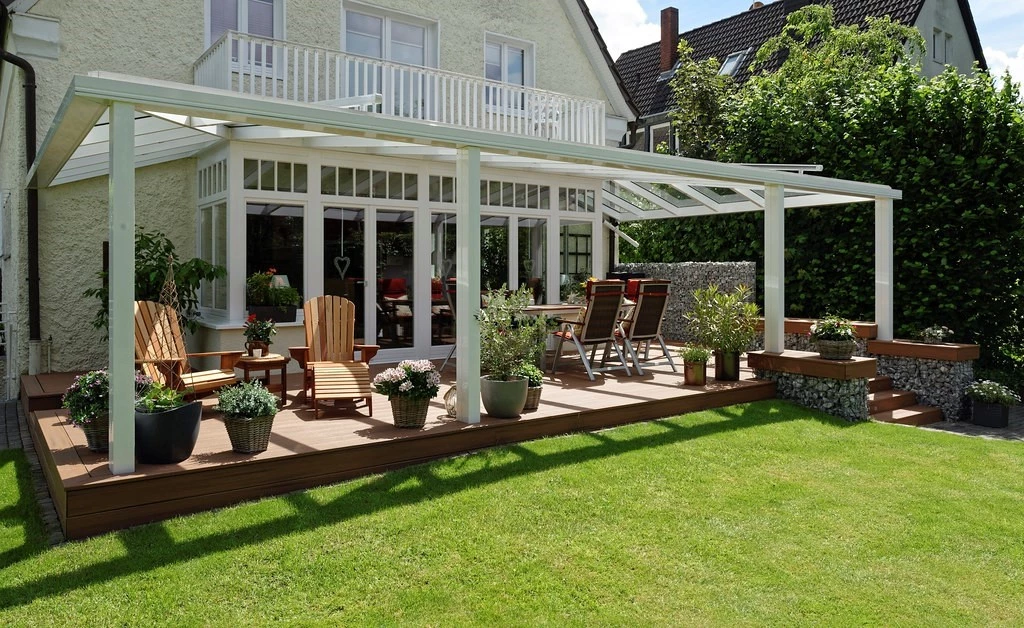 Landscape With Your Home and Deck In Mind
A large home with distinctive features and large picture windows often calls for an equally impressive elevated deck. Equipped with LED lights illuminating each step of its multiple staircases, this deck also features beautiful stonework. White railings work with the trim of the home, while some of the light-colored stonework of the deck also pulls the look together.
Rather than compete with these beautiful features, keep your landscaping ideas simple. Adding mulch in a brown hue that matches the decking can help prevent overgrowth while forming a backdrop for a few well-placed shrubs that work with the design concept.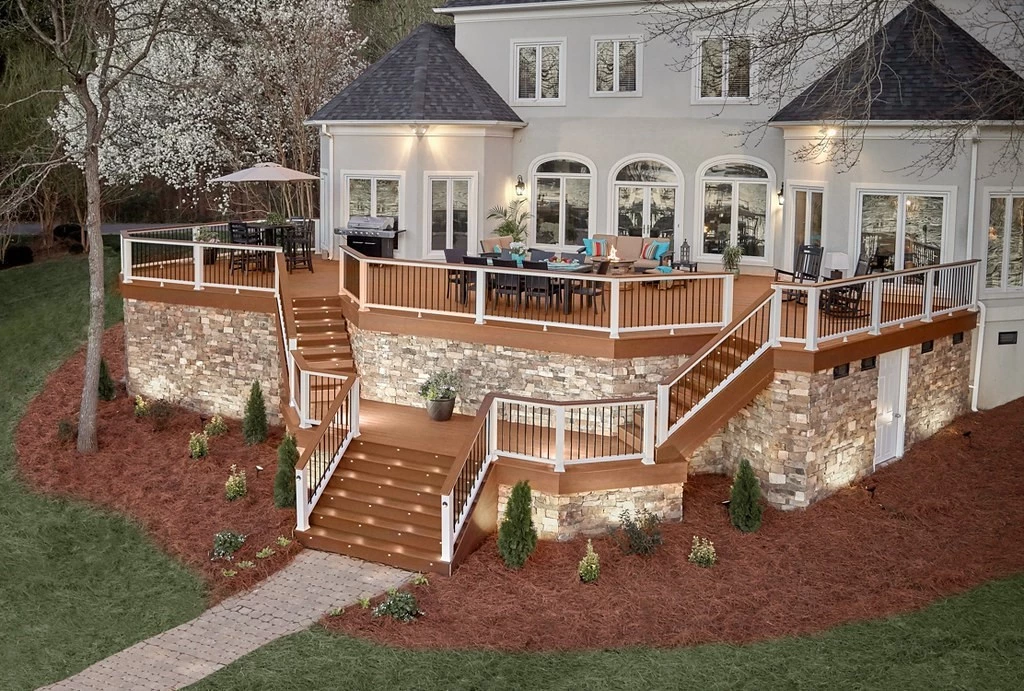 Make the Most of Your Space
A stone DIY paver patio beneath an elevated deck makes the most of this backyard space. Rock beds and mulch in contrasting colors frame the patio, while still providing some space to add some attractive foliage to admire.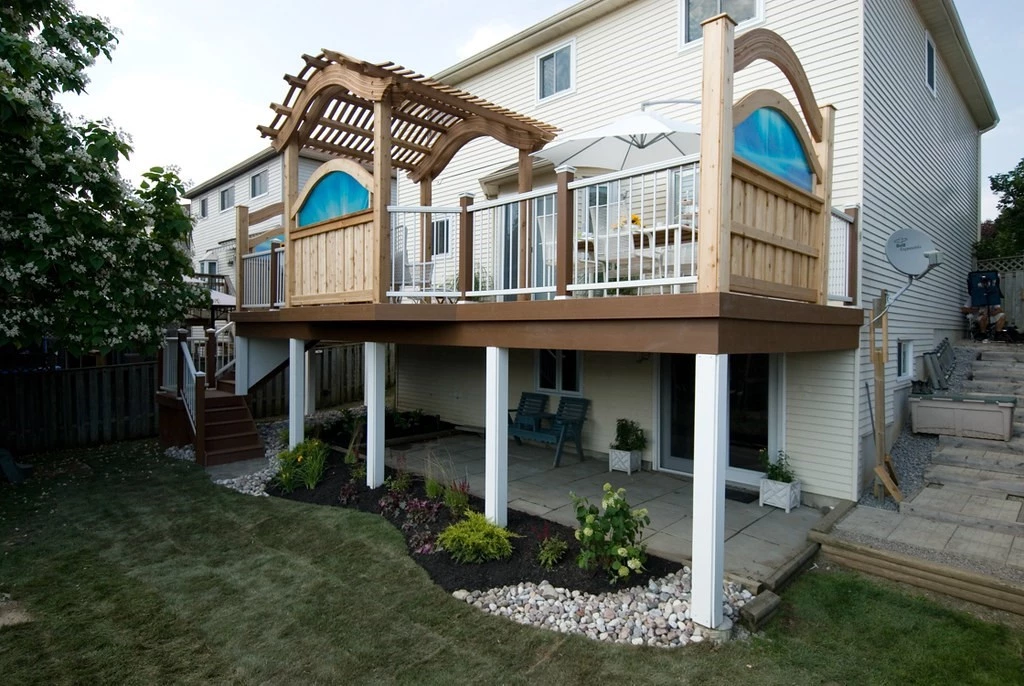 Illuminate Your Landscape
Incorporating lighting into your deck or patio landscaping design can help you enjoy the picturesque feel of your backyard, even when the sun goes down. Trees, bushes, and flowers of varying sizes add interest, forming a border around an elevated patio deck. Lighting nestled at the base of the deck draws attention to the carefully planted shrubs, creating a warm, welcoming vibe.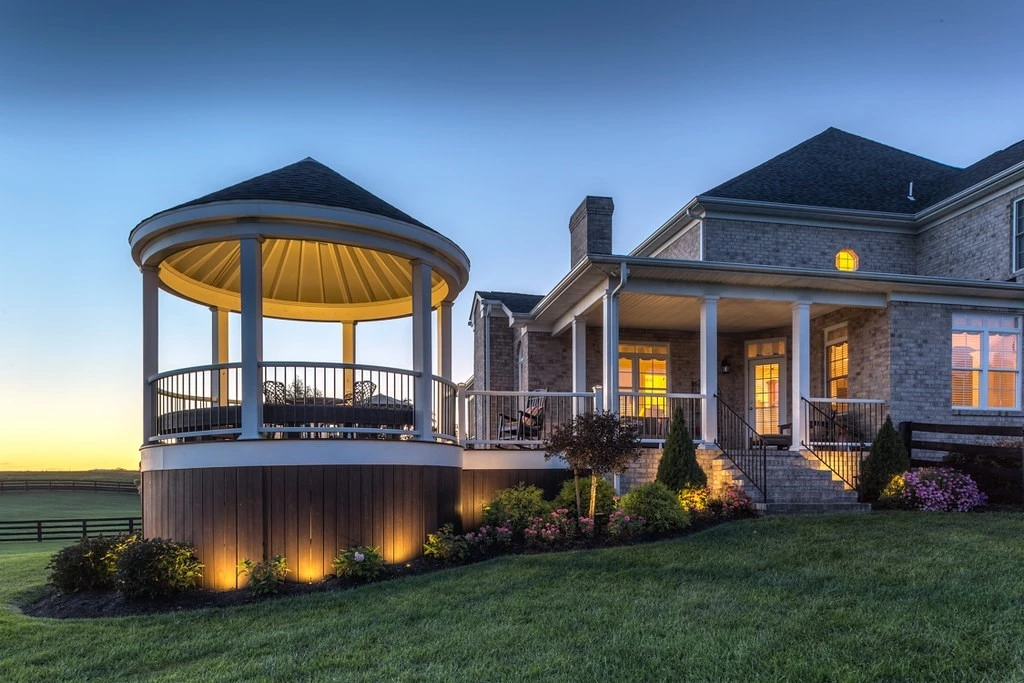 ---
Explore Articles by Topic
Explore Articles by Topic