Ready to Start Your Project?
You'll be redirected to Trex.com, our composite decking website.
The 9 Best Porch Swings for 2023
As an Amazon Associate, Decks.com earns from qualifying purchases from the links in this post.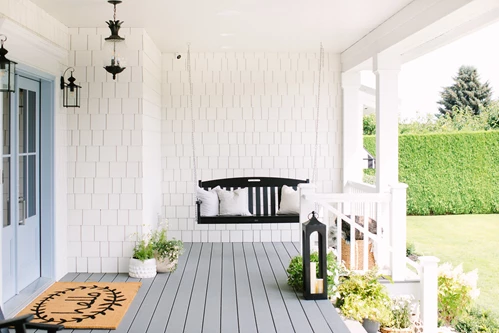 Few outdoor additions to your home lend as much relaxation and tranquility as a porch swing. As well as offering a comfortable place to lounge on your porch, they add curb appeal and coziness to your home. So, if you're looking for somewhere to kick your feet up and relax when it gets warmer outside, a porch swing may be just what you need.
Discover our picks for some of the best outdoor swings below. From standalone swings and porch swing beds, to more traditional hanger swings and more, you'll find options for every patio, porch, and lifestyle. 
Best Overall Porch Swing: POLYWOOD Vineyard 60"
If you're looking for a timeless classic that checks all the boxes, then the POLYWOOD Vineyard 60" swing may meet your needs. Sturdy with classic good looks at a reasonable price, this traditional porch swing can seat between 3 to 4 people. Available in a crisp white hue, it can work with nearly any style of porch or home facade. 
This weatherproof swing also features the hallmarks of what make POLYWOOD such an in-demand brand, capable of standing up to the elements, salt, and chlorine to keep you swinging in comfort for years to come. Making this an even more appealing option and our pick for best overall porch swing, the POLYWOOD Vineyard 60" swing is easy to assemble and comes with marine-grade quality hardware to install. 
Best Outdoor Glider: Trex Cape Cod Adirondack 48" Glider
If drilling and installing hardware to hang a porch swing doesn't fit into your plans, then an outdoor glider may be the best outdoor patio swing for you. Our vote goes to the Trex Cape Cod Adirondack 48" Glider, a perfect all-weather, two-person seater for any porch, patio or outdoor area. Because it's built with genuine Polywood lumber – a proprietary material composed of recycled plastics made with durability, resistance to the elements, and aesthetics in mind, it cleans easily with just soap and water, and will look amazing outside your home for decades to come.
Best Wooden Porch Swing: Amish Heavy Duty 800 Lb Rollback Console Treated Porch Swing with Hanging Ropes
If you favor a more rustic aesthetic (whether you're in the suburbs or the country), the Amish Rollback Porch Swing is our pick for the best wooden porch swing that incorporates clever modern details. Available in three different color options, including finished Cedar and unfinished Pine, this farmhouse chic swing is built for comfort, due to its impeccable craftsmanship. The swing's rollback design contours to your body, while the flip-down console in the middle of the swing can be used to hold cool beverages on a hot summer day. Simply flip the console back up and the swing can give you more sitting room. 
Best Porch Swing with Canopy: Best Choice Products 3-Seat Outdoor Large Converting Canopy Swing Glider
One of the biggest differentiators between hammocks and porch swings is the shade that the latter offers. Even if you don't have an actual overhead porch to hang your swing from, there are still amazing options when it comes to finding the best canopy porch swing for your home. This 3-seat canopy glider is one of the best options available on the market at its price point, giving you comfortable seating with minimal installation and ample protection from the sun. 
This peaceful canopy porch swing is the ultimate in outdoor lounging as the bench seat can easily fold down into a flatbed, perfect for an extended session of outside relaxation.
Best Metal Porch Swing: Best Choice Products 2-Person Metal Outdoor Porch Swing
For durability and versatility, a metal porch swing can be an excellent choice with a variety of design options to suit any aesthetic. For a more polished, almost Victorian look that blends comfort, aesthetics, and sturdy construction, our choice for the best metal porch swing is Best Choice Products' 2-Person Metal Outdoor Porch Swing with Floral Accents. Made from anti-corrosive steel, it's easy to put-together and can accommodate up to 485 lbs. 
Best Budget Porch Swing: Best Choice Products 48-inch 3-Seater Hanging Porch Swing Acacia Wood
Just because you're on a budget doesn't mean you can't enjoy the calming luxury of a porch swing. If you're looking for a quality swing without a hefty price tag, look at Best Choice Products 48-inch 3-Seater Hanging Porch Swing in Acacia wood. Its classic look, curved back, and wood slat design offers comfort and support while allowing air to circulate. Making this an even more attractive budget porch swing, it's easy to assemble and comes with all the tools needed to put it together, including bolts to hang the swing from the frame. 
Best Porch Swing Bed: Aoodor Outdoor Converting Patio Porch Swing Bed with Adjustable Canopy
When you want the best of both worlds, a porch swing that converts into a bed or hammock might be the right choice for you. Leading the pack for our choice for the best porch swing bed is the Aoodor Outdoor Converting Patio Porch Swing Bed with Adjustable Canopy. It offers the space of a twin-sized mattress and is available in a vibrant shade of blue or a more sedate, goes-with-anything neutral tan. This convertible glider features removable fade- and mildew-resistant Olefin cushions, a durable weather-resistant powder-coated steel frame, and a protective canopy that allows you to rest, sit, or recline in comfort. 
Best Single Seat Porch Swing: Novogratz 87059BWG1E Poolside Gossip Collection
As our pick for the best single seat porch swing, this single seat porch swing by Novogratz features an eye-catching design made from weather-resistant steel wrapped in black woven wicker – giving you the sturdiness of metal with the fashion-forward look of rattan. Adding to the aesthetic appeal of this comfy single seat swing are marshmallow-soft cushions in contrasting black and white with a light gray and white striped lumbar pillow for added support. It comes with two carabiners to suspend it from the included ropes for a relaxing, durable, and attractive single seat option. 
Best Freestanding Porch Swing: PURPLE LEAF 3-Seat Deluxe Outdoor Patio Porch Swing
If you don't happen to have a porch or overhang to suspend a swing, but desperately a relaxing nook with outdoor seating, you still have plenty of great freestanding porch swing options available. For starters, take a look at our pick for the best porch swing with a stand: Purple Leaf's 3-Seat Outdoor Patio Porch Swing with Weather Resistant Steel Frame. 
This cozy freestander comes equipped with a wealth of features – without breaking the bank. Constructed from a durable metal frame, Purple Leaf offers one of the best freestanding porch swings thanks to its included UV-, water-, and fade-resistant cushions and canopy. It even has two handy side tables so you can lounge blissfully with your favorite cold beverage or latest read within reach. 
How to Choose the Best Porch Swing for You
When you're choosing the best porch swing for your home, there are a multitude of factors to consider, such as: 
Are you on a budget? 
Do you want extra features like side tables? 
Are you a fan of the classic wooden look or do you want a more contemporary steel aesthetic? 
Do you have an actual porch to hang your swing, or does it need to be more of a freestanding patio piece?
These are all questions to ask yourself, but how to choose a porch swing ultimately comes down to your personal preferences and outdoor setup. Consider these factors when making your choice.
Material
You may love the look of a traditional wooden swing, but if you're in an area prone to fluctuating temperatures that can contract and expand natural wood, it's worth considering either a corrosion-resistant steel porch swing or even a reclaimed plastic POLYWOOD option that gives you the look of wood with built-in resistance to the elements. Conversely, if you live in a coastal state near the beach where salt can make its unwelcomed way to your doorstep, wood may be a better option to prevent corrosion and rust.
Location
Porches come in all shapes and sizes, so it's important to measure the location of where you intend to put your swing to ensure it fits properly. If your house has a giant craftsman style porch, perhaps a porch swing bed is your ultimate outdoor relaxation goal. However, if you live in a row home or duplex with a small porch, a single seater porch swing might be your best option.
Suspension & Mounting
It's important to do your homework when installing a porch swing, making sure it's properly anchored with rope or chains in an area of your porch that doesn't affect any load bearing issues. If you're not sure of the best way to do that on your own, then seek the aid of a professional to assist with the installation process. If you don't have an actual porch, consider purchasing a standalone patio swing or glider to give you a place to lounge without worrying about ease and safety of installation.
Comfort
While aesthetics may be a driving factor in your choice, comfort is often one of the most important choices key to choosing a porch swing you'll enjoy for years to come. Look for features such as contouring that may make your swing more comfortable, conforming to the body. But don't worry! If you've found a swing that gives you the look you want but its comfort leaves more to be desired, you can always add throw pillows and blankets to enhance its cozy factor!
Durability
Whether you prefer wood or metal, it's vital that you pick a porch swing that offers prolonged durability. After all, it's going to be outside on your porch or patio, at the mercy of the elements. Pay close attention to the material your desired swing is made from to ensure that it's up to the task of standing up to all kinds of weather. 
You'll also want to be sure that your porch swing is durable enough to support the weight of those who sit on it. Rope or chain, do your homework on the maximum weight limit your porch swing can hold and adhere to it for you and your family's safety.
Looking for more great porch and deck ideas? Get inspiration for more deck features to incorporate to make your backyard even more inviting. 
This page contains affiliate links. If you choose to purchase after clicking a link, Decks.com may receive a commission at no extra cost to you.
---
Explore Articles by Topic
Explore Articles by Topic