6 of the Best DIY Outdoor Shower Ideas
There are many reasons to have an outdoor shower: Maybe you don't want to bring a mess indoors. Maybe you want to wash off before or after taking a dip in the pool. Maybe your dog needs a wash.
Building your own outdoor shower is relatively easy and something you can do on virtually any budget. A source of water, an enclosure for privacy, and a few DIY outdoor shower ideas are almost everything you need to get started. If you're lacking inspiration for a practical outdoor shower that adds -- rather than detracts -- from your outdoor oasis, here are some outdoor shower design ideas to use as a springboard.
Partially Enclosed Outdoor Shower
Some of the best outdoor shower ideas keep things simple, but a few small additions can make a big difference to your experience. Using a partially enclosed shower can provide both ample privacy and protection from the elements. Constructed with high-quality composites like Trex® Decking for drainage, the shower can blend into the side of your home like a natural extension.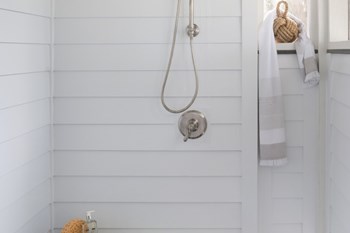 Use Existing Structures
Building your outdoor shower around any existing plumbing is often easier, and it's usually essential for people who want to create an outdoor shower with hot water. Additionally, positioning your outdoor shower as an extension of your home makes it easier to use an existing overhang that can help offer some privacy.
Using this approach, a simple solution would be to mount a rounded shower rod onto a flat wall of your choosing, then drawing a shower curtain for privacy. The addition of a large stone -- where you can place soaps, towels, or other toiletries -- can help retain an "outdoor" look and feel, while also providing a practical place to keep shower essentials.
However, if you'd prefer something more elaborate, another great option is to install a mounted door with an optional locking mechanism. A swinging door can provide access when needed and hide your shower from prying eyes when closed. This kind of partially enclosed design is a favorite with many homeowners -- and the extra privacy is easily appreciated by guests.