Ready to Start Your Project?
You'll be redirected to Trex.com, our composite decking website.
Best Outdoor Dining Room Ideas For 2023
When the weather is warm, dining outside can be a simple pleasure. However, you don't have to go to a restaurant to dine al fresco. It's easy to set up a chic and stylish outdoor dining room, making good use of your deck or patio to enjoy a meal with friends and family -- as well as the natural beauty of your surroundings. We've collected some of our favorite outdoor dining area ideas to serve as inspiration. From dining on the deck to finding eye-catching patio dining decor to make the space your own, you'll find a variety of arrangements, furniture, and decorative options.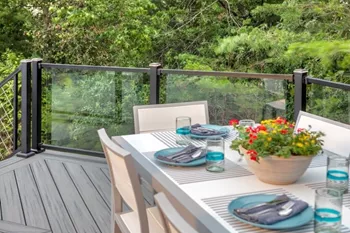 Dining Area for a Small Patio
Grills and dining tables come in all shapes and sizes. If you have a small patio or deck, make sure you don't block the stairs or entrance to the house with furniture. When creating a dining area for a small patio, consider glass-paneled railings to give a more open feel that won't make guests feel cramped.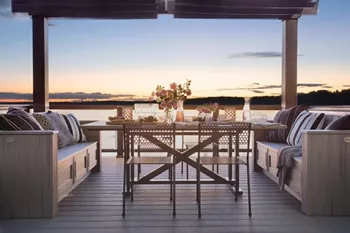 Open Air Outdoor Dining Area
If you're fortunate enough to have a deck with a view, make the most of it with an outdoor dining and sitting area. A table and chairs overlooking a spectacular backyard or ocean view can be a great place to gather and entertain. Adding in benches with built-in-storage is also a clever way to keep dishes, glassware, and utensils at-the-ready on your deck should you decide to whip up a meal on a moment's notice.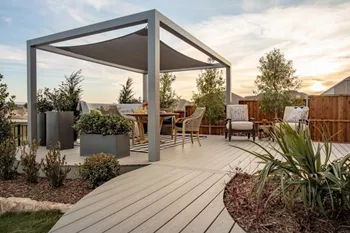 Summer Entertaining
A pergola on top of your deck can create an open-air dining and kitchen space even if your deck does not have a roof. A pergola with a canopy can allow you to enjoy conversation and a meal on your outdoor deck without the sun beating down. Although, you'll want to linger long after the sun goes down on warm summer nights.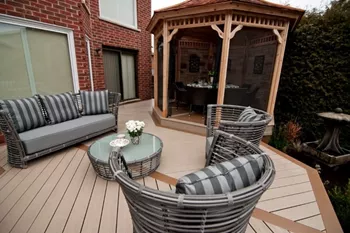 Outdoor Dining with a Roof
A drizzle won't ruin your dinner party with this deck-top dining room gazebo. Imagine drinks on the veranda followed by dinner served in this wooden structure reminiscent of 19th-century bandstands in quaint Victorian towns. For the ambitious and experienced, this may even be a DIY outdoor project.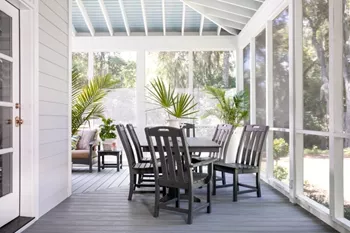 Indoor/Outdoor Dining Area
An enclosed porch or three-seasons room can be ideal for enjoying indoor/outdoor dining and cooking. Guests can dine comfortably indoors while you grill out on the patio. A screened-in deck can also be equipped with ceiling fans to encourage a cool breeze. Additionally, screening ensures guests can admire the view without getting bit by mosquitos.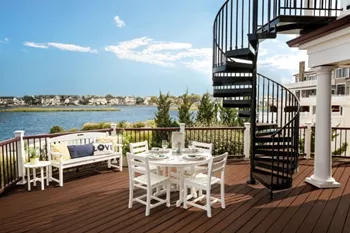 Small Dining Table, Big Space
Life's better with a view of the water. This alfresco dining area is perfect for brunch or a happy hour gathering with friends. A small circular patio table comfortably seats four on this multi-level deck with plenty of additional seating to lounge. This roomy outdoor dining area leaves plenty of space for a large grill and prep station with plenty of distance from the main action at the dining table.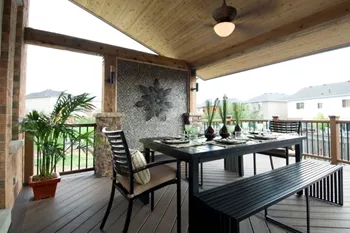 Covered Outdoor Dining Area
Enjoy the best of both worlds with a covered dining area. This semi-open style allows for air to circulate through the wooden canopy and through screened-in side walls in this outdoor dining room. Tables and chairs are protected from rain or excess sun, while guests are able to enjoy their meal with a beautiful outdoor view. A mosaic-tiled accent wall adds interest, as well as a practical touch in keeping the canopy in place.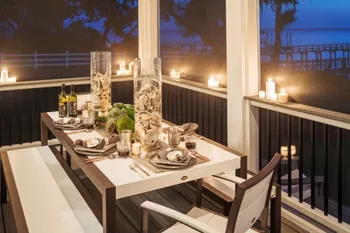 Candles & Table Sconces
Even the simplest outdoor dining room can be made into an elegant oasis with a few well-placed candles and tablescapes. Tall glass vases filled with seashells draw the eye to the center of the table and upwards. Candles of varying sizes are placed strategically on the deck's railing to give the space an ambient glow, perfect for an intimate dinner for two or dining with friends.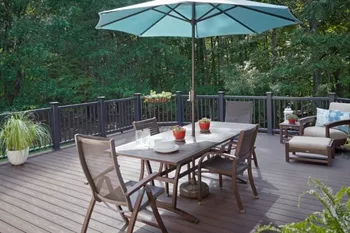 Casual, Yet Cozy
Even if you don't have a big budget to create an outdoor dining area, a simple table made with a deck umbrella in mind can accomplish the task. A long table with matching chairs creates a timeless look for this outdoor dining area, while a table umbrella offers shade and a splash of color to the monochromatic feel of the deck and matching table.
---
Explore Articles by Topic
Explore Articles by Topic