Ready to Start Your Project?
You'll be redirected to Trex.com, our composite decking website.
The Best Outdoor Lights for Your Backyard & Deck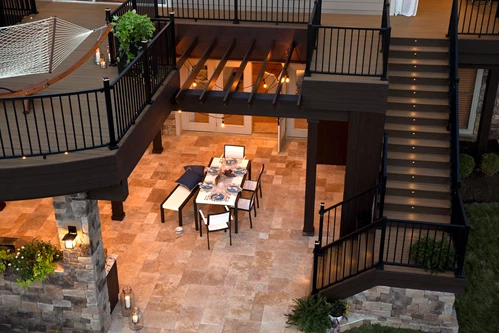 While you may automatically associate enjoying time in your backyard with soaking up some sun and basking in the warmth of daylight hours, there are plenty of excellent outdoor lighting options available to allow you to enjoy your deck at night, too. 
The right lighting for your patio or deck can help to improve your backyard's night time appeal and highlight your hard-earned home garden and landscaping features long after the sun has set.
What to Consider When Choosing Backyard & Deck Lighting
There are a seemingly endless array of options to consider when buying lights for your backyard. Based on the unique features of your home, backyard, and deck – as well as your own personal aesthetic – be sure to select outdoor lighting options that not only work for your space, but work well when paired together. 
If security and safety are your biggest concerns, then consider how pathlights, spot lights and security lights will look and work in unison. If you're more of a backyard entertainer focused on setting the right mood for guests, then your interest may lie in combining string lights and lanterns for more ambient backyard lighting. 
Here are some of our picks for the best backyard and outdoor lights for decking.
Best Overall Outdoor Lighting: TeamMe 35 LEDs Solar Outdoor Lights, 2-in-1 Upgraded Solar Powered Landscape Spot Light
With so many different outdoor lighting styles to choose from, narrowing it to one overall winner isn't easy. After all, not all varieties of lights work for every style of home. Some people may find that recessed path lights fit their needs best, while others may prefer the look of pendants or floodlights. Homeowners who prefer a more ethereal-meets-modern look may consider string lights when weighing the best outdoor lighting for backyard ambiance.
However, all those options aside, our vote for the best outdoor lights goes to TeamMe's Solar Outdoor Lights for their excellent brightness, versatility, long running time, and ease of installation. These spotlights feature adjustable solar panels so you can effectively harness the sun's energy and provide illumination from multiple angles. Easy to install, you can either stake these lights into the ground or use the included hardware to mount them to your deck or garage. 
Best Outdoor String Lights: Addlon 48 ft. Outdoor String Lights
For those looking to add a fairy tale touch to their outdoor dwellings, look no further than the warm, low halogen glow from a set of string lights. Our choice for the best outdoor string lights is Addlon's 48 ft. Outdoor String Lights. 
Weatherproof and heavy duty, this outdoor string light set is flexible enough to give you the desired look you want, while being able to withstand the elements. Each bulb has its own hanging hook to make installation easy. Plus, you can even set the right mood with a dimmer-compatible switch (not included) to create the perfect ambiance for any occasion.
Best Decking Lights: Trex LED Riser Light (4-pack)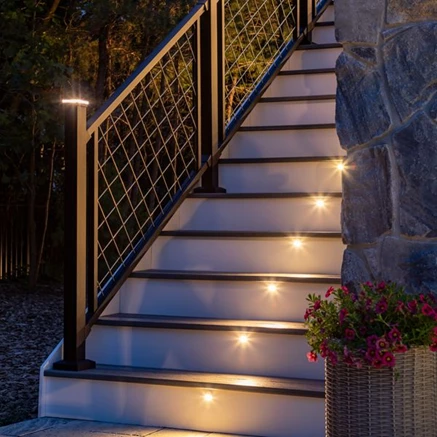 If you love the look of recessed lights that stylistically blend into your existing decor and the functionality of illuminating your staircase for greater safety and nighttime visibility, we recommend Trex LED Riser Lights.
These attractive LED lights come four to a pack and are available in an assortment of powder coated aluminum color options, including charcoal, black, classic white, or bronze. Their matte finish offers a sleek, modern look that works with every style or color of decking material. 
Trex LED Riser Lights are compatible with the Trex LightHub installation system, however, these LED riser lights can be easily installed in any solid riser material, giving you an elegant and affordable option for better nighttime visibility on your deck stairs. These lights require a Trex 12v DC transformer, which is sold separately. 
For more brilliant outside deck lighting options, check out these impressive backyard lighting design ideas.
Best Outdoor Security Lighting: LEDMO 120W LED Wall Pack Light
Outdoor motion-sensored security lights can be a bright and powerful deterrent against unwanted animals or prowlers, flooding your backyard with light at the slightest detection of movement. The right lighting can add an extra layer of security to your home without detracting from its curb appeal. Security lighting is typically installed in higher points around your home (such as above garages and eaves) to cast a wide enough beam onto main walkways and entrances to your home.  
Atop our list for the best outdoor security lights sits the LEDMO 120W LED Wall Pack Light. Whether you're looking to illuminate a wall perimeter, backyard or large deck, these energy-efficient wall packs deliver a punch of bright white light. These 5000K daylight white lights provide you with added security, without detracting from the appearance of your home or neighborhood. They're also virtually maintenance-free, providing over 50,000 hours of lighting life before you ever have to change a bulb. 
Best Outdoor Solar Lights: Aootek Solar Lights Outdoor 182 LEDs Motion Sensor Lights
Solar lights are amazing outdoor lighting options because they're easy to install, energy efficient, and super convenient – automatically turning on and off with the sun's schedule. With that in mind, Aootek Solar Lights Outdoor 182 LEDS Motion Sensor Lights have our vote when it comes to the best outdoor solar lights.
With three optional modes – security mode, permanent on, and brightness control – these solar lights provide you with enough versatility to meet all your outdoor lighting needs. They even offer wide-angle illumination with a broader detection range than most other lights on the market. Plus, these solar lights are more energy efficient than comparable lighting alternatives thanks to their PET laminated solar panel.
Best Outdoor Patio Lanterns: Kaixoxin Solar Lantern Lights
Lanterns have been around for centuries, but modern versions of these classic lamps combine functionality and innovation in an attractive package. Kaixoxin Solar Lantern Lights are our choice for the best outdoor patio lanterns, offering the charm and warmth of a traditional lantern with the contemporary technology of solar power.
The ornate pattern of the Kaixoxin Solar Lantern lights adds illumination and beauty to your backyard. Additionally, they can be used in a multitude of ways - as hanging lanterns, tree lights, patio tabletop decor and lighting, as well as setting them along your outdoor walkways as a gorgeous and functional accent piece. 
Best Outdoor Wall Lighting: LEONLITE Integrated LED Cylinder Wall Sconce
Wall lights can be used to provide ambient lighting from any vertical surface – from the sides of your house to the interior of a pergola to stairways and seating areas. When it comes to choosing the best outdoor wall lighting for your home, you first need to take into consideration how they look both on or off. 
Whether you prefer a more classical look or contemporary design is entirely up to you. However, if you want an outdoor porch light or wall sconce with clean lines and warm white lighting, then check out the LEONLITE Integrated LED Cylinder Wall Sconce. Their overall aesthetic is incredibly sleek, allowing these wall sconces to blend in without standing out. As an added benefit, these sconces feature integrated LEDs, which means you never have to change a bulb. Made from die-cast aluminum, the LEONLITE Integrated LED Cylinder Wall Sconces resist corrosion and the elements, even when used in wet locations.
Best Outdoor Path Lights: Solpex 8-Pack Solar Pathway Outdoor Lights
If you've ever stumbled on an unlit home walkway because you missed a step, it's all the more reason why path lighting can be an attractive – and helpful – option. Path lights can not only serve as safety features for walkways but can also accent your home's landscaping, delivering beautiful nighttime curb appeal. Typically, path lights are installed on both sides of main walkways and along stepping stone paths – even around landscaping statement pieces like fountains and flower beds. 
One of our top choices for the best path lights for your backyard are the Solpex 8-Pack Solar Pathway Outdoor Lights. Their attractive design offers double rings of illuminated light that cast a beautiful, ornate pattern upon the ground. Their high-quality solar construction affords up to 8 hours of clear illumination thanks to polysilicon solar panels and rechargeable batteries. Making these an even more appealing choice is that the Solpex 8-Pack Solar Pathway outdoor lights are easy to install, weatherproof, and equipped with a warranty.
Best Outdoor Spot Lights: GKOLED UL Solid Brass Landscape Spotlight
Also known as "up lights" or landscaping lights, outdoor spot lights are used to shine beams of light upwards in an effort to show off your outdoor landscaping and decor. Two of the most popular types of outdoor spotlights are bullet-shaped lights and well lights. Bullet-shaped spotlights deliver narrow, high-intensity beams that provide dramatic outdoor lighting for taller objects like trees and ornamental house fixtures. Well lights, on the other hand, are round lights that recede into the ground for a more sleek aesthetic and cast light upwards over shorter distances, making them perfect for lighting gardens and shrubbery.
Our choice for the best outdoor spotlights is the GKOLED UL Solid Brass Landscape Spotlight. These uplight beauties are sleek and sophisticated in design while delivering a great low 12-volt glow to your space. Although these are bullet-shaped, they can work well to shine a light on larger structures within your backyard, as well as spotlight well-appointed flower beds and more ground-level decor. Their housing is made of a heavy duty die-cast brass with an integrated glare guard. They're also well sealed with a double O-ring design to ensure waterproof durability.
Get Inspired with More Backyard Lighting Ideas
Regardless of your preferences, you have plenty of options! Get more tips on how to choose backyard lighting to achieve the perfect outdoor and deck lighting scheme of your dreams.
---
Explore Articles by Topic
Explore Articles by Topic